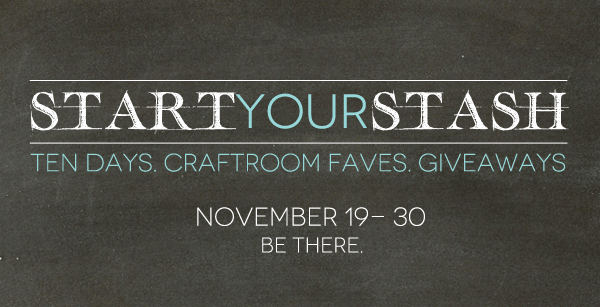 Months in the making. Hours of planning. Many emails later. I finally get to launch an awesome series of posts called Start Your Stash. Before the official launch of this series, which will happen on Monday, November 19th at 12:00pm EST..here's the lowdown on this exciting feature!

I am bound and determined to bring out the crafty side in everyone…especially those who don't think they have one! (We all have a creative side, right?). Start Your Stash is a series for motivating novice crafters and inspiring experts. I've put together a carefully curated list of Must Haves for the Craftroom that includes everything that I think you need to get your creativity up and going. If you're a beginner, this list will help you Start Your Stash. If you're an expert, this list will inspire you to use what you have and maybe add a few special items to your collection.

For the next ten weekdays, I will feature each of the supplies on the "Must Haves" list. Each day, I'll post the featured products on the "chalkboard", followed up with a project featuring those supplies.  At the end of the Start Your Stash series, I'll post the list in it's entirety for you to review, print out and use for stocking up.

This is the fun part…the winning. Each day, I'll be giving something away. You'll have the chance to win the "Must Have" products featured or products from the featured vendors. There are plenty of ways to win. Here's how it will work…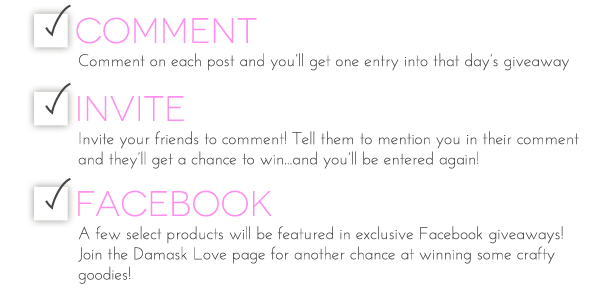 And just in case you're wondering, "How the heck is she gonna keep track of all of this?" – rest easy! I've got someone helping me, whose sole responsibility is maintaining the comment database for Start Your Stash!
*Daily blog and Facebook giveaways are open to all readers, US and abroad!

I'd love for us all to get involved in this series. Join in by offering your own thoughts on the products featured! Ask questions about my recommendations. Share your own ideas for projects using the "Must Have" Supplies.
Alrighty that's all for now – see you soon to get this party started!