As much as I love holidays and as much as I love April Fool's Day there is no fooling around when it comes to my exciting news for today!
I have been waiting…and waiting…and waiting to share this with you and today's the day!
It's hard for me to express my excitement in a blog post – short of TYPING IN ALL CAPS (which – let's be honest – is terribly obnoxious and hard to read after a while)
So, instead I am going to channel my love of words to share my excitement!
I am:
excited
elated
convivial
thrilled
overjoyed
mirthful
blithe
jocund
Now why am I so darned happy?
This is my very first Design Team experience and I am loving it so far!
So, let me explain what this whole "App Design Team" thing means:
If you have an Iphone (which I know some of you do, because my Blogger stats keeps track of that sort of thing!) – You will need to do the following:
1) Go get your phone (or just stop playing Angry Birds for a couple minutes)
2) Go to the App Store
3) Search for Clear and Simple Stamps
4) Follow the instructions and you're well on your way to having daily doses of crafting inspiration right at your fingertips!
There, you will find exclusive projects from the fabulous Clear & Simple App Design Team – myself included!
Now for today's project:
This month, the App Team is showcasing the On the Mend Stamp Set.
I've mentioned before – and I'll say it again – I.DO.NOT.SEW. (not yet at least)
This set is PERFECT for those who DO sew, but that was not an option for me.
Instead, I used elements of this stamp set to create a "stitched" border, which I accented with a few buttons.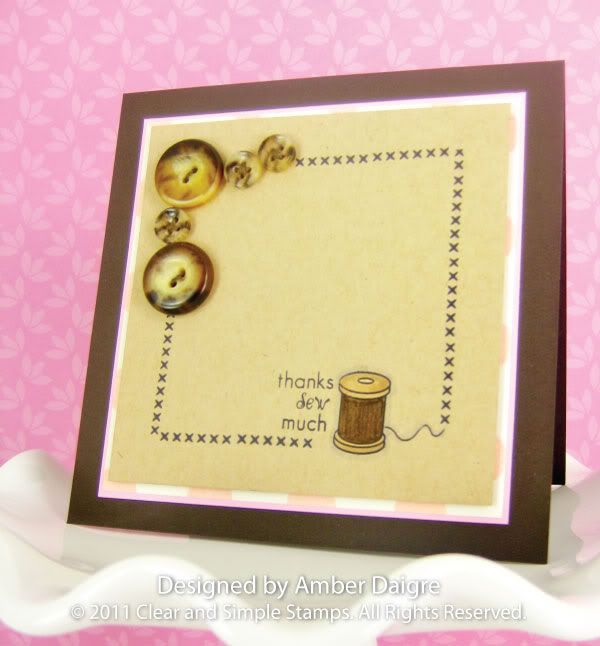 I just love these buttons! They have a tortoise-shell patterned – so unique.
As if this isn't enough excitement – today, I also have a project being featured on the Clear & Simple App!
Take a look at my sidebar where I'll post sneak peeks of my App projects.
 So – that's my news.
I'm still smiling from excitement and I'm looking forward to all the projects I'll be sharing in the upcoming months!
Thanks for stopping by for some Damask Love!
Supplies (All Clear and Simple Stamps unless otherwise noted)
Stamps: On the Mend
Paper: Dish all the Dirt Brown, I'm a Princess Pink
Patterned Paper: My Minds Eye Lush collection
Ink: Little Black Dress
Other: brown embroidery floss (Michael's), Dish all the Dirt Brown buttons