Recently, I've found myself having a chronic case of "ain't nobody got time for that." I see all these beautiful handmade holiday cards and projects and all I can think is how much time it would take me to replicate it – and I give up before I even start. I am all about the quick and easy.
The cards in today's post are totally quick and completely easy to make – and for all you people out there who plan on sending holiday cards to all 4,325 of your Facebook friends – these designs are also mass produceable. Each card also features baker's twine, which adds a quick bit of dimension to each card without much work at all. If you are in need of a few extra spools, be sure to visit www.bakersstock.com where all my readers get 50% off their baker's twine order by using the code: TWINE50.
Let's get to the card, shall we – because when it comes to reading my ramblings…well…ain't nobody got time for that either.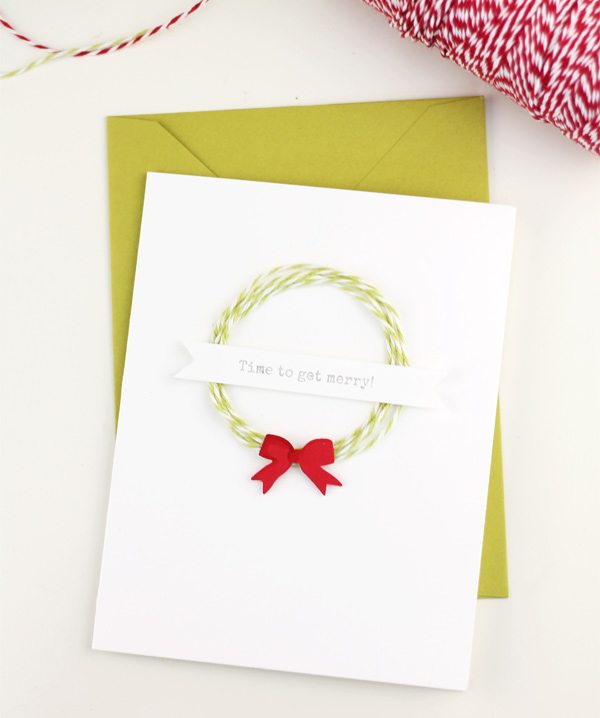 Doesn't get much easier than this friends. Really. This card will take you all of 38.5 seconds to assemble.
INSTRUCTIONS
Wrap twine into a circle and use craft glue to secure onto the front of your card • Punch out red bow and adhere with glue • Cut out a banner and stamp with your choice of sentiment
SUPPLIES
Green & white baker's twine | Martha Stewart Bow Punch | Tis the Season Stamp Set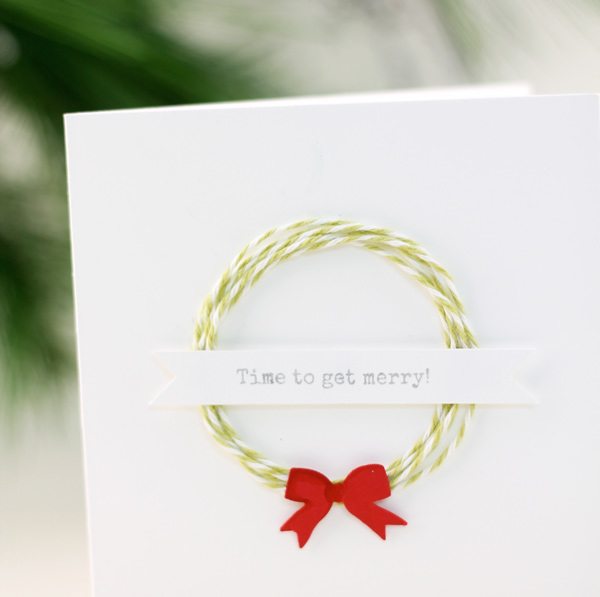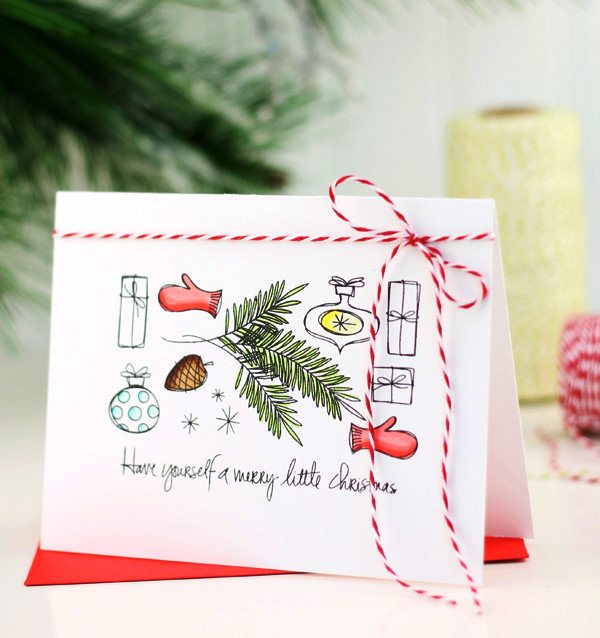 Me thinks this is my favorite quick & easy card. It uses one stamp set only, which cuts down on cost and makes it so very easy to mass produce. The scribbly images from the stamp set are also really easy to color – since you don't really have to be precise. You also don't need to color in every simple image. Just select a few and leave the other's blank. A little twine bow on top is easy but adds just the right about of …sumthin.
INSTRUCTIONS
Arrange the images directly onto the card front to get an idea of what layout you like • press a stamp press over your arranged images • ink up the stamps and stamp onto the card • color the images to your liking • tie o a twine bow

INSTRUCTIONS
Follow THIS tutorial to create the peppermint design. For this card, I created the peppermint with a 1″ circle punch • Wrap twine around the center of the card front and secure with tape or glue • Die cut letters and adhere • Stamp the rest of the sentiment • Add red glitter glue to the peppermint if you wish
SUPPLIES
1″ circle punch | Alphabet dies similar here | Martha Stewart Glitter Glue | Brushstroke Christmas Stamp Set
And that's all folks! Three cards that are all super simple to create. If you are chomping at the bit to create your own versions of these cards, be sure to take advantage of these discount codes:
Baker's Stock is offering 50% off all baker's twine spools! Just use the code TWINE50 at checkout.

Enter to win you choice of four spools of baker's twine from Baker's Stock! You have until November 17th at 11:59pm to throw your name in the giveaway.