Hey, hey, hey!
Well – I've been anxiously awaiting the day when I could finally start talking about the relaunch of DamaskLove and today is that day!
Next week, I'm moving this operation over to the new digs, and I think you are going to likey (I know I do!)
I'm going to use the next few days to provide lots of information about the new site as well as a few sneak peeks!
First order of business is to give you a little info on that survey I posted about a month ago! The results were super duper helpful and I'm really grateful to all 400 of you that completed it!!YES, 400!!! I was shocked! (I'm not sure if that is a lot to most bloggers who get, like a bajillion visits everyday, but to me, 400 is a ton!)
If you are nosy nerd like me, you'll enjoy the recap on these stats – and if you think there is something else I should know – leave a comment on this post!!! The more feedback – the better!
WHO YOU ARE:
It looks like most of you DamaskLove readers know your way around the craftroom – and that doesn't come as much of a surprise since my blog includes lots of tools and supplies that would be most familiar to savvy crafters.
Part of my goal with the new site is to engage crafty folks at all levels, so if you were one of the 25% who identified as a beginner or "Level 2" crafter, don't worry. The revised blog will include lots of tutorials and resources to answer your questions. I totally remember what it was like when I started making cards…I was so confused and constantly Googling information on every single tool and technique out there! If that sounds like you, then I think you'll like some of the upcoming features.

WHAT YOU DO:
Now, when it comes to hobbies, you ladies (and gentlemen) to do it all – but stamping and paper crafting are your faves…which I guess means that we can all be besties, because my hobbies pretty much line up in the same order as yours!
One of the things that excites me most about the revised DamaskLove is that it will be a place to share stamping, paper crafting and lots more. See, the truth is that I'm a 24/7 crafter and I love any sort of DIY project you can think of. "Why buy it…when you can make it (even if making it costs more, right?…lol!) Now – don't be afraid and don't curse me! There will still be plenty of cardmaking up in here, just a few more creative ideas, like my sewing attempts as well as a some cool behind-the-scenes features.

WHY YOU CRAFT:
When it comes to your reason for crafting, y'all are just like me! Most of my projects are for other people, which is why I love creating gift packaging. Over the last few weeks I've been working on a slew of projects for the new blog and you'll be happy to know that I have over 20 original ideas for gifts (including a pretty awesome collection of DIY calendars that I'll be sharing later this month).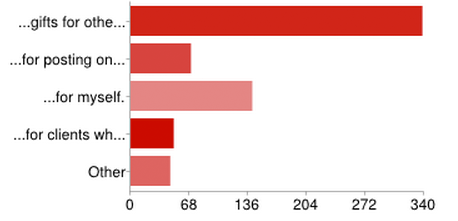 HOW YOU LEARN:
60% of you prefer video tutorials, which didn't come as much of a surprise. While I prefer photo tutorials, I do enjoy videos, especially for techniques that are more complicated and require detailed instructions. On the new blog, I've integrated a few features that will make my instructions much clearer. I'll also have a nicely organized library of resources so that you can easily find all the tutorials & downloads.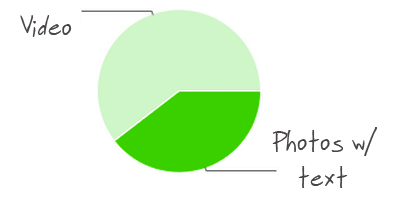 WHERE YOU SOCIALIZE:
One of my favorite results from the survey is this one:
See – I follow a ton of blogs. Like, way too many blogs for any normal person to try and read. Anyway, I really like it when I can "get to know" a blogger through social media – get to see what they are up to on weekends, see what projects they're working on…ya know? Maybe it's because I'm nosy or maybe it because I just think bloggers are cool people, but either way, I wanted to get a sense of where you guys hang out in social media land. The new DamaskLove will include several links to where you can find me outside of this blog, and hopefully we can follow each other and get to know each other better!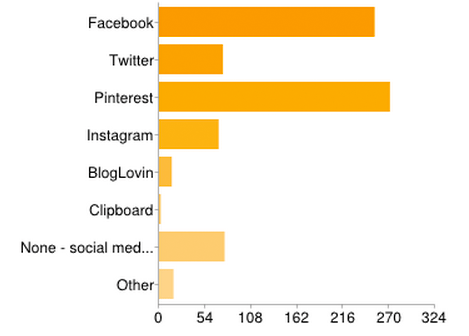 WHAT YOU THINK:
By far, the most eye opening piece of the survey were all the comments you left. You guys are some awesomely creative people with stellar ideas! Thank you for sharing them with me.
I read through each and every comment and even exchanged emails with a few of you who left contact information.
Some of the themes that came out of your comments were:
More regular posting!! (I'm on it! With the pending re-launch of DamaskLove, I've been hoarding projects. Right now, I've got enough content to keep this thing going well into 2013!!!)
Will there be another calendar round-up like last year? (In a word…YEP!!!)
The Patterned Paper Dilemma. (Just like you, I buy tons of it because it's pretty to look at…and then I never use it! I've got a few ideas up my sleeve to solve this problem!)
Trends & Inspiration. (I love this idea of sharing the items and trends that inspire my creations. This is definitely something you'll see more of).
I love your blog! It's awesome (Now, that one was hard for me to type. I don't think I am particularly awesome at all …except for last week when I figured out how to create a buttonhole on my sewing machine. More importantly, I don't want anyone to think I'm being a boastful blogger. The reason I had to type this last trend is to say thank you, thank you, thank you! Thank you for all the nice things you said about this blog and about me. Your words reminded me that we've got a good thing going on here at Damask Love – we're kinda like a really cool, non-lethal gang of papercrafters! I like that.
And on that note, I hope to see all of you fellow gang members here tomorrow for more deets on the new blog! In the meantime, feel free to tell me more of your ideas and thoughts!