A few weeks ago, we were in New York and I didn't try the lemon cannoli that I'd been eyeing. Why oh why didn't I get the lemon cannoli!?
When I was at college at Duke, I had the chance to sing the National Anthem at a basketball game. I didn't. Ugh.
Last month, I met Kenny Loggins on the set of Home & Family but I didn't take a photo with him. Who the heck DOESN'T take a photo with Kenny Loggins? Sadly – me. What a bummer.
I could keep going. I could keep listing the little moments that irk me, that I regret. Please, oh please tell me I'm not alone! Do you have any of these moments that nag you? That you'd do differently if you could?
I'm partnering with DOVE® Chocolate …yes…THE DOVE Chocolate… in a campaign to remind us to live without those regrets and just go for it. Choose Pleasure in your daily life. Get the cannoli. Sing the National Anthem. And if you accomplish nothing else in life…take the photo with Kenny Loggins!!! ALWAYS take the photo with Kenny Loggins…and feel free to sing Footloose while you do it.
Inside the wrappers of DOVE PROMISES are tons of little reminders of how to live a regretless life…is "regretless" even a word? So – in the spirit of crafting and creativity, I've taken one of these messages and turned it into wall art. Let's take a look at how easily those little DOVE messages can become colorful inspiration for your home or office.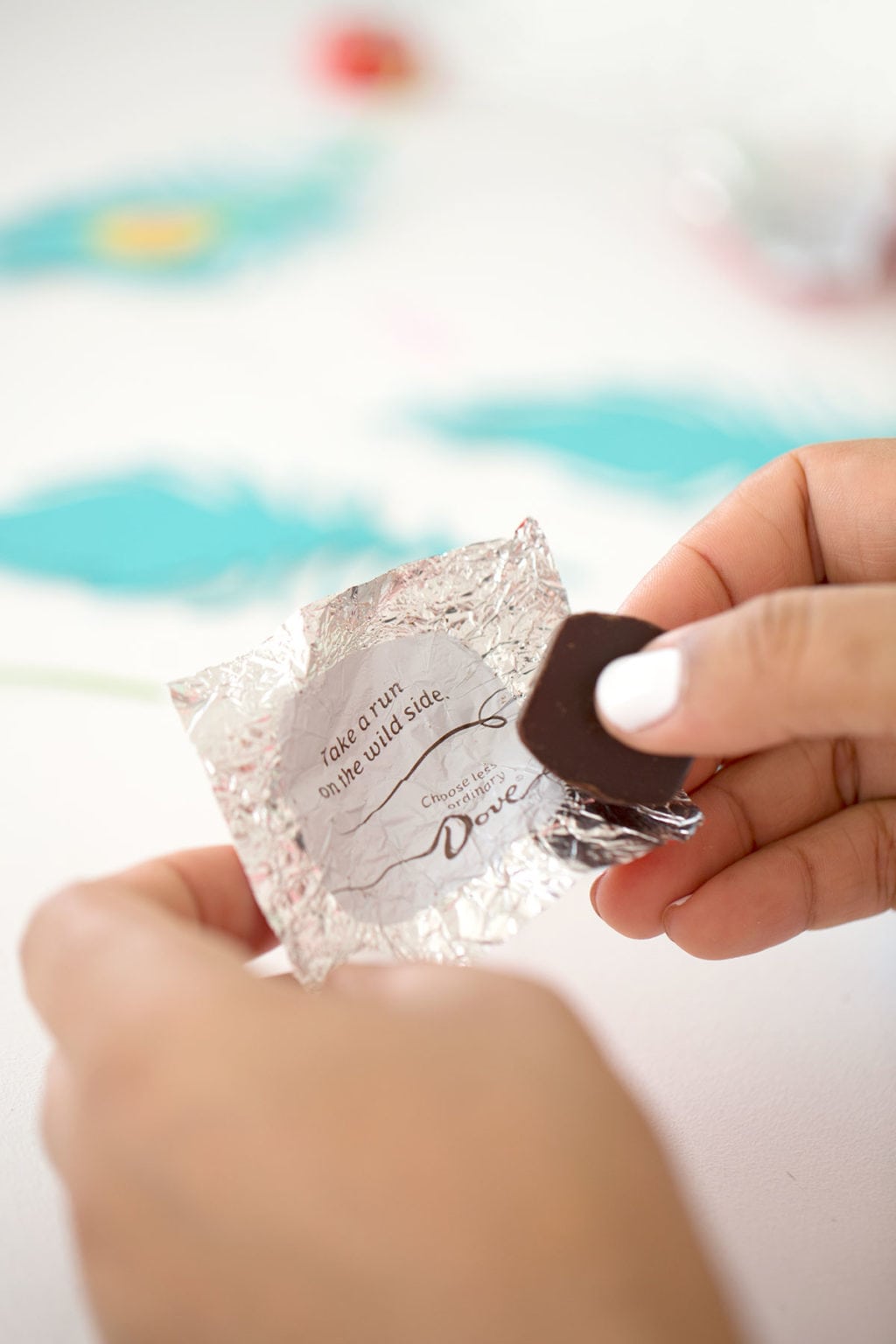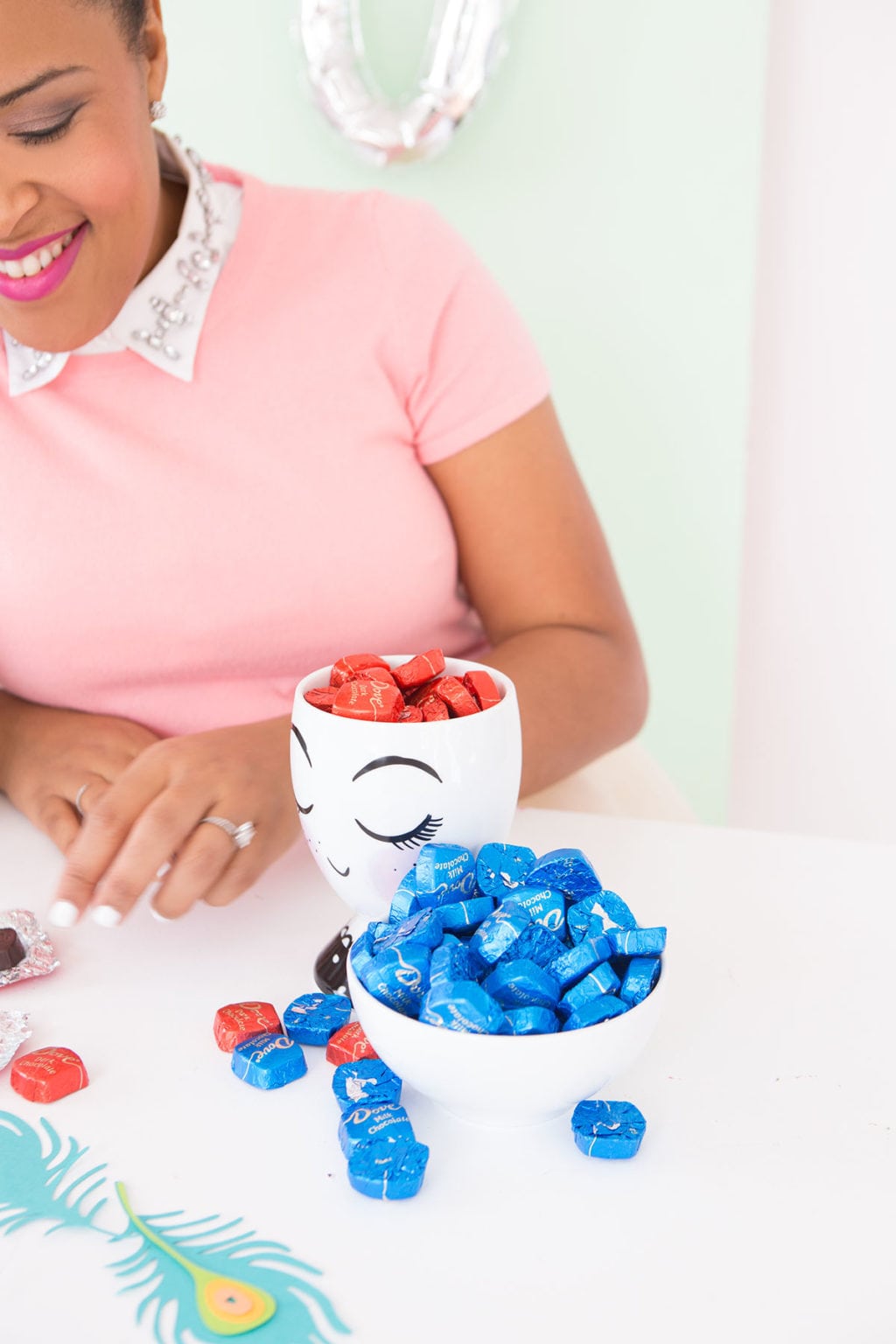 When I read the "Take a run on the wild side" message, I immediately thought of peacock feathers! They're colorful and it turns out they make for the perfect tassel on a wall hanging.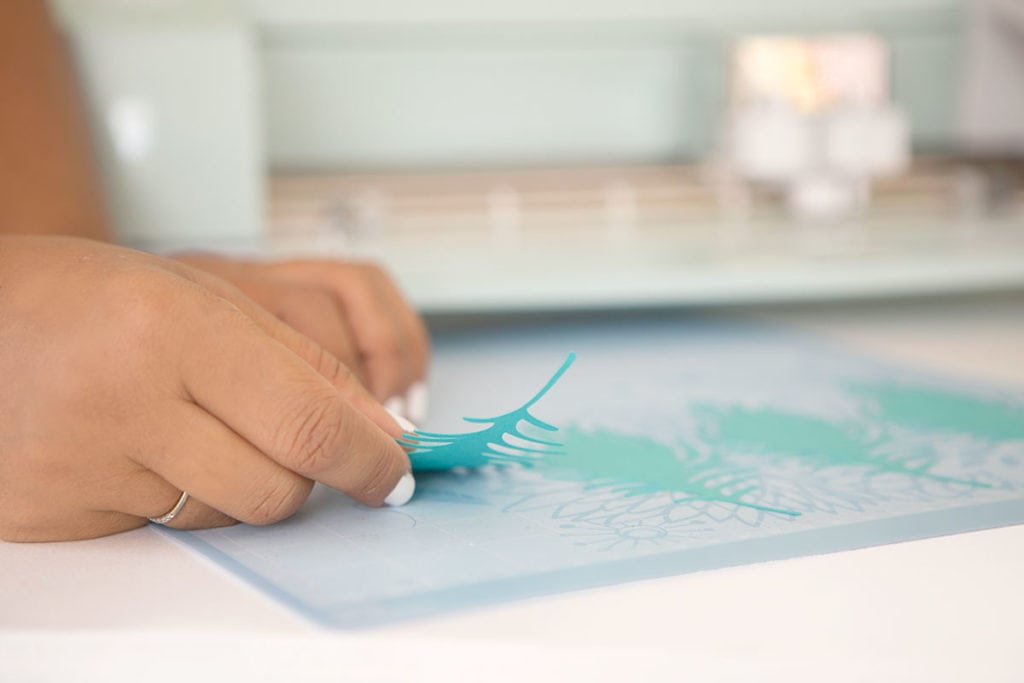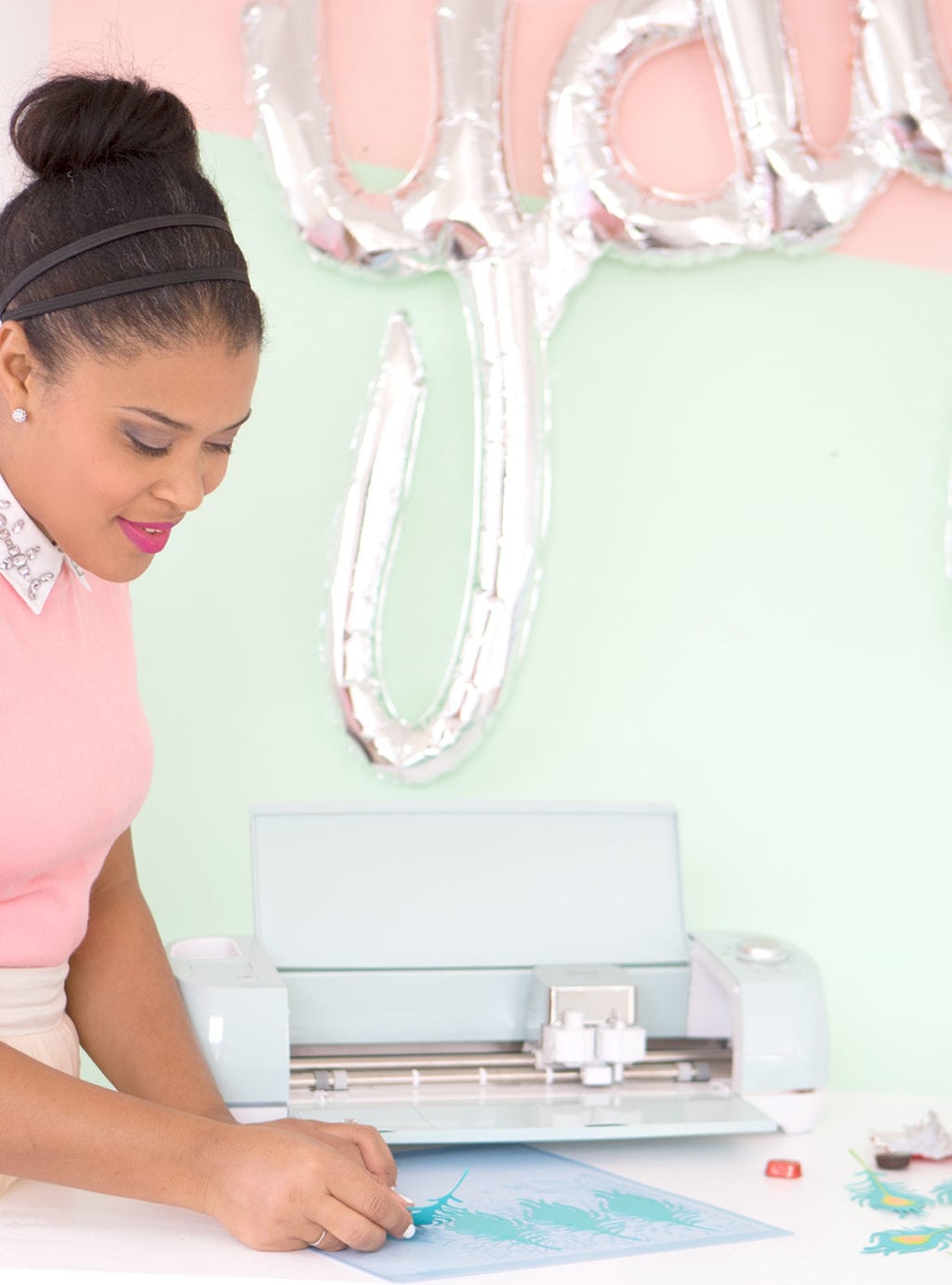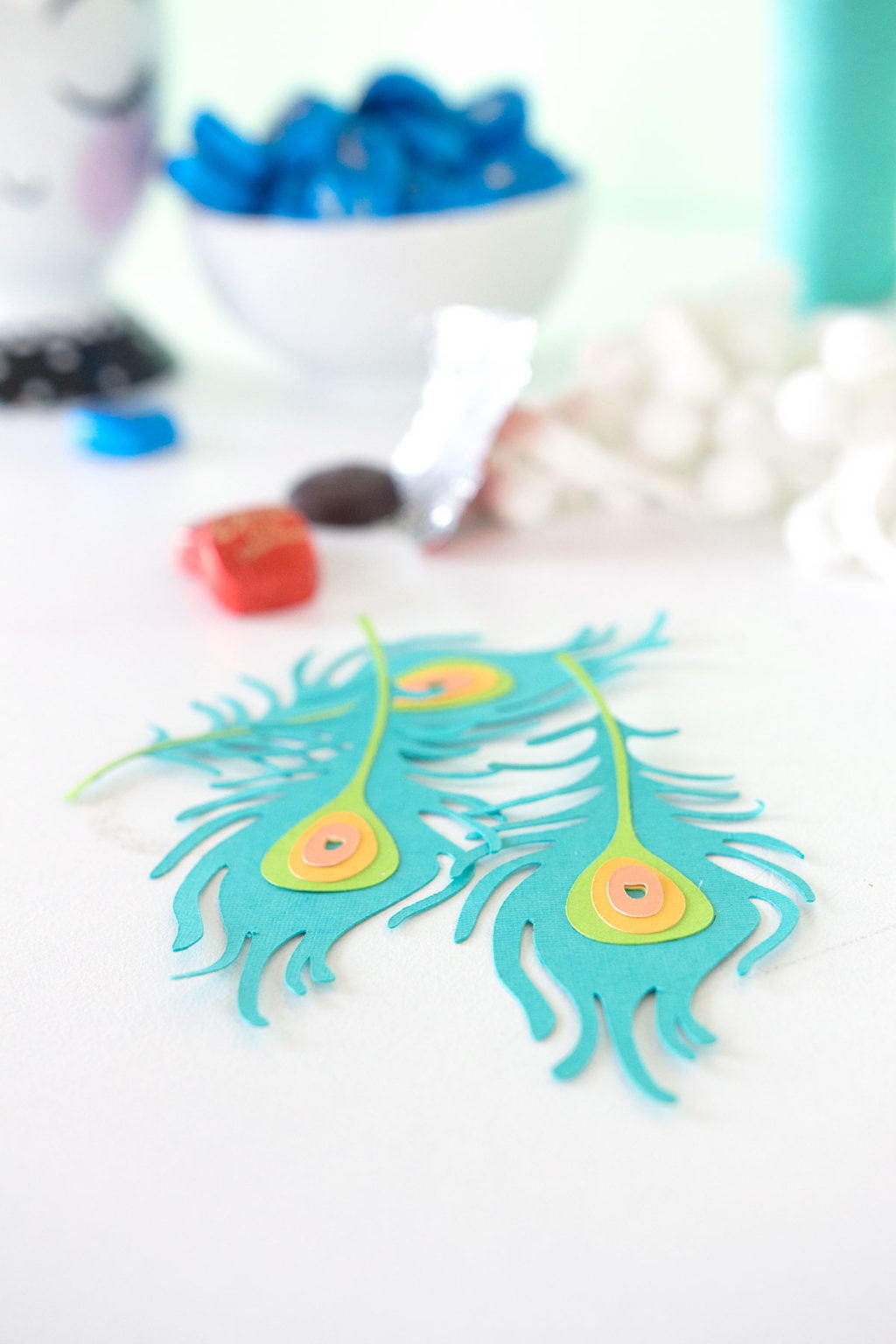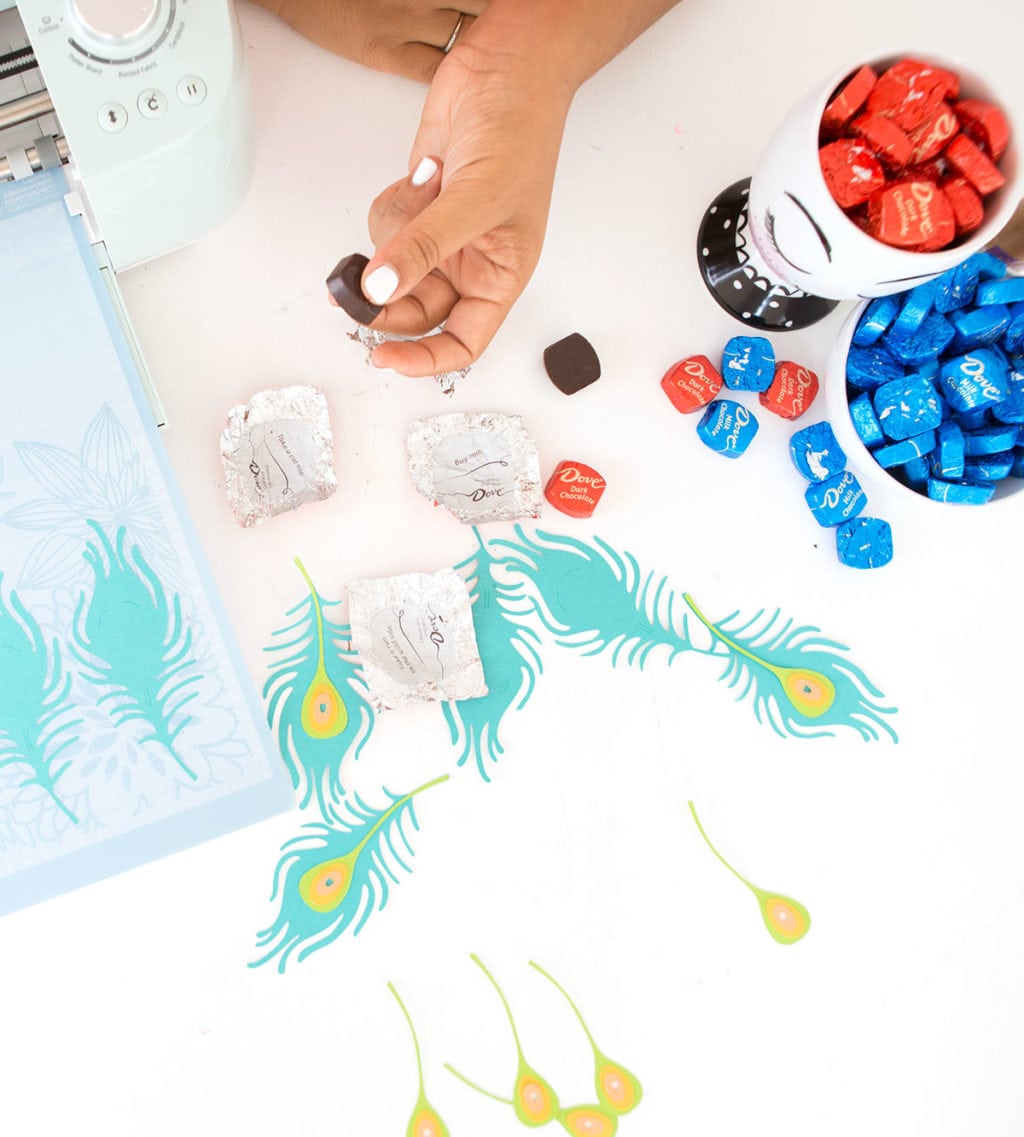 I started with cutting the feathers from paper using my electronic paper cutter. Way easier than using scissors!
Once the feathers were assembled, I cut the words from iron on vinyl…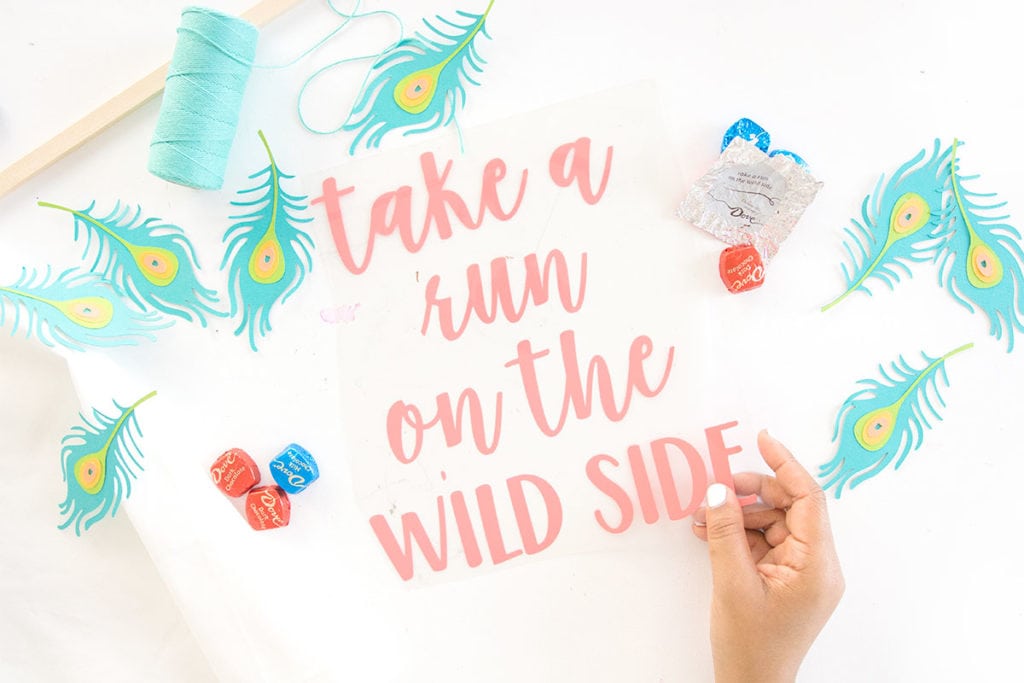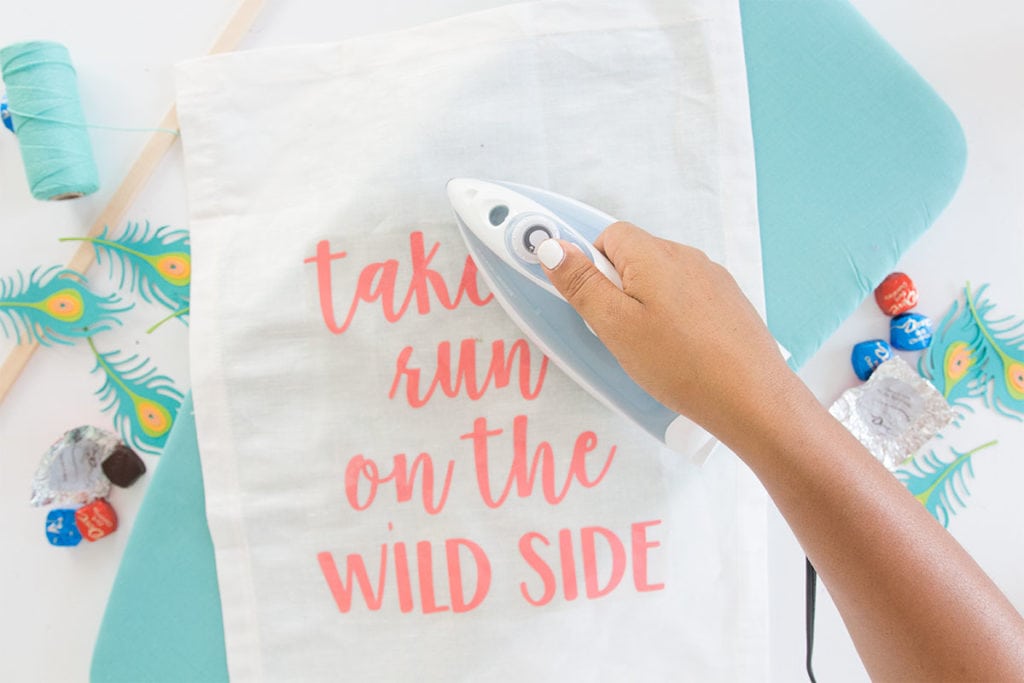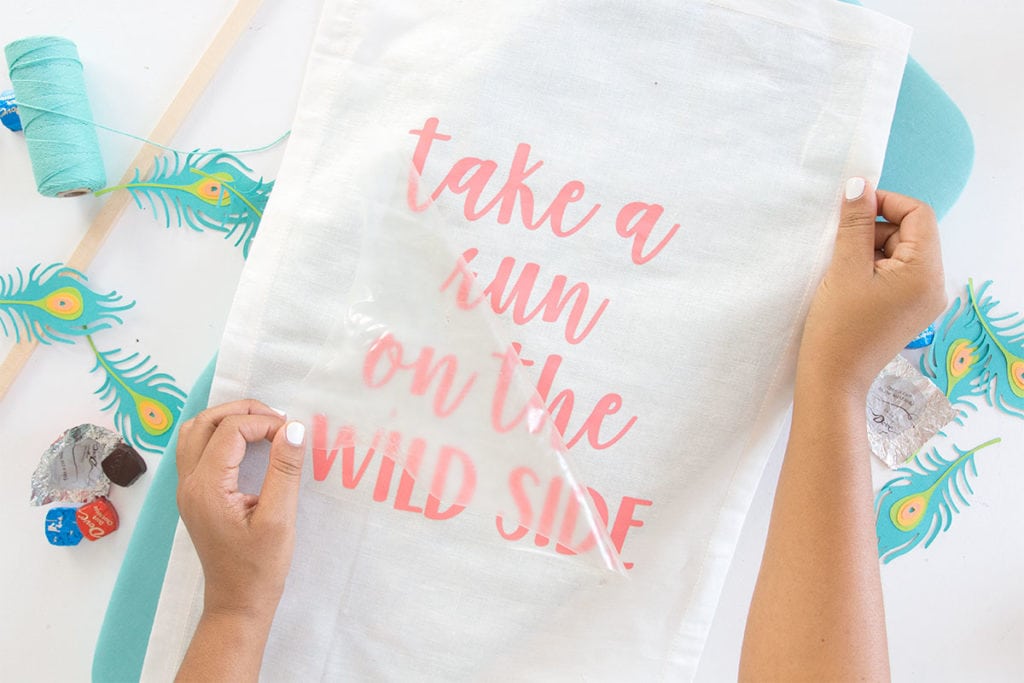 First, I ironed the vinyl onto an inexpensive table runner. Since the table runner is already stitched together, this means no sewing for me!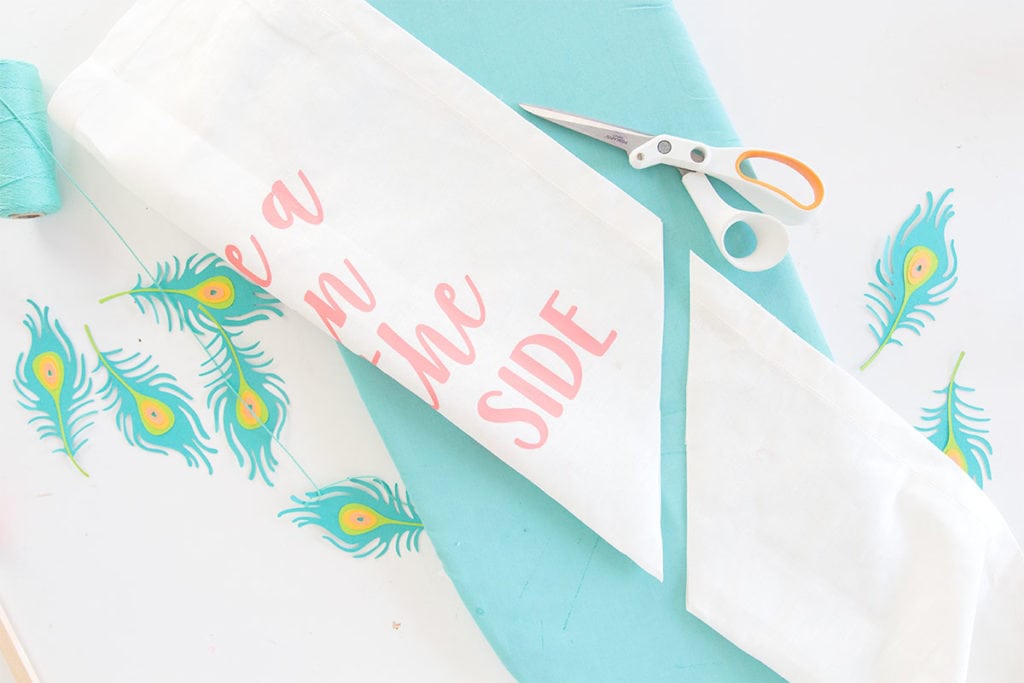 Next, I folded the runner in half and cut at an angle to create a pennant flag shape.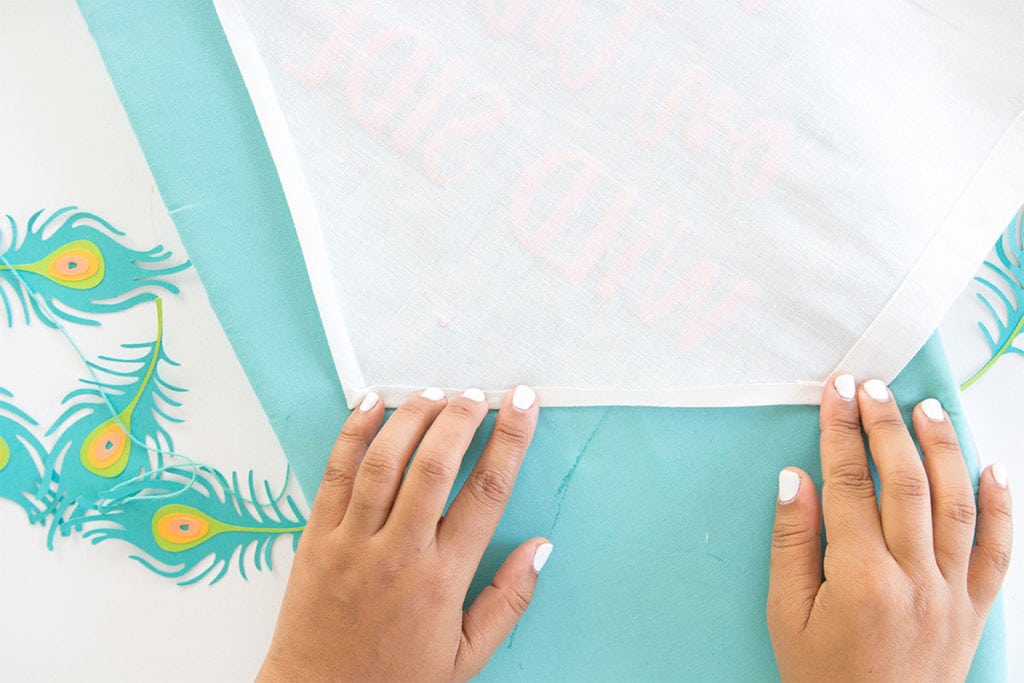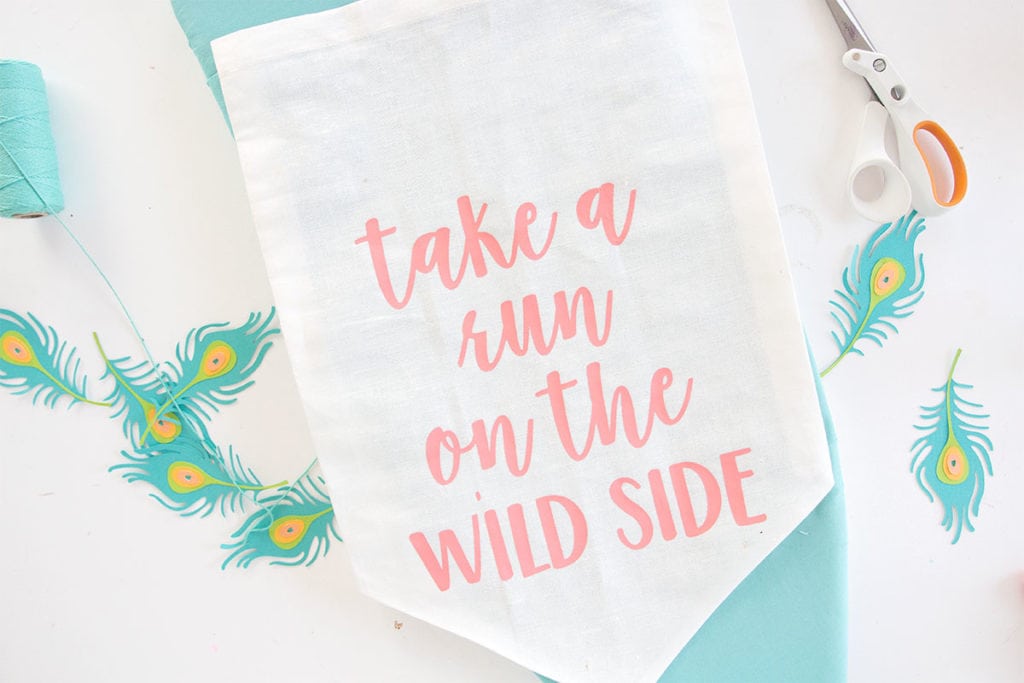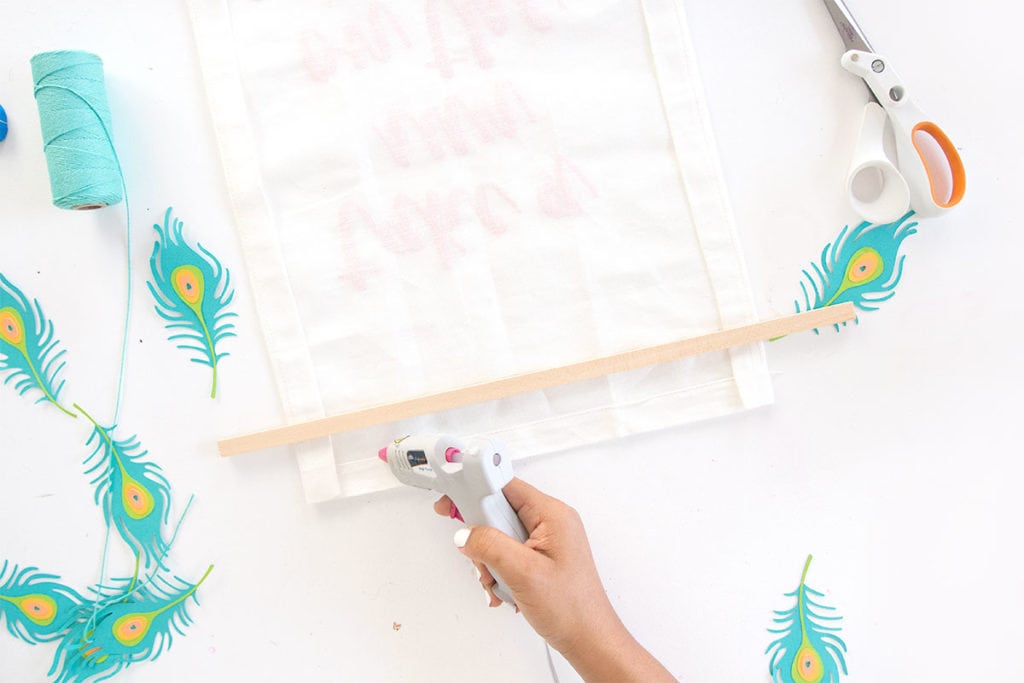 To give the wall hanging a place to …well…hang, I glued a wooden rod down to the top of the fabric. Easy!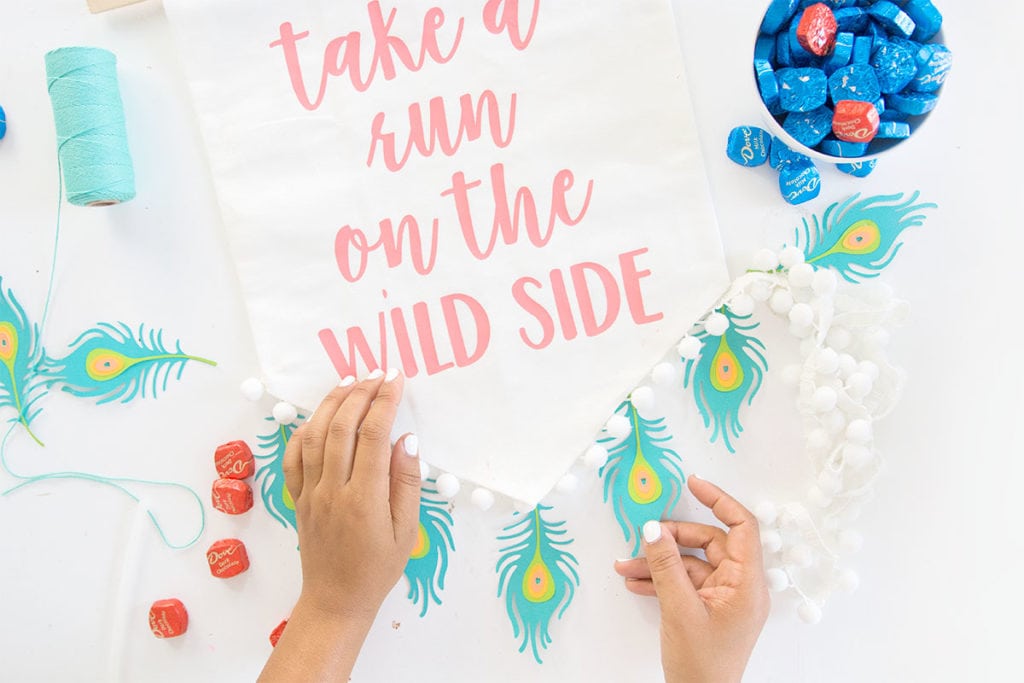 Last up – some pom pom trim and a few of those paper peacock feathers! The perfect way to display my favorite DOVE PROMISE message.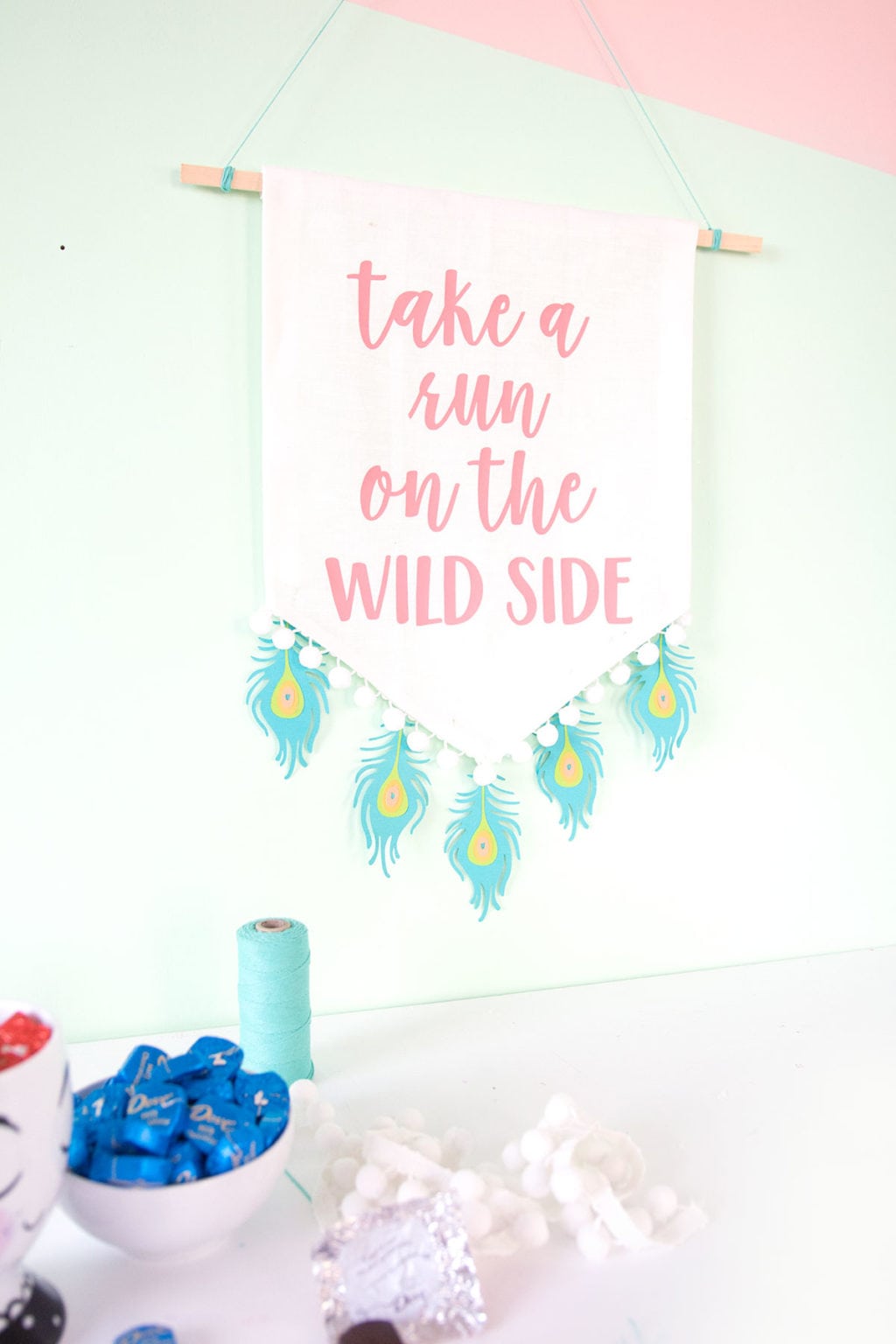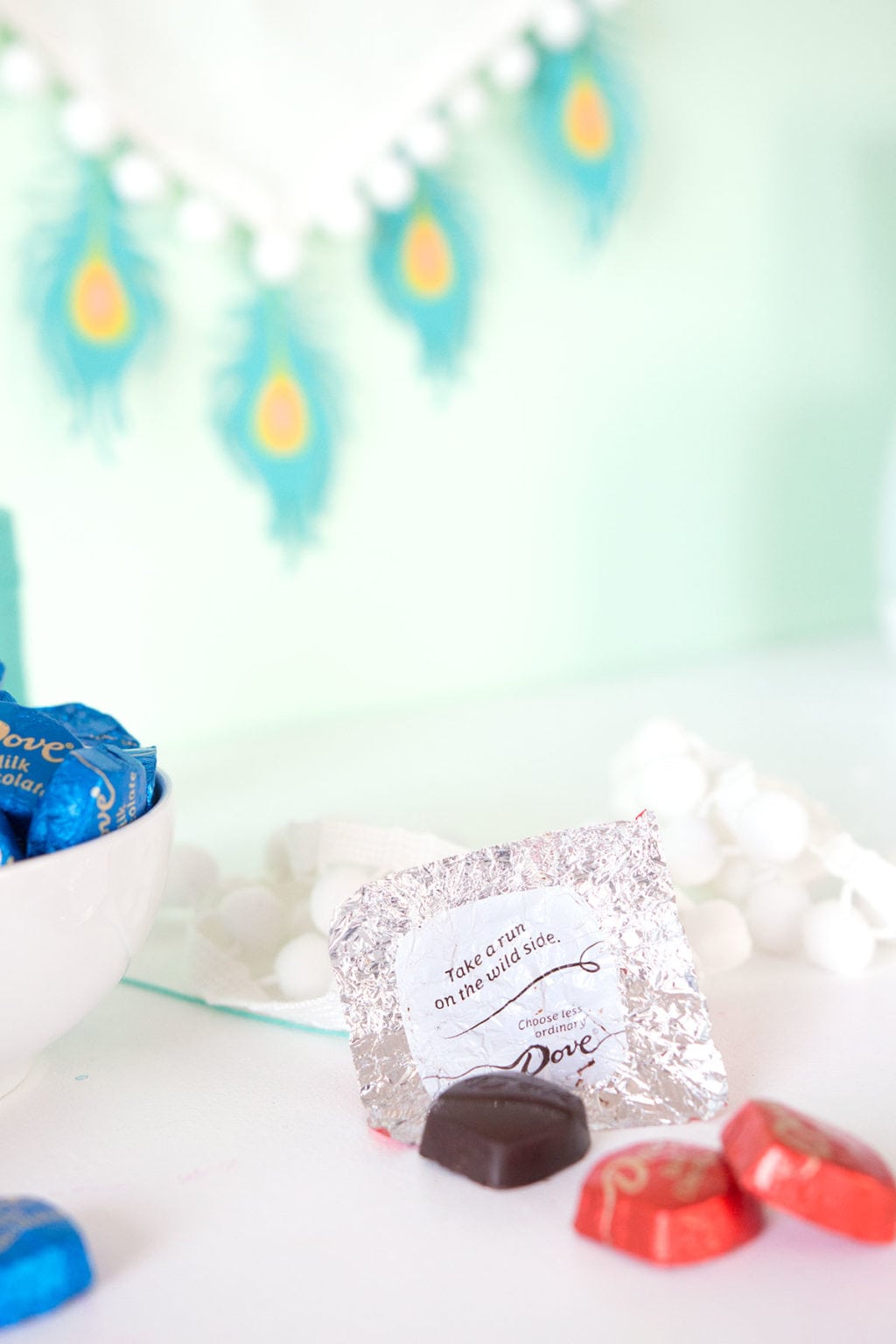 Shout out to DOVE Chocolates for partnering with Damask Love to create this delicious and crafty project! All project ideas, opinions and wacky stories are mine all mine…yes…even the Kenny Loggins story. Thanks for supporting all the fun collaborations that keep the lights on in this joint!