Happy Friday Friends!
Today I'm joining forces with 9 other designers to promote the newest issue of Paper Crafts Magazine – Cool Tools for Papercrafters.
This issue of Paper Crafts definitely goes down as one of my Top Five Faves! If you haven't picked up a copy – you really should! This is the kind of magazine that you'll keep forever and refer to often! Oh – and did I mention that one of my projects made the cover?!?!? How awesome is that?!
Today, we've all come together to share our own take on one "cool" tool that most crafter have in their arsenal: The Paper Punch.
I've gotta admit – I own way too many paper punches…and I NEVER use them! So, today's blog hop assignment was a welcome challenge for me to put those punches to work.
With Valentine's Day a month away, I am totally in "treat bag" state of mind! I decided that I'd use a few of my punches to create some quick and easy Valentine's Day treat bags with tags.
You'll love how easy these are to make and mass produce!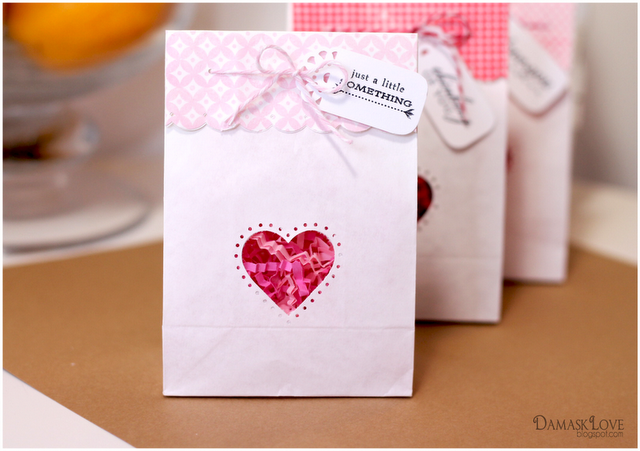 For these bags, I used punches for each component, making these really quick to create….
Here are my supplies…
The heart punch is an anywhere on the page punch by Martha Stewart and it fit perfectly into the paper bags to create a little window.
TIP: When using the scalloped border punch on the paper bag edge – fold the bag down first, then punch. This will ensure that both bag edges are even with each other.
Now – see those sweet little tags on the treat bags? I made those with a punch too!!! I used the
EK Success Abstract Flower Edger
which I got in my WCMD prize package! Here's a look at how they came together…
I punched the edge of a scrap strip of white cardstock.
Then I trimmed apart the strip like this.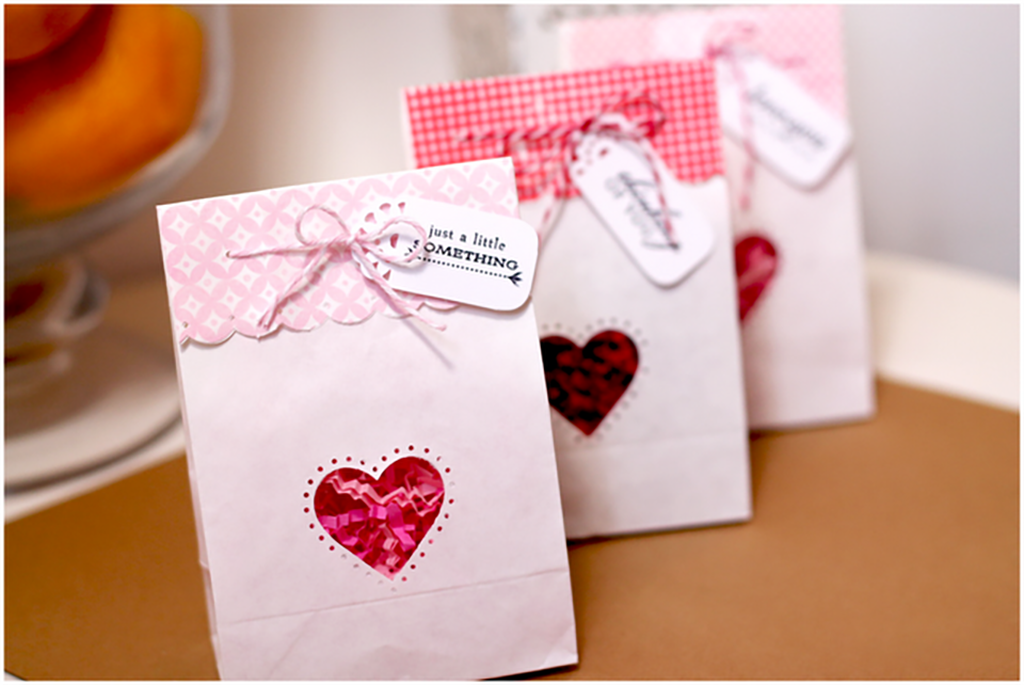 For a bit of color on each bag, I stamped the flap with a background stamp using classic Valentine's Day colors.
Hope this project inspires you to pull out your neglected punches and get creative with them!
Now before you leave, be sure to leave a comment for your chance to win a copy of this fabulous issue AND be sure leave comments on every blog along the way for the best chance of winning.
You also have the chance to win the mother of all prize packages by taking a trip over to the
Paper Crafts Connection Blog
where they are giving away many of the tools featured in Cool Tools for Papercrafters!
And with that…it's time for you to head off to see the rest of the inspiration from 9 other talented ladies (seriously – I am so excited to be participating with such an amazing group!!!)