Well, it's Gallery Idol time at Paper Crafts Magazine and I'm gonna play along for as long as they'll have me!
Now, before I show you one of my cards for the Gallery Idol competition, I have to tell you a secret. I am going to tell you this….and you have to pinky swear that you won't tell anyone else. Ok? Ok.
The Gallery Idol competition is not by first attempt at idoldom.
During my second year in grad school, while I was home for Winter Break…I traipsed myself over to the San Francisco Cow Palace…stood in line…slept outside…and auditioned for American Idol!
It was NOT glamorous. It was NOT cute.
There were thousands of people, most of whom were decked out in some sort of ridiculous costume that would get them on television. There were probably 30 men dressed up like Michael Jackson. Several chickens. And I distinctly remember seeing ONE man dressed up like all THREE of the Supremes.
They handed out wristbands and after two days of waiting (they do give you breaks so that you can go home and change, shower, etc), I went back to the Cow Palace (which was completely apropros for this cattle call audition) and sat inside for HOURS!
As we sat there, they panned the cameras and made us scream "San Francisco!!!!!" no less than eleventeen million times.  At the time, I was knitting a baby blanket. I probably could have knitted a technicolor dreamcoat in the time I sat waiting to audition.
Once it was my turn, the audition process was pretty efficient. There were about 25 tables set up on the arena floor. In front of each table stood five lines of people and each line was four people across. Each group of four advanced toward the table and each person was given approximately .02 seconds to sing their song. Down the line they went and at the end, they pointed to those who would advance.
I made it through two rounds. I never met Randy. I never met Simon. And the most unfortunate part was that I never met the ever-endearing, uber-crazy Paula Abdul.
I did, however, meet 30 men dressed up like Michael Jackson, a few chickens and all three of The Supremes…well, kind of.
So, you see…Gallery Idol is my last chance at idoldom. I'm too old for American Idol and I don't play any instruments, unless you count the Walking Piano at FAO Schwartz.
Here's hoping this Gallery Idol thing works out. If not, I'll have some fun cards to show for it…and that's just fine with me! At least there won't be long lines, wristbands and too many Jacksons.
****
Here's one of the cards that I'm entering into the contest: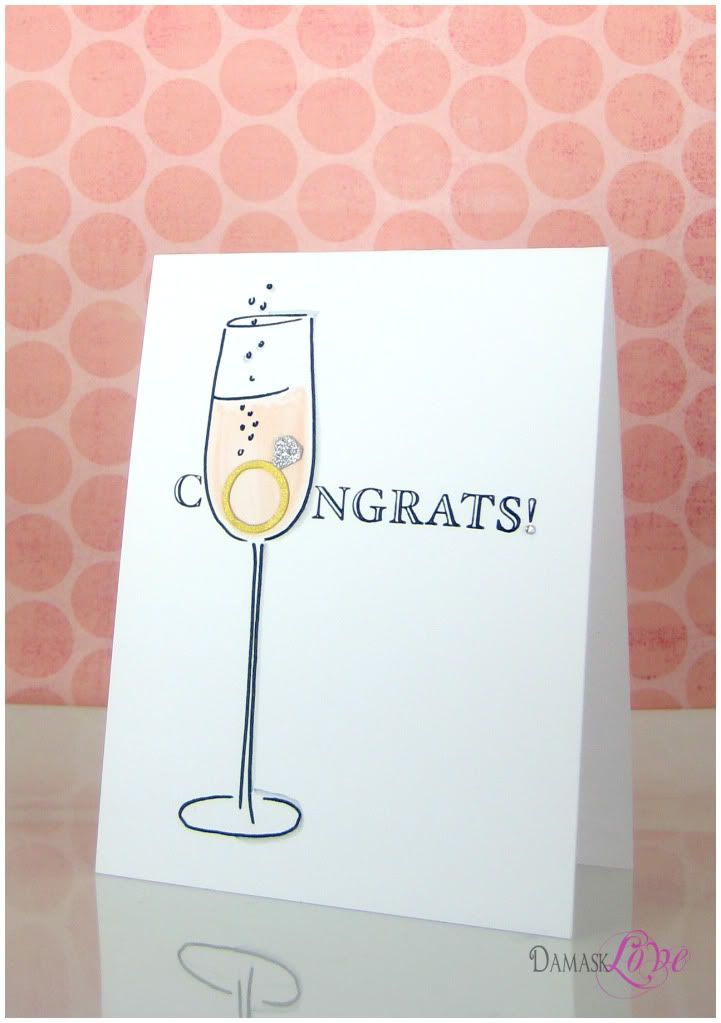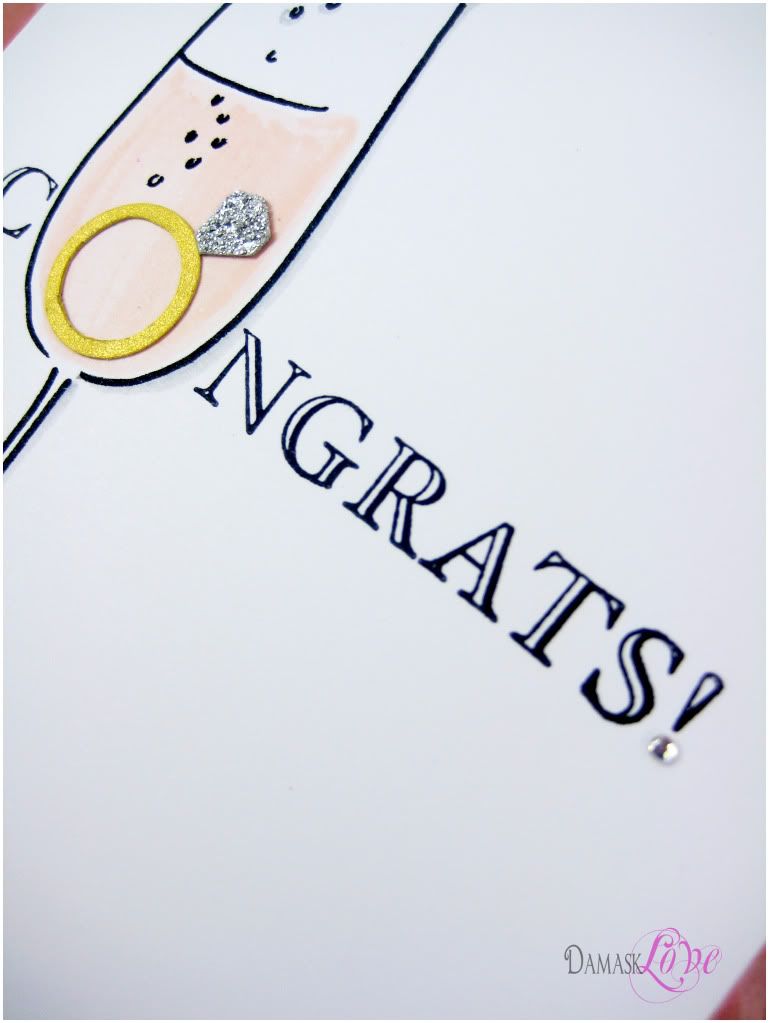 …and a little more bling for the exclamation point!
I envisioned this card a while ago but had the toughest time with execution! I tried cutting out the champagne flute. I searched for a stamp that would work. Finally, I did what people did before there were rubber and clear stamps…I drew it.
I used a plain ol' black marker to draw the champagne flute, then colored it in.
The rest came together much more easily. I used a circle punch create the gold ring and did some masking to make the sentiment fit!
A simple, one-layer, congratulatory engagement card!
Thanks for stoppin' by. I'll share more of my entries in the coming weeks!
Supplies:
Stamps: Clear stamps included in the Martha Stewart Heat Embossing starter kit
Ink: Ranger Archival Jet Black
Cardstock: PTI Stamper's Select, Joanns (gold cardstock), Michaels (silver glittered cardstock)
Other: Tombow Watercolor Markers, Adhesive 2mm rhinestones.