As you know, Gallery Idol is underway and there are just two days left to VOTE! Word on the street is that you should vote for entry #6!!
Last Friday, when I found out I was in the Top 20 group, my mind immediately was a flurry of DIY embellishment ideas!
As I sat at my desk on Friday afternoon, scoring IQ tests and writing reports, I started fidgeting with some paperclips on my desk…then I got an idea…
On Saturday, I turned my idea into a card and even though I didn't enter this DIY embellie into the contest, I thought I'd share it with you here!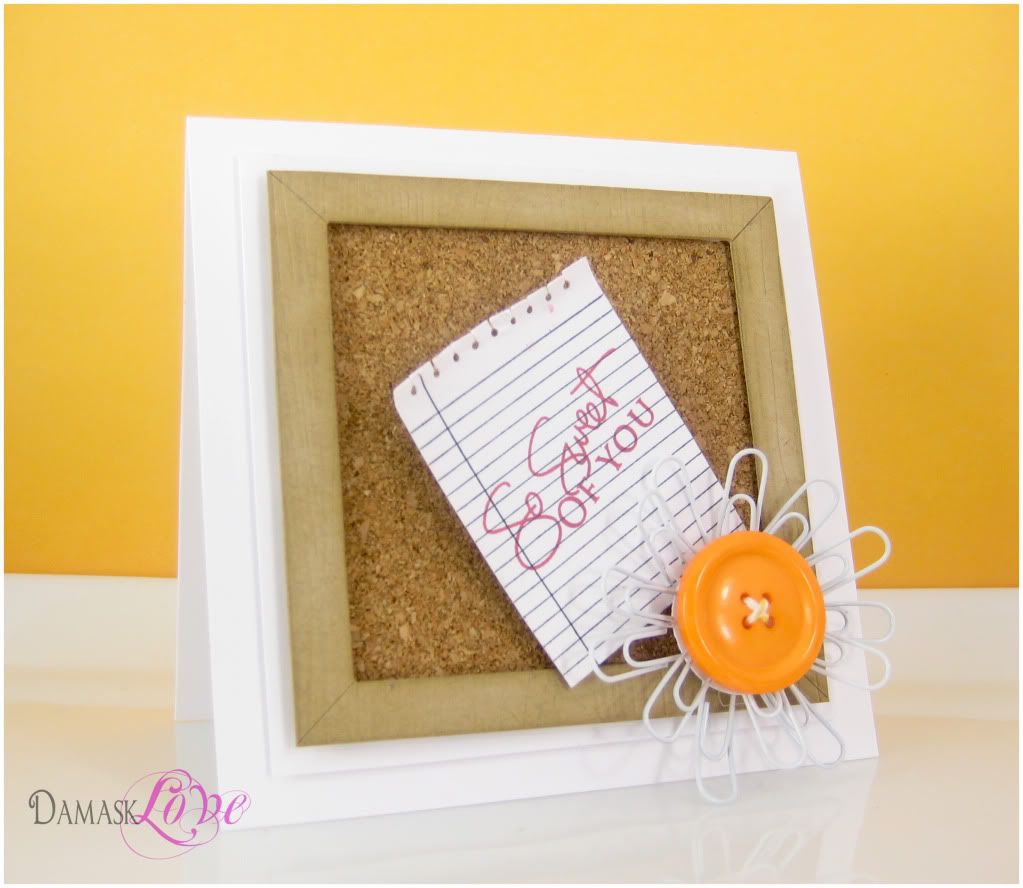 I channeled my love for Office Depot with this one by using some supplies that you might find on any given workday!
I created a little corkboard for this card and then a fun notebook page to feature the sentiment.
The paperclip flower is quite possible the easiest DIY embellishment ever! I pulled out my hot glue gun…which I LURVE and adhered the paperclips to a circle punched piece of paper. Stick a button in the middle and call it a day!
Now, you can't see it in this photo, but I also adhered a little magnet on the back of the flower. This way, the recipient can mount this embellie on the fridge to help hold important reminders and papers! Don't you just love a double duty embellishment?
Well, that's all for my Gallery Idol rejects. I've got my fingers crossed that I'll get to play in the next round and maybe share a few more rejects with you!
Thanks for stopping by for some Damask Love…now go
VOTE VOTE VOTE
in the Gallery Idol competition!!!!
Supplies:
Stamps: PTI Signature Greetings, Hero Arts Just a Note
Ink: Stampin Up Real Red
Cardstock: PTI (Kraft, white)
Other: The Cork Dudes Cork Roll
, colored paper clips, PTI Orange Zest button, PTI Woodgrain Impression Plate