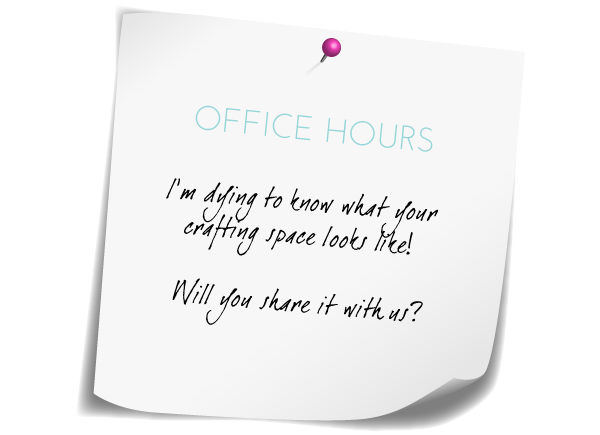 Of all the questions I've received from readers, this might just be one of the most popular ones… which tells me something about you guys – ya'll are just as nosy as I am! And I love it! Before I get this tour going , two things – 1) My crafting room never looks like this. I do my best to keep it tidy, but there are always a few projects strewn about. I kind of prefer it that way…a little bit of mess makes me feel productive and creative. 2) I've seen some pretty amazing crafting spaces. Like something straight off of HGTV. That is not my space. I've pieced together this room with old and new furniture and it suits my needs perfectly! It will not, however, be in the pages of House Beautiful anytime soon. I'm cool with that.
And with that…let's proceed.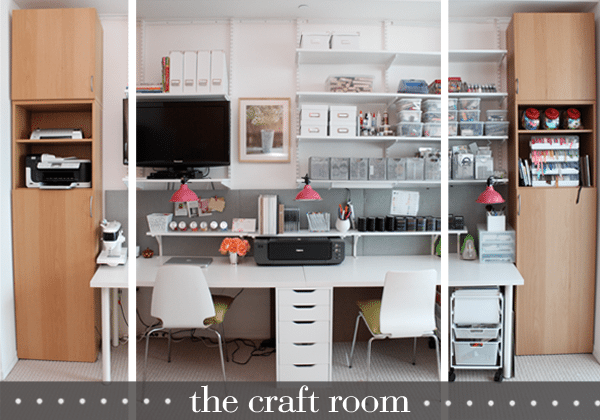 My craft room also serves are our guest room…which is pretty funny, since every guest we've ever had in this room has actually created something with my crafting supplies – so fun! The main wall of my craft room measures about 10 feet across and houses my desk and the bulk of my storage space.  My crafting desk, drawers and chairs are all from IKEA – the only place to purchase craft room furniture in my opinion! The two tall towers that flank my desk are also from IKEA and are part of their BESTA collection.
The shelving above my desk is from the Container Store's Elfa System, which is absolutely the best for customizing small spaces. I must have spent 3 hours working with the people at the Container Store sketching and planning out these shelves! In the end, I have the perfect space for storing all of my goodies.
The shelves on the right are where I store all of my stamps in mesh CD case organizers. I wish I could tell you that I have some amazing organizational system for keeping my stamps in order…but I don't. One day. When I have an assistant!
And see that file drawer on wheels under my desk, on the right? That's where I keep all of my cardstock, acrylic stamping blocks, paper trimmer & scoring board. For more deets on the cart and more photos of the room, just click through ….
 I keep my cardstock organized in coordinating hanging file folders, which is mostly for function, but it also looks pretty! It's really nice to have my "most used" supplies at an arm's length away! Of all the organization tools in my craft room, this file cart is by far my favorite!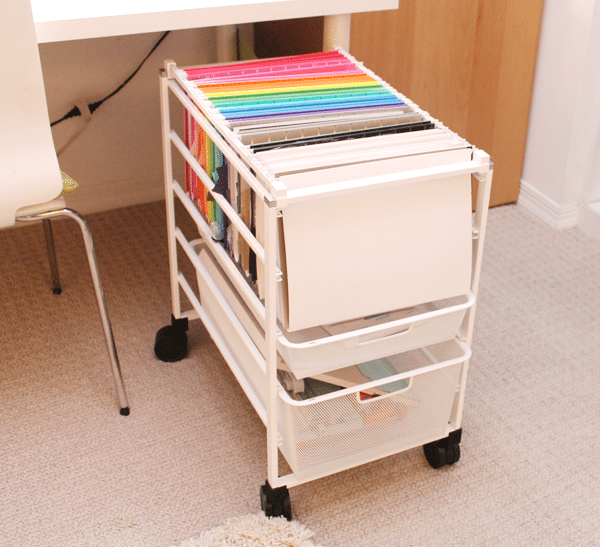 When it's time for me to sit down and get crafty, I divide my craft desk into two spaces….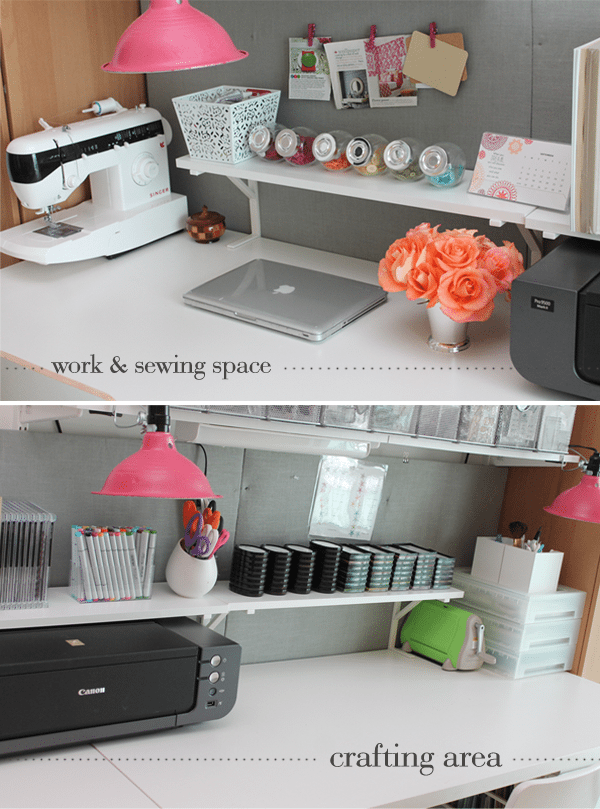 My work & sewing area is set up so that I can easily access my everyday printer as well as my sewing supplies. The other side of my desk is where I do all of my crafting. It's a bit closer to the window, which gives me great light and I also have access to all my ink pads, markers, scissors and other basics.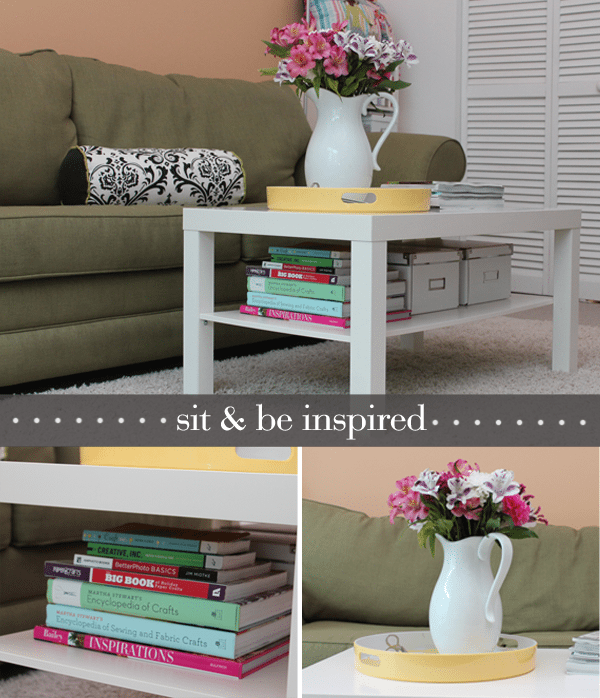 Since the craft room serves as a guest room, I couldn't take over every single inch of wall space with my supplies (….yet). To make the room a little more cohesive, we opted for a pull out sofa that can easily be tucked away when we don't have guests. This allows me to have a really nice sitting area for hanging out, flipping through magazines or watching television…when certain husbands in the house have hijacked all forms of media in the living room with *insert sports show/game here*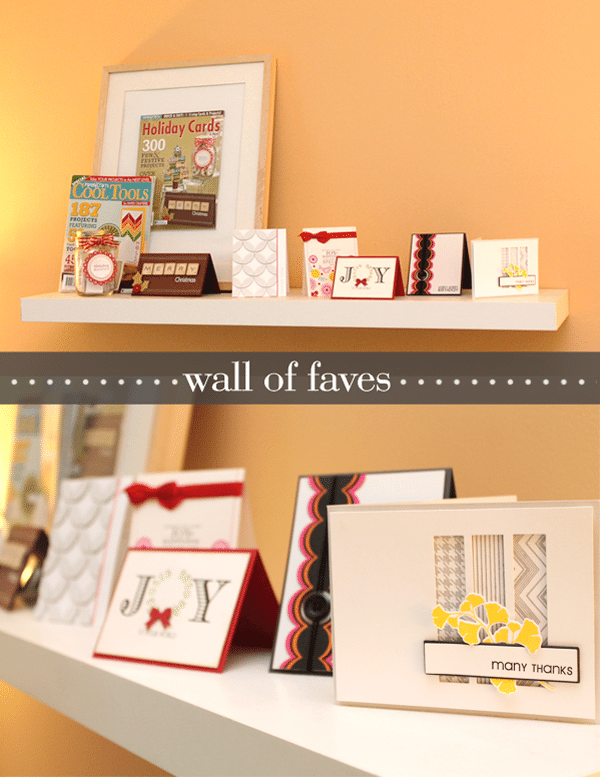 Above the couch, I installed a floating shelf where I  show off all of my favorite cards and my Paper Crafts Magazine covers! Even if you have just a few inches of spare space, I really suggest using it to show off your favorite designs. For me it's really inspiring to see them up there on display! Makes me feel like I'm a legitimate crafty girl.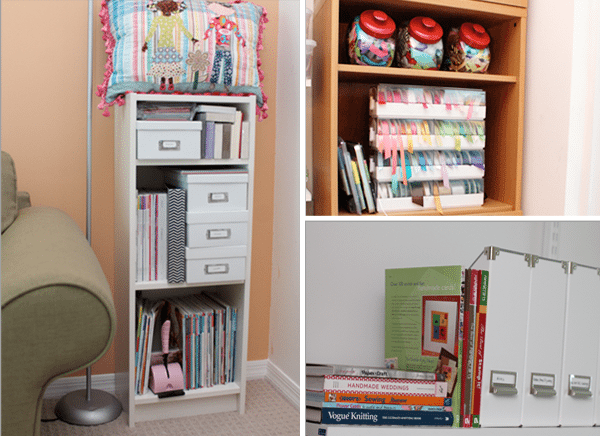 Around the room, I have several little organizational "stations" that keep things in order. For only $24.99, my white bookshelf from IKEA is a lifesaver! It has a very small footprint but can hold tons. I use it to keep back issues of Paper Crafts Magazine as well as my ever growing stash of envelopes! You may recognize that pillow on top from THIS post!
When it comes to ribbon, I own entirely too much for someone who rarely uses it…but isn't that always the way with us crazy hoarding crafters?!  I picked up those ribbon organizers from the Container Store along with those slanted jars (which I got on clearance after Christmas) and  I use them to corral all of my ribbon scraps.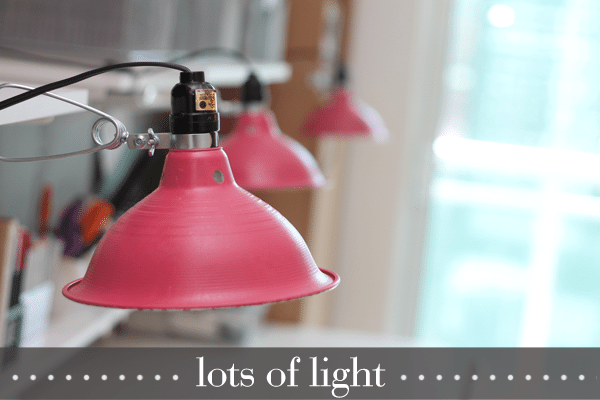 One of the MOST necessary components of my craftroom layout is lots of light. Since most of my creating is done in the wee hours of the night, I can't take advantage of Mr. Sun, who come beaming in from the large window…so instead I have to create my own. To give me strong, bright, white light, I use clamp work lights which I fit with Ecosmart 14 watt (60 watt equivalent) daylight bulbs. Now, just believe me when I tell you that these bulbs will light your workspace up like Christmas at the Griswold's and they last FOREVER. I kid you not. I have had the same light bulbs in these lamps since Damask Love started in January 2011. How's that for a "shining" endorsement! I got the idea to spray paint the lamps from this post over at Little Green Notebook – and I'm so glad I did. Makes it so purdy!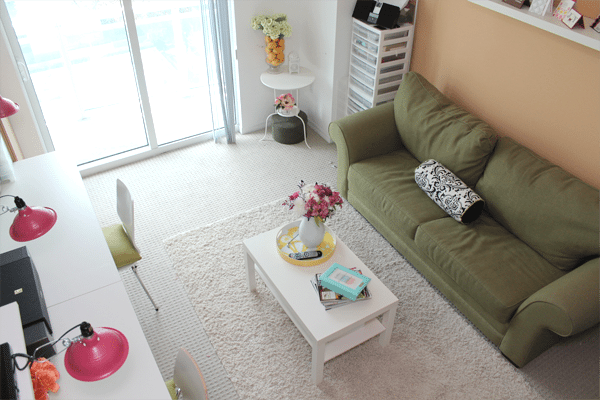 And that's it! So glad I got to share this with you. OH – one more thing – see that pink notebook sitting next to my laptop – that's another calendar coming up next week! You won't wanna miss it!
Questions?
I'm happy to answer all your questions about this post! I ask though, that you leave them in the comments section and I'll reply to each and every one! This way, everyone can see what's being asked and get as much information as possible!