If you know me, you know Cricut. You may not own one. You may not even want one. But if you read this blog or follow Damask Love on social media, you've heard me talk about my Cricut on more than one occasion. That's because I'm on a not-so-secret mission to get a Cricut Explore or Cricut Maker into your house. Hell, if I could hand deliver it, I totally would! Until the day when I have my Oprah moment (i.e. "You get a Cricut, You get a Cricut!") – we'll have to settle for creative, colorful blog posts like today's, where I reveal the newest goodies available this week on HSN.
For those of you who are new 'round here, I'm a craft expert/guest on the Home Shopping Network, which means I get first look at the coolest crafting deals that are coming to your television screen. This time around, the biggest deal in town happens to be the Cricut Maker in a brand new color along with two bundles – The Scoring Wheel Materials Bundle and The Knife Blade Materials Bundle. If you're wondering: "What the heck is a "scoring wheel" and a "knife blade"?! – well, settle in, sister – I'm about to tour you through these cool tools and in true Damask Love form, give you some colorful, creative inspiration (there may or may not be a paper pineapple involved).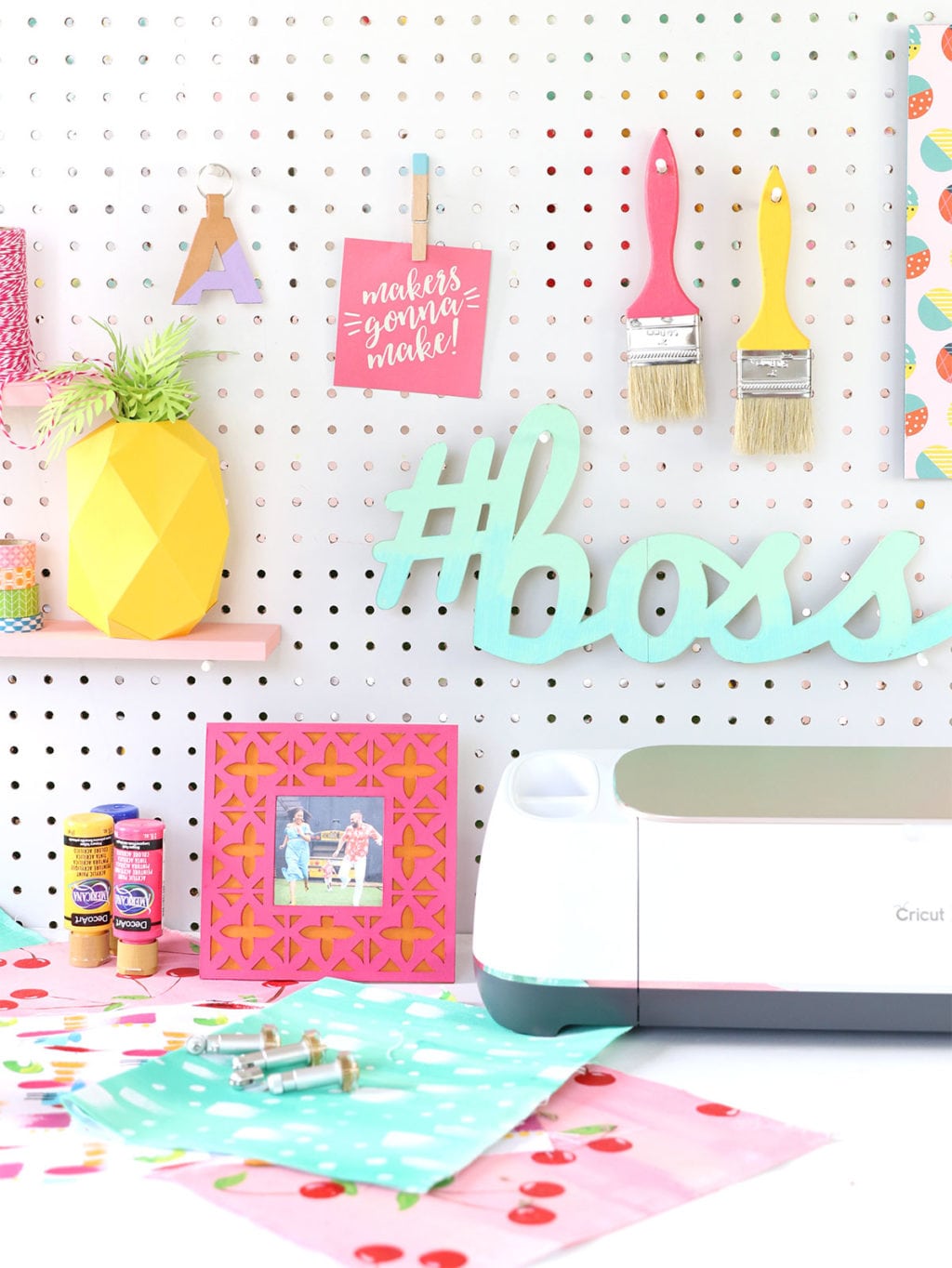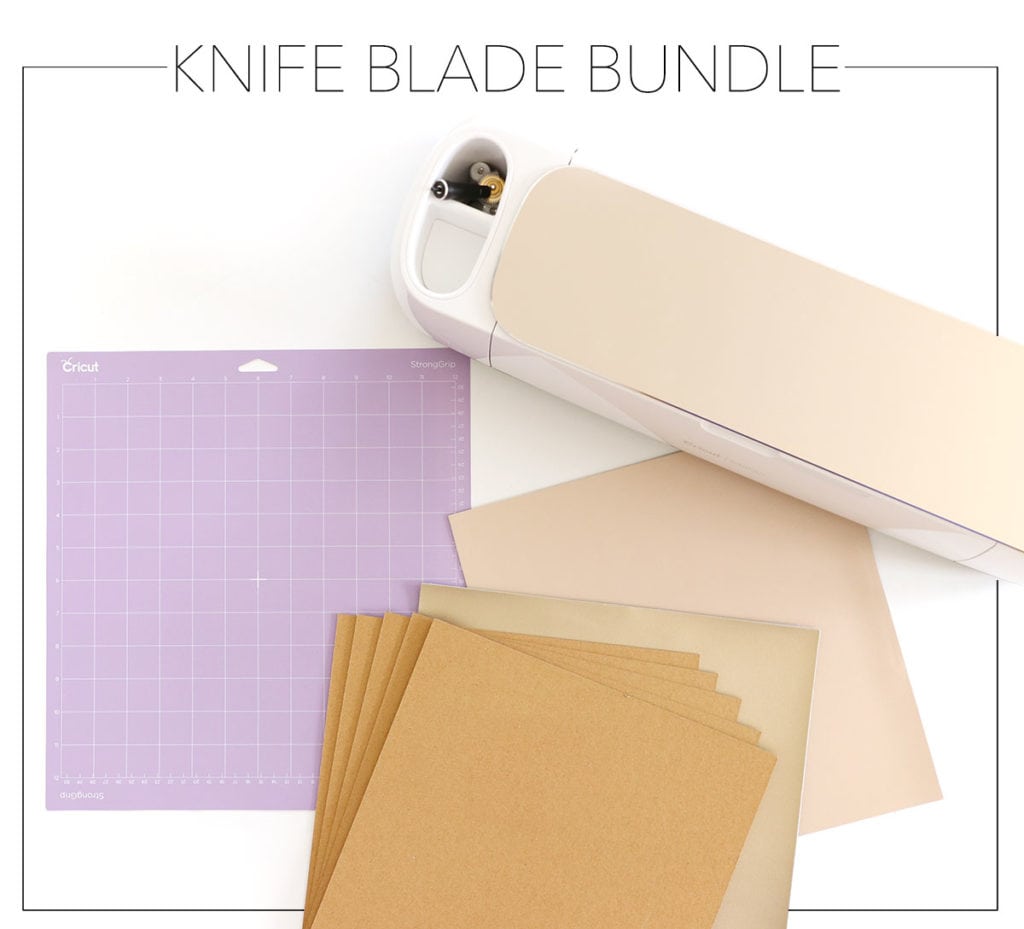 First, let's talk the Knife Blade materials bundle – it's essentially a heavy-duty craft knife, minus the part where you have to do all the cutting by hand and worry about slicing off your pinky finger. This blade works exclusively with the Cricut Maker and makes short work of thick materials like super thick chipboard, genuine leather and balsa wood. I'm not blowing smoke when I say this tool will truly change the way to think about your next craft project.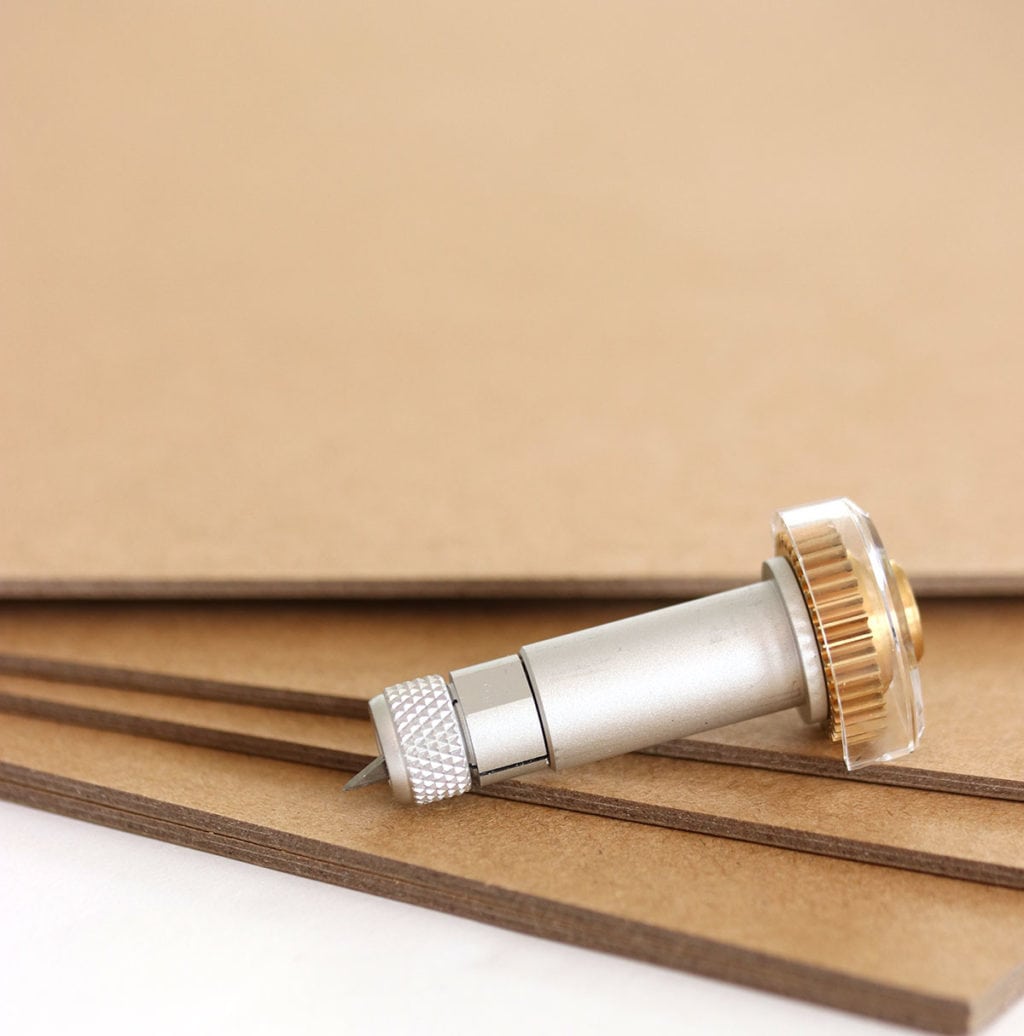 If you've got a little mad money burning a hole in your pocket, you can snag the HSN Knife Blade Materials Bundle which includes:
Cricut Heavy Chipboard 2.0mm 12×12, 5 sheets (this stuff is GOOD!!!)
Cricut Metallic Rose Gold Leather 12×12, 1 sheet
Cricut Metallic Gold Leather 12×12, 1 sheet
Cricut StrongGrip 12×12 Cutting Mat
---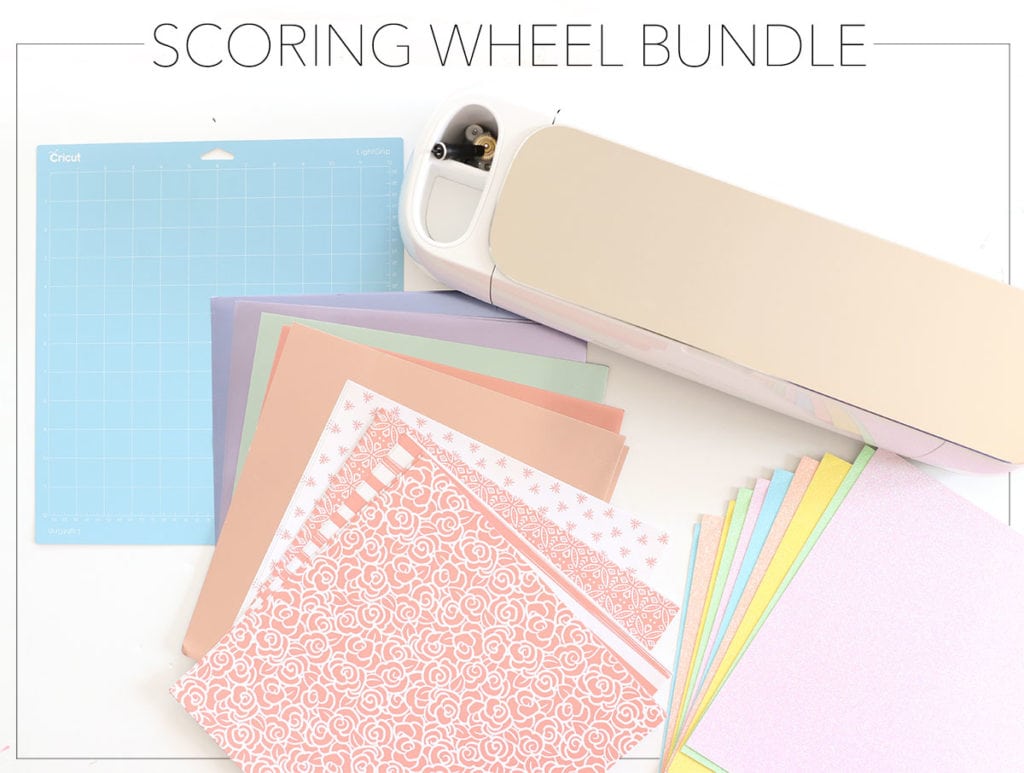 If you're still itching to spend some dough – girl, I can't blame ya! I've got another sweet deal to tell you about and her name is Scoring Wheel. She's the newest member of the Cricut Adaptive Tool Family and she's a smart one. The Scoring Wheel allows you to create precise, deep creases in your projects so there is no guess work when it's time to do all the folding. Again, this tool is exclusive to the Cricut Maker and provides 10x more creasing pressure than the scoring pen that you're used to using.
The Scoring Wheel can tackle clear acetate, poster board, designer papers and of course standard cardstocks. The wheel also features QuickSwap™ Drive Housing for easy changes between scoring and double scoring tips​. Oh yeah – and the best part is that the Design Space app will tell you which of the heads to use on your project material.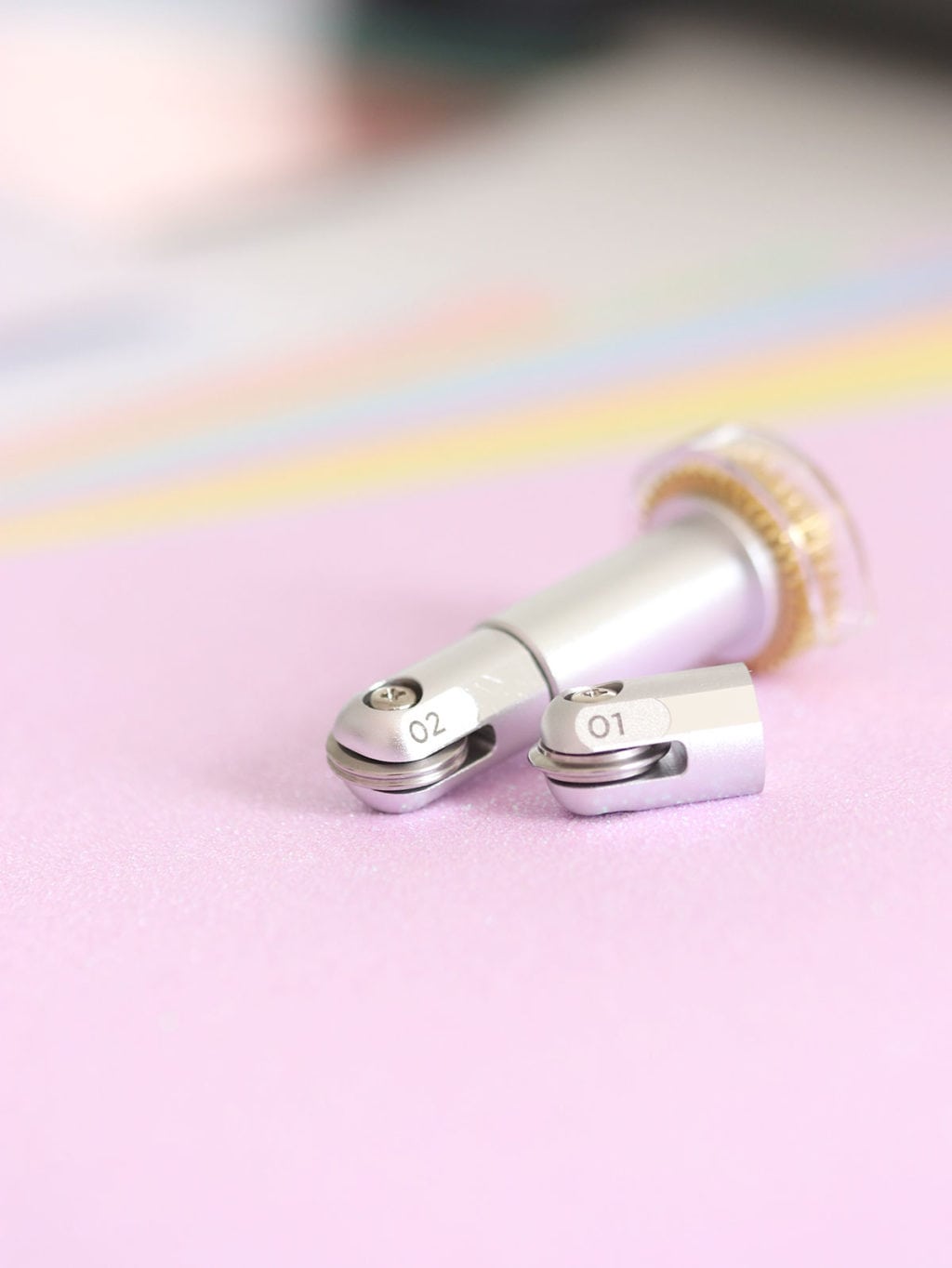 If you're ready to have your very own scoring wheel, there's an HSN materials bundle that you can snag right now. It includes:
Cricut Pastel Glitter Cardstock 12×12, 10 sheets
Cricut Acetate Clear 12×12, 6 sheets
Cricut Pastel Poster Board 12×12, 10 sheets
Cricut Pink & White Foil Embossed Paper 12×12, 12 sheets
Cricut LightGrip 12×12 Cutting Mat
---
And now that you have the rundown, let's talk about how  used both of these tools to create some beautiful decor for my crafting table.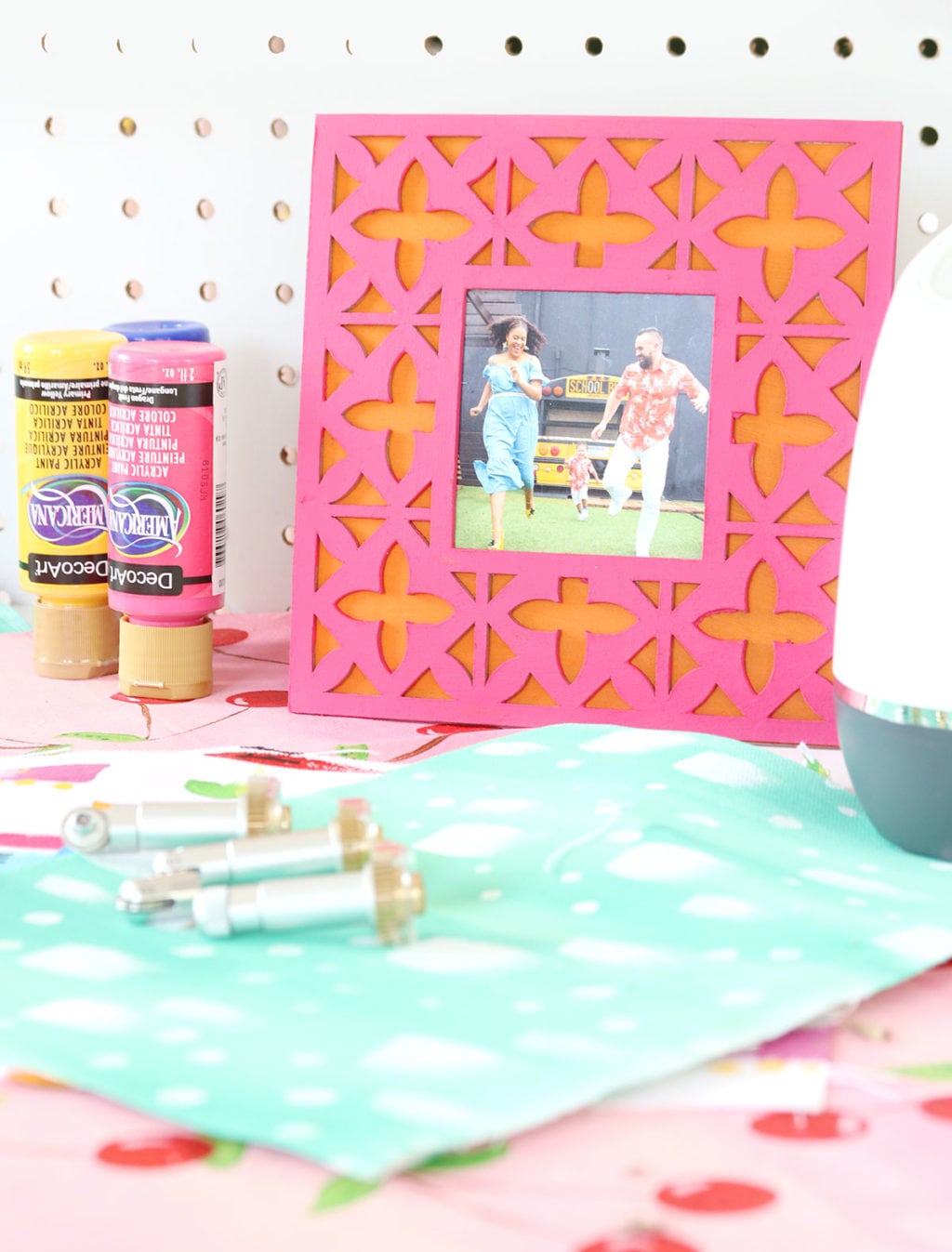 First up – I used the knife blade to create a chipboard frame that mimics the look of laser cutting. All those intricate details would have been impossible to do by hand, and the finished product looks like something from **fill in the blank, fancy, schmancy, home décor store**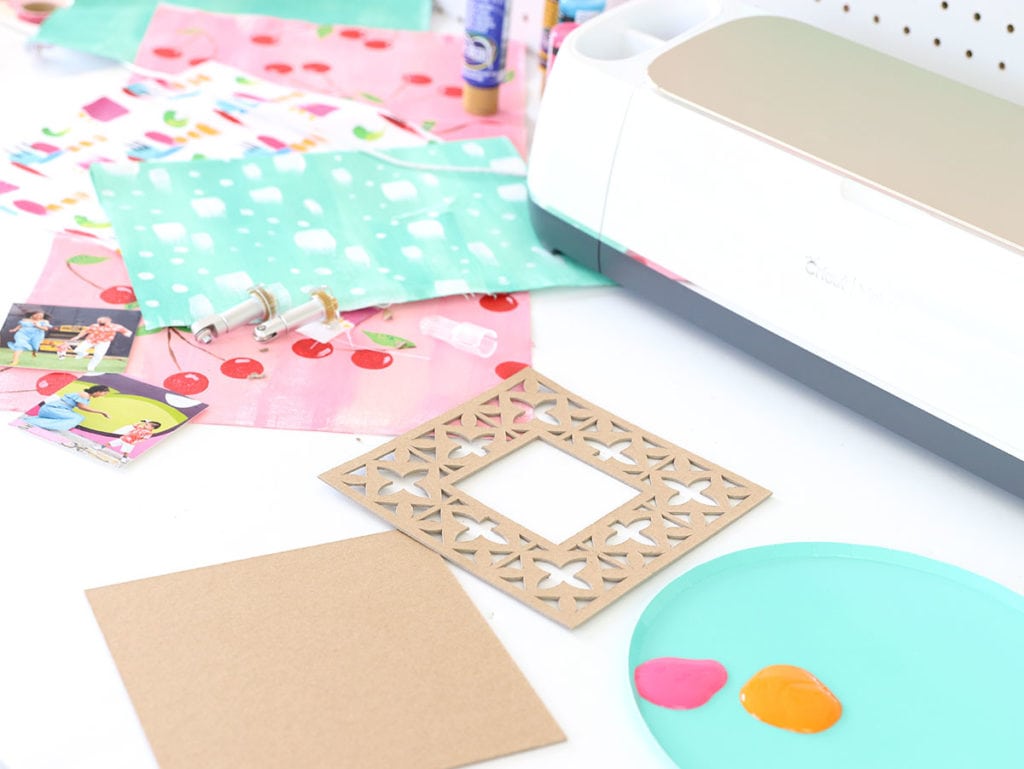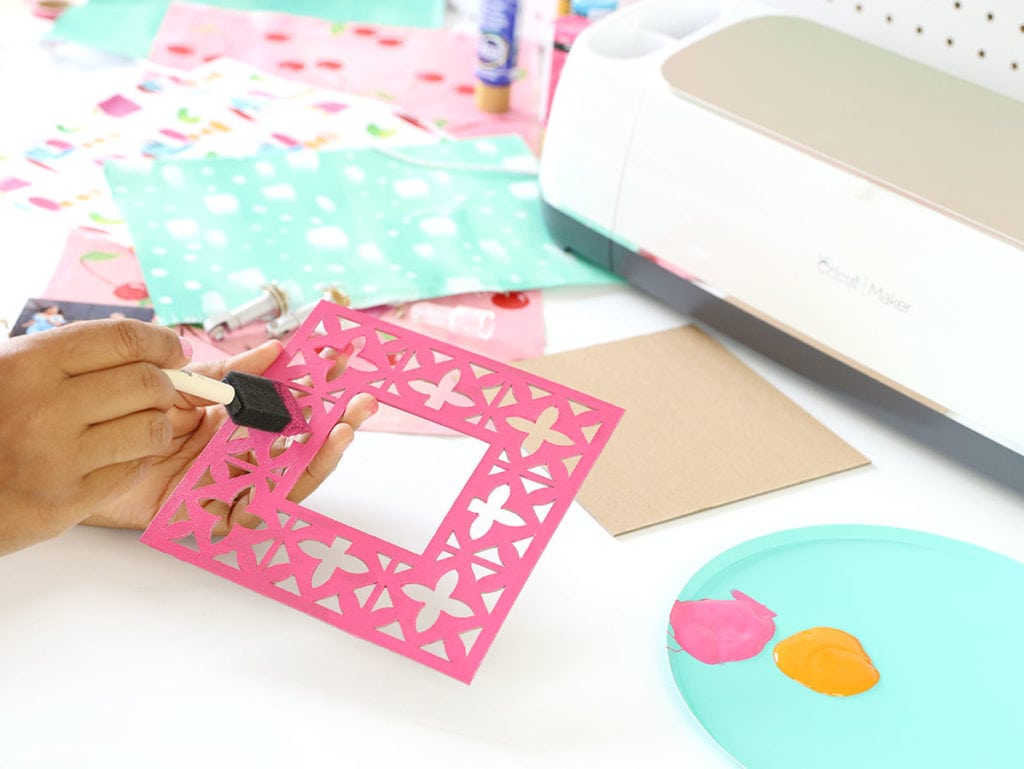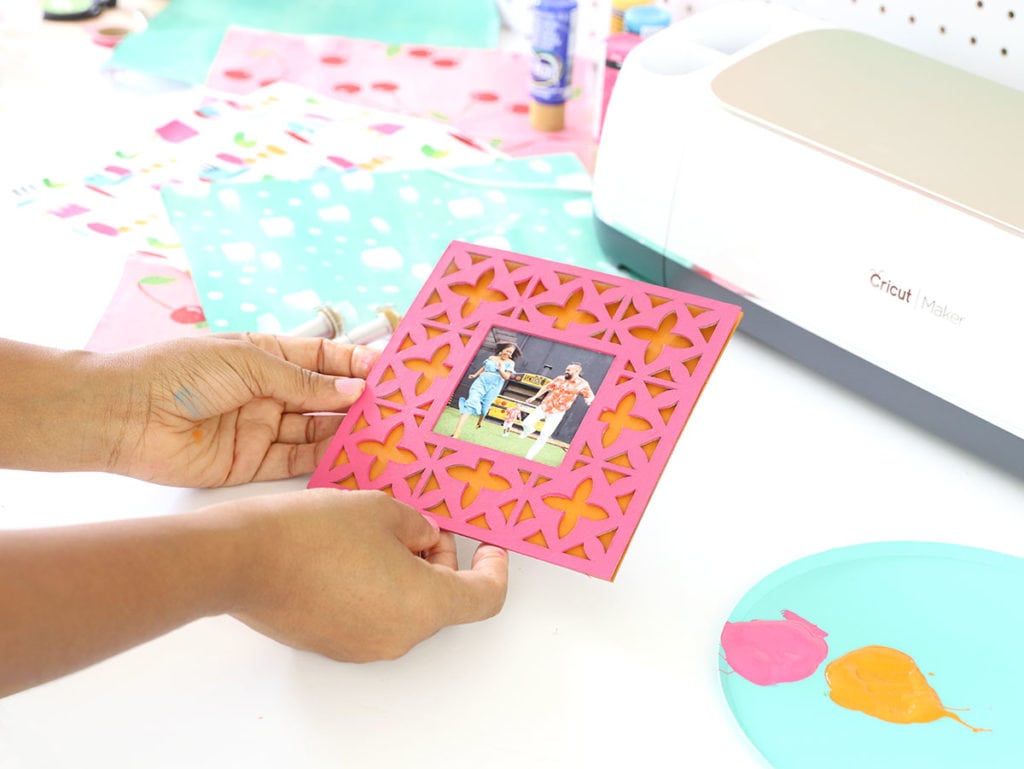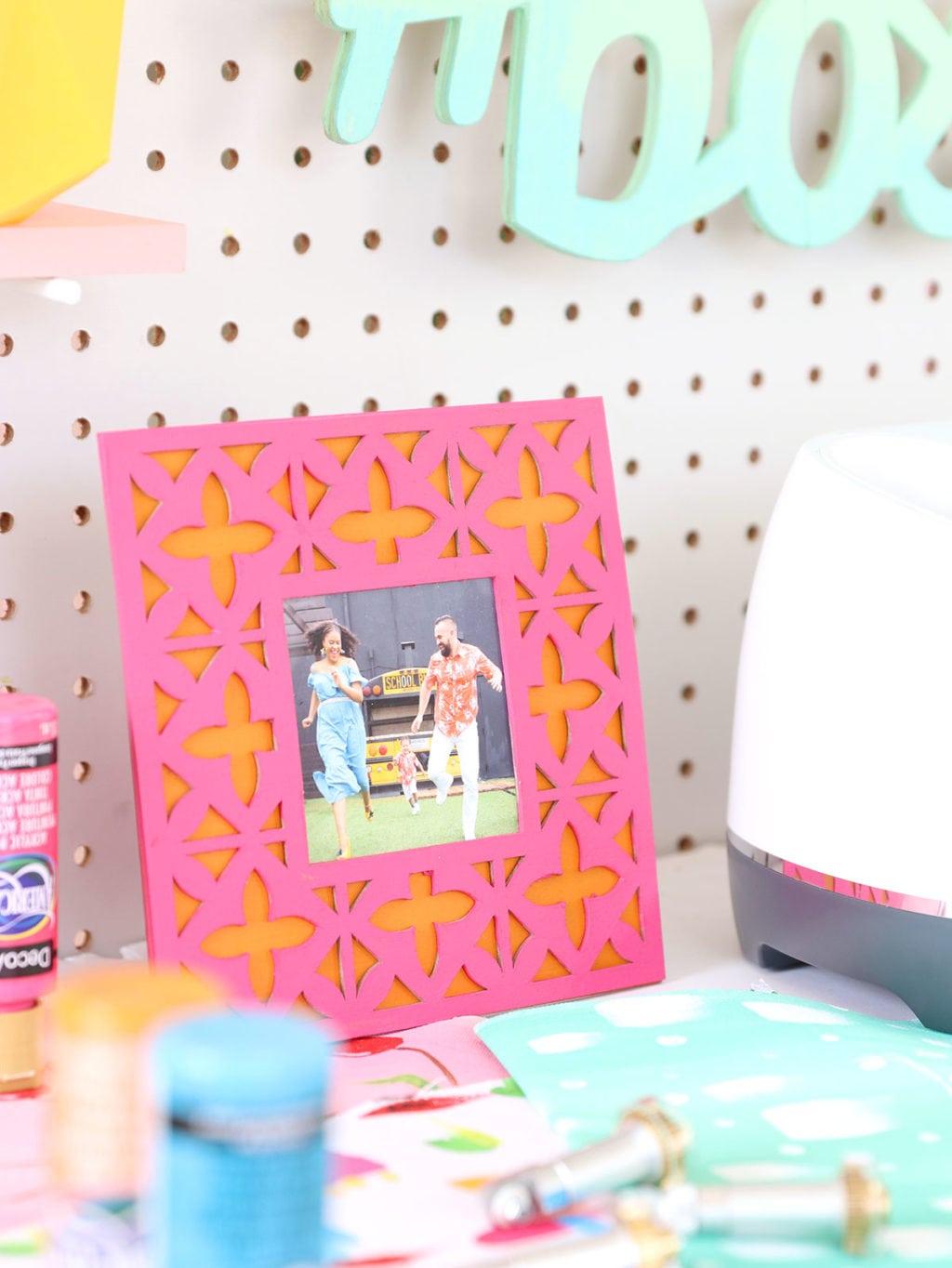 CLICK HERE TO CREATE YOUR OWN FRAME
Next on my project list was a paper pineapple, because any respectable craft desk needs a 3D paper pineapple, right? Again the Cricut Maker made this project easy peasy. I used the scoring wheel to cut and score yellow cardstock. Assembly was made simple with those deep, easy-to-find creases. To add a leafy top to my pineapple, a few paper palm fronds did the trick.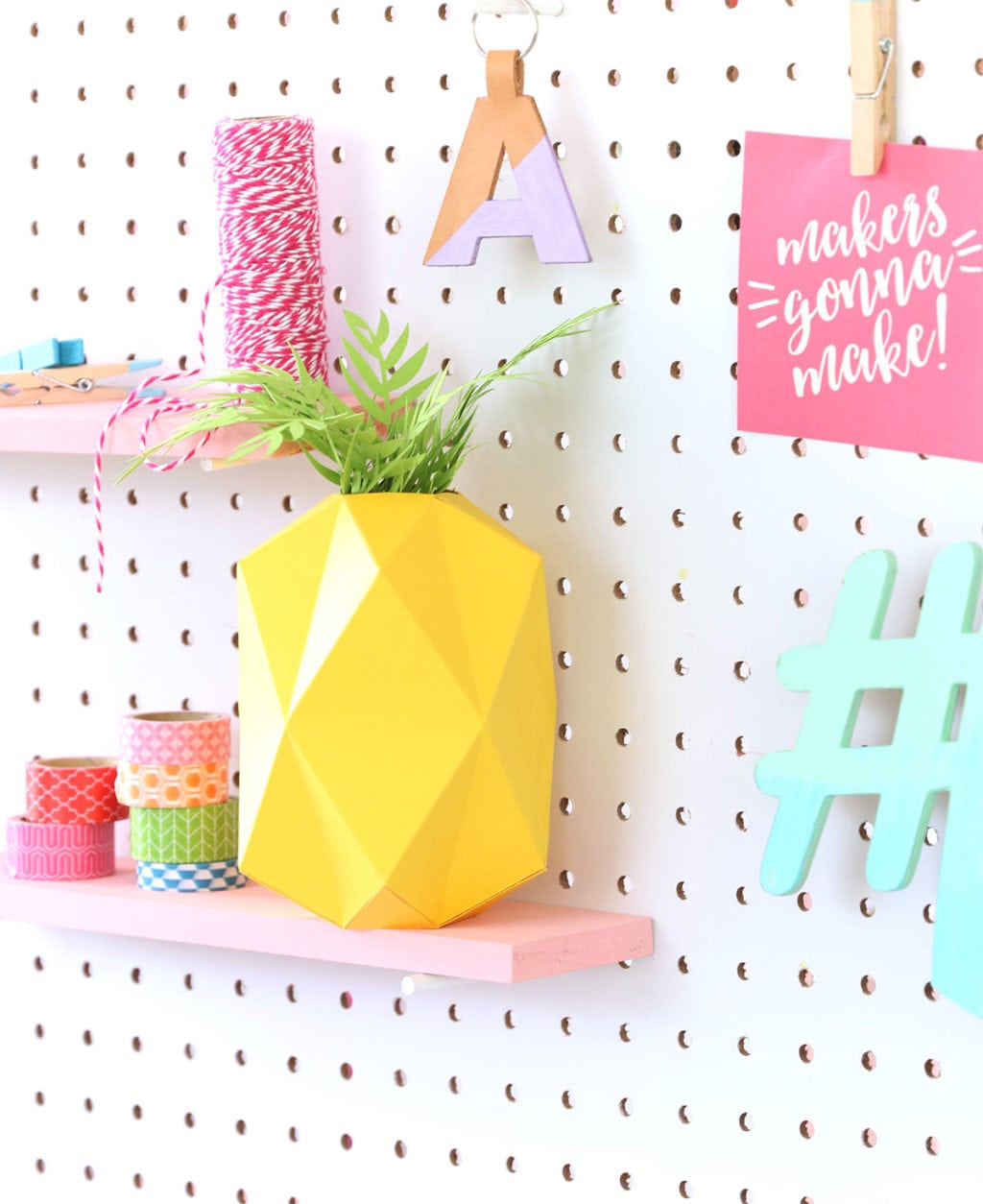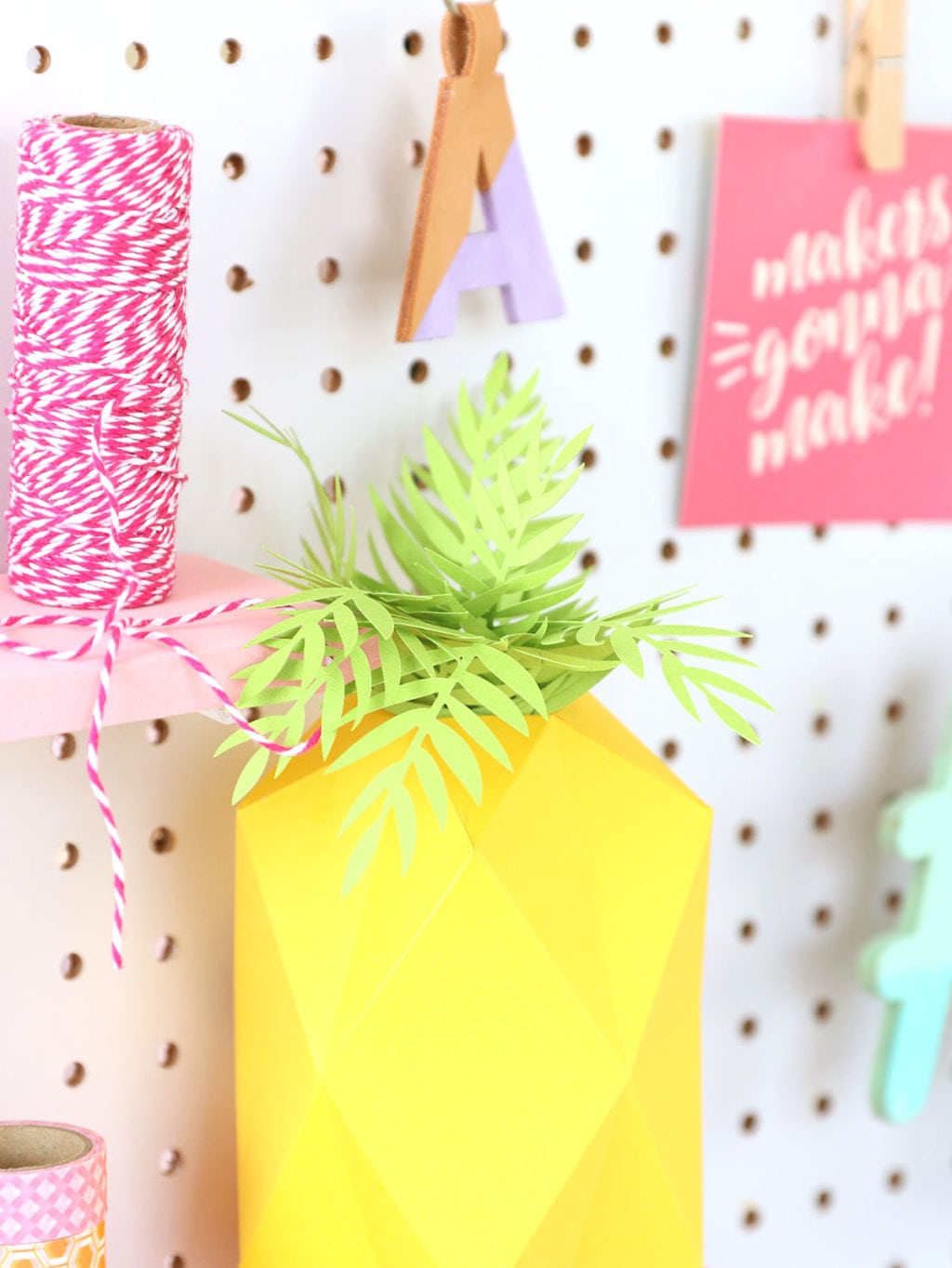 CREATE YOUR OWN PINEAPPLE VASE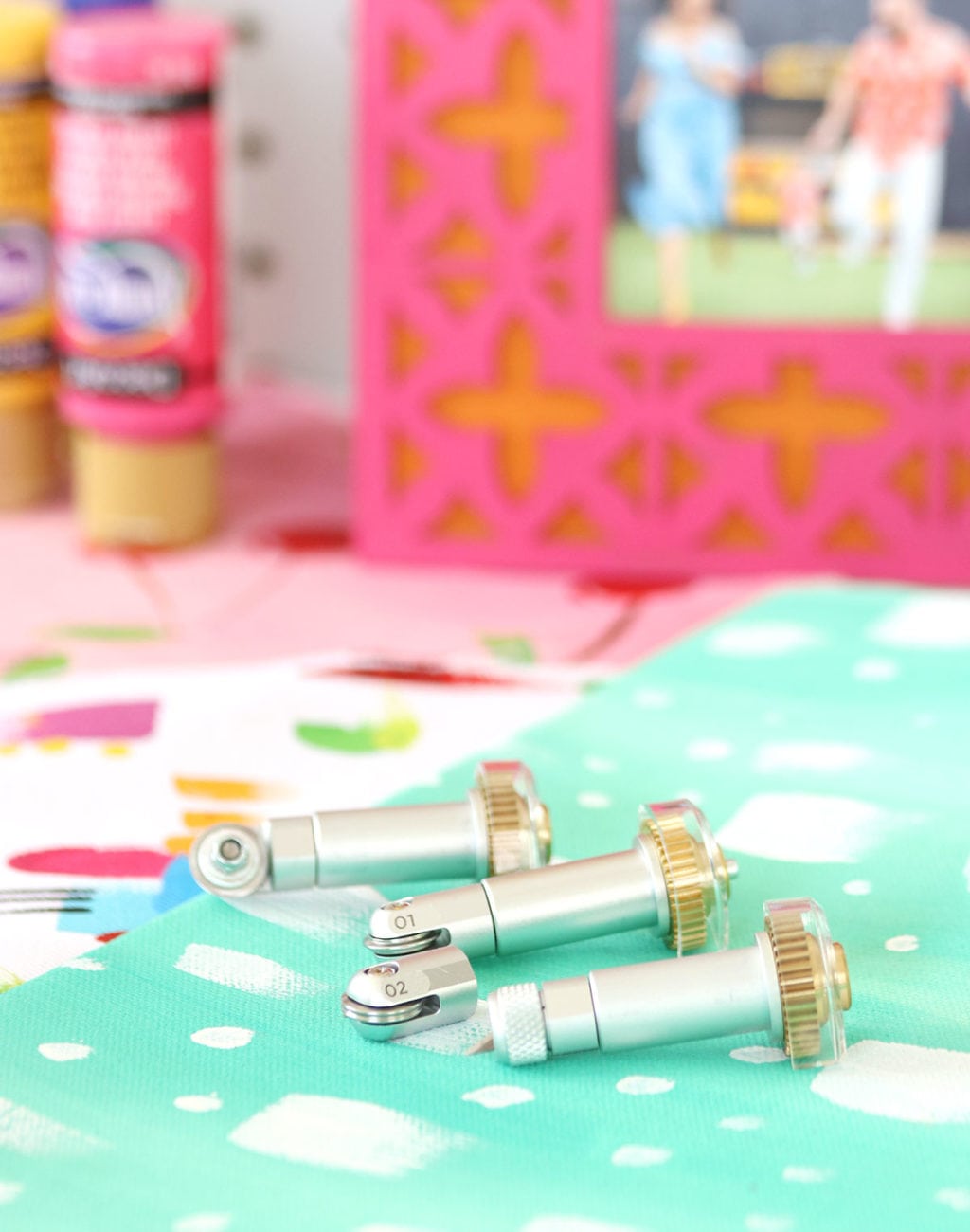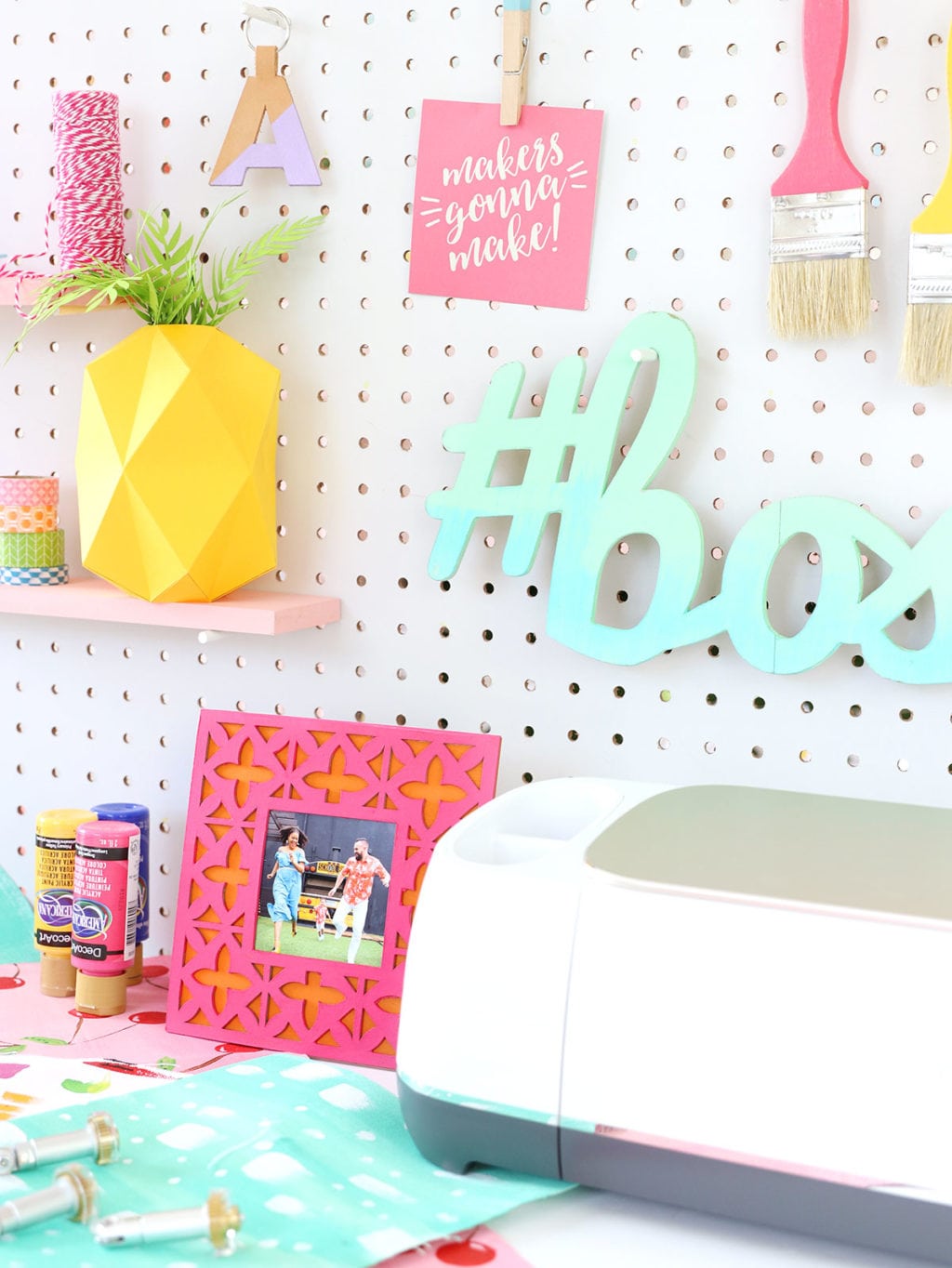 When it was all said and done, I used my Cricut Maker along with Knife Blade and Scoring Wheel to create several of the projects on my desk. Never in a million years would I try to take on intricate projects like these – but thankfully, I didn't have to. I just pressed a button and putz around the house while bad rom-com movies played on the television.
If you're in the market to make crafting a little easier, you can check out each of these Cricut bundles on HSN! You'll be happy you did – I mean, there's a paper pineapple at stake here. Enough  said.
This is a sponsored conversation written by me on behalf of Cricut. The opinions and text are all mine.