You know what the difficult thing is about tissue paper?
If you try to work with it in small pieces, the slightest breeze causes it to fly everywhere.  I mean – if you so much as blink, you will be chasing this stuff all over the place.
With this in mind, it's only fitting that my tissue paper project features butterflies – which were flying all over my apartment as I tried to assemble this card!
Last night, I even found a tissue paper butterfly in my bed – I guess that sucker fluttered his way all across my apartment and decided to take a nap. Can't blame him …I like naps too!
I was able to capture a few of these guys and came up with this card: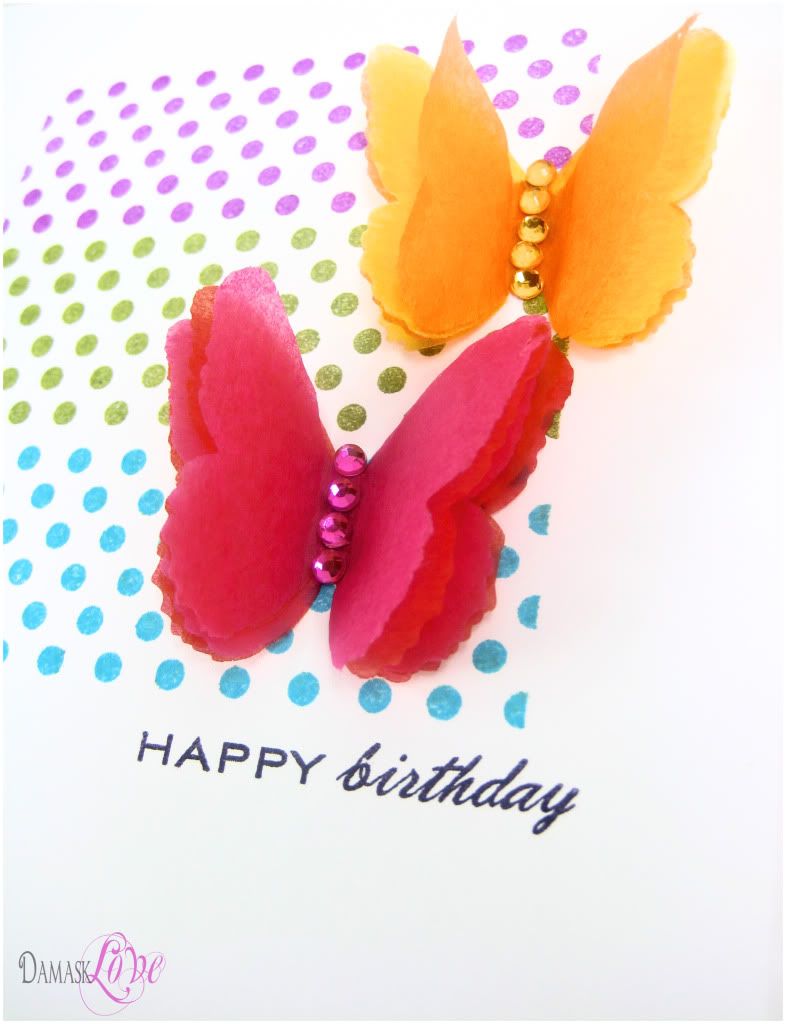 I die cut the butterflies with the
Martha Stewart All Over the Page Punch
– Classic Butterfly. The punch is great for cutting several layers at once.
Another fun tidbit:
By using tissue paper for these butterflies, I was able to add tons of dimension and interest to this card, without added bulk. You can easily flatten the butterflies and mail this card in a regular envie – with no extra postage!
Now head over to
Moxie Fab
to see all the wonderful entries into this challenge!
(P.S. I have done what I said I would not do …I have joined the world of left justified blogs. Apparently, centered type is difficult to read – or so they say. So have fun reading all of my left justified ramblings!)
Thanks for stopping by for some Damask Love!
Supplies: 
Stamps: Papertrey Ink (Polka Dot Basics, Fillable Frames #4)
Ink: Stampin' Up (Elegant Eggplant, Tempting Turquoise), Vivid Dye Ink (Fuchsia, Olive Green)
Paper: Papertrey Ink white