Miami was good to me. The weather was beautiful, and I could have delicious Cuban food whenever I wanted…
But my time there is done. I've decided to move.
I've moved to Pinterest Land. Laurie is coming with me!
You should consider coming to Pinterest Land, too! Everything is great here!
Here are a few things I especially love about my life in Pinterest Land:
 My house in Pinterest Land is designed straight from the pages of House Beautiful magazine…
 And my kitchen is HUGE!!! It even came with those fancy dancy copper pots hanging above the stove!
 My shoe closet is pretty fabulous too, which is a good thing, because…
In Pinterest Land, Christian Louboutin's are free…and you can wear them all day long, because your feet don't hurt in Pinterest Land!
In Pinterest Land, there are 24 hour farmer's markets, where I can buy the most delicious fresh fruits and vegetables!
You can also eat as many garlic noodles as you want here because they don't have any calories!
 But none of these things compare to the best thing about Pinterest Land! You can have whatever crafting space you like. This is mine.
AND – the scrapbook stores here are wonderful…they always have a "Buy One, Get Everything Else for Free" sale going on!
In Pinterest Land, one thing hasn't changed though… I still love bright colors and I still dress like markers!
 Which brings me to my project for today!
Laurie had the brilliant idea of starting a "Moving to Pinterest" challenge and I just had to play along! Just choose a photo from Pinterest and create something using it as inspiration!
I chose the fun color-blocked dress pictured above. I love the bright colors and I love how it pops against the stark white backdrop.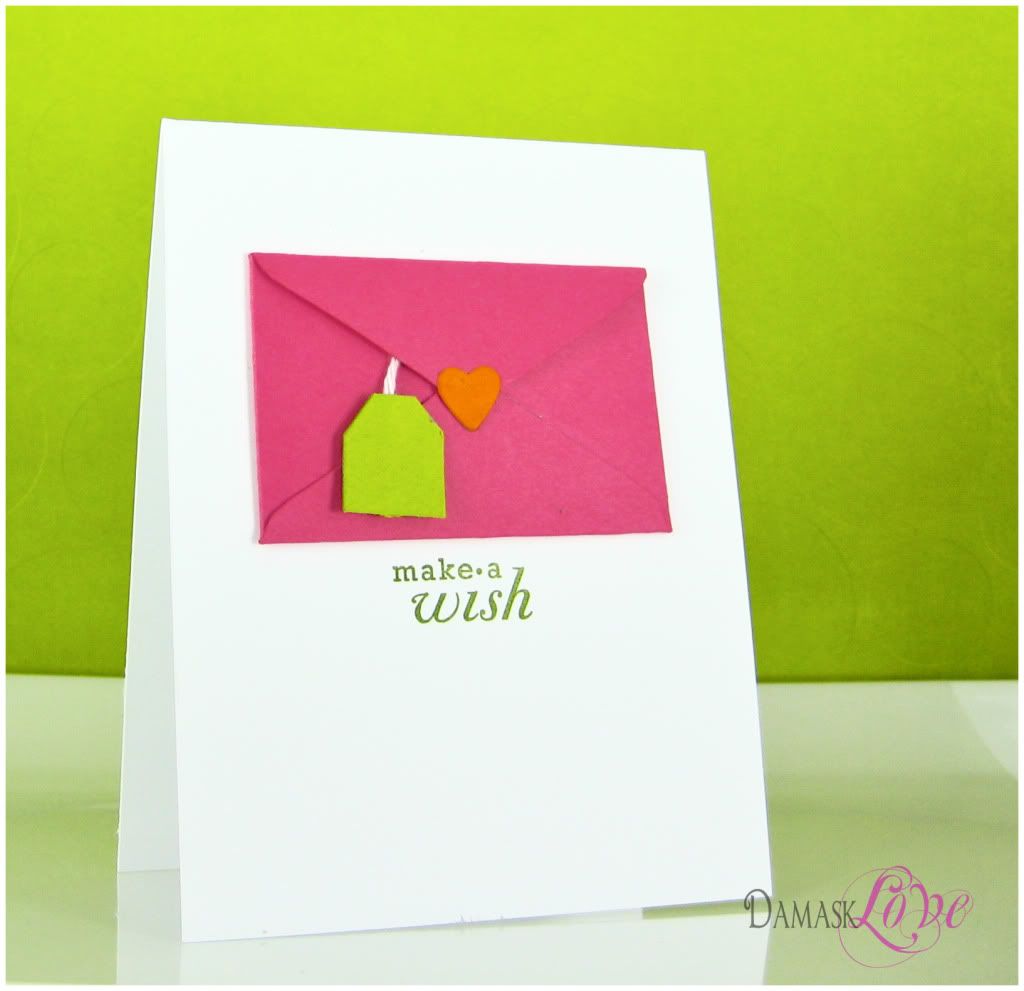 Now for the fun – I wanted to hide a little fun inside the envelope of this simple birthday card!
A mini birthday banner! You could even throw some confetti in the envelope for a bit more excitement!
So, hopefully I've convinced you to move to Pinterest Land! You've love it…I promise! And don't forget to use some of your Pinterest inpiration to join
Laurie's challenge
!
Have a wonderful day!
Supplies:
Stamps: PTI (Mega Mixed Messages)
Ink: Vivid Dye Ink (Olive Green)
Paper PTI (Raspberry Fizz, Orange Zest, Royal Velvet, Stamper's Select, Simply Chartreuse, Bitty Dots Basics Patterned Paper)
Other: Cricut Plantain Schoolbook cartidge, PTI Tiny Envelope Die, Twinery baker's twine, PTI Heart Prints Die