The Foil Quill Freestyle Pen is the coolest tool in town…or perhaps the hottest…literally! Here you'll learn everything you need to know about this awesome tool!
WHAT IS THE FOIL QUILL FREESTYLE PEN?
The Foil Quill Freestyle Pen is a handheld pen with a heated tip that allows you to write and draw in foil! The pens works with heat activated foil sheets that transfer foil onto most surfaces when heat is applied.  The pen comes in four thicknesses – Fine, Medium, Bold and Calligraphy.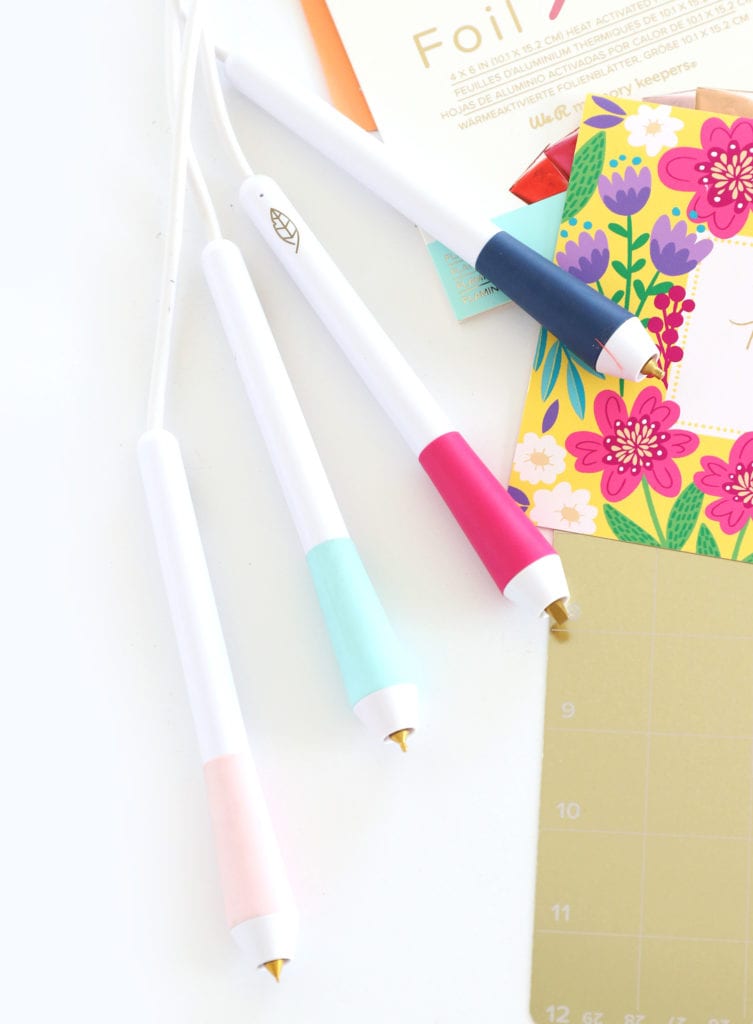 HOW IS THIS DIFFERENT THAN THE ORIGINAL FOIL QUILL?
The original Foil Quill was designed to work with electronic cutting machines. The Freestyle Pen does not require any specialty cutting machine…you just need your hand!
Video Breakdown: 
Introduction to the Foil Quill: (0:07)
The Magnetic Mat (0:35)
Hack #1 (1:47)
Hack #2 (2.36)
HOW MUCH IS IT? 
The Foil Quill Freestyle Pen is available on HSN in a special priced bundle including everything you need to get started!
WHAT MATERIALS CAN I USE WITH THE PEN? 
Unlike the original Foil Quill, you can now add foil accents to a wider variety of items, since you're no longer limited to items that can fit in your electronic cutting machine. Of course you can foil on paper but you can also add foil to leather, acetate, wood and even dimensional items like your planner, journal or even your purse! Get creative!
WHERE CAN I GET THOSE PRETTY FLORAL CARDS FROM THE VIDEO?!
We've designed a set of beautiful, customizable floral notecards that you can print at home! They are perfect to use with the Foil Quill Freestyle Pen!