Mark this day in your calendars, friends. Cement today in your memory. Today is the day you've been waiting for…the day Damask Love shares a DIY costume project just in time for Halloween. For years, I've avoided Halloween costumes – mostly because they seemed too difficult and too involved. My goal is to keep things easy for you, not confuse you with a bunch of paper mache paste and sewing.
Thankfully, today's costume is easy, it's doable and its all in the power of your Cricut Maker. This Halloween, I'm partnering with my peeps at Cricut to create a costume perfect for your family – and to prove the 100% cuteness of this costume trio, I've enlisted the help of my very own. You'll have to insert your own next of kin.
Keep reading to learn all the tips and tricks for creating these costumes. It's easy. Trust me.  Super heroes don't lie.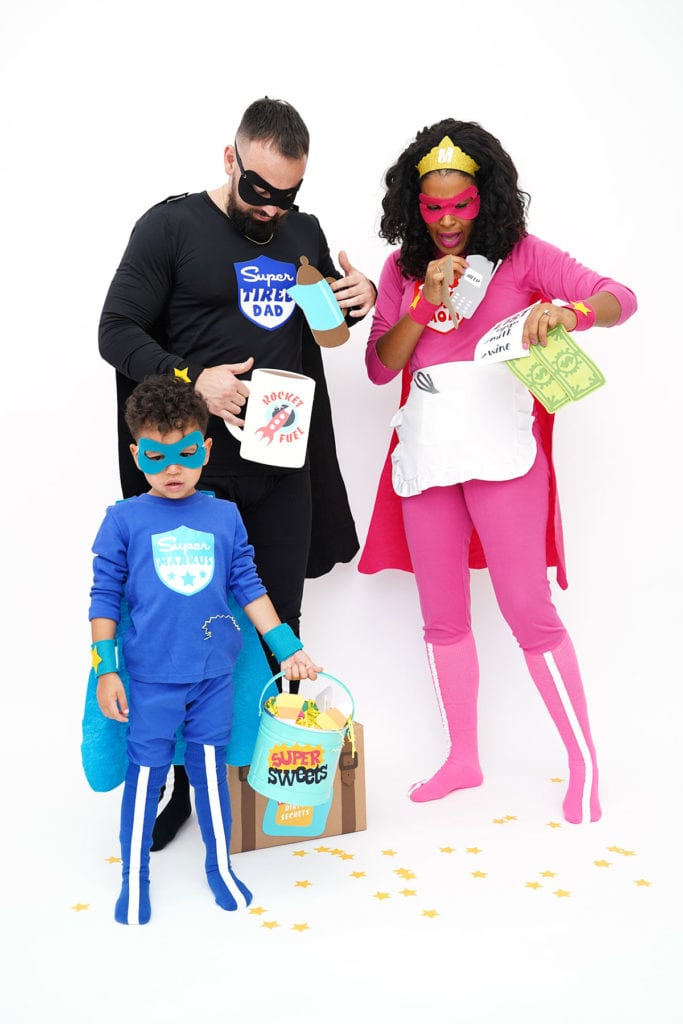 To create your costume, you'll need to start with the basics…thermal pajamas for men, women and kids.  You're welcome. I've figured out how you can wear pajamas all day!
To create the superhero "shoes" – I grabbed coordinating pairs of soccer socks, and added a strip of white duct tape! How easy! Pull the socks over your shoes for a coordinated head to toe look – but you'll definitely want to trash them at the end of the night after walking around.
For the Super Busy Mom costume, I added a simple white apron since I'm the chef in the family!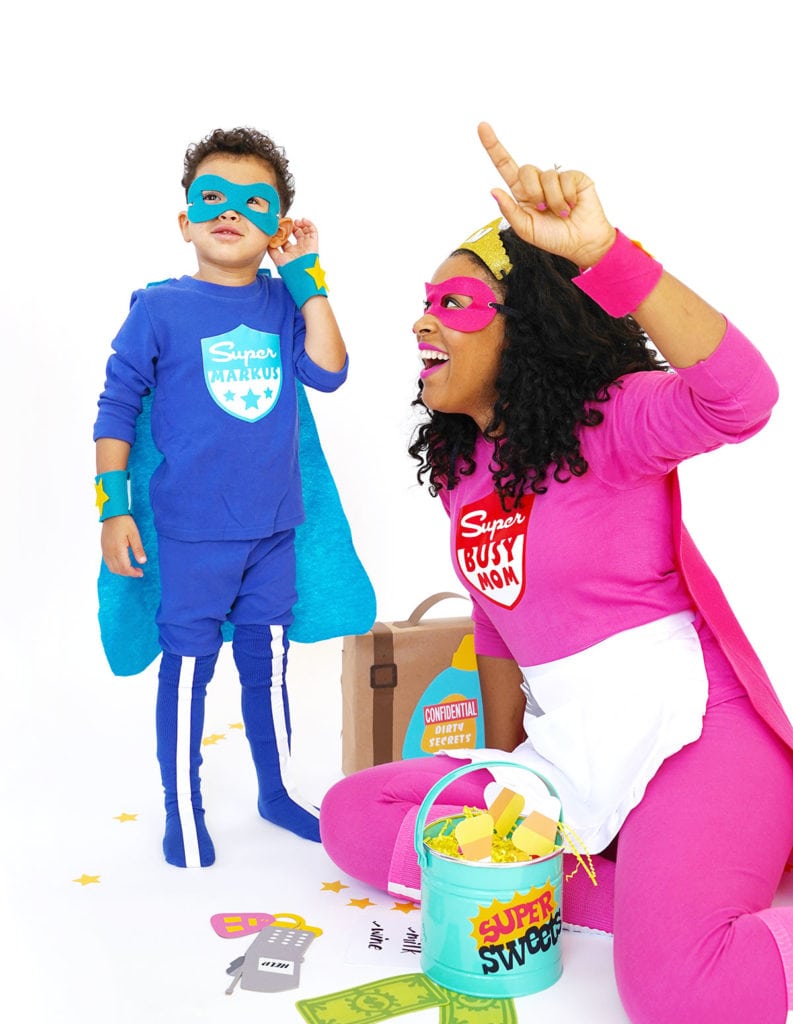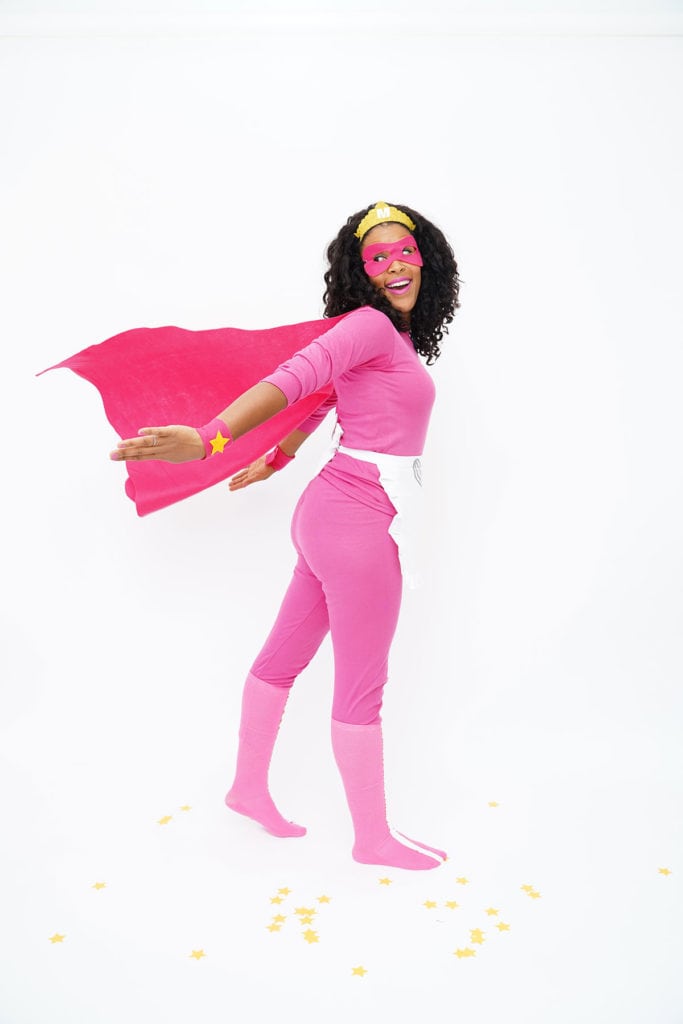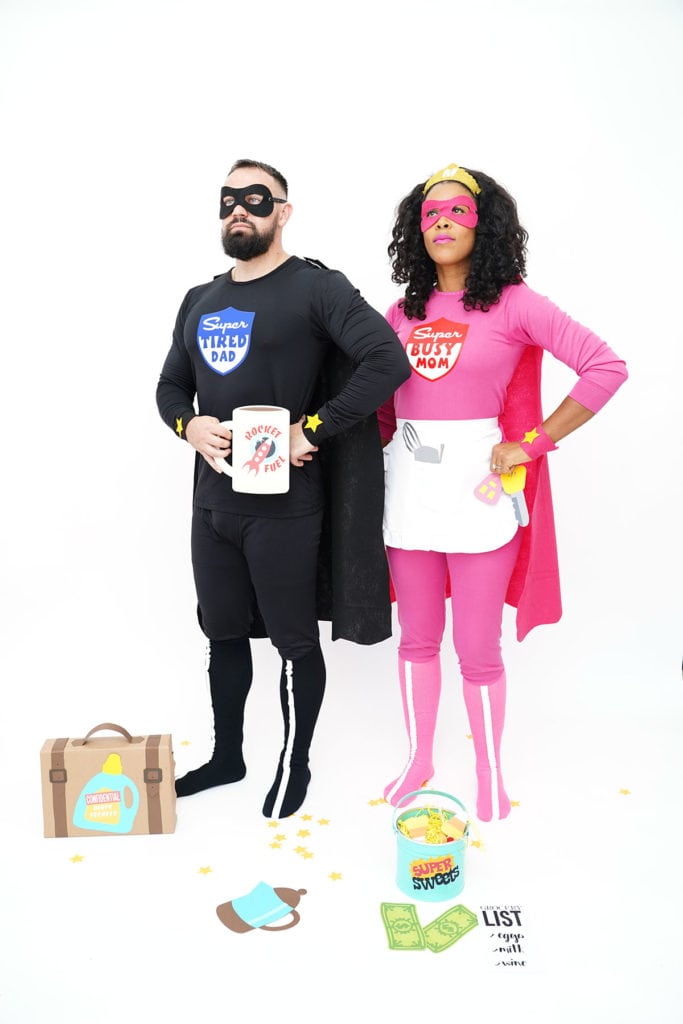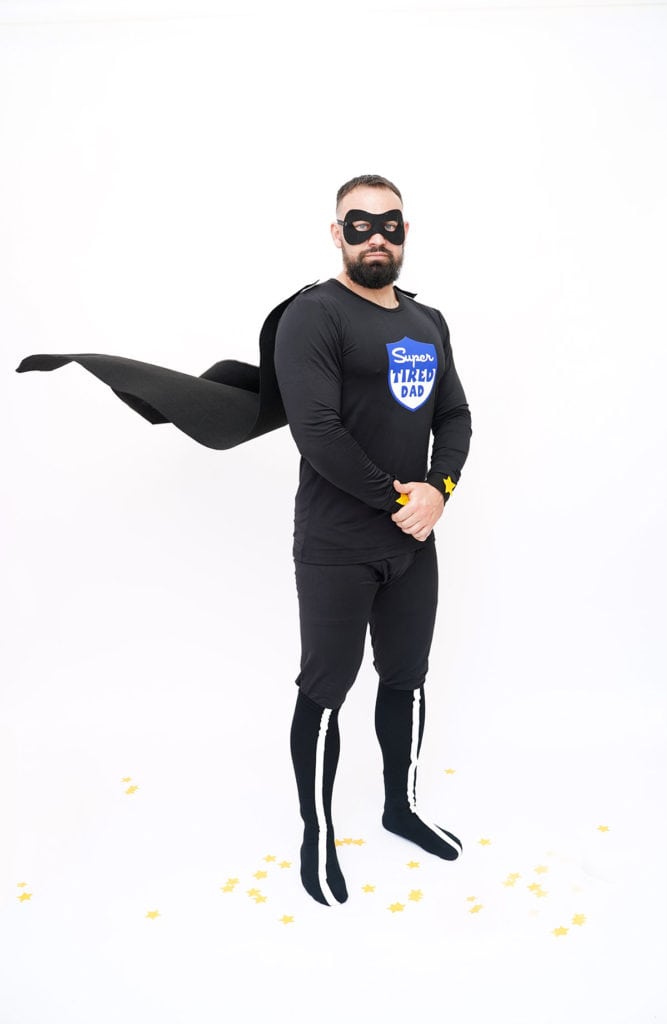 With the basics covered, it's time to pull out your Cricut Maker to create all the decorations and accessories for your family of superheroes. For each element of the costumes, I shopped JOANN since I can grab a ton of different Cricut supplies, fabric and crafting must-haves in one place!
SUPER BUSY MOM COSTUME:
Super Mom Tiara
Gold Glitter Craft Foam
White Cardstock
Ribbon
Hot Glue Gun
Hole Punch/Crop-a-Dile
Open the Cricut Project HERE
Cut tiara shape from craft foam using the Rotary Blade
Cut the "M" letter from white cardstock and adhere with hot glue
Punch holes on either end of the tiara and thread ribbon through so you can tie it on like a headband.
Super Mom Accessories
Colored cardstock
Tape runner or other adhesive
Open the Cricut Project HERE
Cut the accessory shapes from cardstock and adhere with tape runner
SUPER TIRED DAD COSTUME:
Super Dad Accessories
Colored cardstock
Printer
Tape runner or other adhesive
Open the Cricut Project HERE
Cut the accessory shapes from cardstock and printable sticker paper and adhere with tape runner
Super Dad Briefcase
I love this briefcase! I used an old box to create the briefcase by covering it with kraft butcher paper. To finish it off with a clever, punny image, you'll need:
Cardstock
Printer
Tape Runner or other adhesive
Open the Cricut Project HERE
Print then cut the detergent bottle label from sticker paper
Cut the bottle from cardstock
Adhere bottle with tape runner, then top off with the printed sticker paper label
FAMILY COSTUMES:
Family Super Hero Shields
No superhero costume is complete without a shield emblazoned on the shirt and cape! To create the capes, I simply cut some felt that I grabbed from JOANN. The capes were attached to the shoulders of each shirt using a bit of Sticky Velcro. To make the capes and shirt shields, you'll need:
Use your Cricut EasyPress to adhere the images onto the shirts and capes
Family Felt Eyemasks and Cuffs
Felt – I used the same felt as the capes!
Use the rotary blade to cut all the shapes from felt.
For the cuffs, use felt glue to adhere the stars, then use Sticky Back Velcro to secure them around your wrists
For the eye masks, use the Crop-a-dile with Eyelet Kit to punch holes and set eyelets at each end. Tie on ribbon or elastic to make the masks easy and comfortable to wear.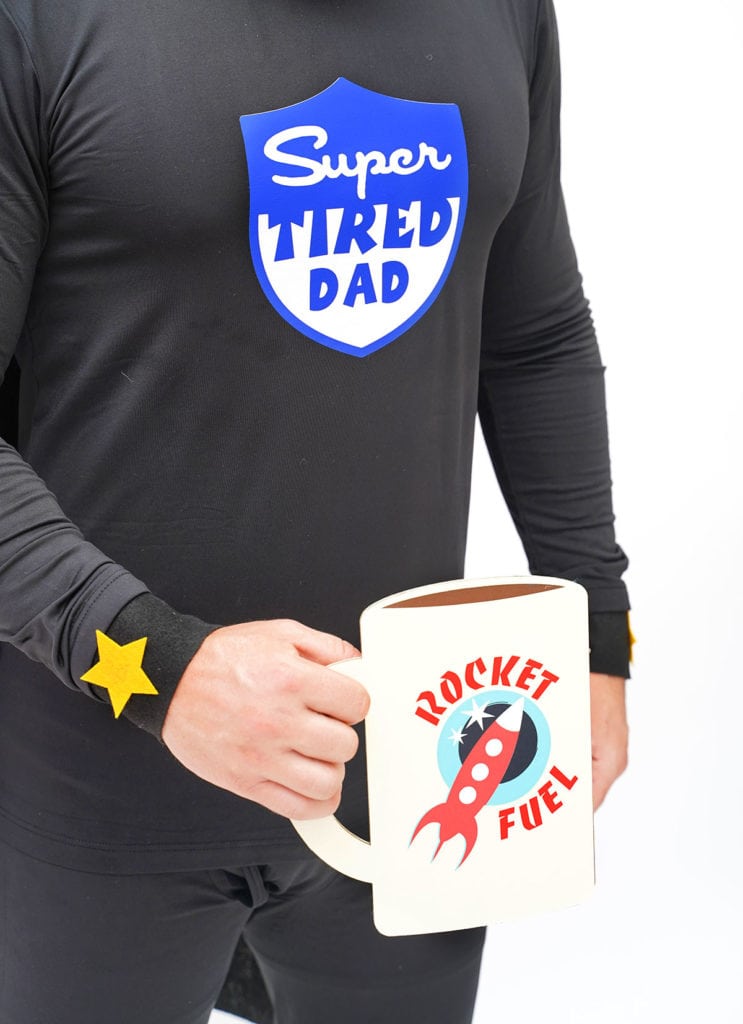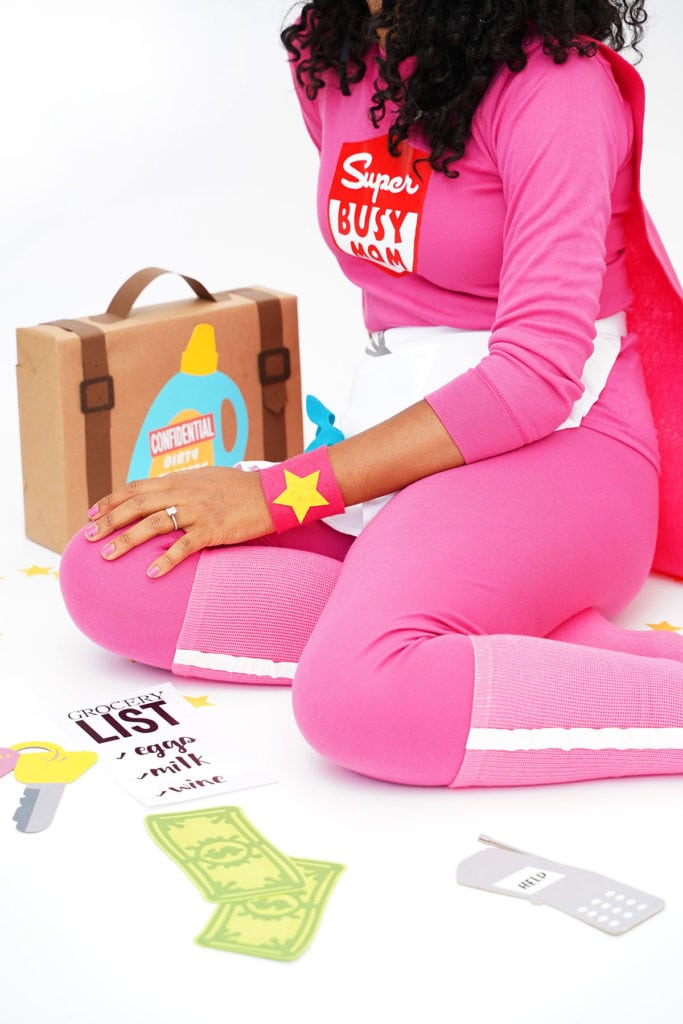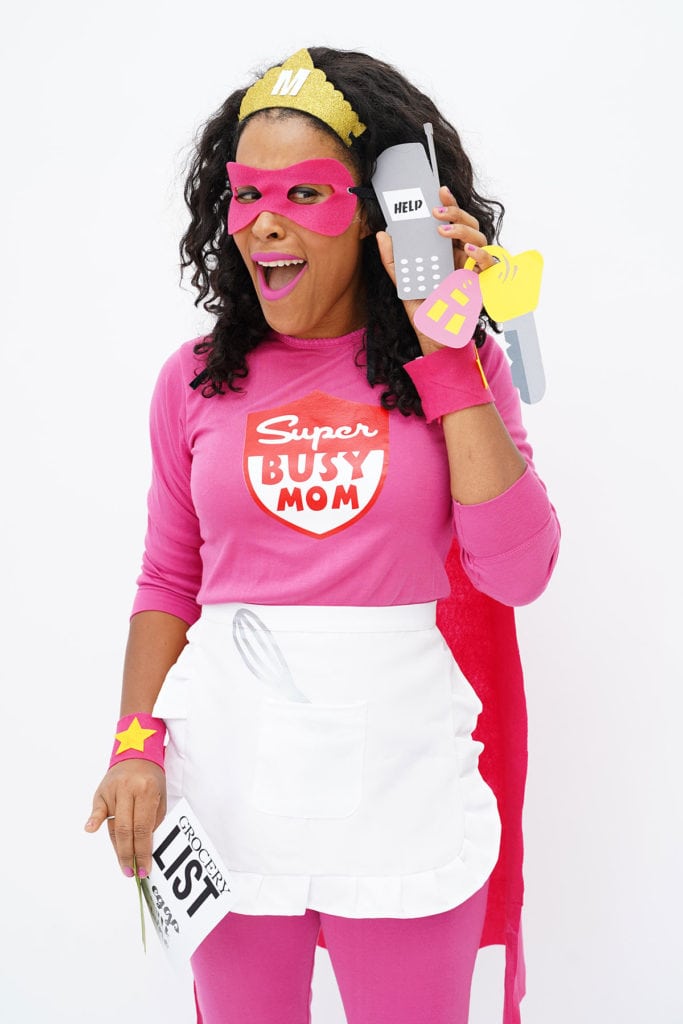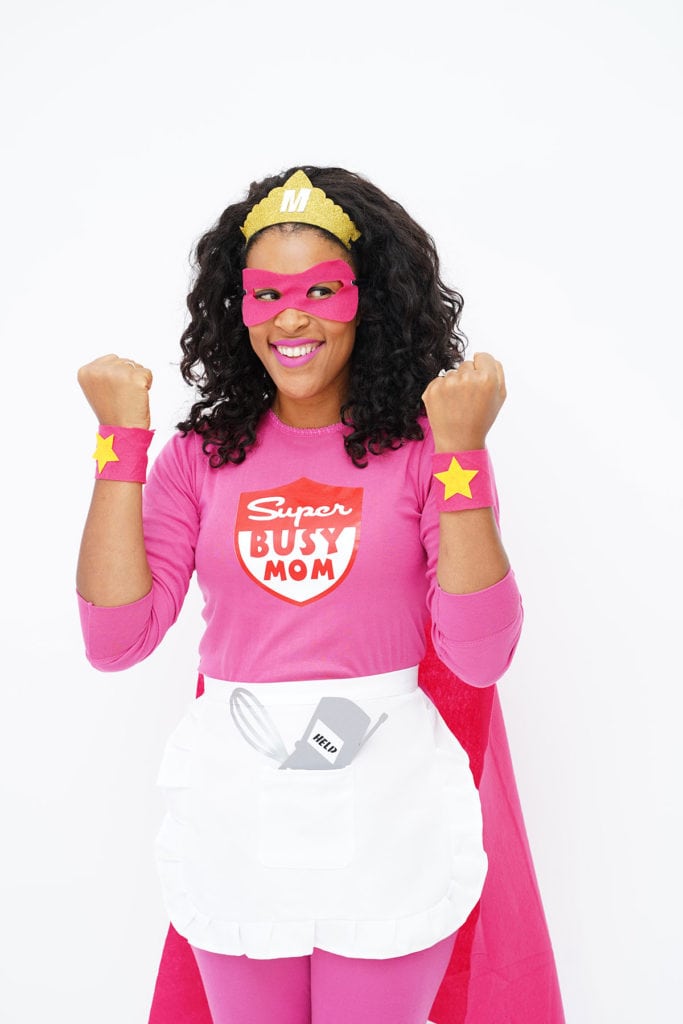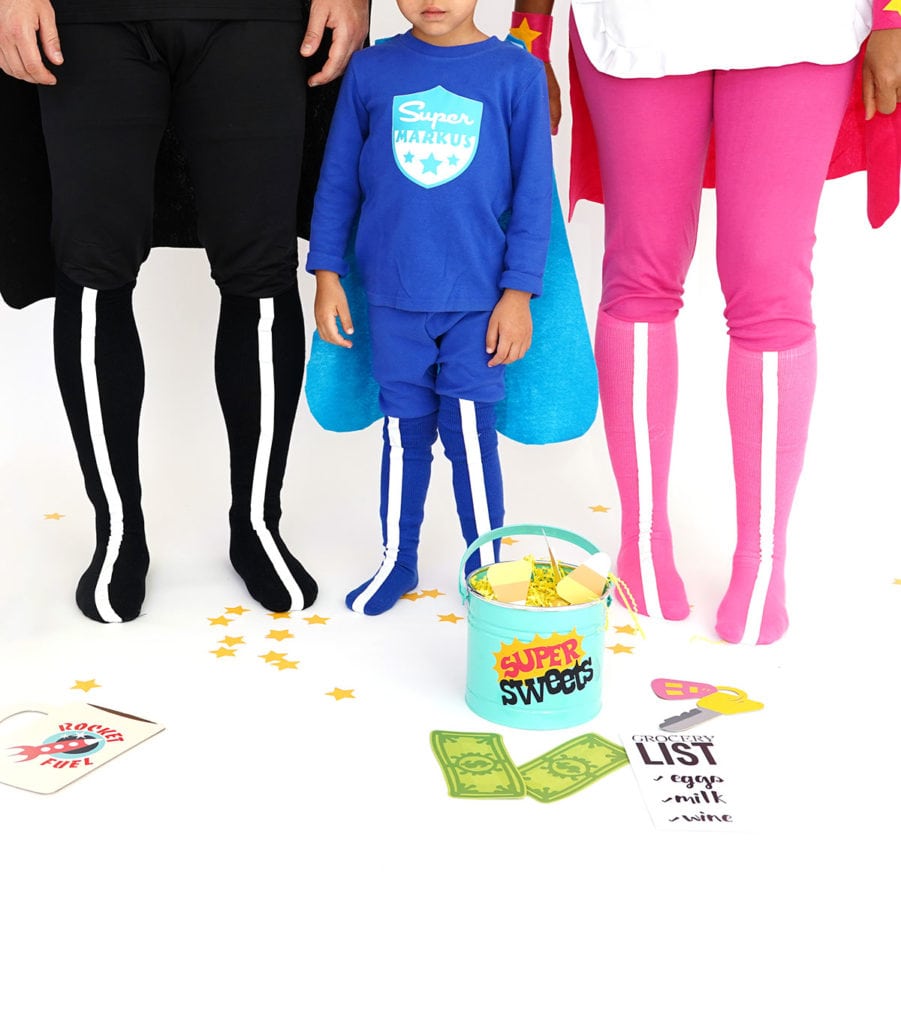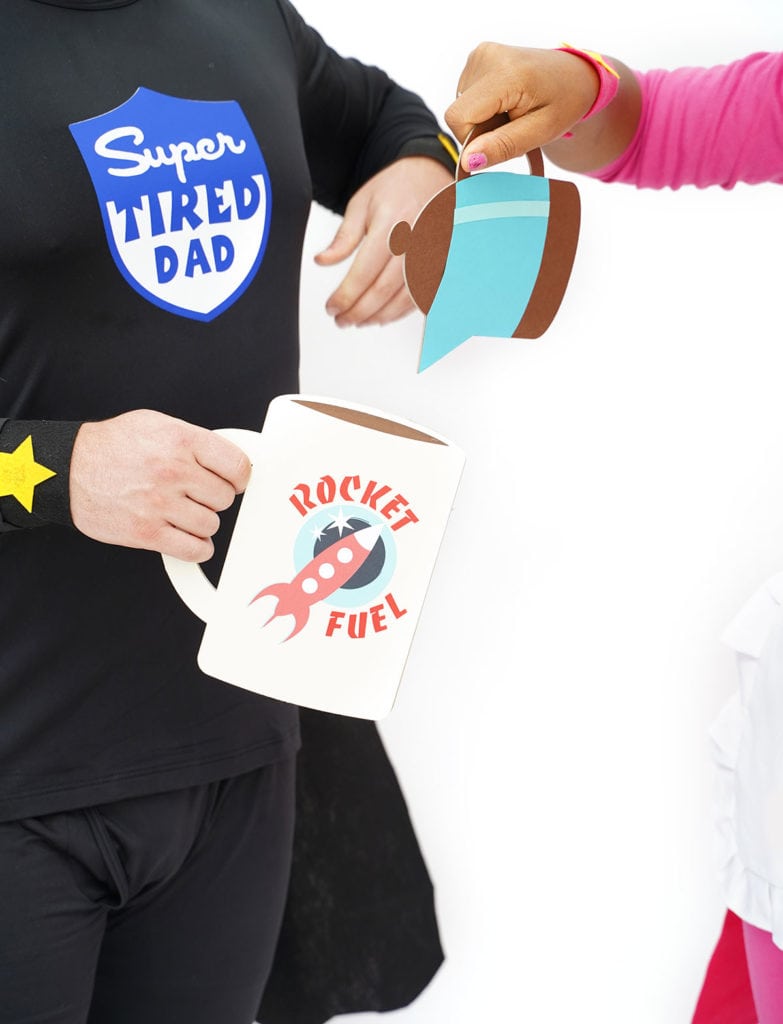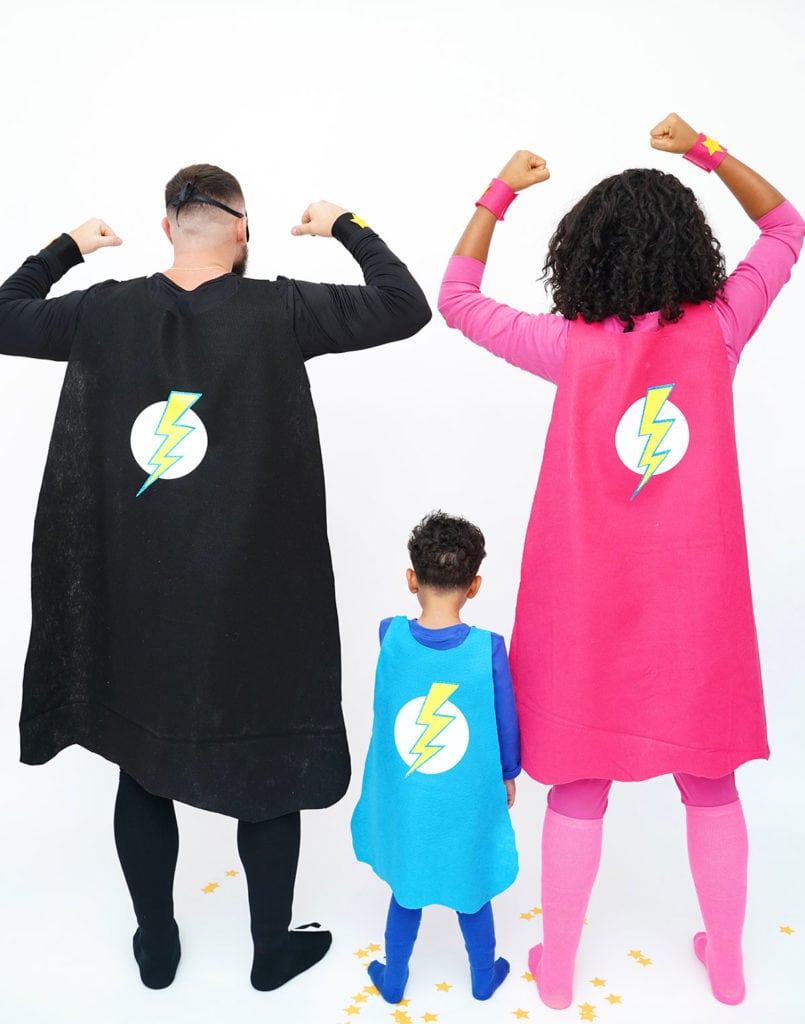 ….and just in case you were wondering how Markus felt about dressing up for a photoshoot…keep scrolling, friend, keep scrolling!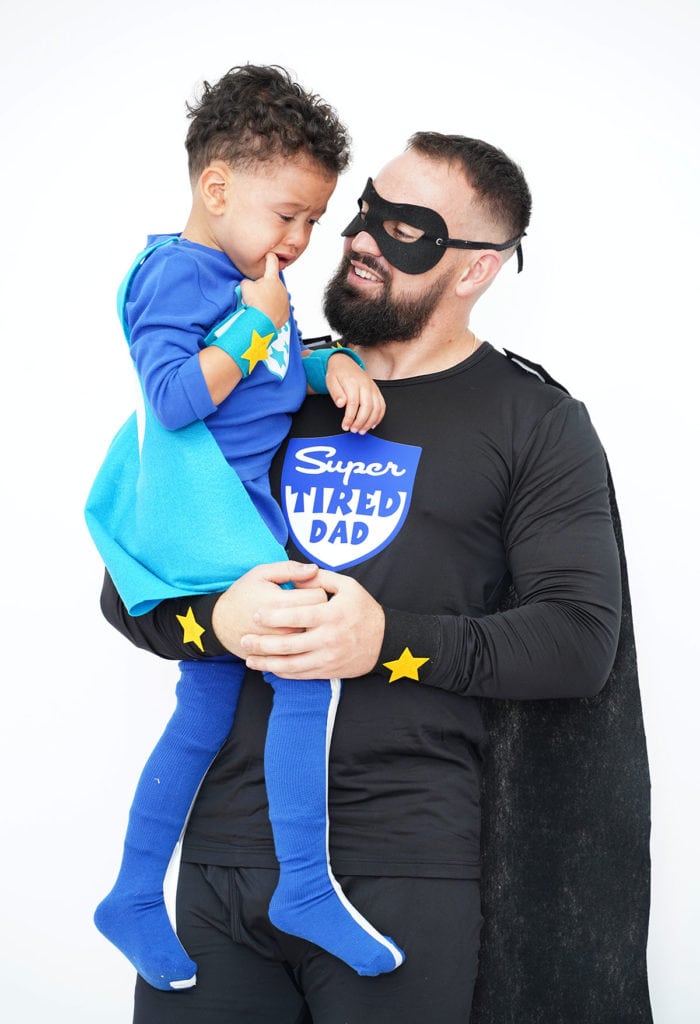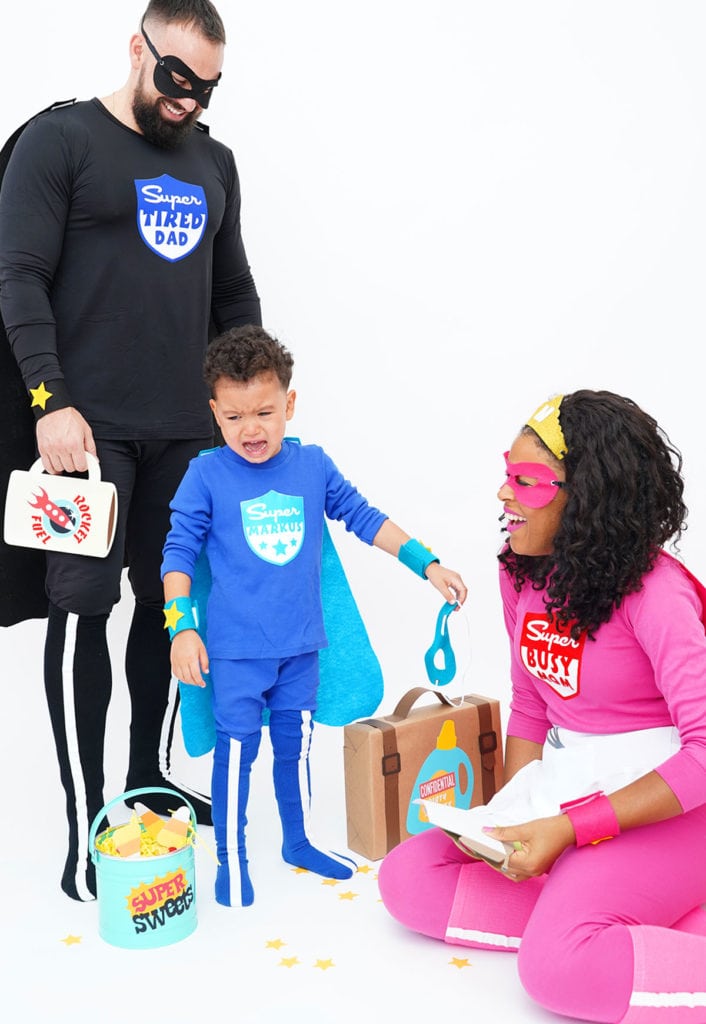 This is a sponsored conversation written by me on behalf of Cricut. The opinions and text are all mine.
Photography: @legendaryalex
Styling & Crafting: @damasklove