If you love the retro look of a ringer tee shirt, you are going to LOVE today's DIY. If you're a fan of Cricut – especially the new Cricut Infusible Inks – then you are REALLY going to love today's DIY.
Cricut Infusible Inks make it super easy to make professional quality custom tee shirts from home. The only problem is that Cricut Infusible Ink only works with the Cricut blanks. Cricut Infusible Ink tee shirts have a very special fiber content that is specifically designed to work with the Infusible Ink products.
Cricut Infusible Ink compatible blanks come in a variety of products including coasters, tote bags, we well as crew neck and v-neck tee shirts. Since I'm a big fan of colorful fashion, I had to upgrade the Cricut Infusible Ink blank tee shirts! No boring white tees for me! With a few clever hacks, you can turn your Cricut tee shirt into adorable ringer t-shirts.
Because of the limited options of Cricut Blanks, making your own ringer tee opens up a ton of options for customization.
JOANN Fabric and Craft stores carries an awesome selection of knit fabric in vibrant colors!
If you've always wanted to know how to make a ringer tee shirt, this photo tutorial will walk you through each step. You can easily use this tutorial on any tee! This is also a great beginner DIY , if you've been looking for an easy Infusible Ink project.
Infusible Ink transfer sheets can also be used with any of the Cricut machines. This mean your Cricut Maker and Cricut Explore cutting machines are both great for this project. You'll also need a Cricut EasyPress.
First, you'll want to gather up all the products for this project which can be found at your JOANN Fabric and Craft Store!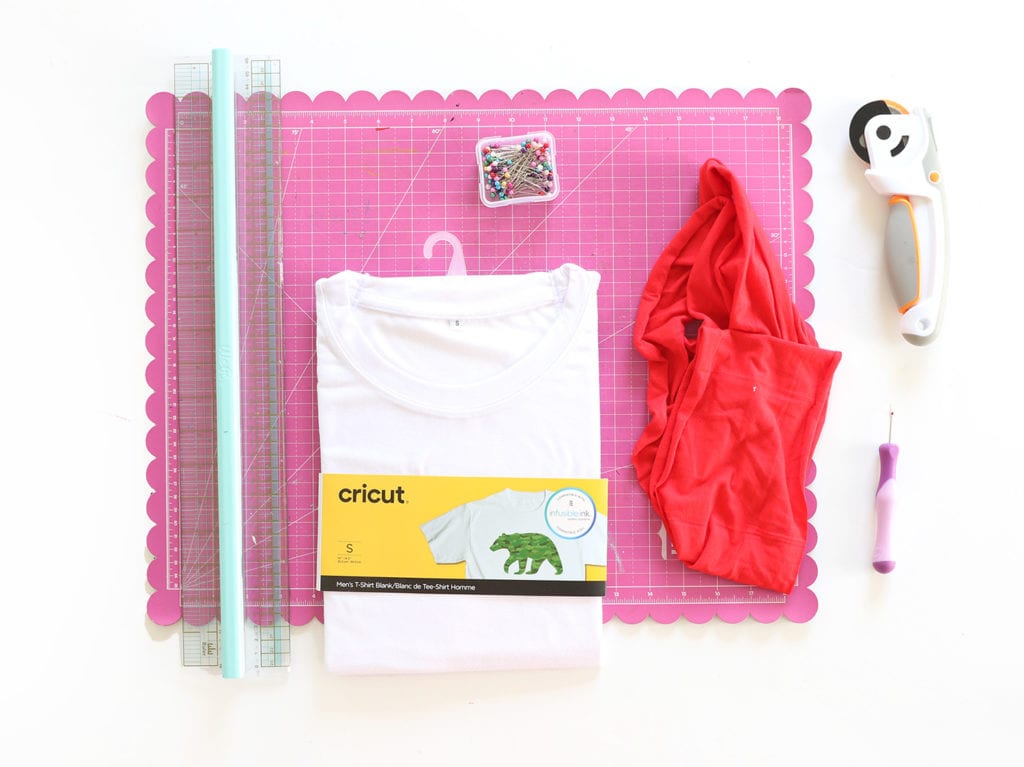 Cricut Infusible Ink Blank Crewneck Tee Shirt
Knit Fabric – solid colors work best!
A self healing cutting mat
A rotary trimmer
A seam ripper
pins
a sewing ruler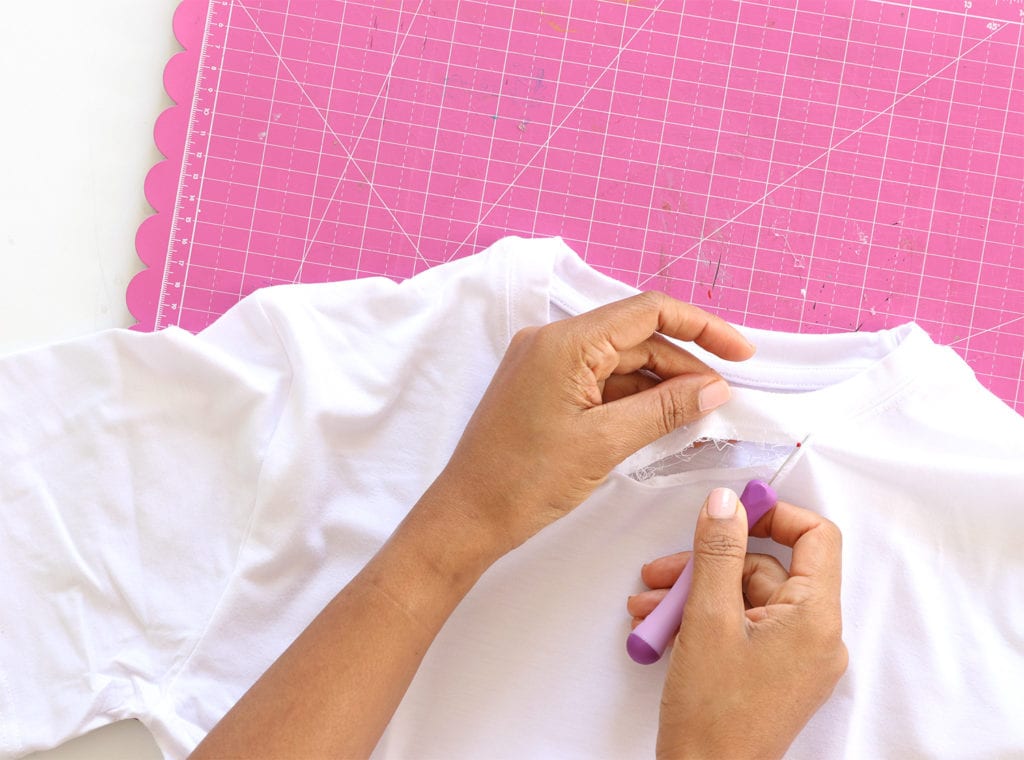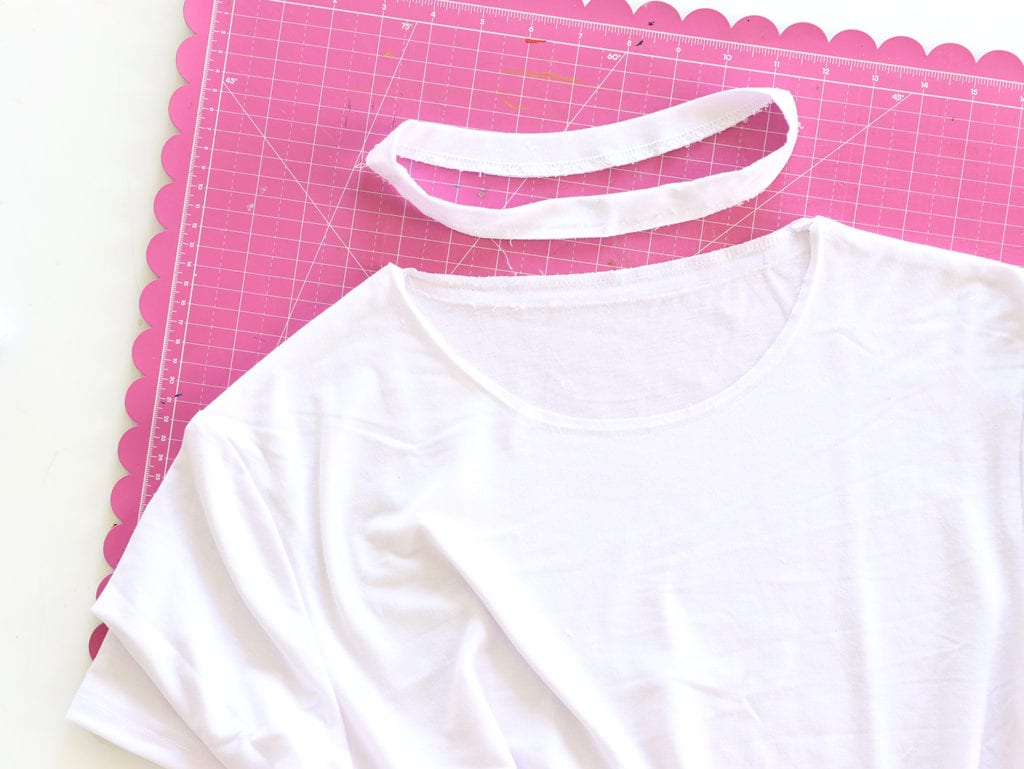 STEP ONE:
Use a seam ripper to remove the collar of the original Cricut Tee. Be warned – this is definitely the most tedious part of the projects. Cricut did a great job constructing these tees, so it takes some time to deconstruct!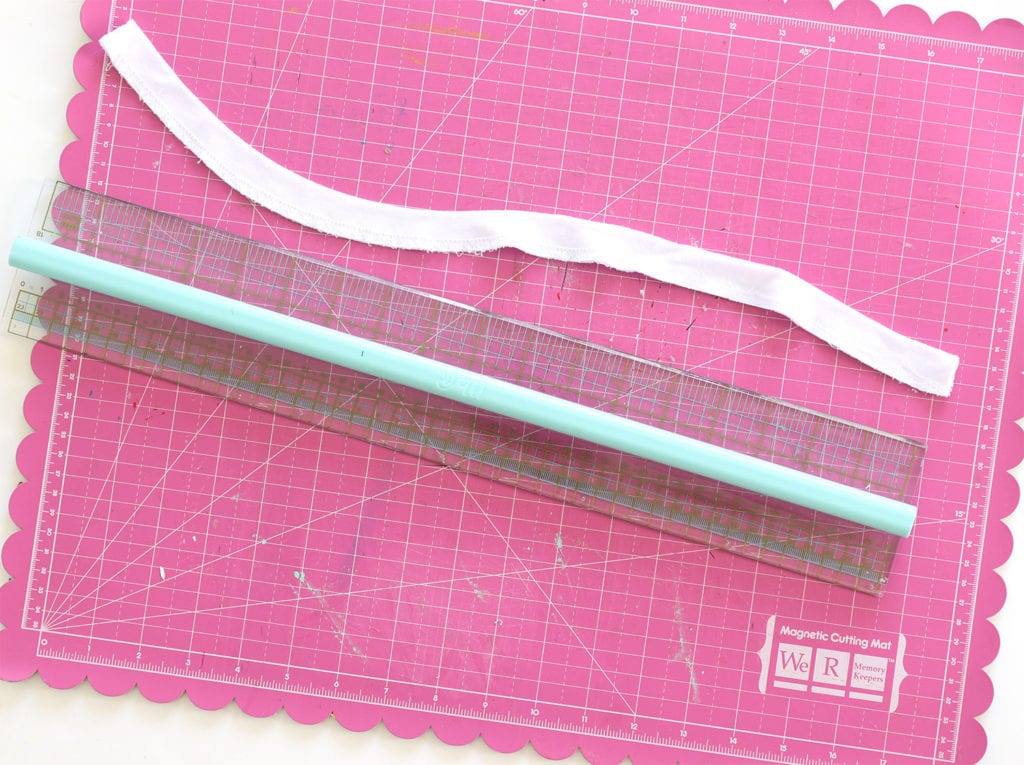 STEP TWO
Once the collar is removed, cut it apart at the seam, then measure the length of it with a ruler.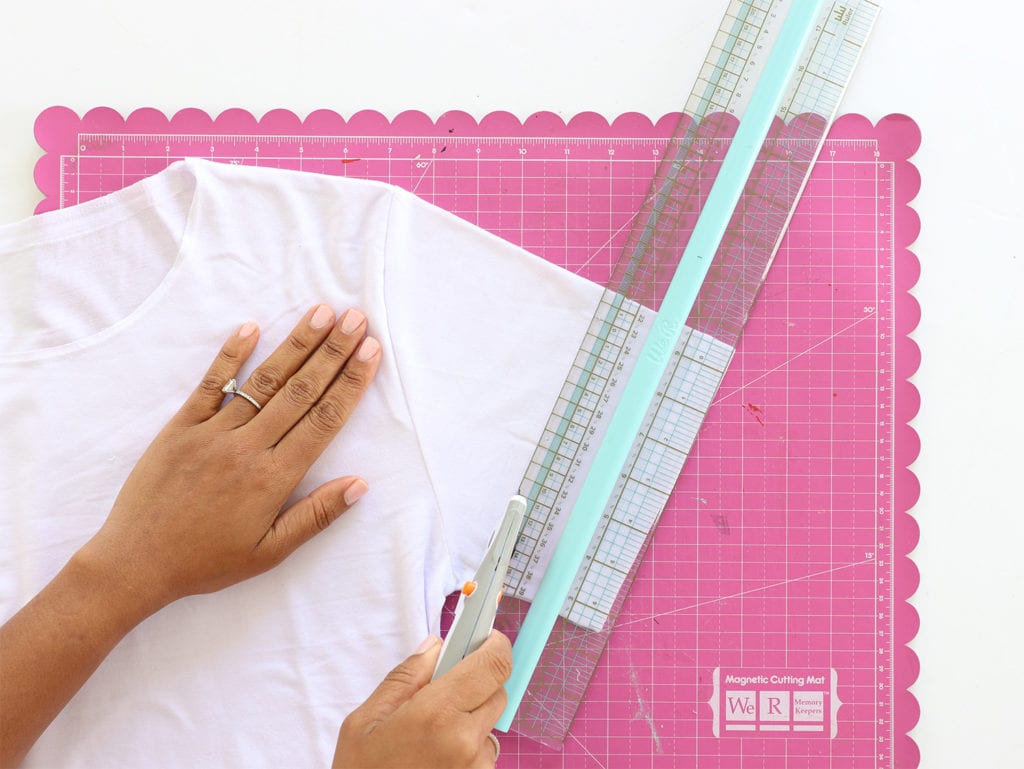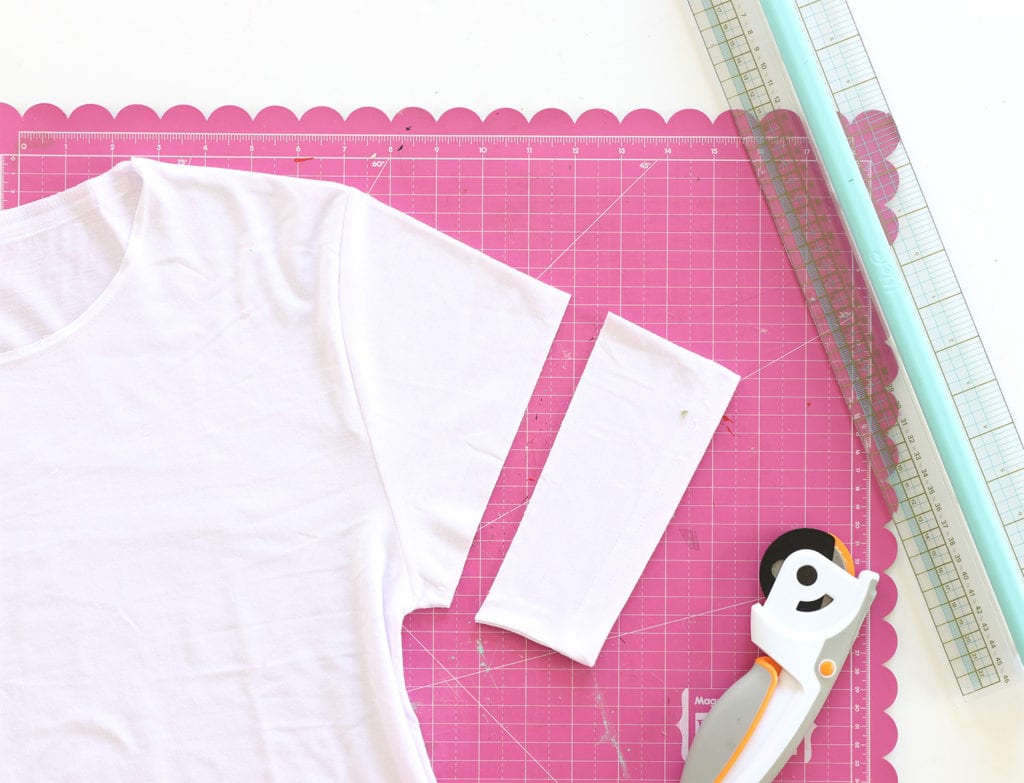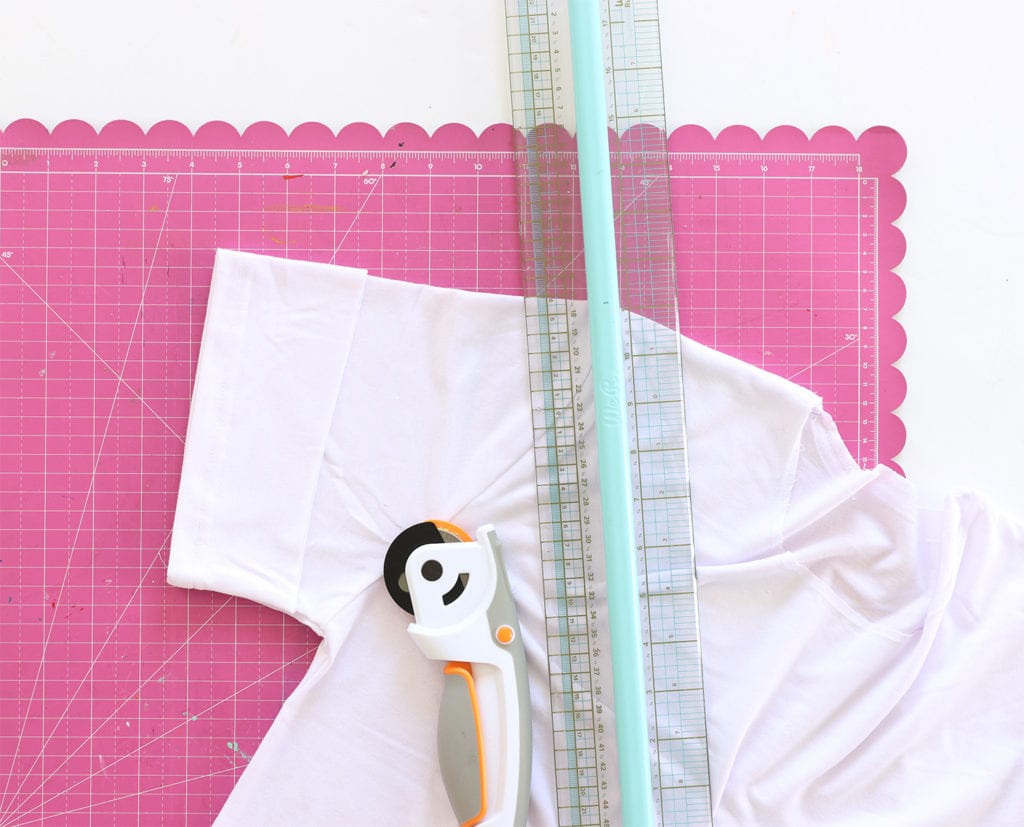 STEP THREE
Now it's time to trim the sleeves. I like a nice cap sleeve on my ringer tee, so you'll want to shorten the sleeve a few inches. Once you've cut off one sleeve, use the remnant to cut off the other sleeve. This will ensure that both sleeves are identical.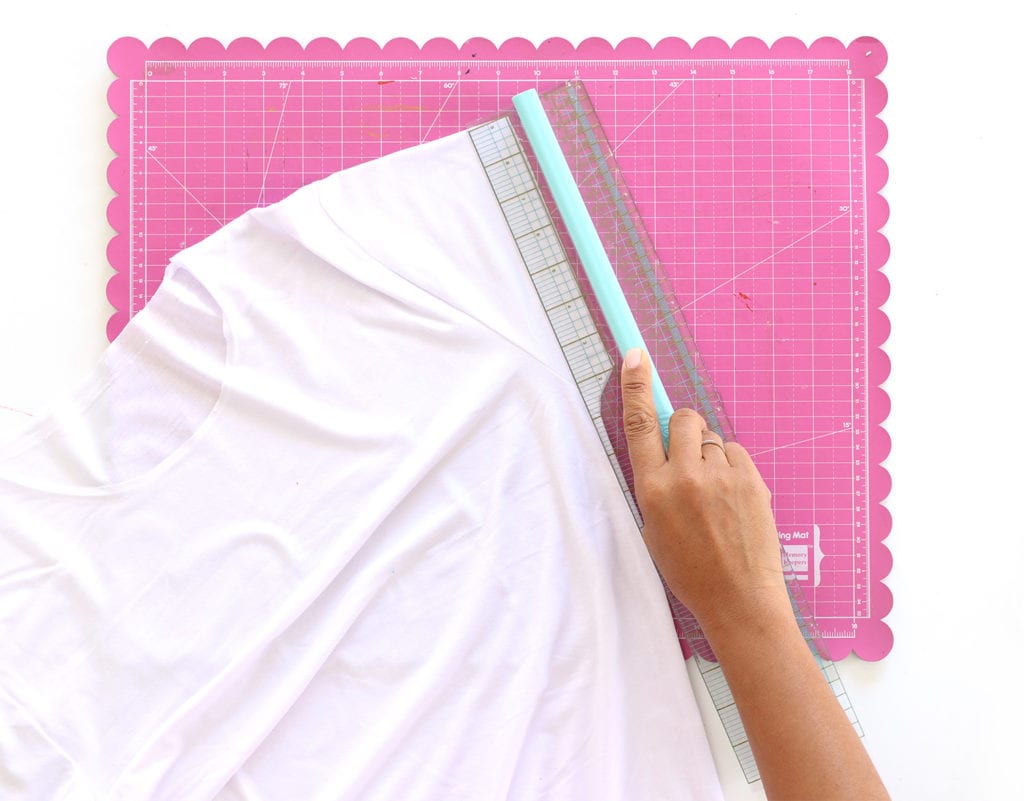 STEP FIVE
Use a ruler to measure the cut edge of the sleeve.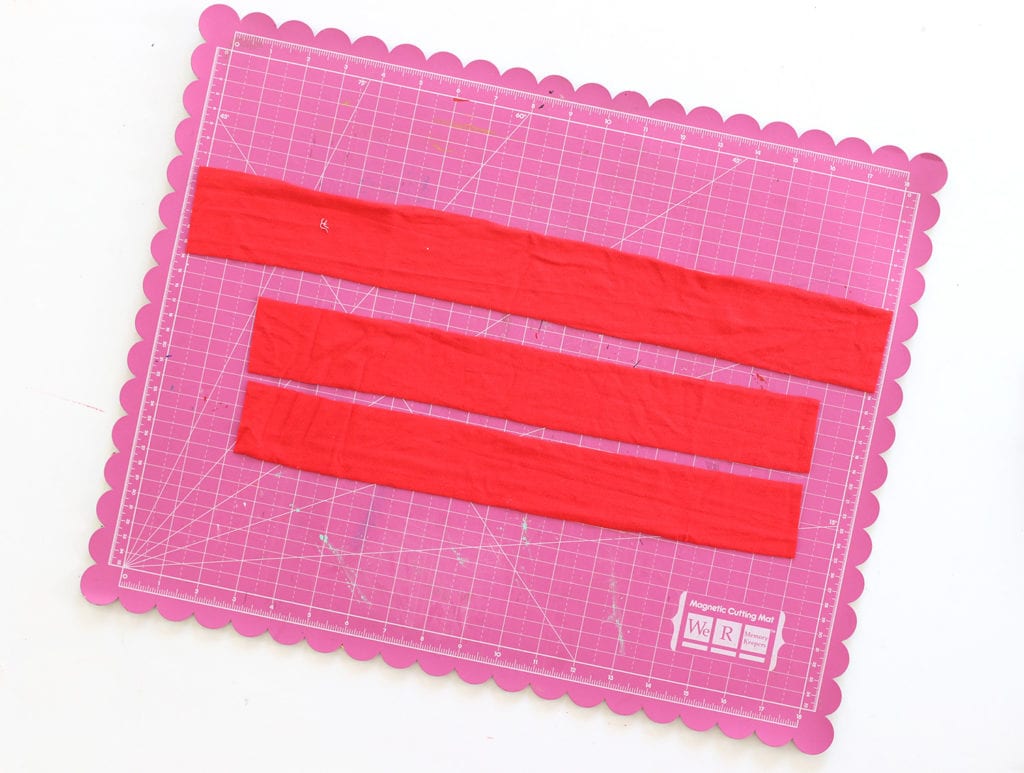 STEP SIX
Now you're ready to prepare the knit fabric accents. You'll need to cut three pieces of fabric. Each piece of fabric should be 2″ wide. The length of the fabric will depend on the size tee shirt you are working with.
The length of each piece should be: The measurement you took + 1.25″ to account for a 5/8″ seam allowance when sewn together.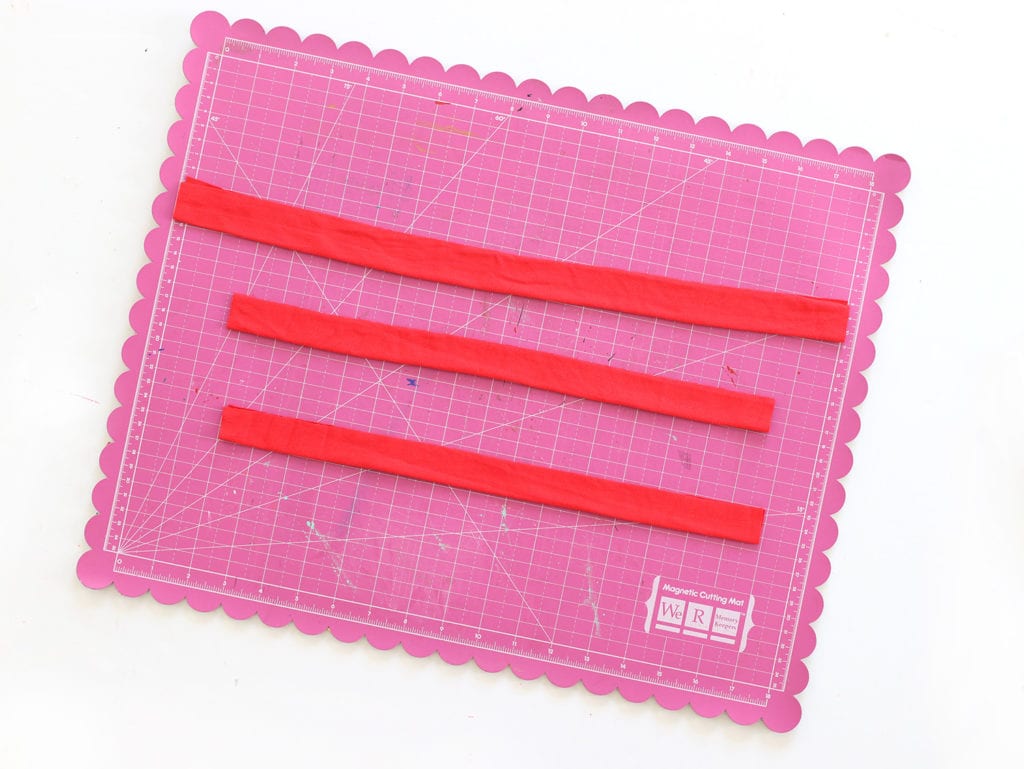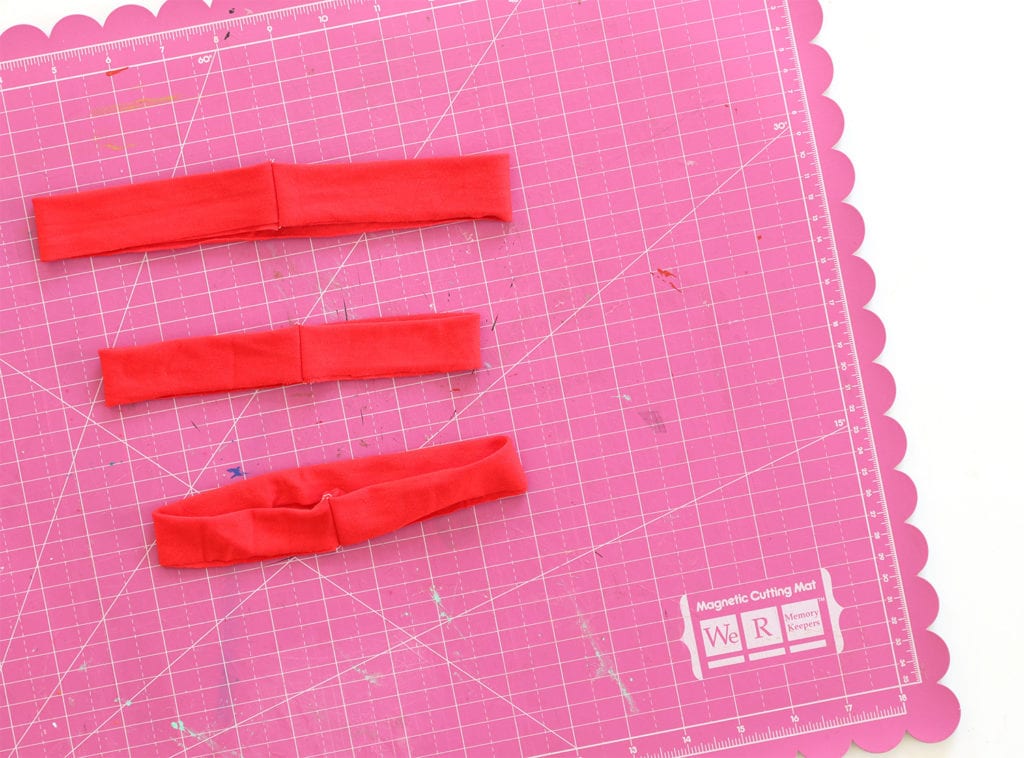 STEP SEVEN
Now, fold the strips of fabric in half and sew the ends together with a 5/8″ seam allowance.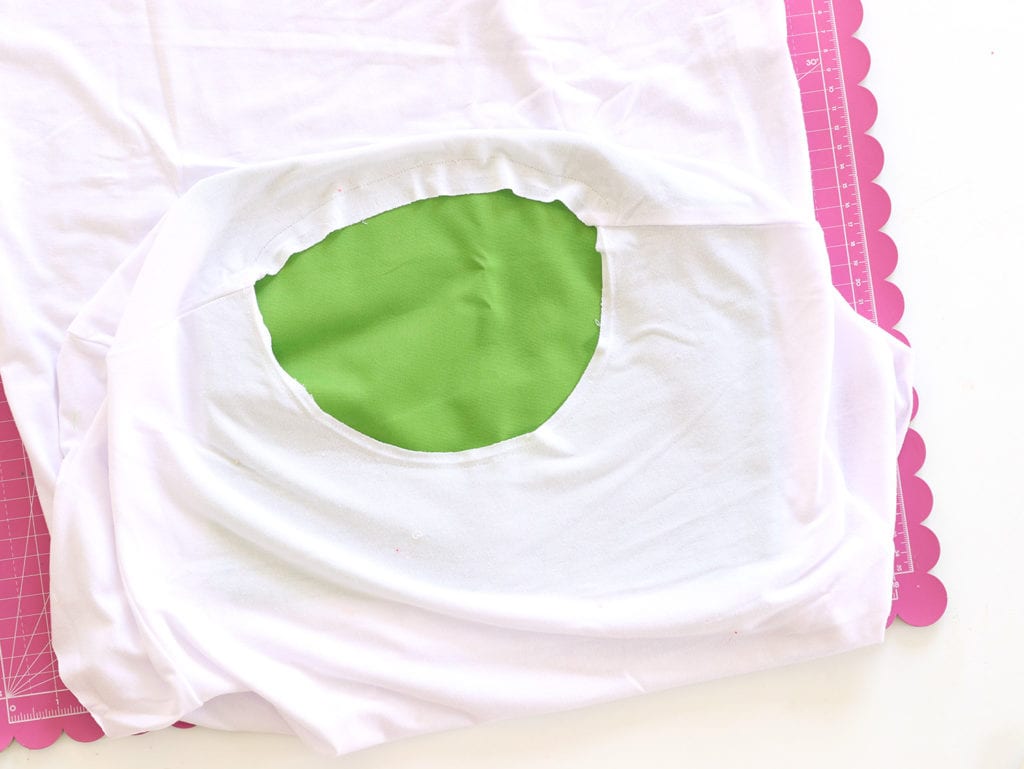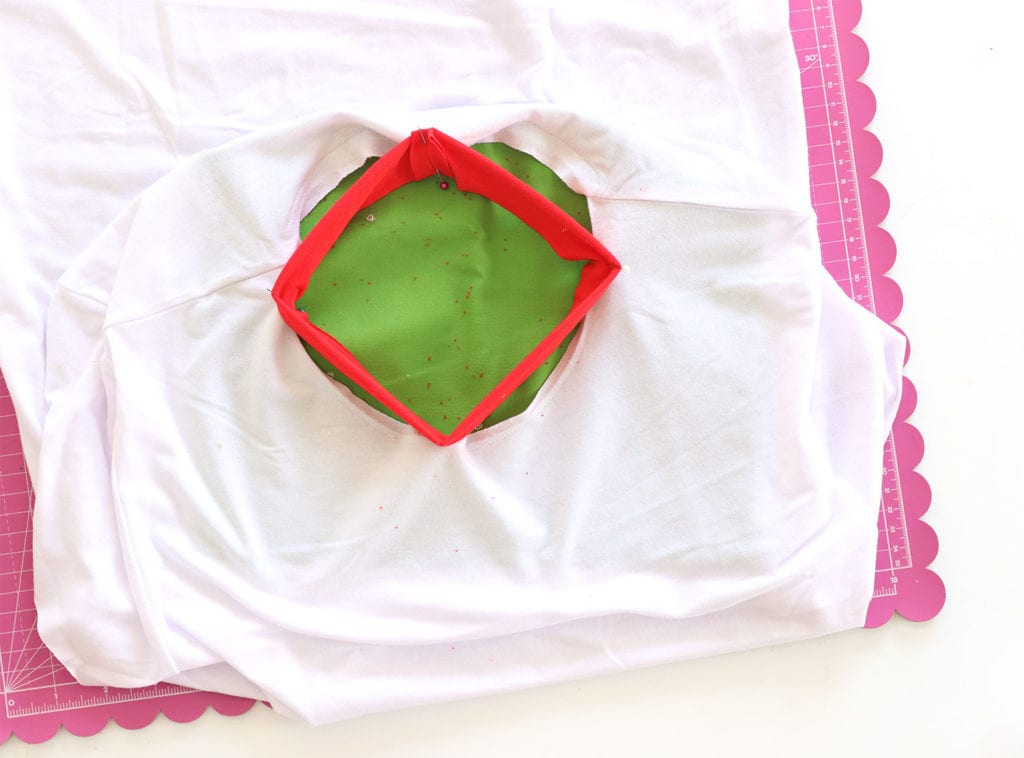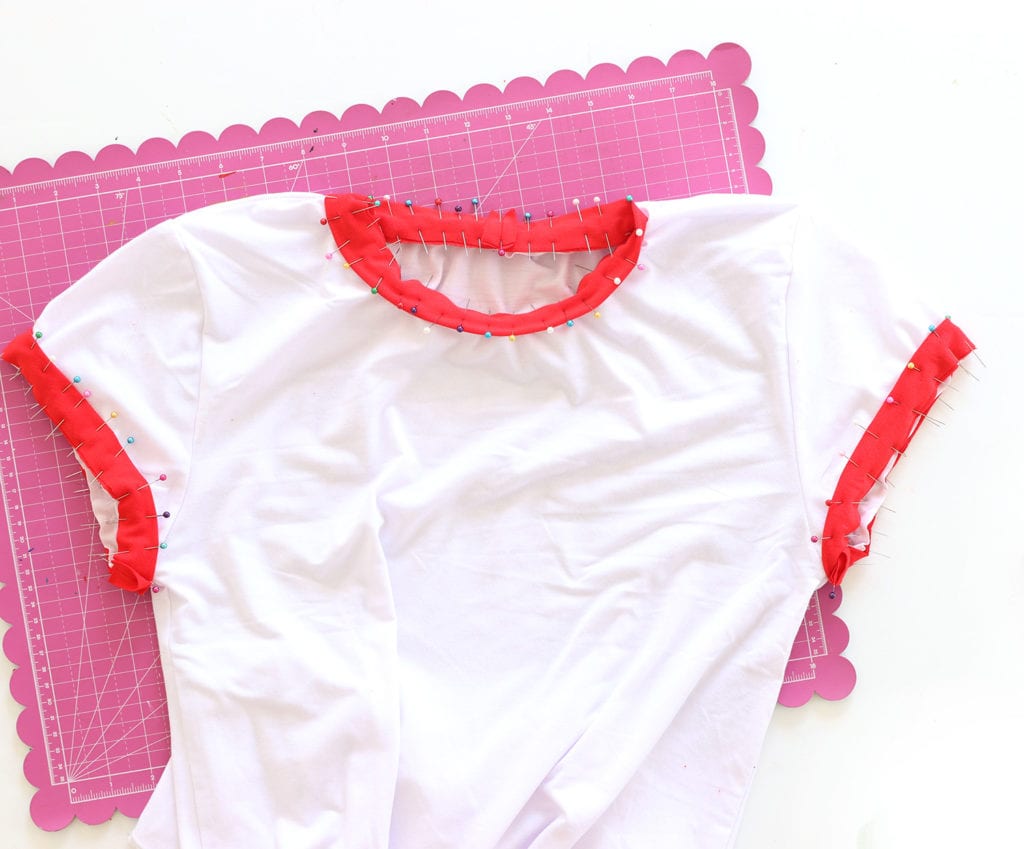 STEP EIGHT:
You are now ready to start pinning your knit pieces into place! Open the neckline of the shirt to a circle. I've placed a green piece of fabric in this photo to make it easier to see. Then anchor the knit collar piece into place by pinning at the top, bottom, left and right.
Once you've done that, continue pinning until the collar is in place. Repeat this step for the sleeves.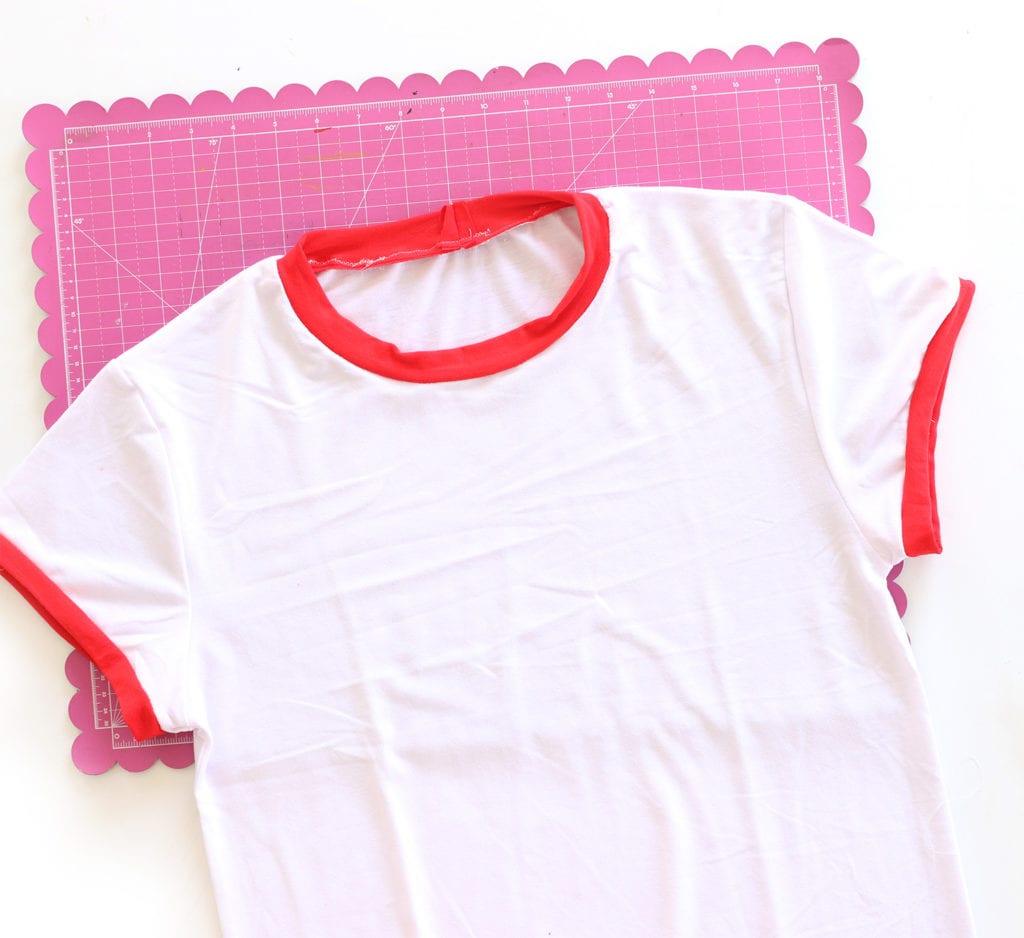 Finally, after all that prep work, you're ready to sew everything into place! Make sure to use a zigzag stitch to allow for stretch! Once everything is stitched into place, you're ringer tee is done and you can use your heat press to add custom Infusible ink designs!
Take a look at what I created!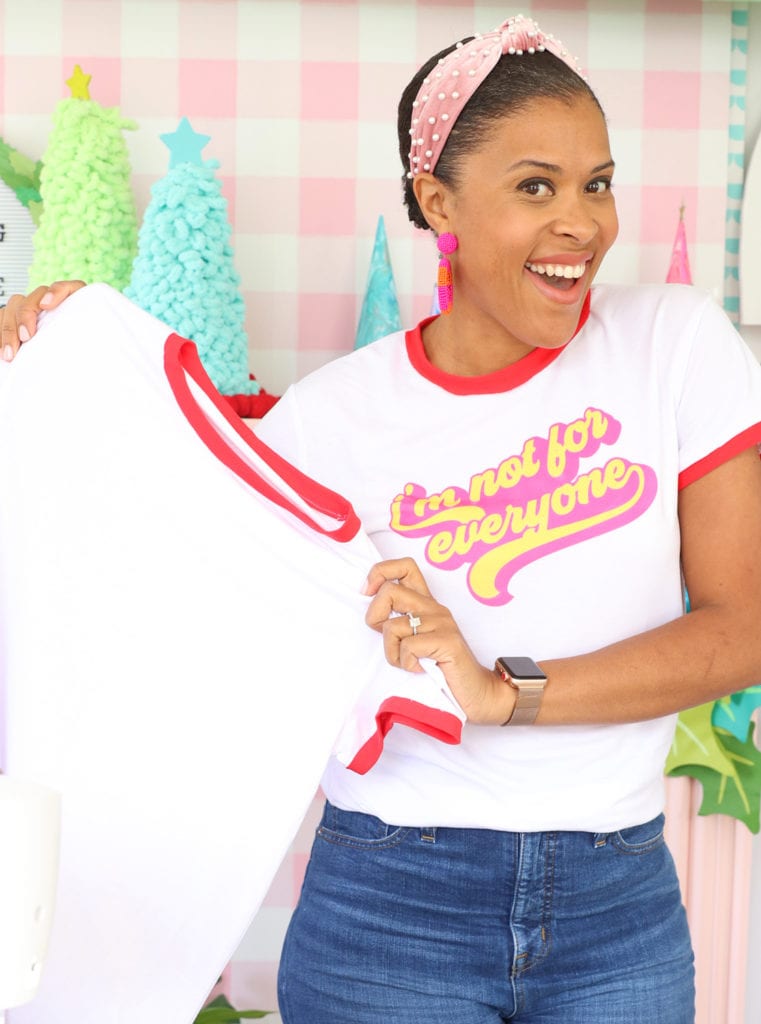 Want to create a tee like mine? You can grab the FREE "I'm not for everyone" SVG by clicking below!