Did you know that the second Saturday of January is National Vision Board Day? With two weeks into the New Year, we've gotten our acts together and settled back into our "non-vacay" mode.
As a crafty girl, I take my vision board very seriously! It has to be functional. It has to be accessible…and oh yeah…it has to look good! Now, without throwing any shade, let me say this. I've seen lots of vision boards and many of them look like ransom notes. I'm just keepin' it real! All the chopped up magazine words and images can easily come together to look like crime scene evidence rather than an inspiration. To remedy the epidemic of ransom note vision boards, I'm sharing a few of my own crafty tips for making a vision board that works!
My first tip for vision boarding is to use you planner as the home of your board. Your planner is always within reach and you can reference your vision board whenever you want. By keeping a planner vision board, you'll constantly be reminded and inspired by the goals you set.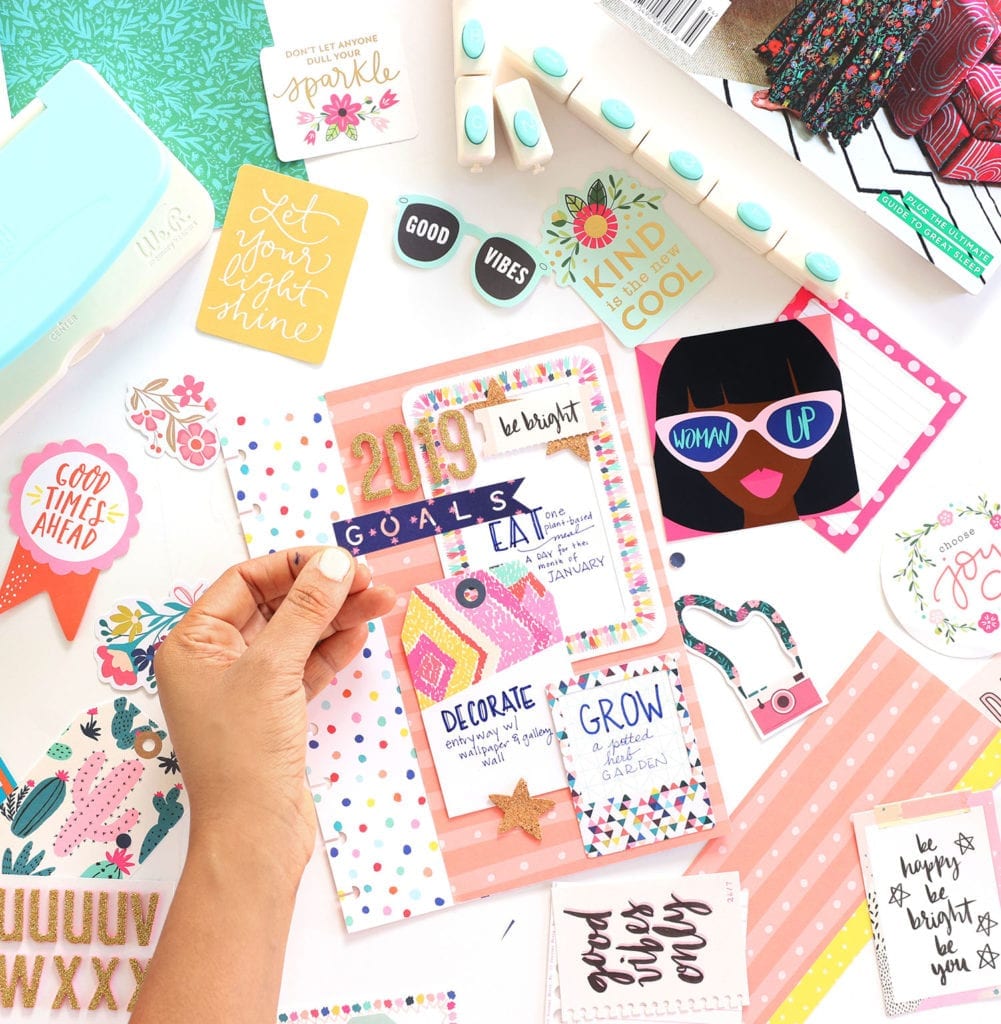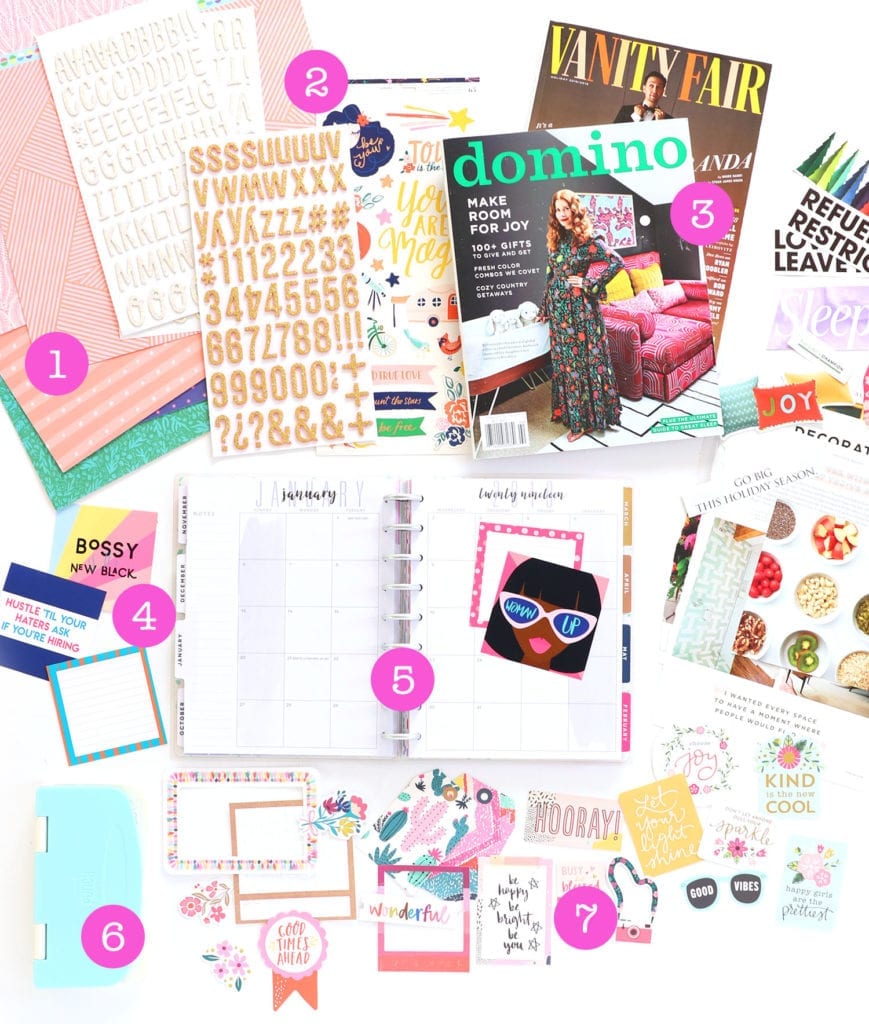 To make a planner vision board, you'll need a few crafty items:
12 x 12 patterned paper. Use whatever you love. This will add some color to your vision board and serve as the base of the project.
Stickers!!! Obviously.
Magazines. Even though we're ditching the ransom note look of vision boards, you can still make good use of magazines. Just don't start chopping up too many pictures and words.
Printable journaling cards – YAY! You'll want to have a spot in your vision board for making notes and writing some journal-like entries. We've created an empowering collection of journaling cards that you can download for FREE!!!
A planner. If you're going to make a planner vision board, you'll need a planner. As you probably already know – my go-to planner is my Happy Planner.  This super-customizable planner is perfect for adding your own creative elements…like a vision board.
A Planner Punch Board/Word Punch Board from We R Memory Keepers. This punch board let's you punch holes in the edge of your vision board, so you can easily store it in your planner. You're also able to use the Word Punch Board to create custom words for your vision board!
Scrapbooking ephemera. If the word "ephemera" is new to you don't worry! Ephemera are essentially cute decorative pieces of paper that you can use to decorate your planner, scrapbook, journal etc. Most ephemera packs include frames, journaling cards, images, motivational sayings and more. To find your favorite ephemera pack, just head over to Amazon and search "American Crafts Ephemera." You'll find lots of options!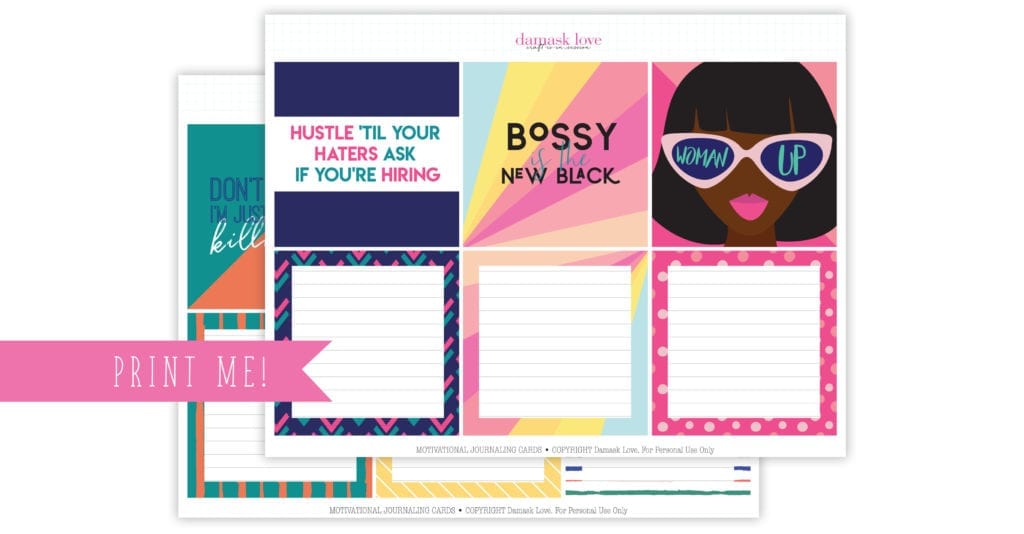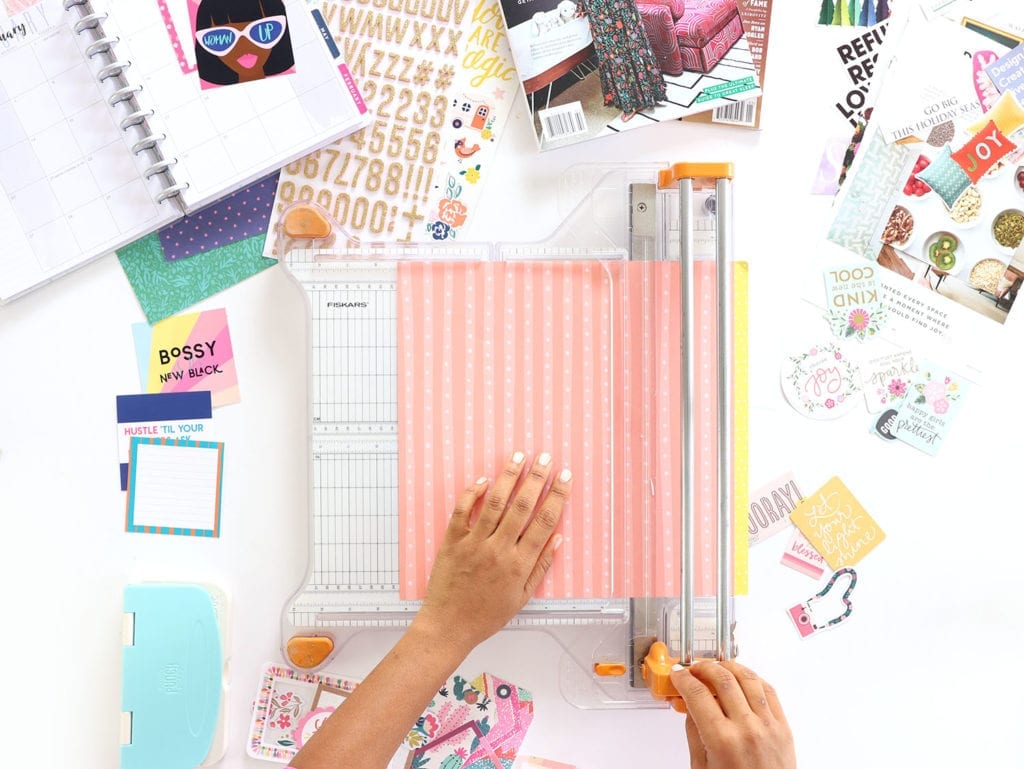 STEP ONE:
Use a paper trimmer to cut your patterned paper to 9.25″x12″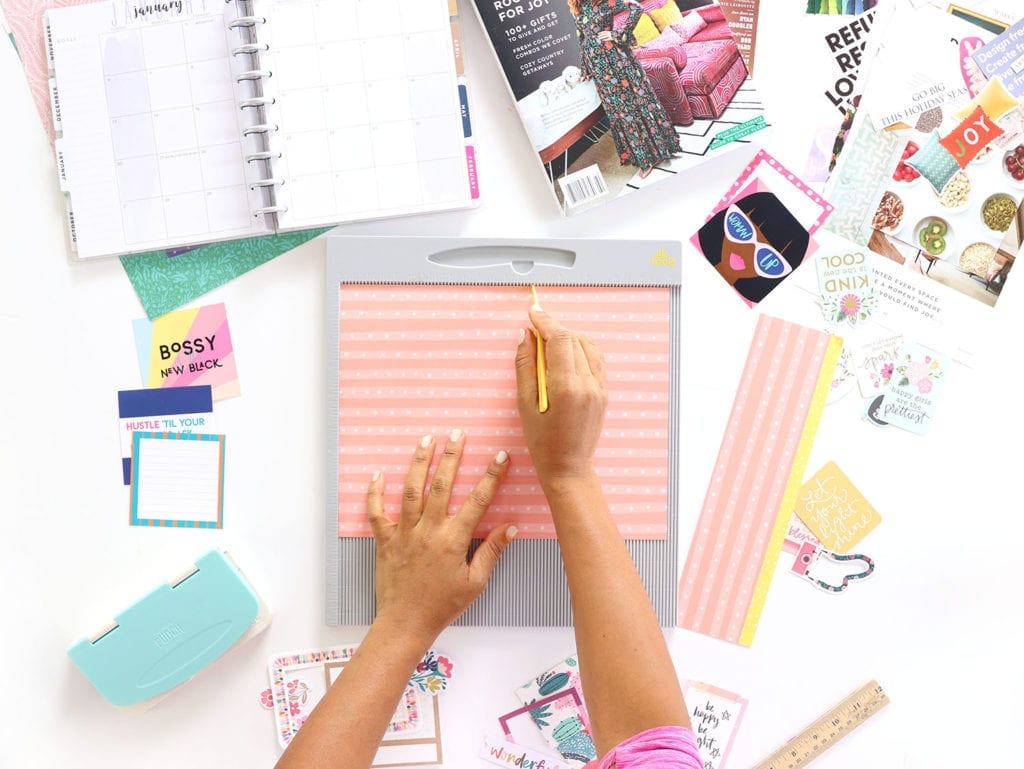 STEP TWO:
Use a scoring board to score the paper at 7″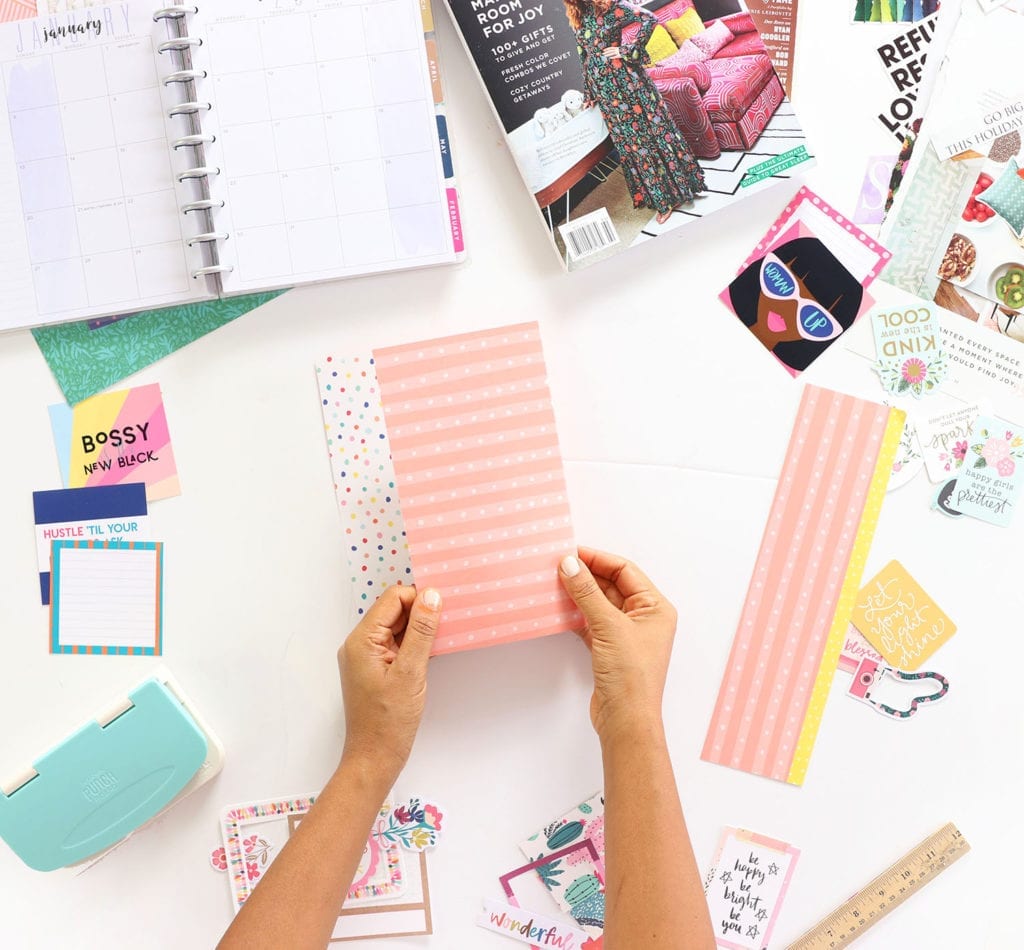 STEP THREE:
Fold the paper as shown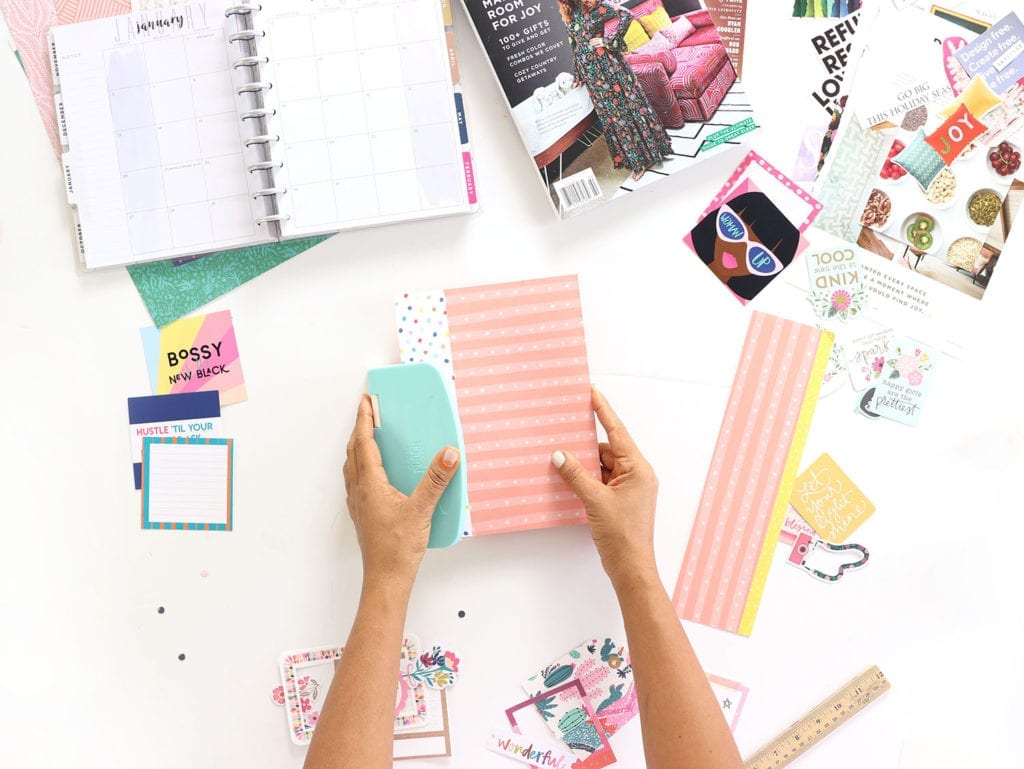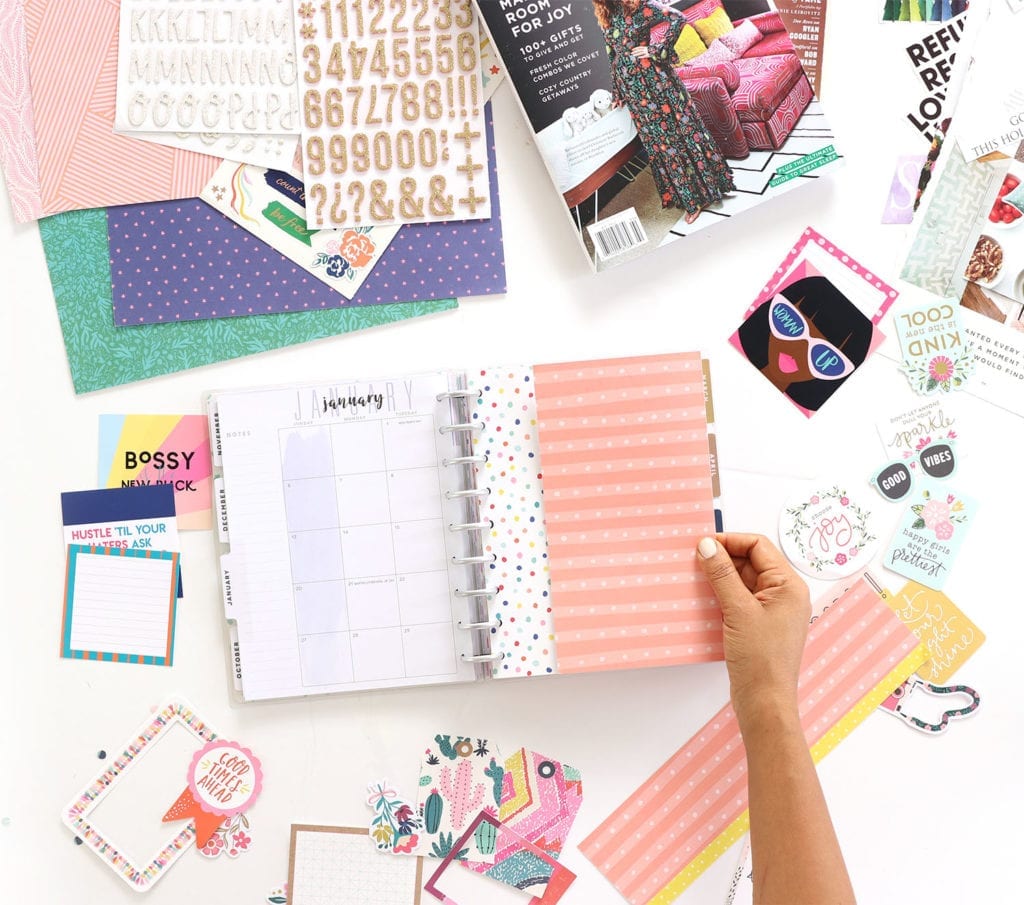 STEP FOUR
Punch the edge of the paper with the Planner Punch Board and insert into your Happy Planner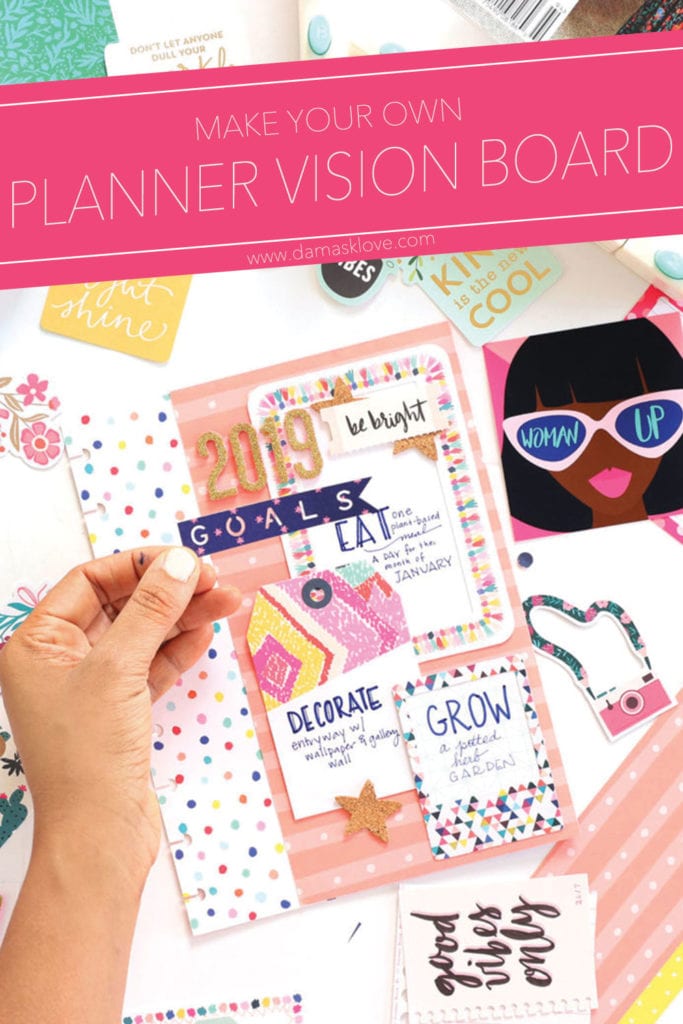 Now that you've created the base of your vision board, you can get to work adding all the goals and decorative elements that will make this board an inspiration all year long! Here are a few tips for how I but my vision board together!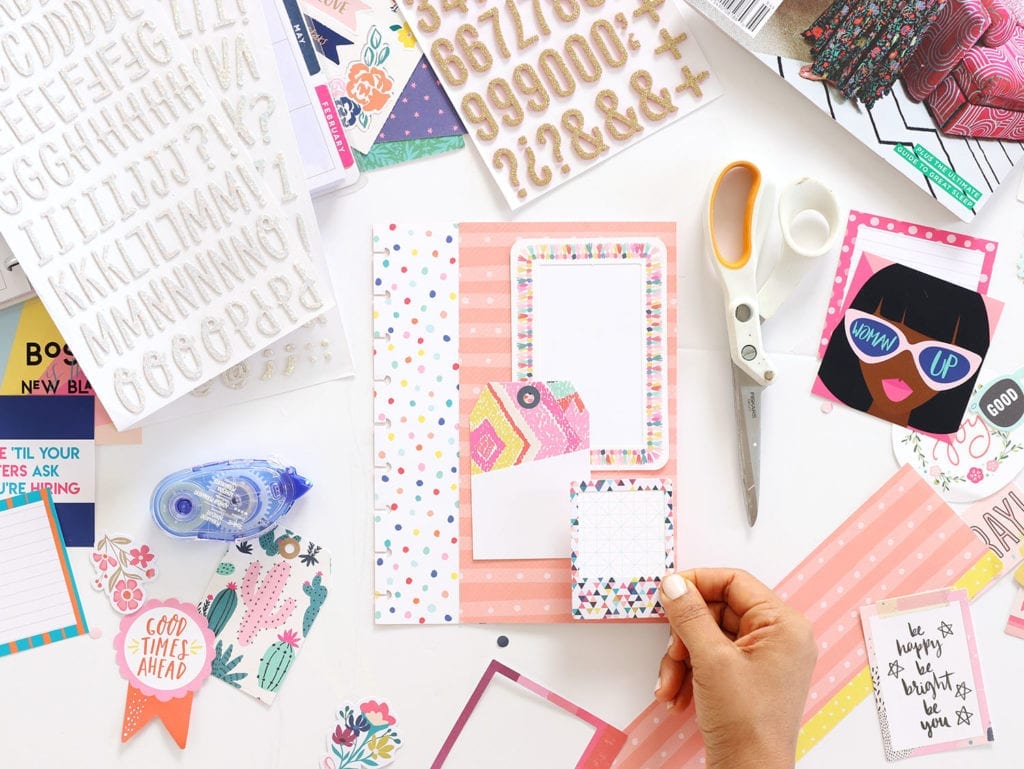 TIP: Use journaling cards or ephemera frames on the outer fold of your vision board. This can be a place to write down all your main goals for the month, year, season…whatever!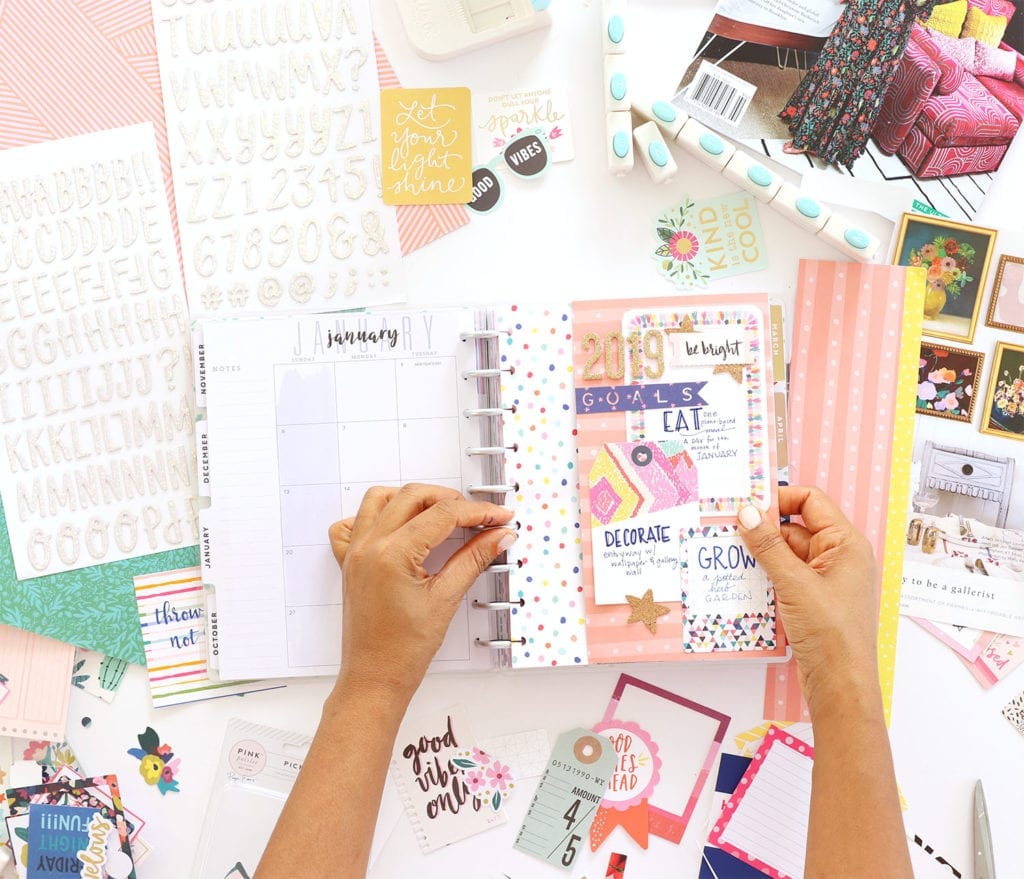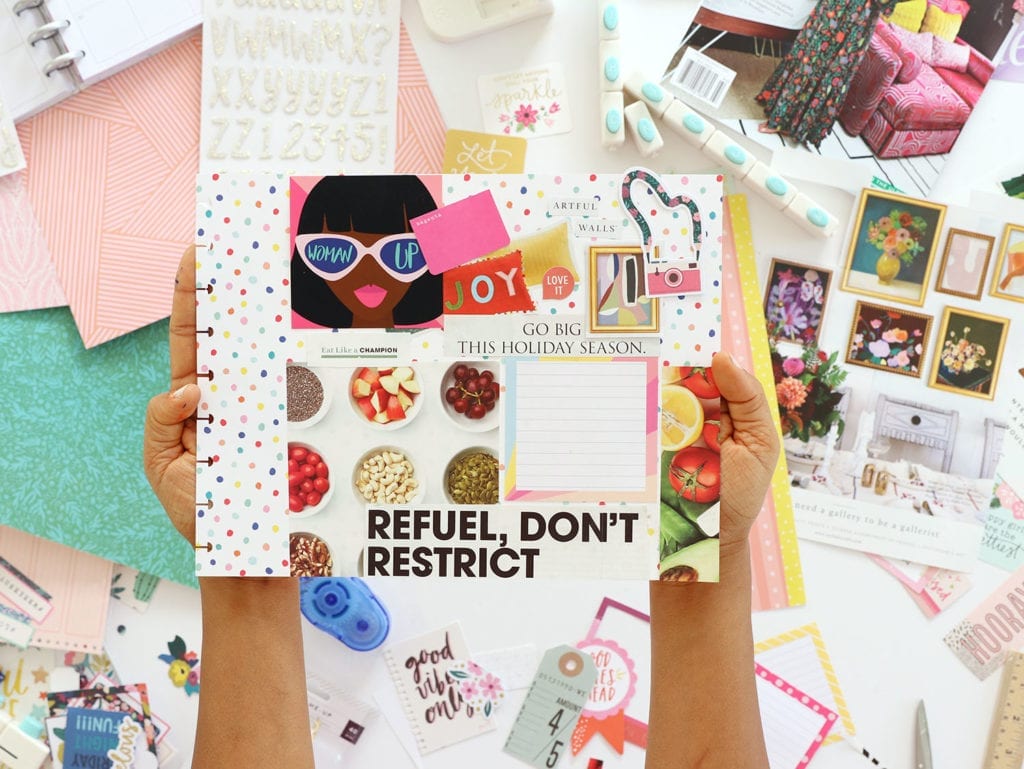 TIP: Use the inner portion of the paper for placing images, inspirational phrases and notes. This can be the place where you dive into each of your goals and create a more traditional vision board.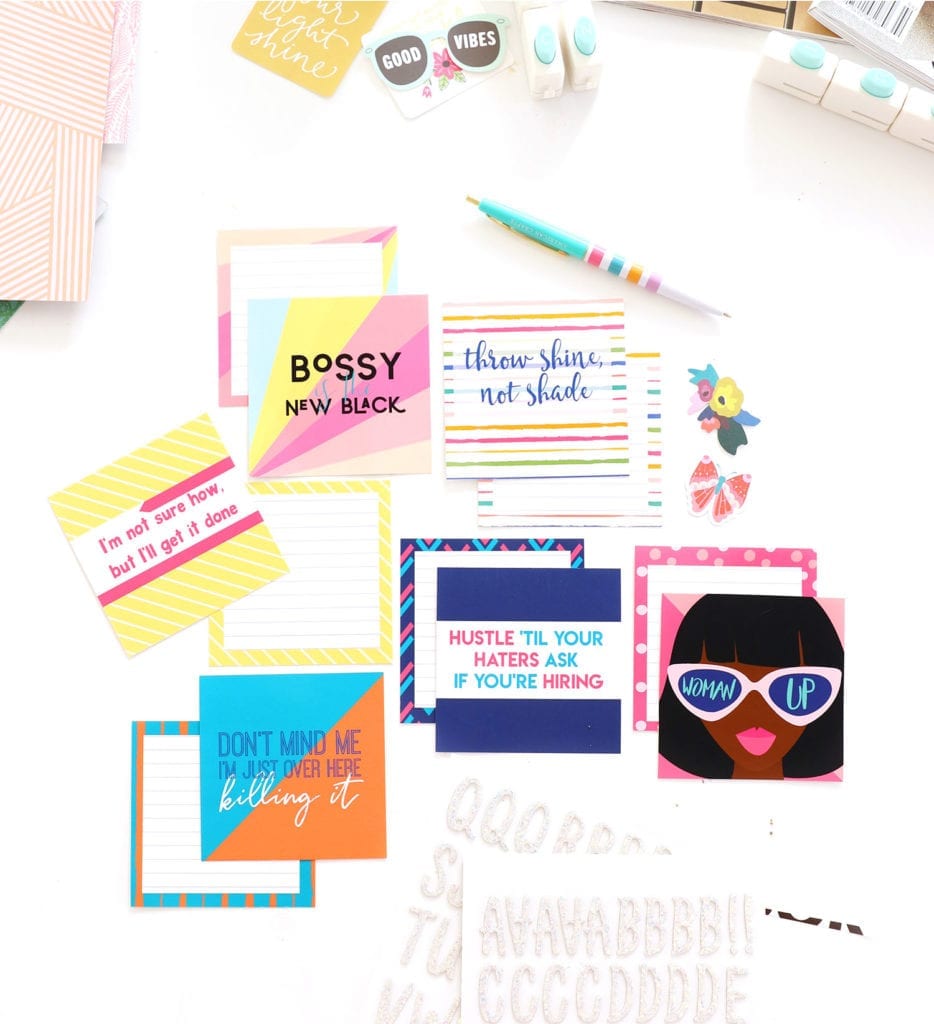 TIP: Print off a few extra journaling cards to use throughout the year! Vision boards are a great way to jump start your motivation and these journaling cards are quick and easy ways to keep you going.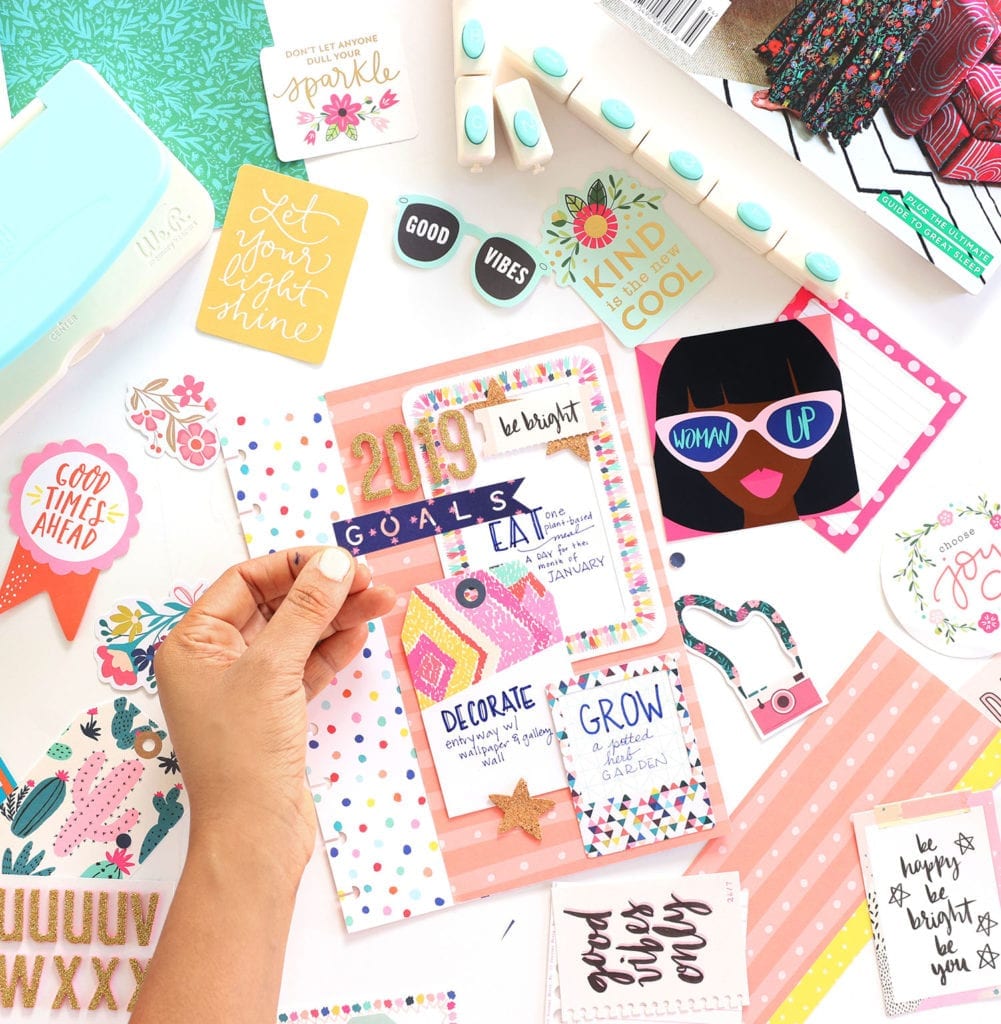 Happy vision boarding! Be sure to tag #DamaskLove and @DamaskLove on Instagram to show how you're creating your own vision board this year.
And if you're in the mood for even more vision board inspiration, head over to Live Abode where we're sharing some awesome tips for creating your own vision board party!