*tap*tap* Is this thing on? Anyone out there? Bueller?
So, it looks like I'm back in action and I'm so happy to revive my little corner of blogland. Today's post is one that was supposed to go up yesterday – but, ya know – sometimes life get really hectic!
And since my mom is still one of those people that doesn't really use her computer on the weekends – I think it's OK that I'm a day late is posting this little Happy Mother's Day message to her!
Happy Mother's Day, Mom!
This is one of my favorite pictures of my mom. I think it's a pretty funny photo of me! Why is it that little kids don't know how to smile? Looks more like I am gritting my teeth than actually happy to be in the picture…ah well…onto the crafting.
With so many of my friends being new moms this year, I decided to create something simple & sweet for each of them. After baking a batch of my mom's favorite scones and sending them off to her in California, I had several extras which I packaged up using a few of my stamping supplies! I was inspired by another crafty blogger, but sadly it seems her blog is no long around so I can't link to the original.
Using a sheet of adhesive paper, I cut strips and stamped them with this purple and green floral pattern and wrapped the label around a clear treat box.  Inside the box, I included a little jar of preserves which I stamped with a coordinating image.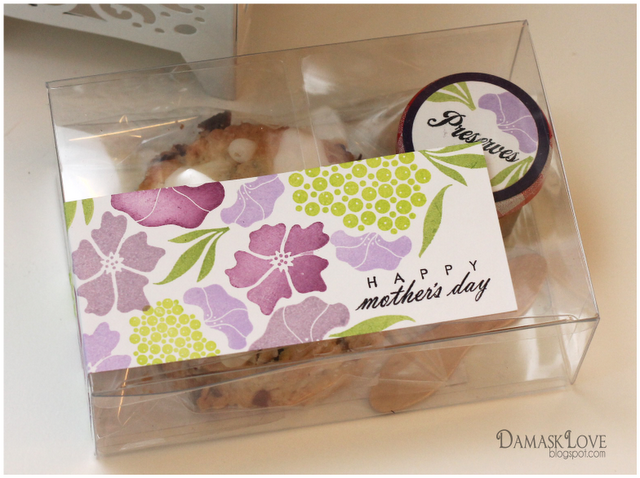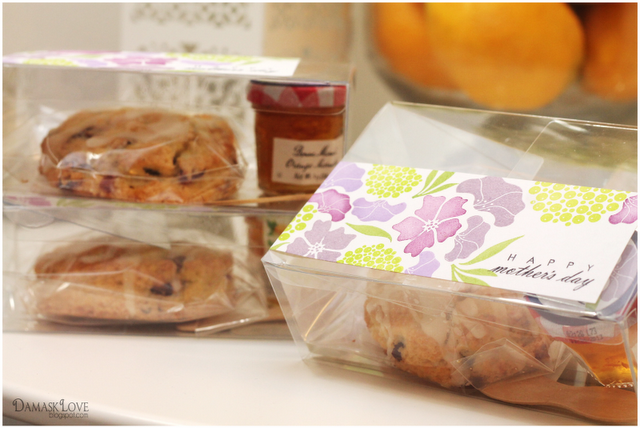 The pattern for the wrap around label was inspired by this magazine page which I ripped out and stored in my "Inspiration Binder". The purple and green combination seemed just perfect for mother's day!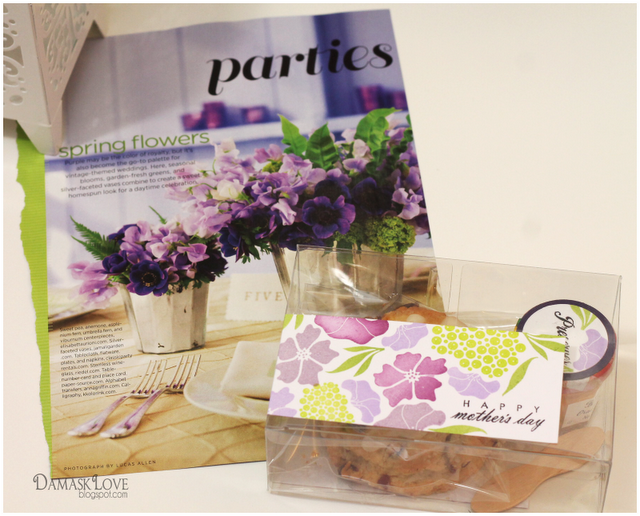 In addition to gifting yummy scones to friends and family, I had the chance to host my in-laws for a little mother's day dinner!  It was a great time to bust into "our" new wedding dishware (I have to insert quotes around "our" because let's be honest – Andrew is not so much into dishware, so really it's my new dishware – but he does thoroughly enjoy eating yummy food off these dishes!)
I hope you won't mind me sharing a few photos from yesterday's din-din…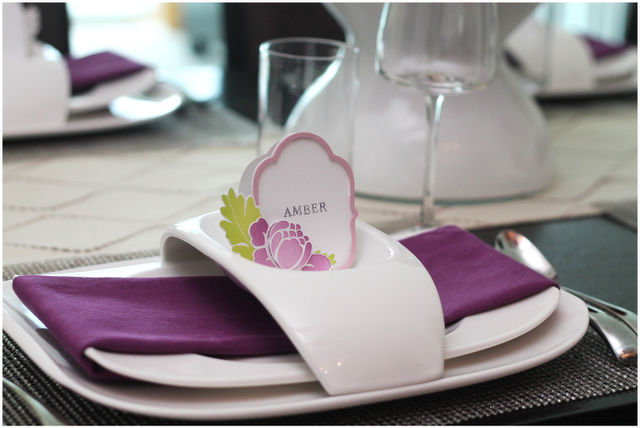 Of course, our table settings would not be complete without a little papercrafting, so I continued the purple & green theme onto these simple & elegant placecards which I stamped using Papertrey Ink's Rosie Posie stamp set along with the newly released Clear and Simple Stamps Alpha Engraved set.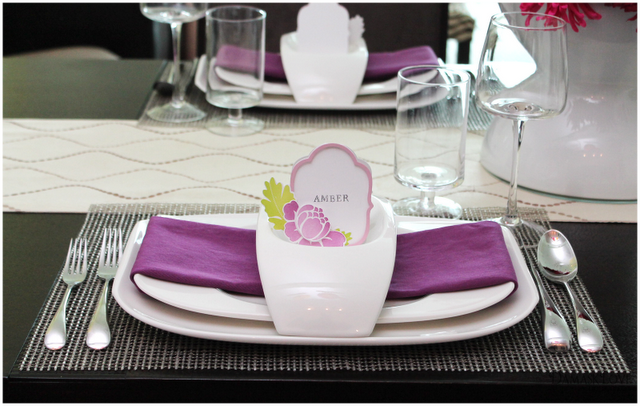 When it was time to eat, we sat down to a really yummy watermelon, feta & balsamic salad and potpies!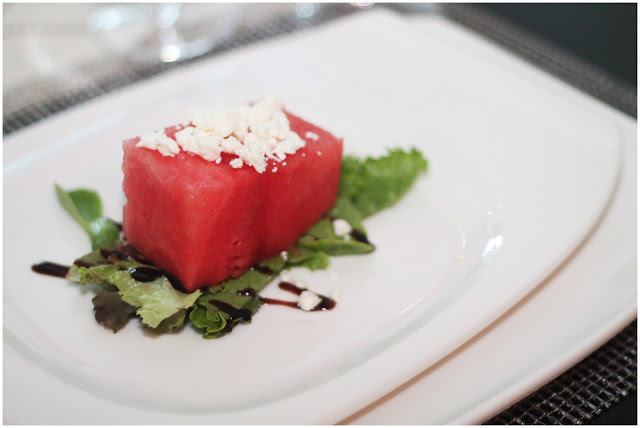 And for dessert, I arranged a buffet of tea, cookies & a few other desserts!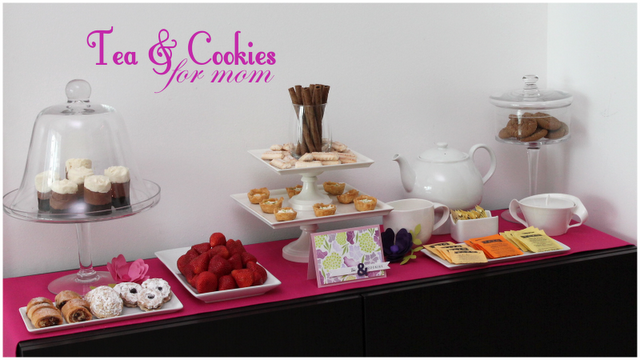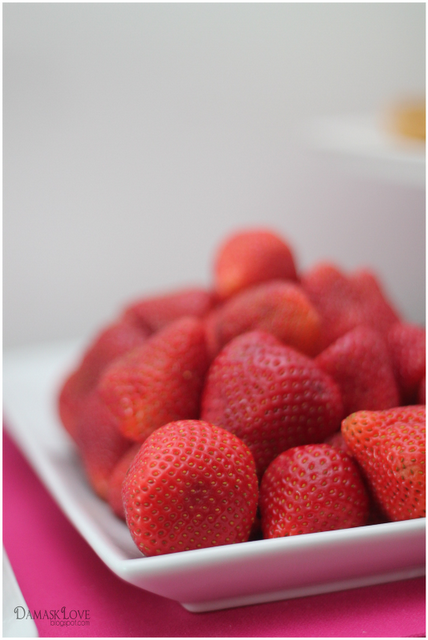 And in case you are wondering… that ruglelach was DEEEEEELISH!
Thanks for stopping by today and letting me share photos from a really fun night! I'll be back soon with more papercrafting and such!
Supplies:
Placecards, "Tea & Cookies" sign, Favor box wrap-around labels
Stamps: Papertrey Ink (Rosie Posie {for placecard flower}, Daydreamer {for floral pattern on wrap around label and buffet sign}, Everyday Treats {for "cookies" on buffet sign}, Time for Tea {for "tea" on buffet sign} , Friendship Jar Holiday Fillers {for "preserves" label}); Clear and Simple Stamps (Alpha Engraved {for names on placecards})
Paper: Papertrey Ink (Lavender Moon, White, Royal Velvet)
Ink: Impress Fresh Ink (Mojito, Grass, French Lavender, Silver Lilac); Colorbox (Eggplant); Ranger Archival Ink (Jet Black)
Other: Papertrey Ink (Mat Stack 5 die, Mat Stack 5 Layerz die {for placecards}, Rosie Posie die collection {for placecards}, Banner die {for buffet sign})