It is taking everything in my not to post a video of storytime in this house.
Let me back up.
When I was a kid, I was a voracious reader and I have visions that our baby will have lots and lots of books to choose from. With that in mind, we've started reading to him at night before bedtime. Some of our favorites are Time for Bed, Little Blue Truck, and quite possibly the cutest book that every child needs: Ten Little Fingers and Ten Little Toes. Usually, I do the reading. I read in typical motherese. Soft. Soothing. Lullaby-esque. Andrew on the other hand? When he reads, it's sort of a cross between Ludacris and a old southern baptist reverend standing at the pulpit delivering the climax of his Sunday sermon. In a word? Hilarious. I can only hope that our baby will come out with the rhythmic, rapper-ific reading skillz of his daddy. Yes. Skillz. For the sake of my marriage, I'll spare you the full video reveal of our storytime routine. Instead all I've got for you is a crafting tutorial. It's not nearly as awesome as my husbands nursery rhymez – but it's pretty awesome nonetheless.
Seems like we crafters are on a never-ending mission to recreate the beauty of letterpress within our homes. It's a tough art to replicate without the real deal equipment, but you can get close. With products like the L Letterpress Starter Kit and the beautiful new two-step letterpress plates like this one, you can make really impressive letterpressed projects. Turns out with today's tutorial, you can also recreate letterpress with a few supplies that you may just have in your craft room.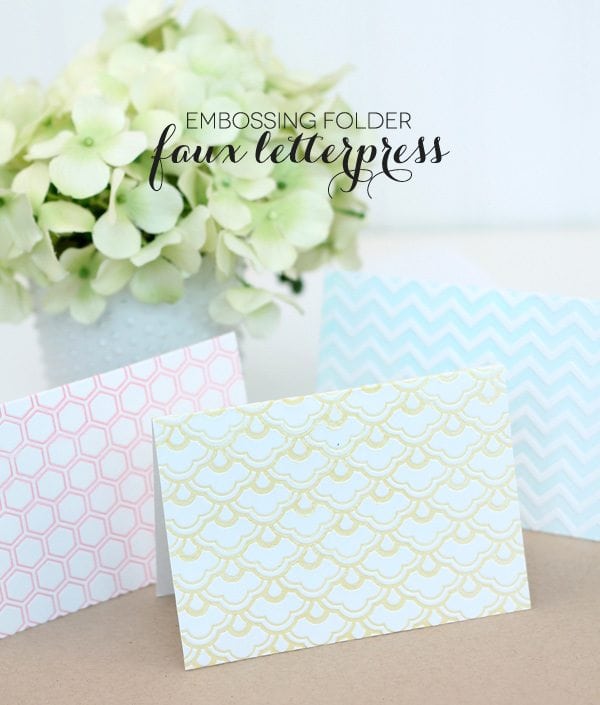 1. Squeeze a small drop of pigment ink onto a large acrylic block
2. Roll the brayer through the pigment ink creating a very thin layer of ink.
3. Roll the inked brayer over the raised side of the embossing folder pattern.
4. Place the front of the blank notecard onto the inked embossing folder.
5. Close the embossing folder around the card front.
6. Run the plate through your die cutting machine as you usually would to achieve the look of letterpress.