Never did I think this project would be as successful as it has been! I want to keep you all up to date on the progress of Drawn Together, and I have a few quick updates to share: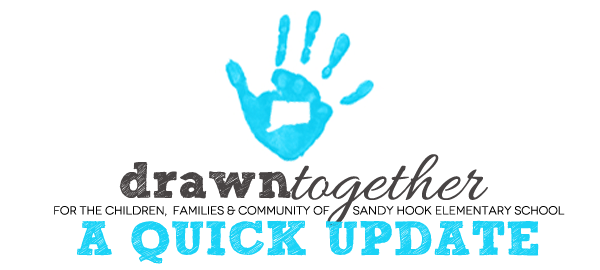 Donations are starting to come in the mail! You guys are fast! For the next three days, I will not be responding to emails regarding Drawn Together, since I will be working to organize our supplies. I hope you'll understand! For now, I'm working solo to get everything categorized for assembly. Reinforcements will be coming soon, though! If I have not responded to your email, please be patient. I plan to assess the need and send out requests – if necessary – on Saturday. It's tough to write this update, since I know how much everyone wants to contribute. Bear with me though – the response has been phenomenal and I'm doing my very best to keep it all organized so that our efforts will be as effective as possible.
Several small businesses have joined our project and have offered to donate proceeds from sales to this project. Doodlebox is a brand-spanking new company still in the beginning stages of growth (they just launched last week!)  but they have generously offered to donate 10% of each sale toward the Drawn Together project. We know that art can be therapeutic, and the Doodlebox kits offer a great way to bring art into your home! Ribbon Carousel will also be donating 10% of their sales to  the Drawn Together project. Ribbon Carousel offers a great solution for organizing your craftroom! Be sure to visit them.
Over the last few days, I've been doing quite a bit of research to ensure that your donations reach the proper channels in Newtown and the surrounding communities. The initial intent to donate all the supplies to the Newtown Youth & Family Services Center has been revised due to the shear amount of donations that have been provided to this particular agency. In my research, however, I have found numerous other businesses, therapists, and agencies in the area that work with the children of community of Newtown in a therapeutic way. The response from them has been very positive and I am looking forward to providing them with many of your donations.  I am using the Damask Love Facebook page to provide  continuous updates of my contacts in Newtown and providing the information for the agencies who will be receiving your donations.
Given the immense response the Drawn Together, I will be reserving some of the assembled kits to share with the children of Newtown in the coming months after this tragedy. Sadly, it is all too common for the donations to wane in the months and years following a tragedy like this, and I want to be sure that our efforts continue to be meaningful to this community well after the media has left and the donations have subsided. It is likely that this second round of donations will go directly to the Newtown Youth and Family Services Center, since I expect they will be less inundated at that time.
If anyone who had donated dollars or supplies to this cause wishes that I return their donation due to this revision in our mission, please contact me and I will be happy to do so.
Thank you again to everyone for being involved and being so very supportive!