Necessity is the mother of invention, right? Well, I like to think that being broke is also the mother of invention. Like the year after college when I figured out fill nail holes with toothpaste. Or during grad school when I would cook an entire lasagna and live off it for at least two weeks. Those years were pretty lean and even though things are much better these days, I can still appreciate the art of creatively saving a buck.
With the recent studio move and accompanying rent increase, I wanted to add some bright color to the space without reliving my two-week-old-lasagna days. I needed a large area rug but all the cool options were way too pricey…in the $800 range…no, thank you. So I tried my hand at making my own using a few yards of home decorator fabric…and I'm here to report that it worked splendidly! Like, no joke. This rug is 100% funtional, stylish, durable and completely customizable since you have all the control over the pattern you select. It's a great DIY and rings in at about $130 for a 5×8 rug. Much cheaper than the rugs I wanted to buy. Here's how you can make your own DIY Mod Podge fabric rug.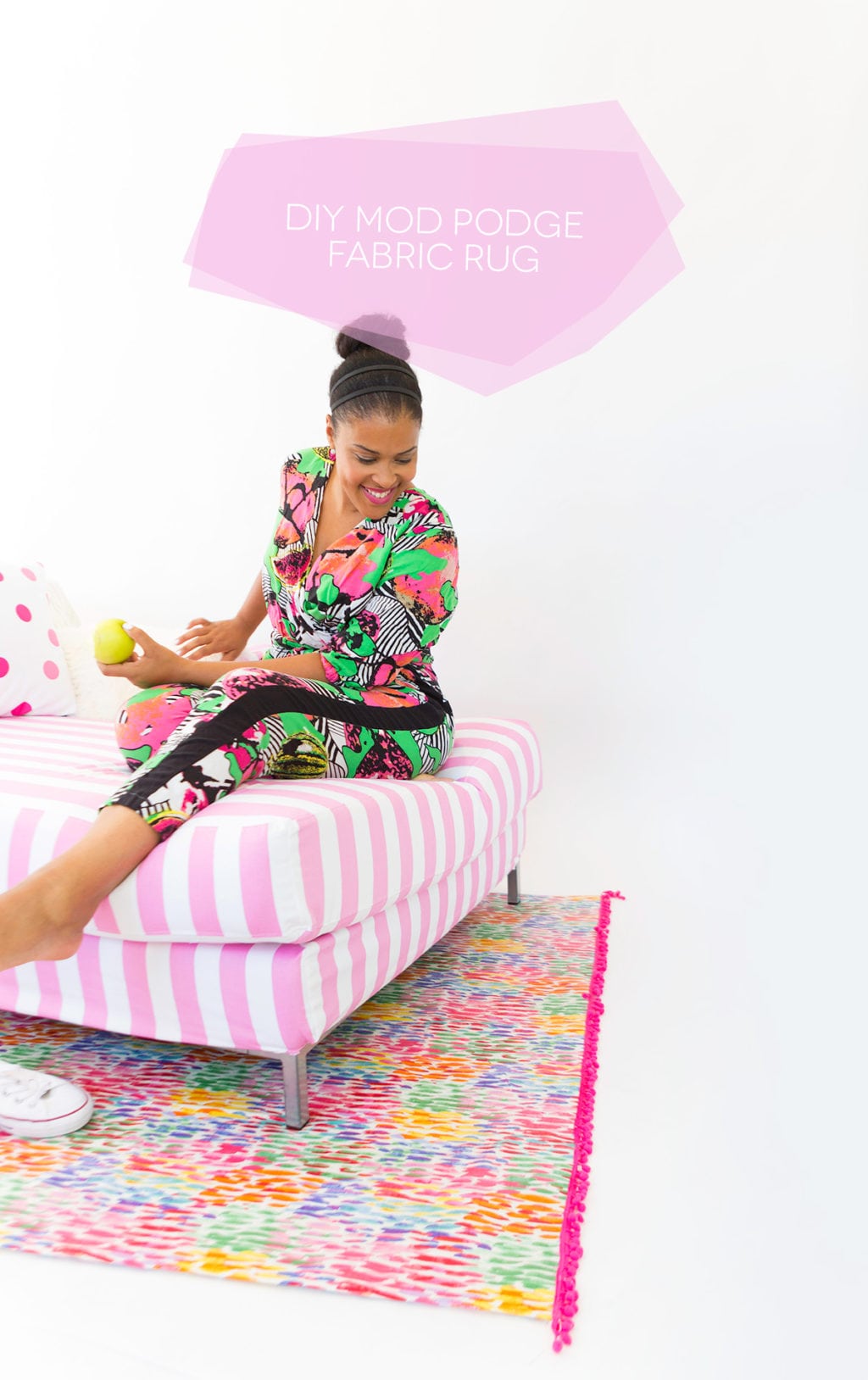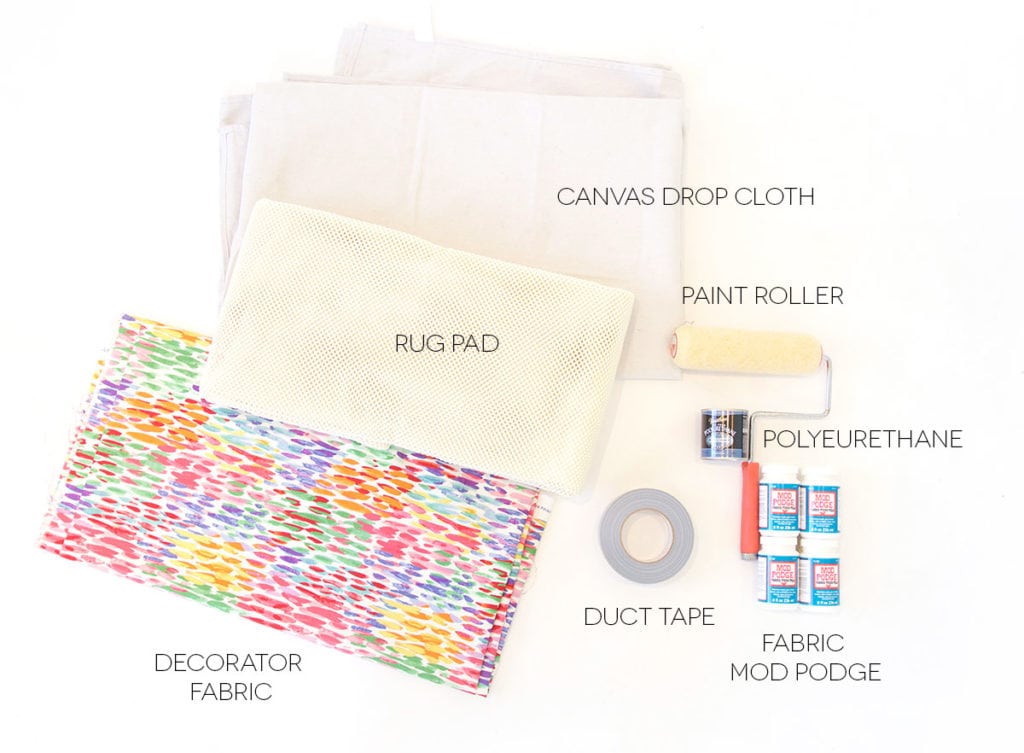 You'll need:
Fabric – I opted for home decor fabric which usually measures about 54″ wide which is a nice size for a rug. The length will depend on what size rug you want. I purchased 2 yards and of course I used my 50% off coupon to save some serious dolla dolla billz. The fabric alone came in at $30.
A rug pad that is big enough to fit the final dimensions of your rug.
A canvas drop cloth that is big enough to fit the final dimensions of your rug.
duct tape
a paint roller
polyeurethane
a few bottles of fabric mod podge. I went through 6 bottles for my 5×8 rug
you'll also need a big working space – the garage floor or maybe the living room. Enough space to stretch out the full length of fabric and drop cloth.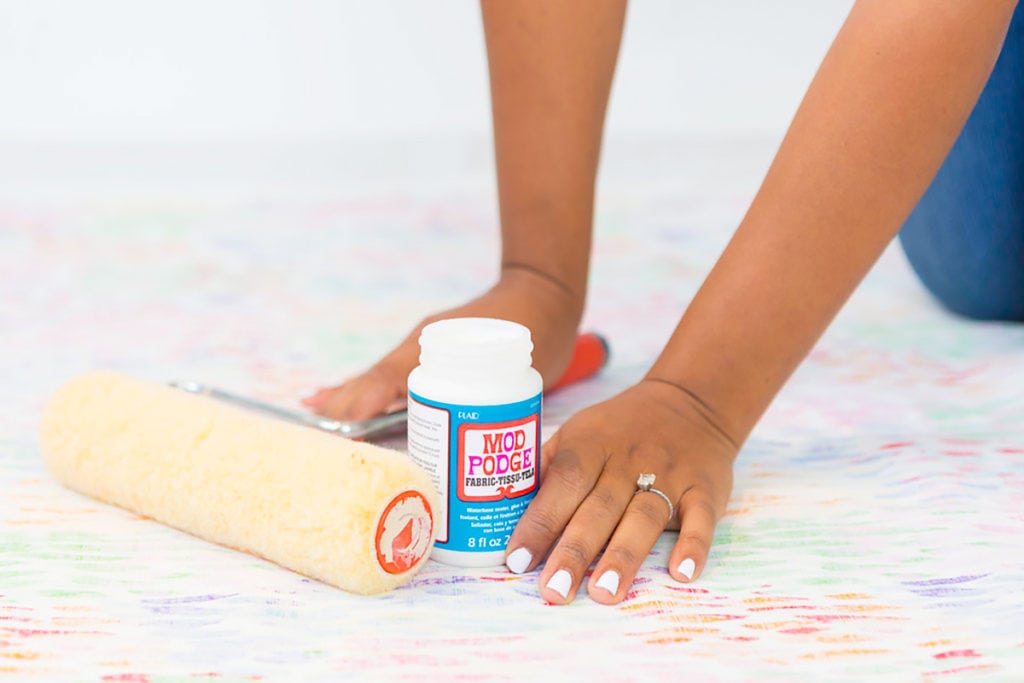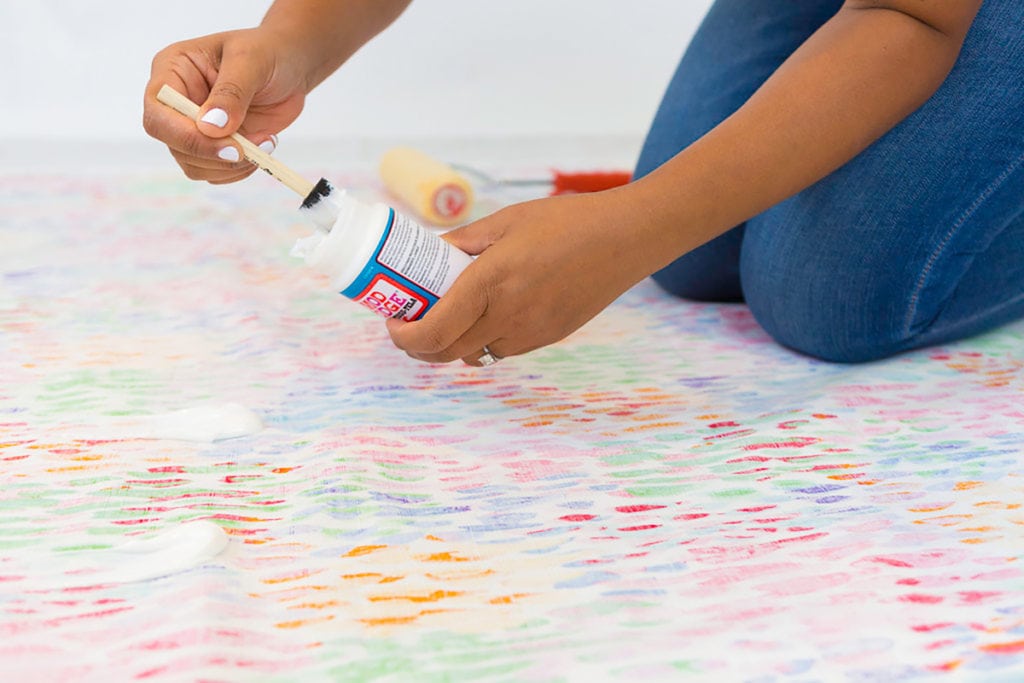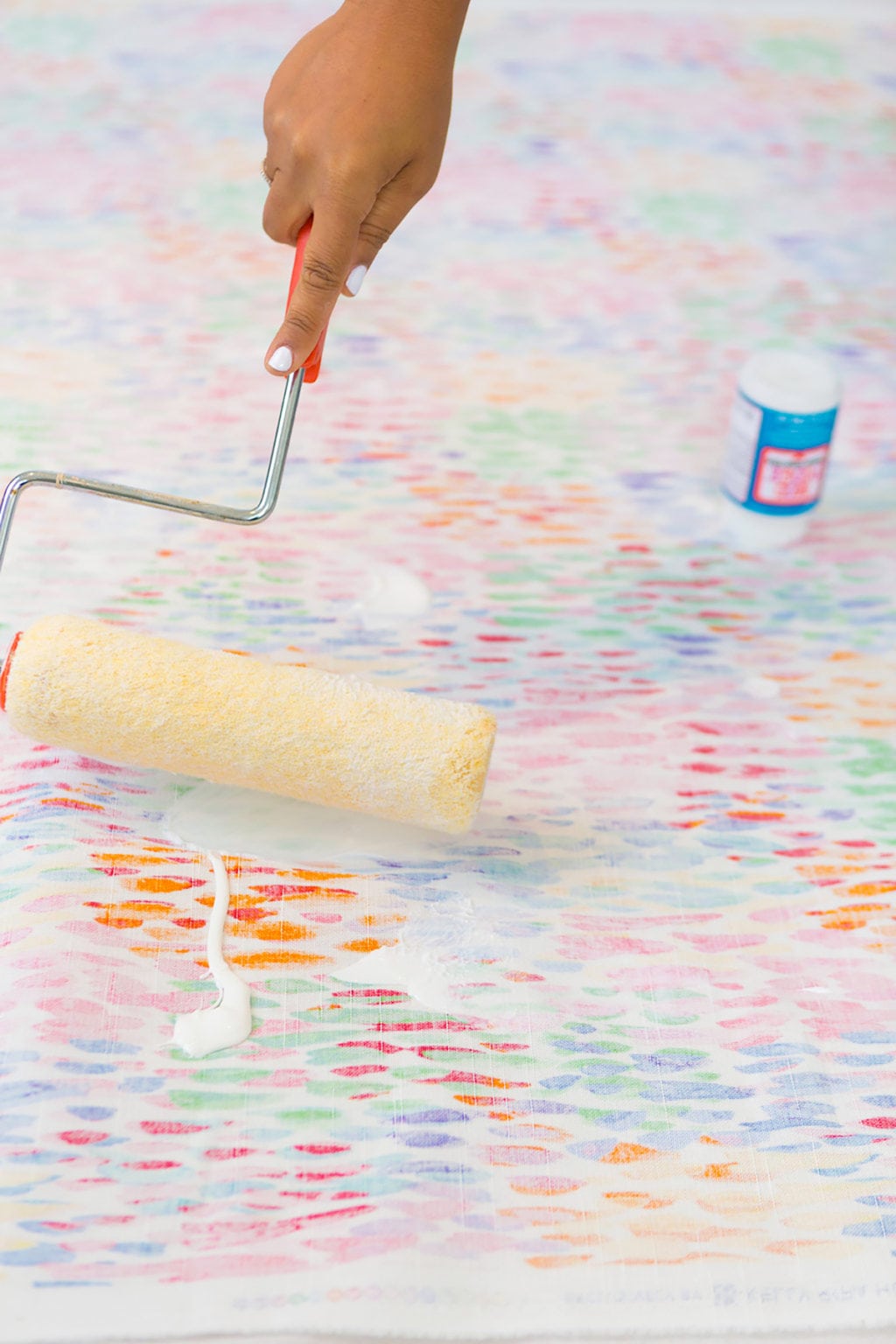 First, turn the fabric so the wrong side is facing up. Plop down the Mod Podge and start spreading it around with the paint roller. You'll want a decent coat of Mod Podge on the entire piece of fabric.
TIP: do this step on top of the drop cloth! As you roll the Mod Podge onto the fabric, it may see through and without a protective layer underneath, you may end up with a sticky floor!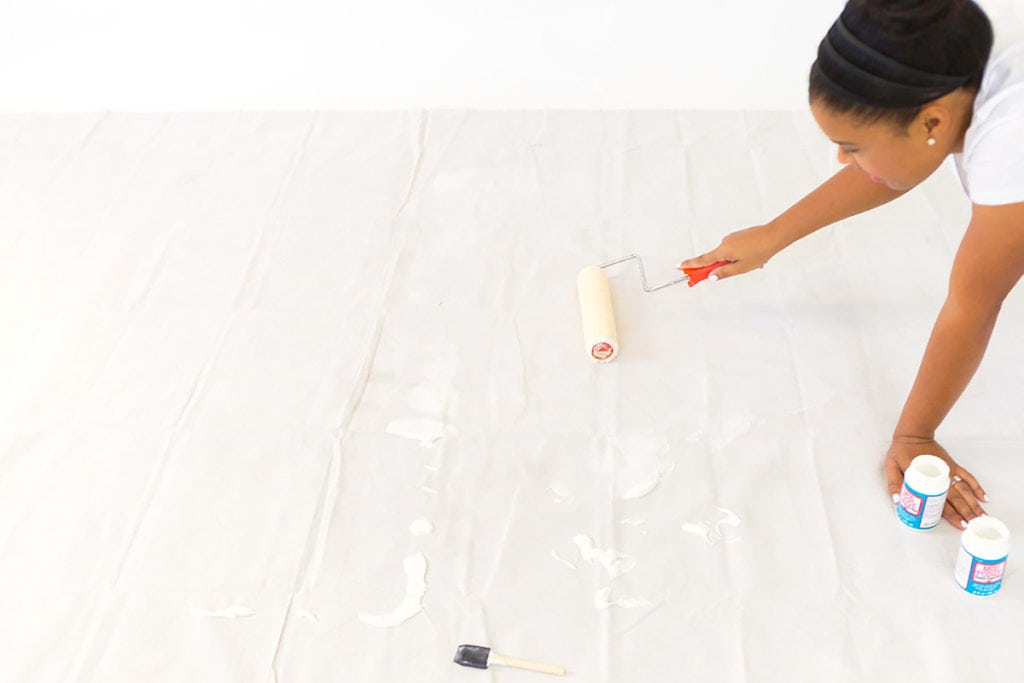 Set aside the fabric and immediately start rolling out more Mod Podge onto the top of the canvas drop cloth. You don't have to be meticulous about covering every inch, but do your best to cover most of it with a thin coat of Mod Podge. Remember, when working with fabric and Mod Podge, you need a Mod Podge-to-Mod Podge layer for the best adhesion. Make sense?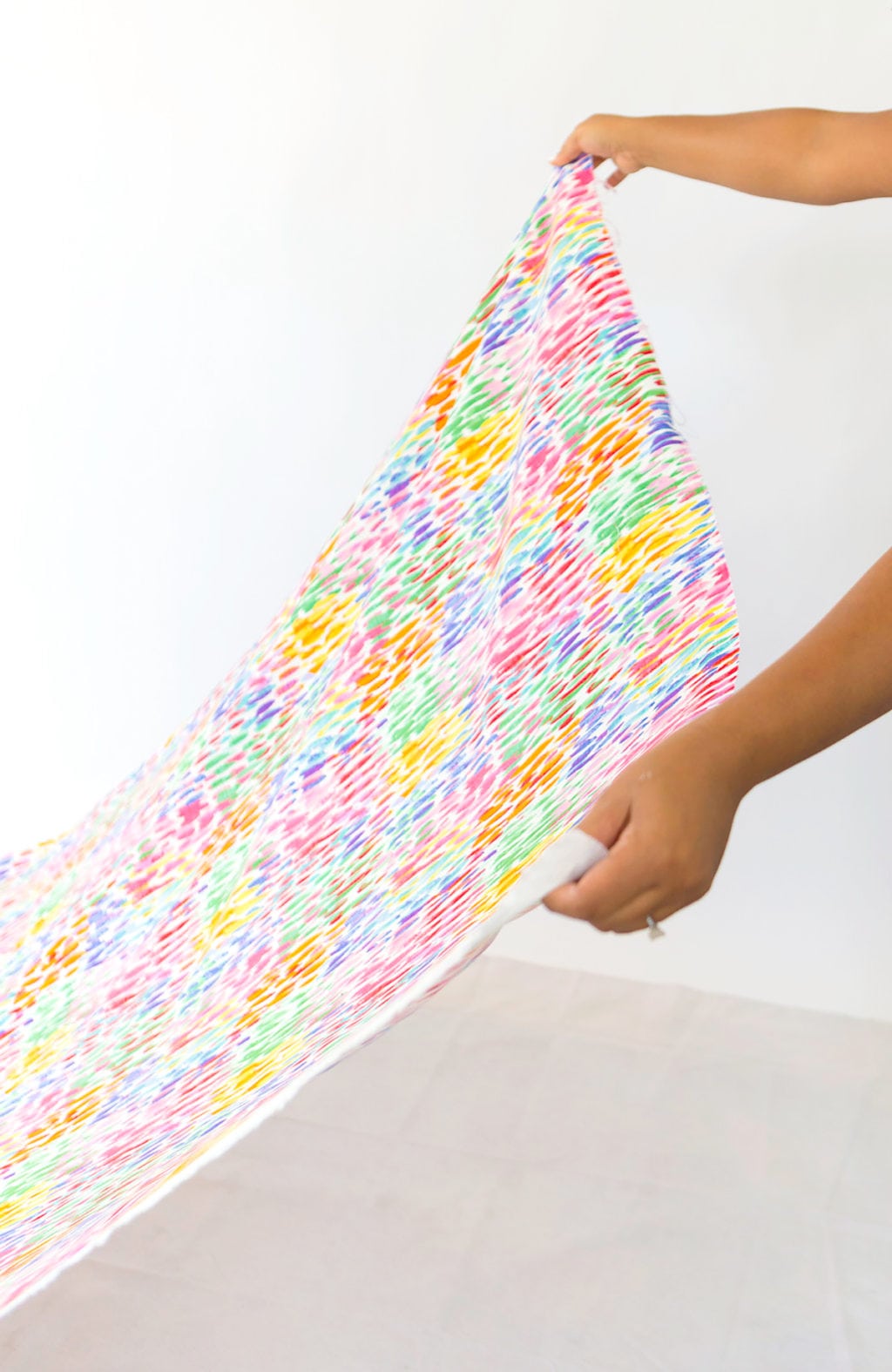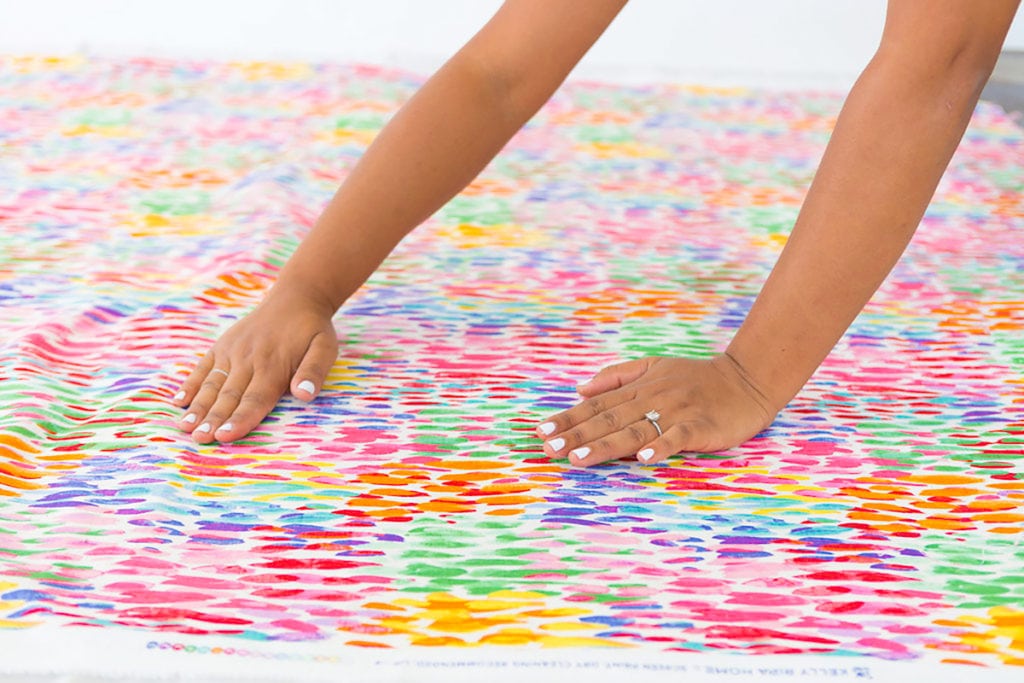 Lay the fabric on top of the canvas drop cloth and smooth it out with your hands to get out any creases.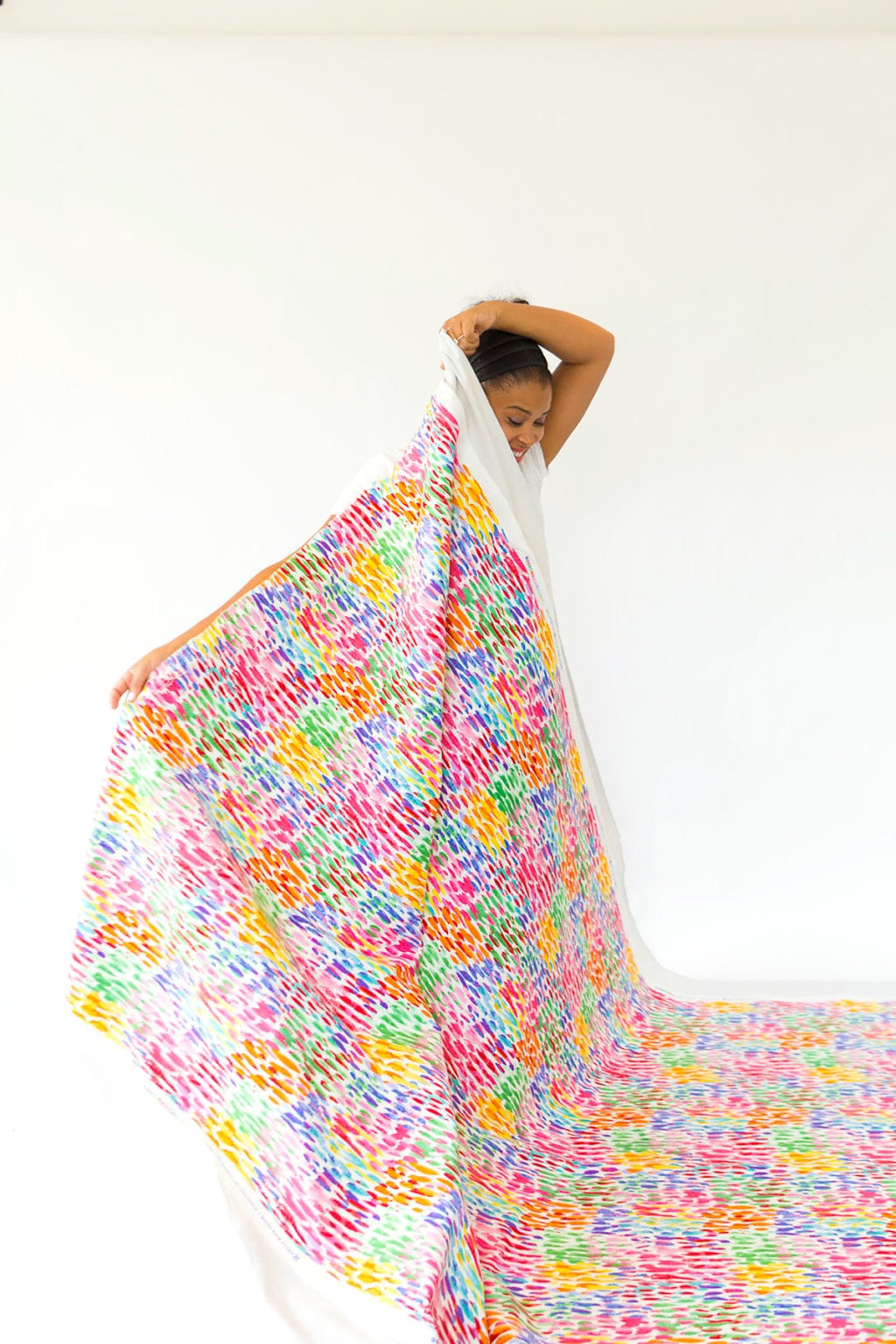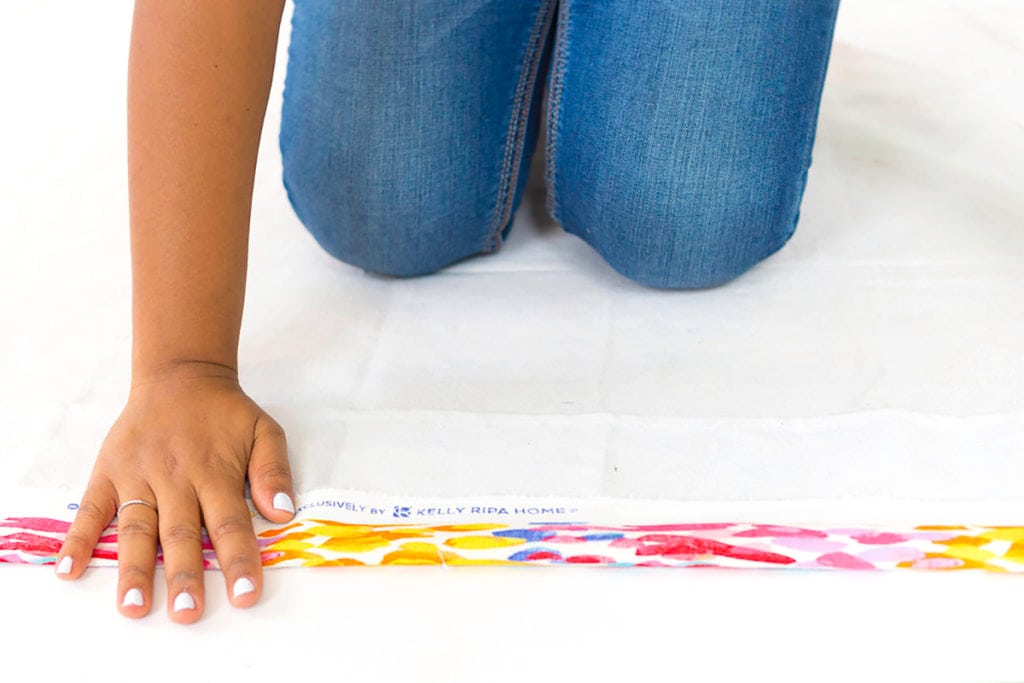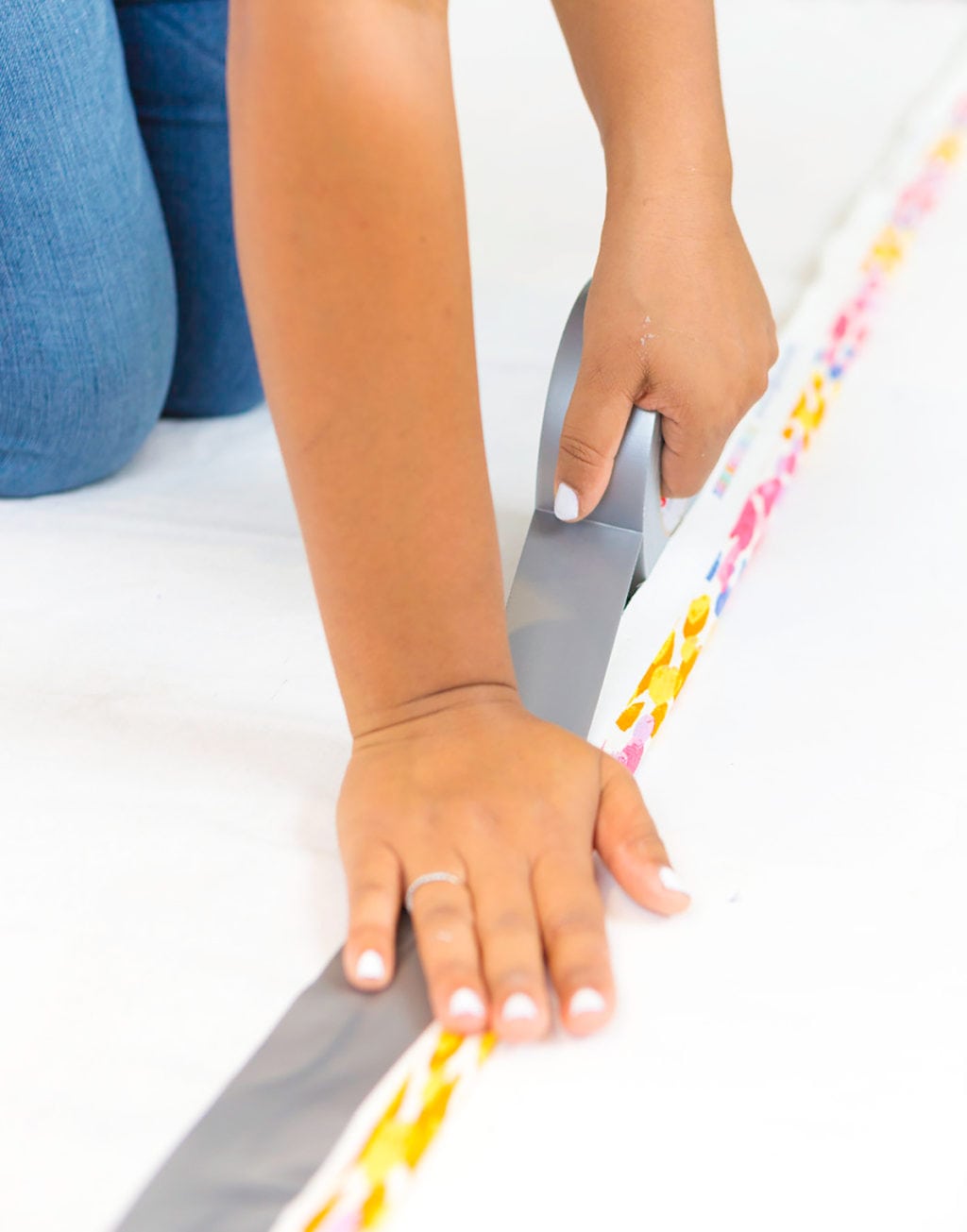 At this point, the two layers will be well adhered to one another. Now, flip the whole thing over and fold down the edges and secure them with duct tape.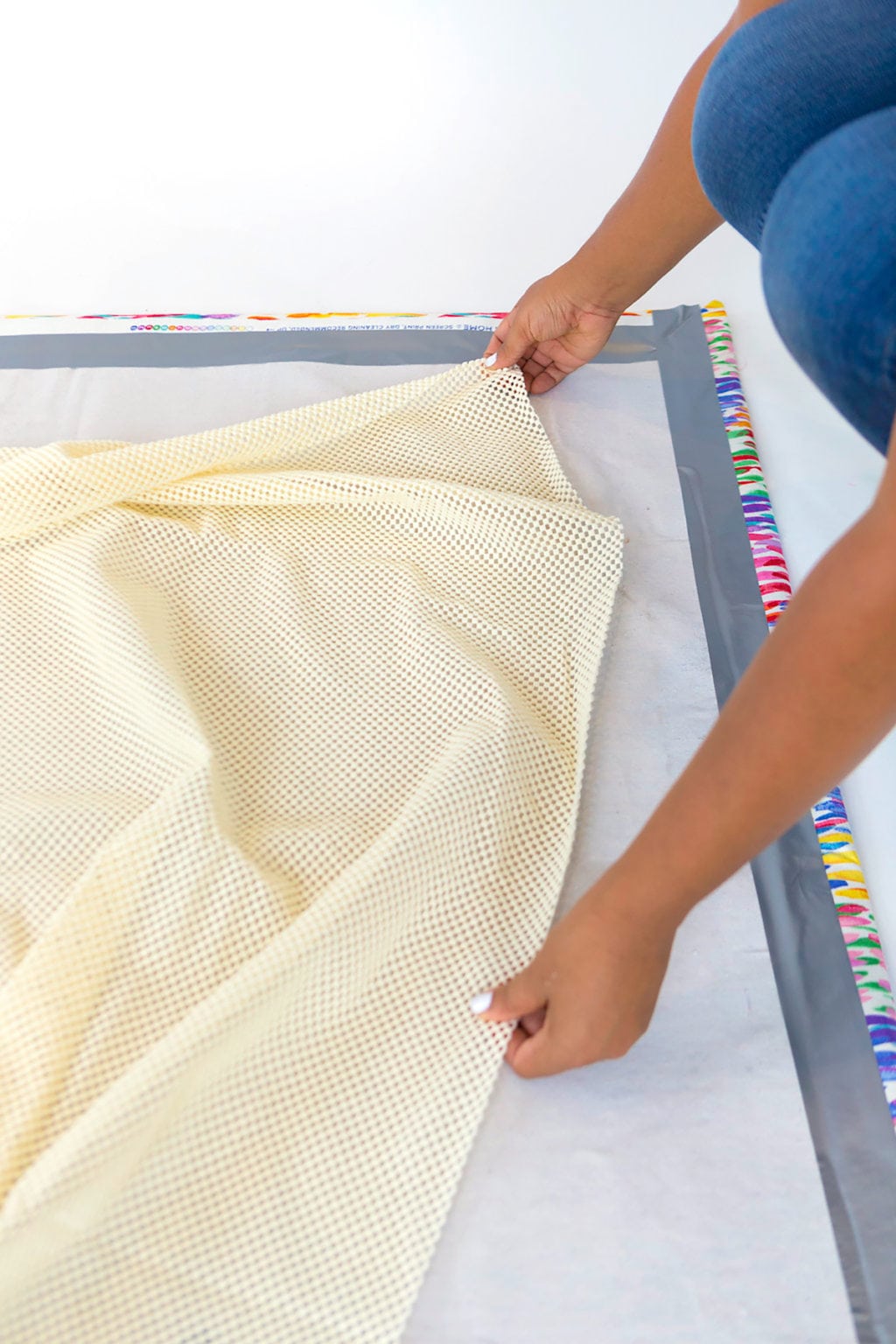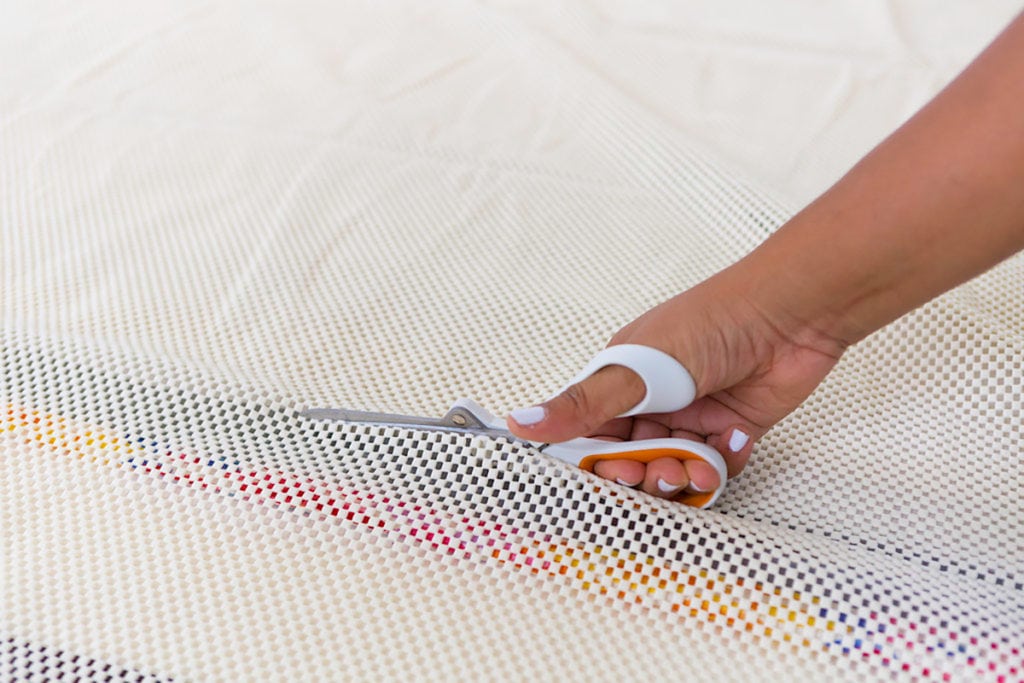 Now cover the entire bottom with a rug pad and cut to size. Tape the rug pad down with duct tape and your rug is almost done.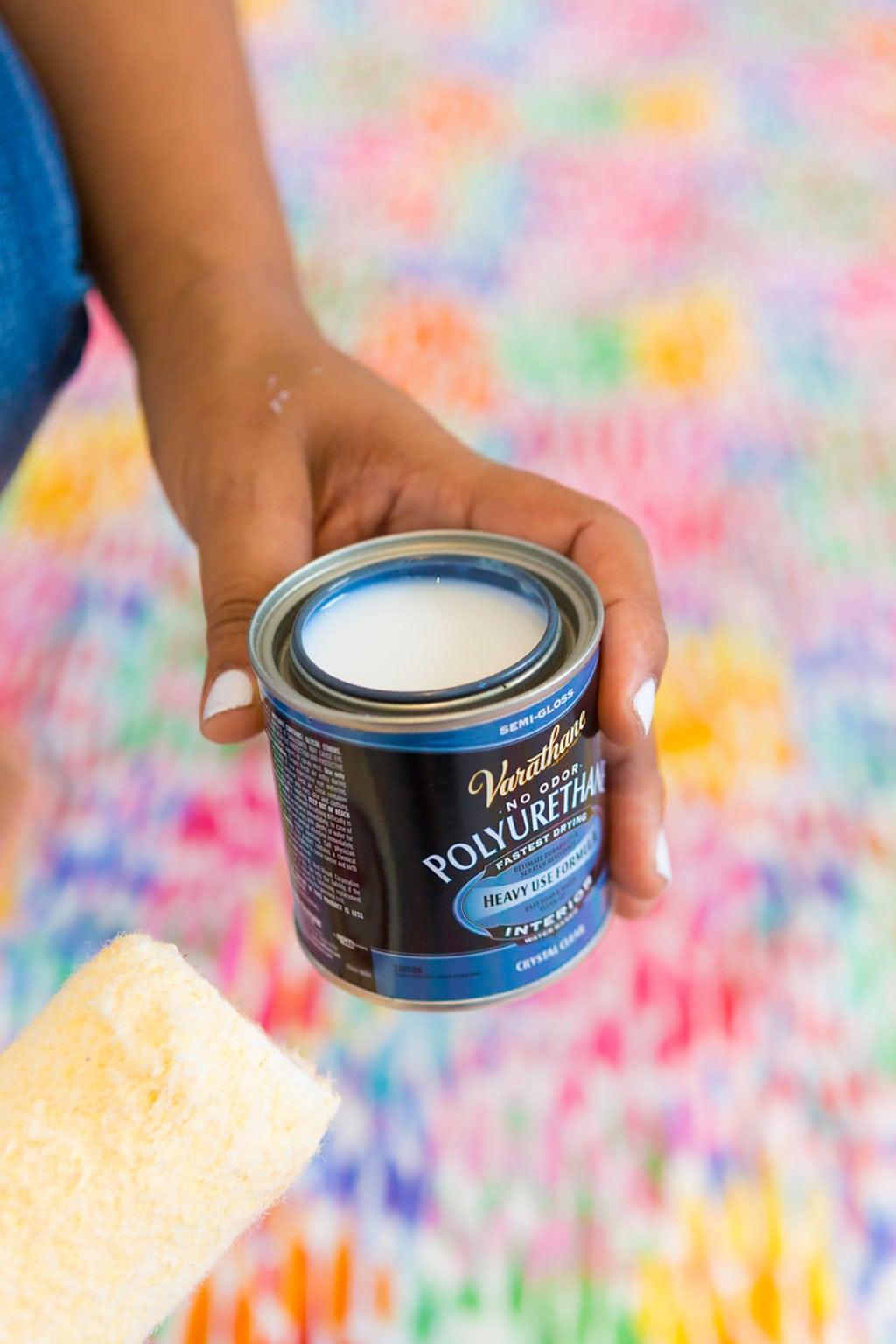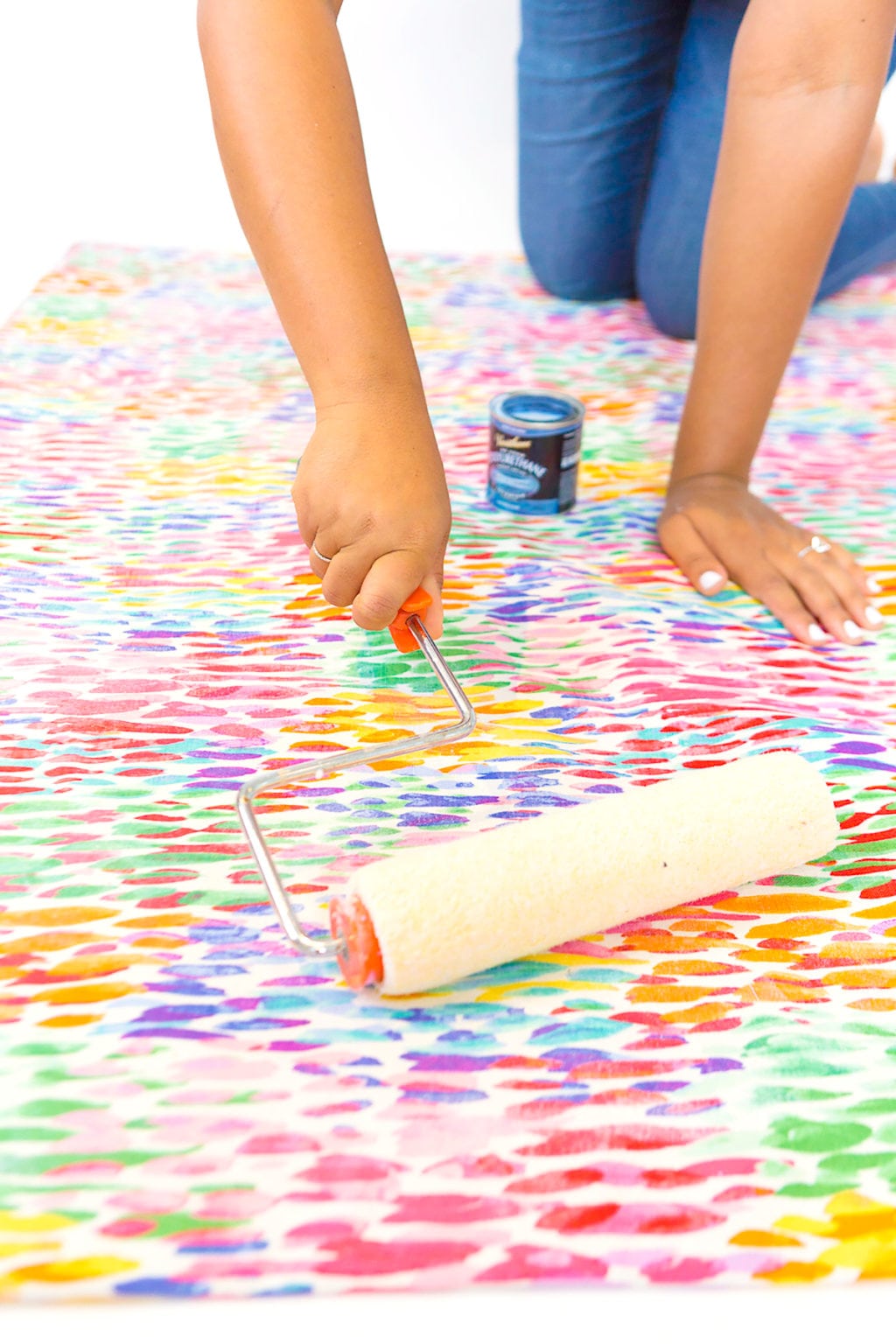 To protect to the top of the rug and make it super durable, use the paint roller to apply at least one coat of polyeurethane. You can apply two coats if you're feeling worried about the durability. The polyeurethane will create a slightly slick surface that makes this easy to clean with a damp towel.
Full disclosure: This rug has been in my "office" area for two months. The "office" sits smack dab between the craft room and the photo studio which means I walk across it at least 50 times a day. So far, I've had zero issues with it getting dirty or smudged! I'm pretty impressed with how well it's worked!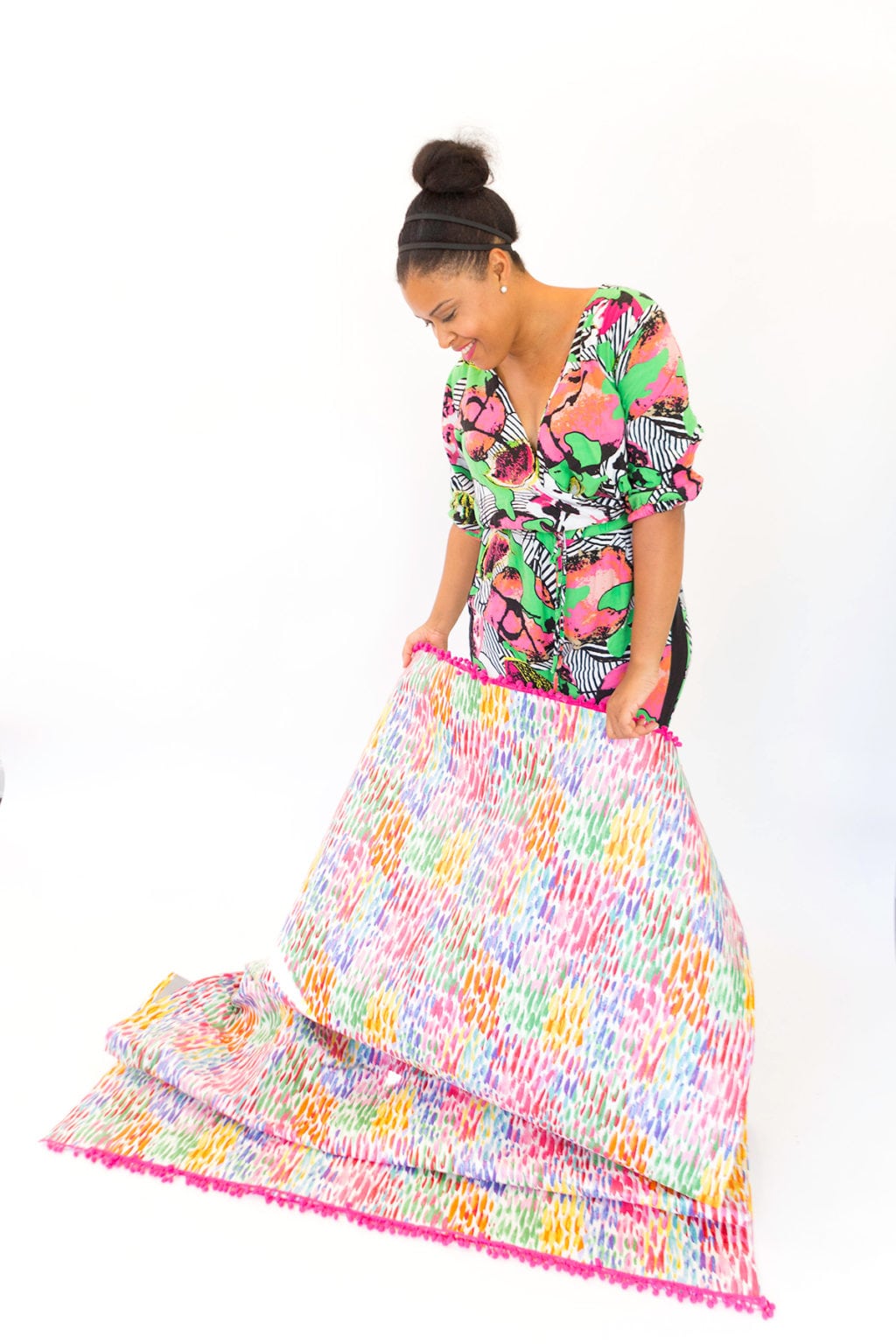 To finish off the edges of the rug, I added a bit of pom pom trim – because – uh..pom poms make everything way better.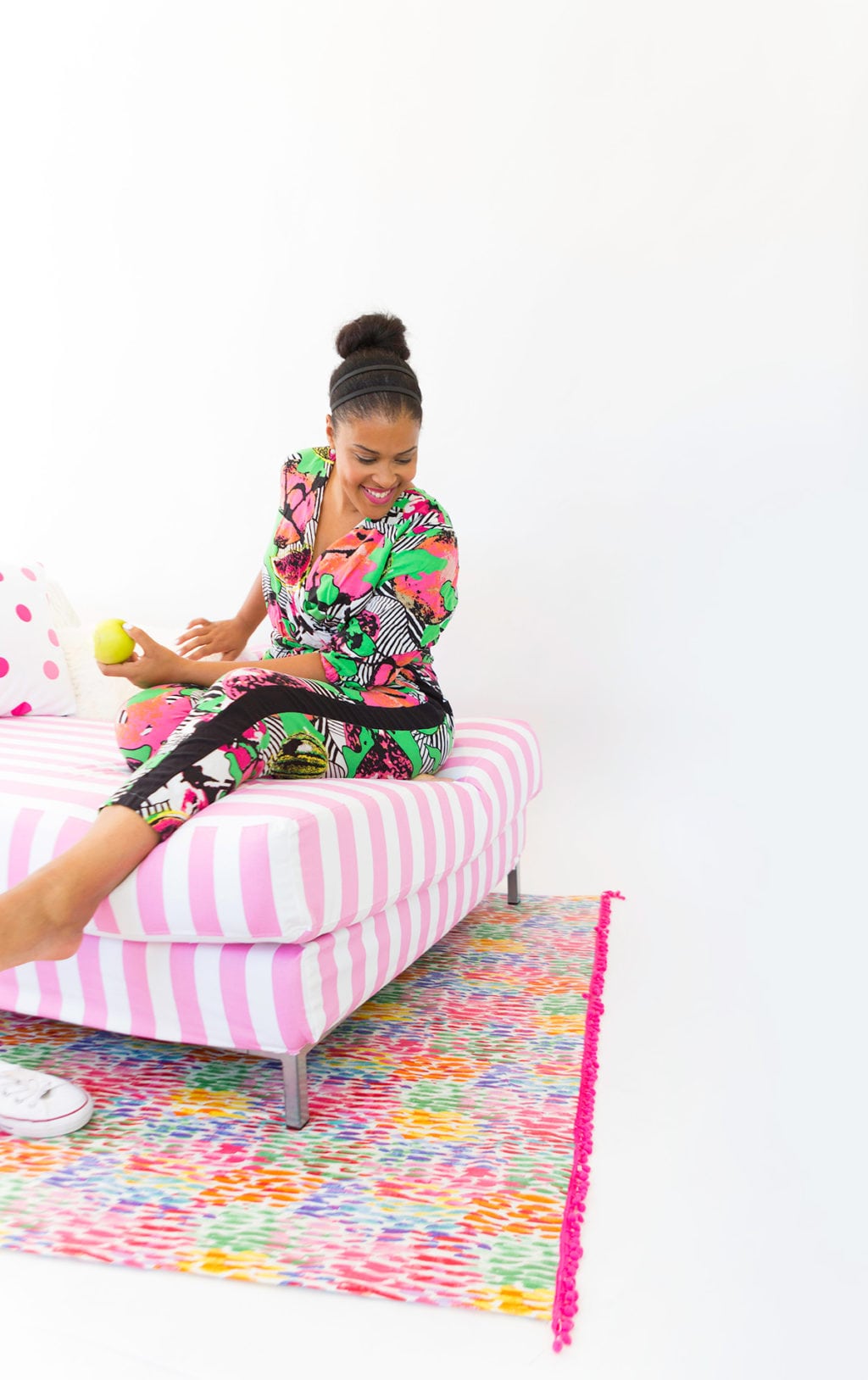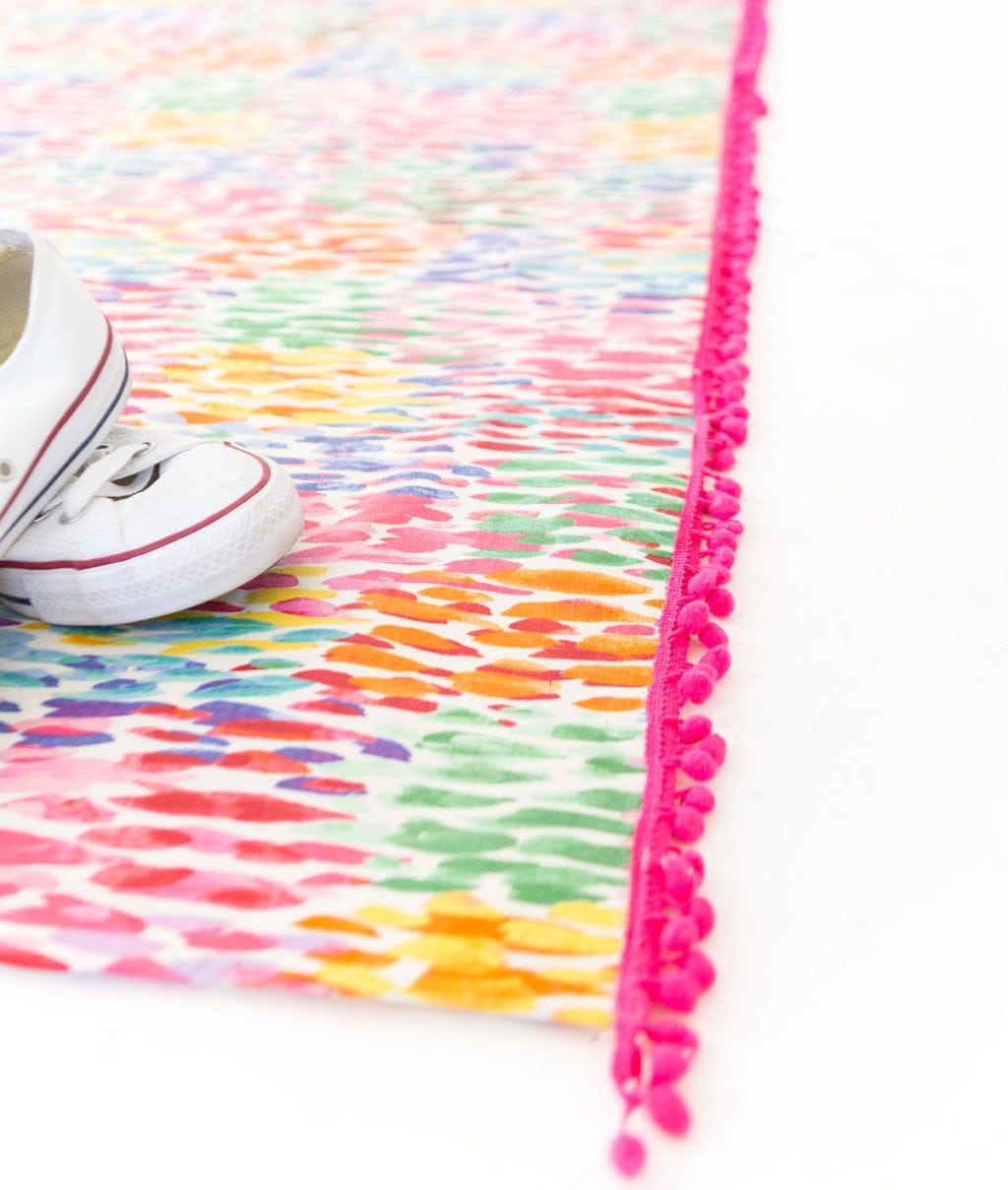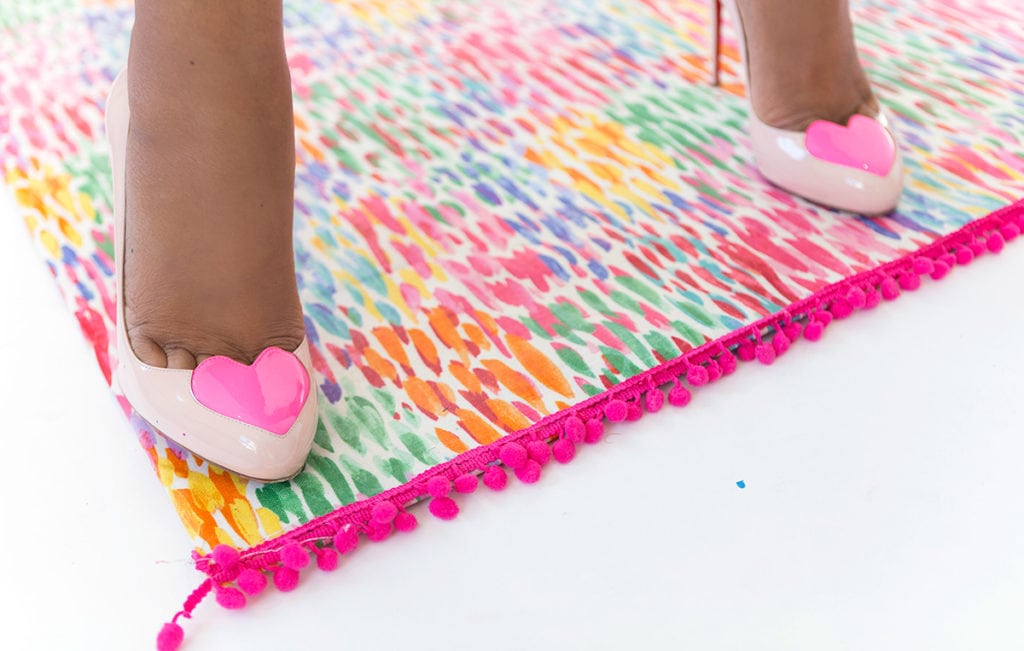 Photography: Devlopz
Jumpsuit by Melissa McCarthy Seven7