A few months ago new restaurant opened up down the street. So we went. Not because it was particularly delicious, but it was new and something to do. So we went. As soon as we were seated a young-ish girl introduced herself as our server. She was wearing her most professional crop top. Yeah. It's that kind of joint. She then reminded us that we'd arrived during happy hour, when drinks were "Two for One". Score. We proceeded to order two drinks – as one would do when purchasing two drinks for the price of one drink. Ms. Crop Top then told us to order three more. Cue my perplexed face. Ms. Crop Top then explained that "Two for One" means that you buy two and get one free and then get an additional three drinks for free. (Note: don't even try to wrap your head around this. I tried. It will result in a headache and complete disappointment in the educational system. Just believe me…this is what she said. I kid you not.) I tried my damnedest to school this girl on how "Two for One" works. There were napkins and pens involved, people. It was hopeless. I gave up. And then I drank all the drinks. They were free and I will always drink free drinks. It was also a great way to numb the pain of Ms. Crop Top's poor math skills. Sidenote: That restaurant is no longer in business. Shocker.
Today's blog post is Two for One. Or is it three for free? The world my never know, but here's what I do know: I've got three really cute ways to dress up simple canvas pencil pouches and this project is just in time for the Back to School season. We are making a fruit salad of sorts, filled with watermelon, pineapple and strawberries. Let's get started.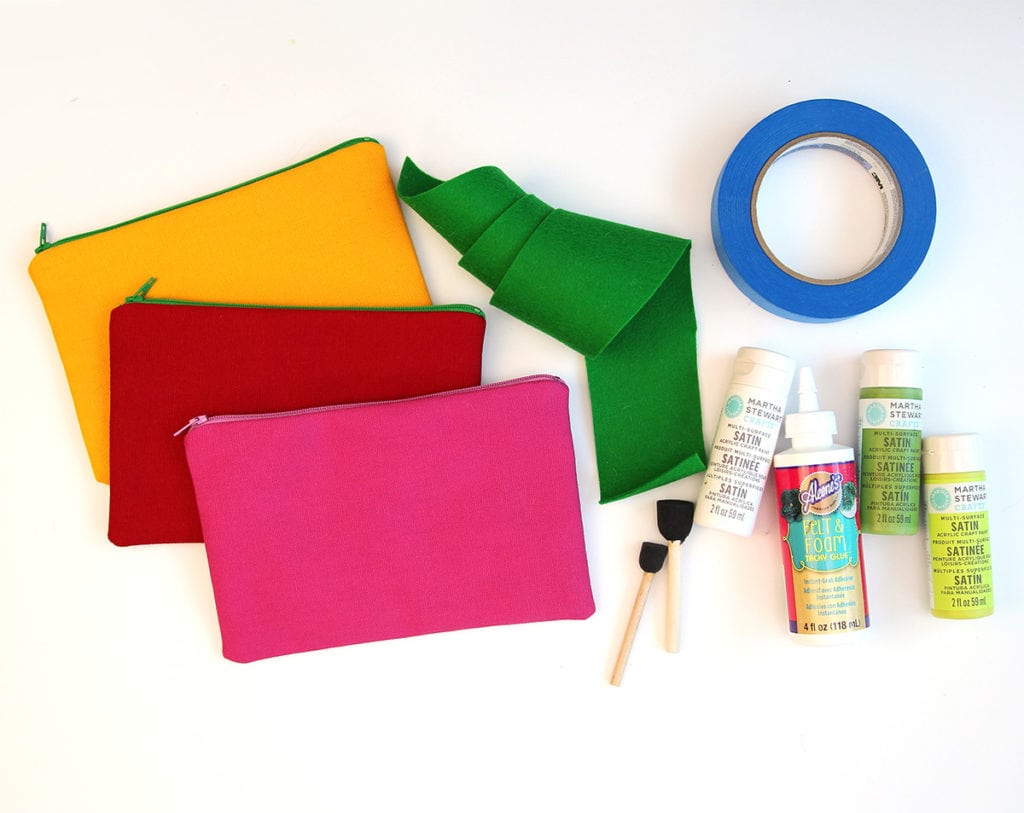 What you need:
Now let me walk you through the how-to for each of these fruity pouches!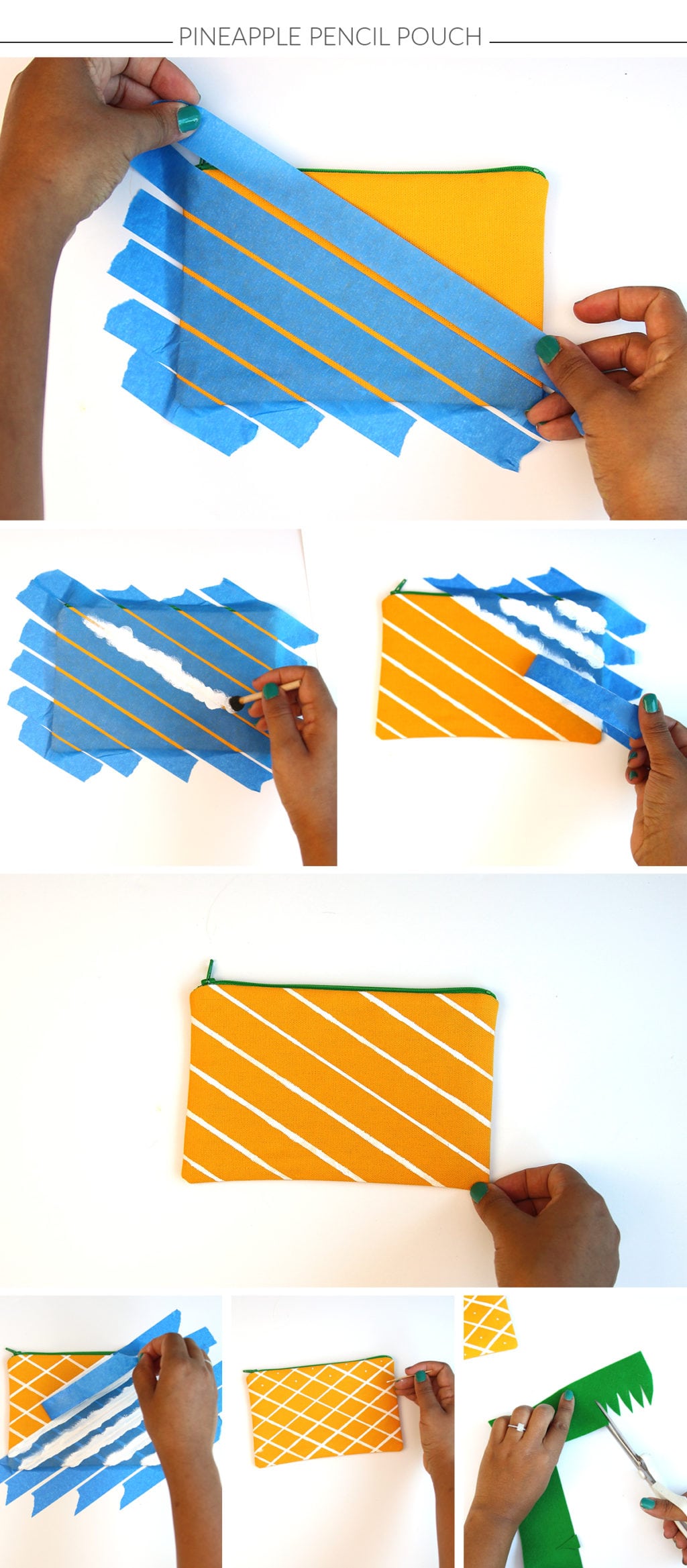 place masking tape onto the canvas pouch in a diagonal pattern
apply white paint with pouncer
Peel back masking tape to reveal design
Allow the first paint application to dry
place masking tape onto canvas in a diagonal pattern in the opposite direction then peel back tape
use a toothpick to apply little dots of paint as shown
cut strip of green felt into pineapple fronds and adhere to bag with craft glue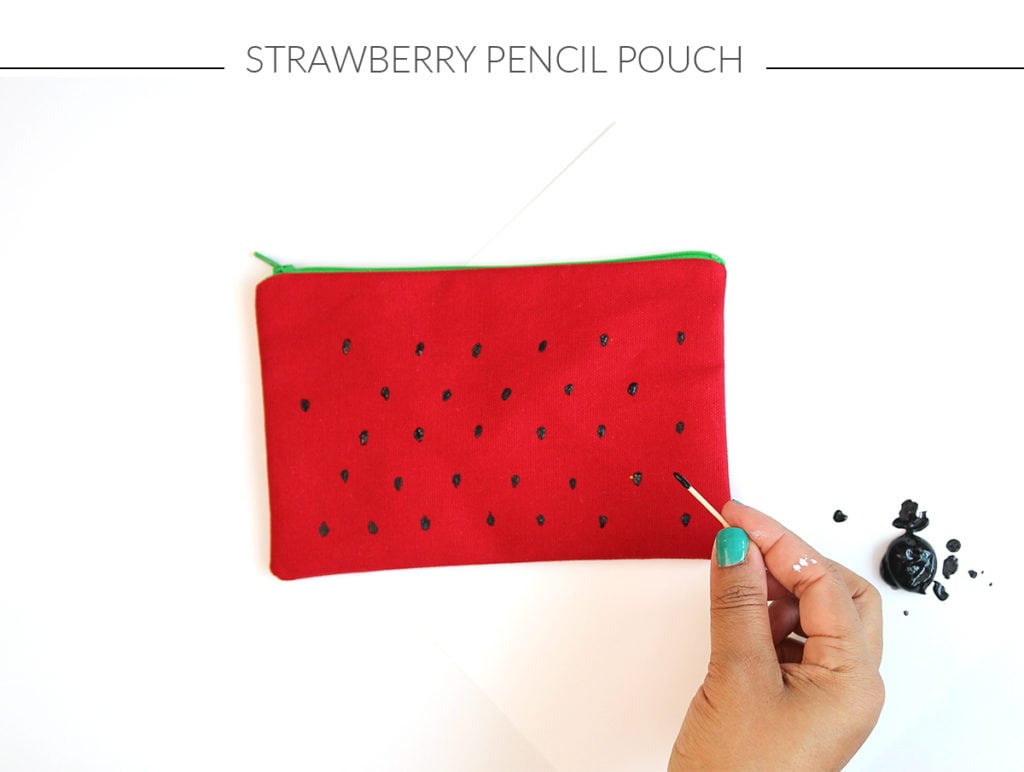 use a toothpick to paint "seeds" onto the red clutch
(not pictured) cut green fronds just like Step 7 of the pineapple clutch and adhere to the bag with craft glue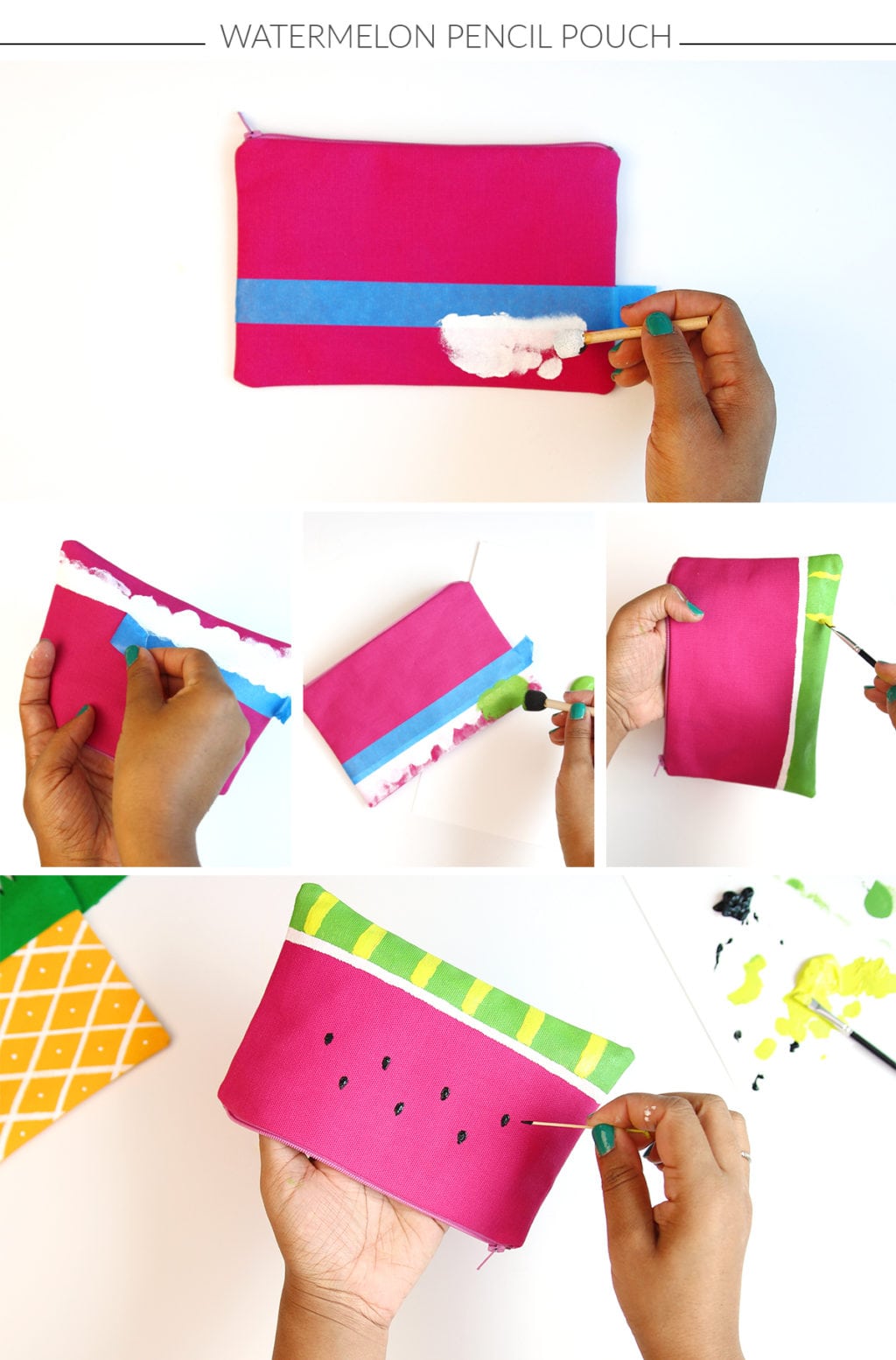 tape off the bottom of the pink clutch and apply white paint (you don't need to cover the entire bottom with white paint)
peel off masking tape and allow white paint to dry
tape off the bottom of the bag about 1/2″ lower than the top of the white paint line then apply green paint
allow green paint to dry then use a paintbrush to apply stripes of bright green
use a toothpick to pain on watermelon seeds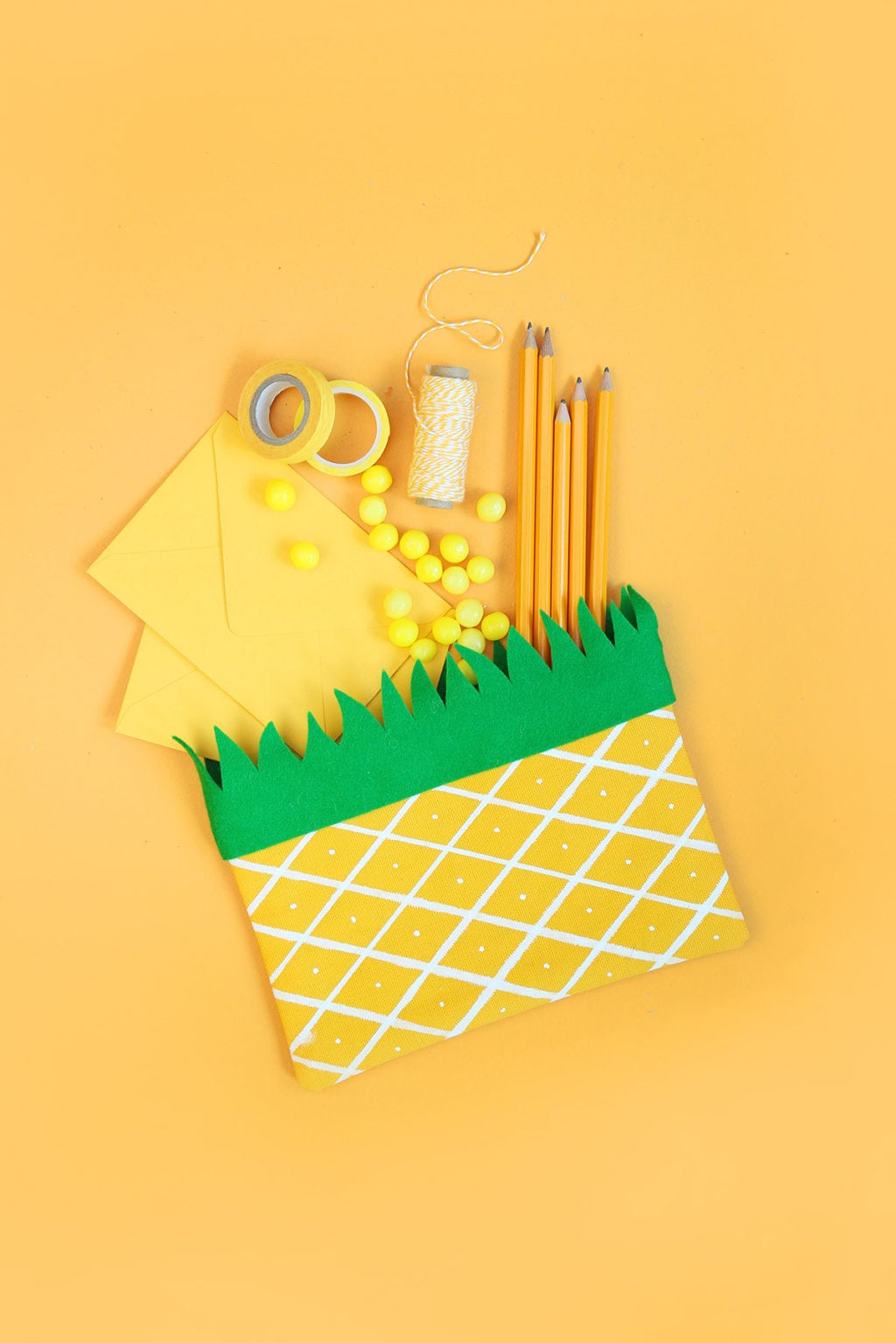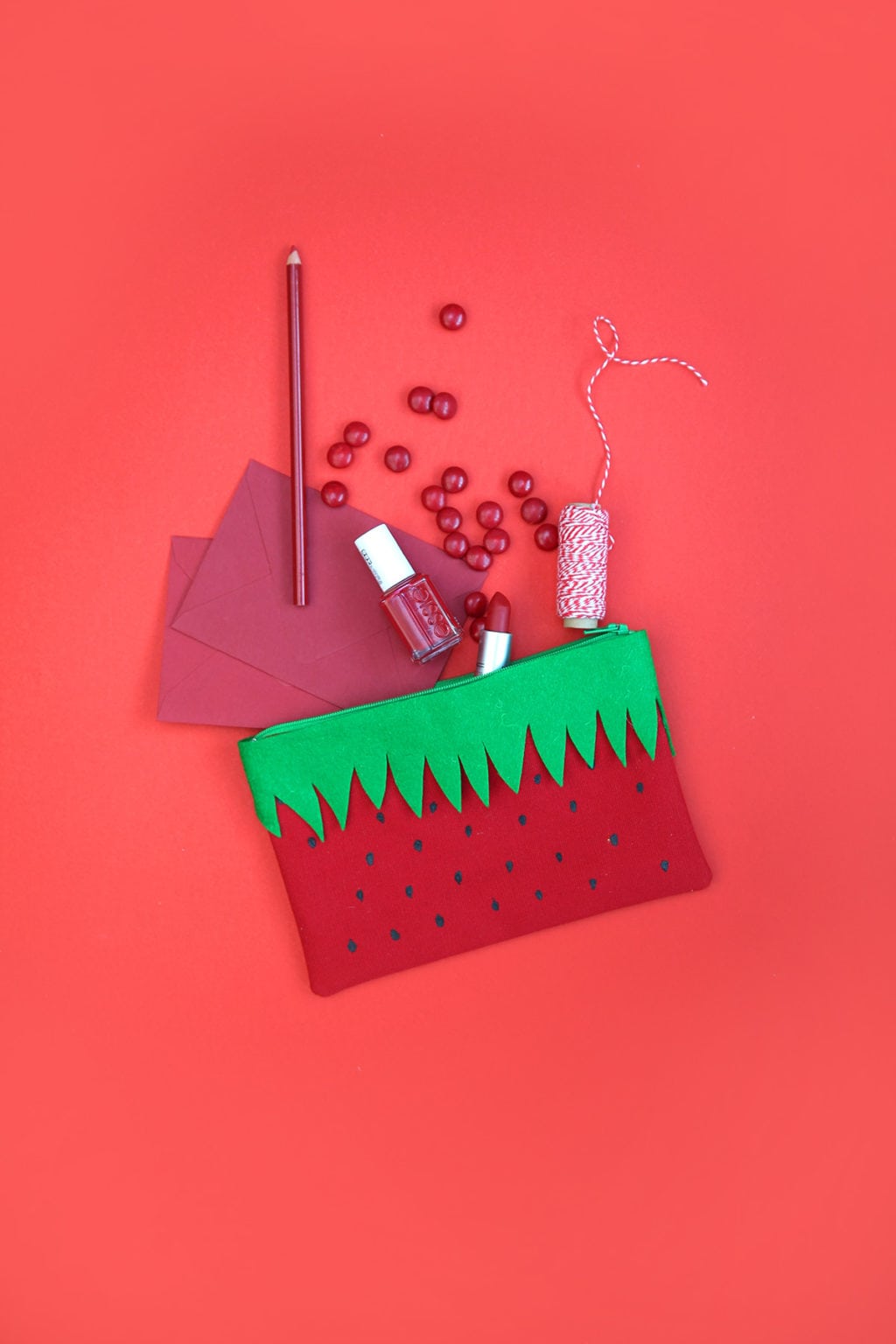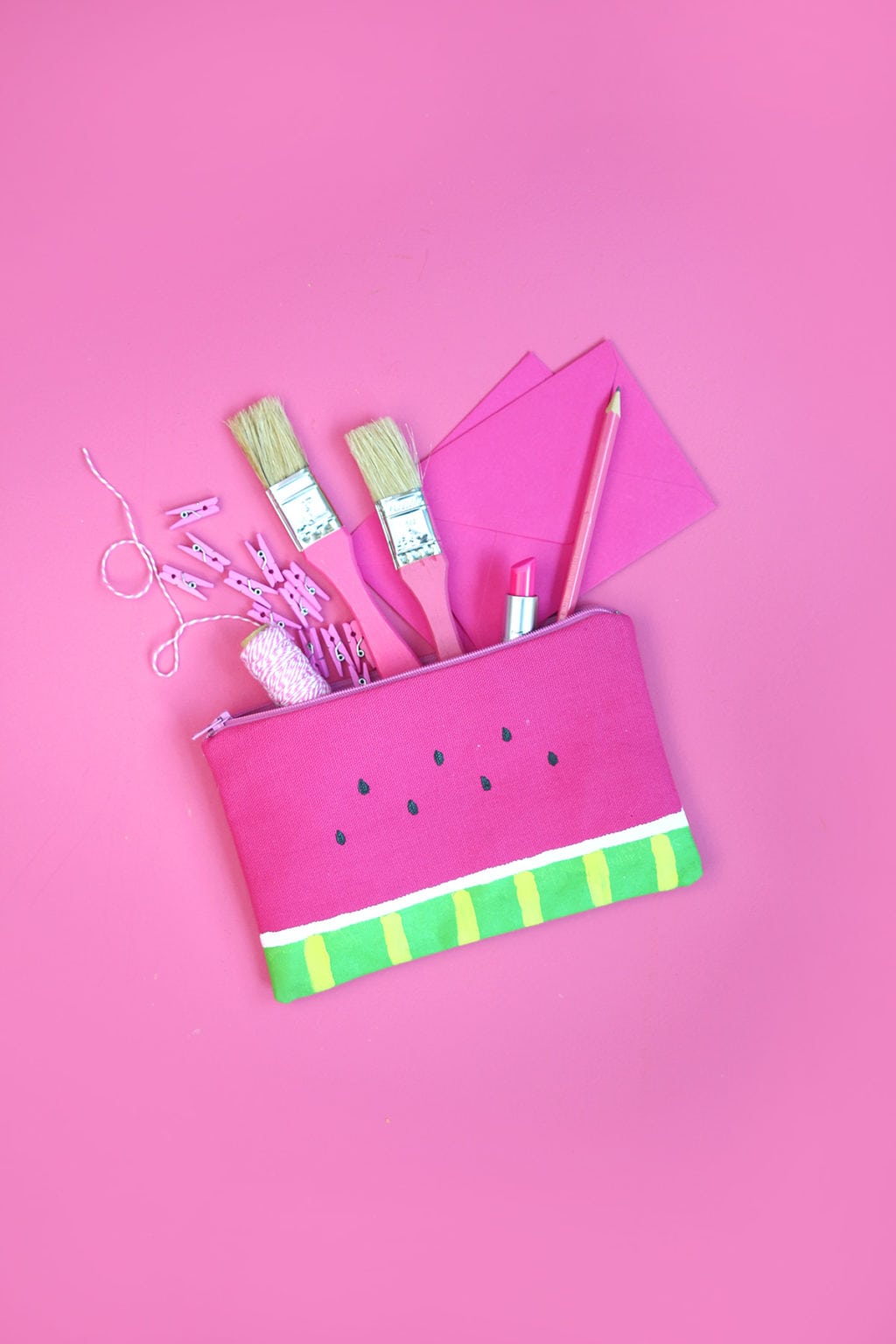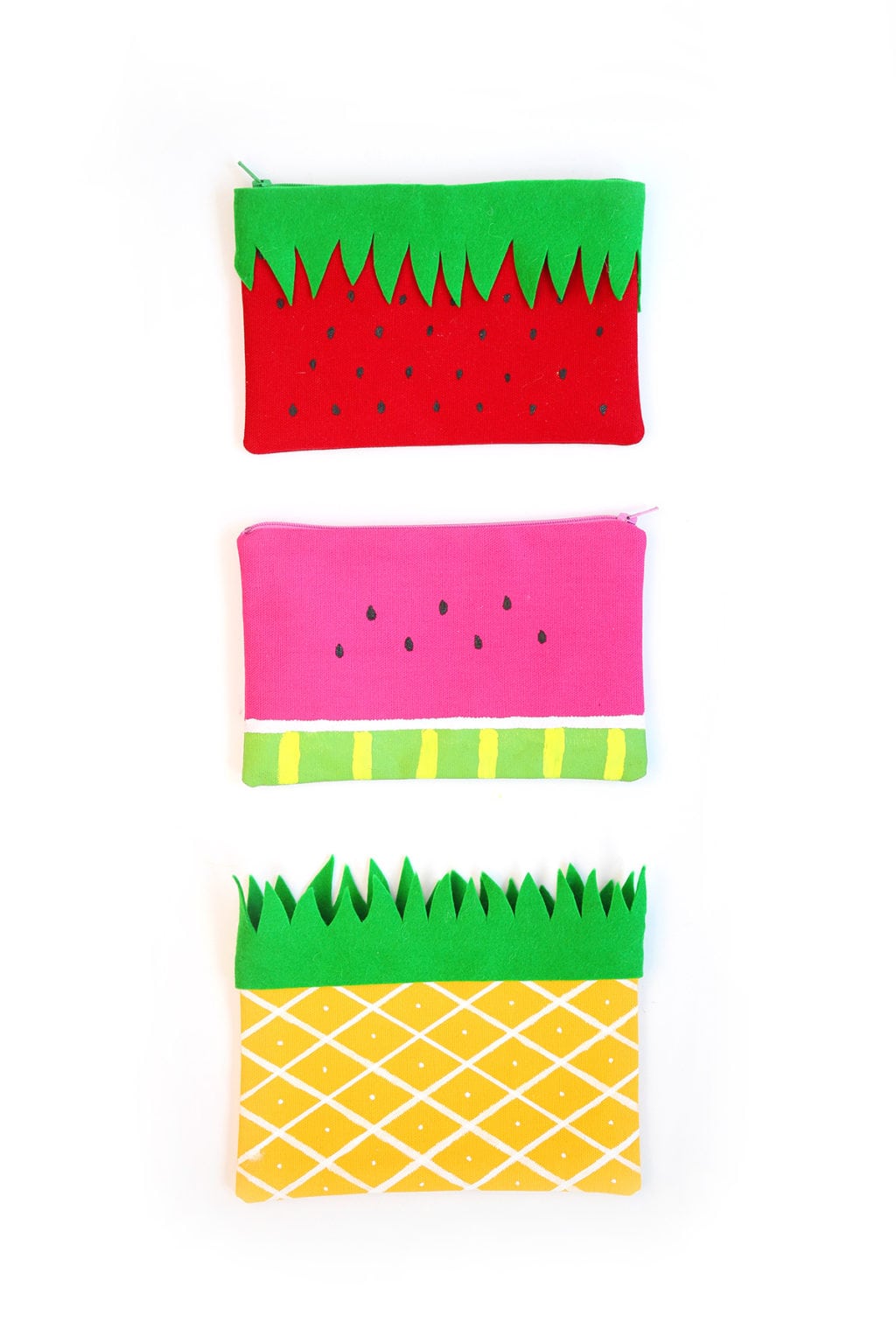 Which fruit is your fave!? Be sure to check out Else & Rita – she is such an awesome Etsy shop owner and I love supporting other creatives!