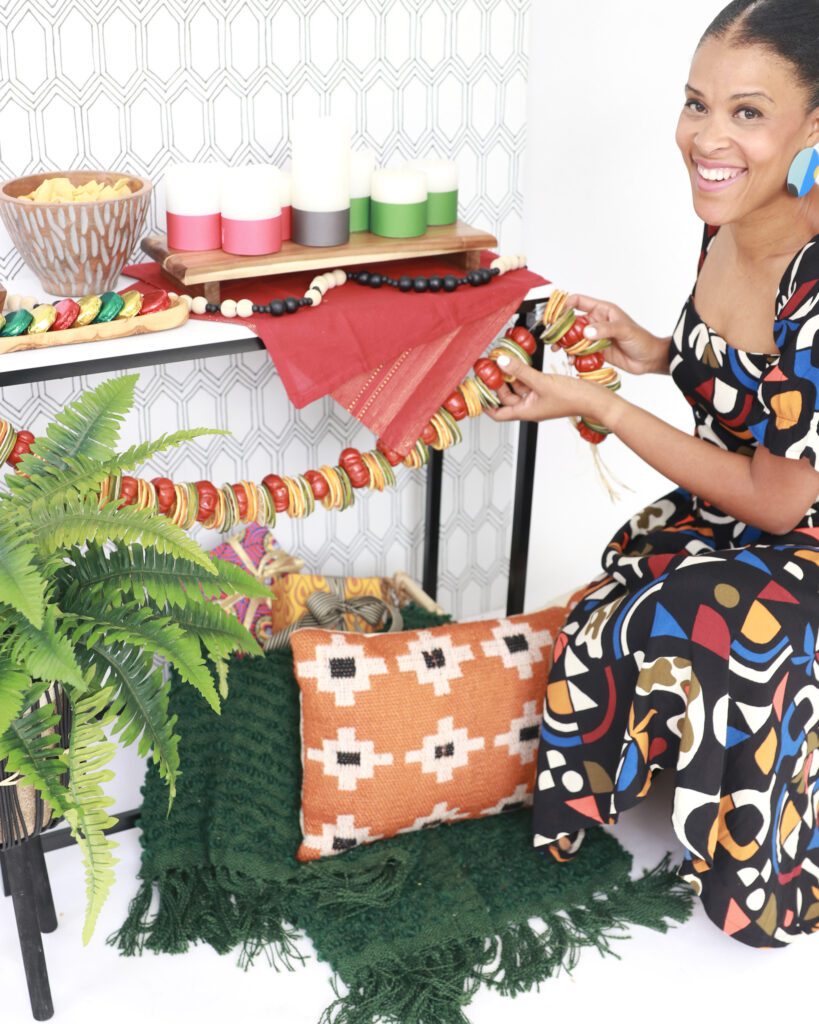 Growing up, we celebrated Kwanzaa as a family. From December 26th-January 1st, we'd get together at my aunt's house to celebrate each night of Kwanzaa.
Kwanzaa is an African American celebration where, for 7 nights, people acknowledge traditional principles and traditions of the community. Unlike Hanukkah or Christmas, there isn't a particular religious affiliation associated with Kwanzaa. Rather, it's a holiday more about community, culture and heritage. For this reason, many families celebrate Kwanzaa in addition to another holiday like Christmas. That's how we roll in our home.
At my aunt's house, she would use her fireplace mantel as a staging area for the traditional Kwanzaa kinara, a candleholder that features 7 candles – one for each night of Kwanzaa and one for each of the 7 principles of Kwanzaa.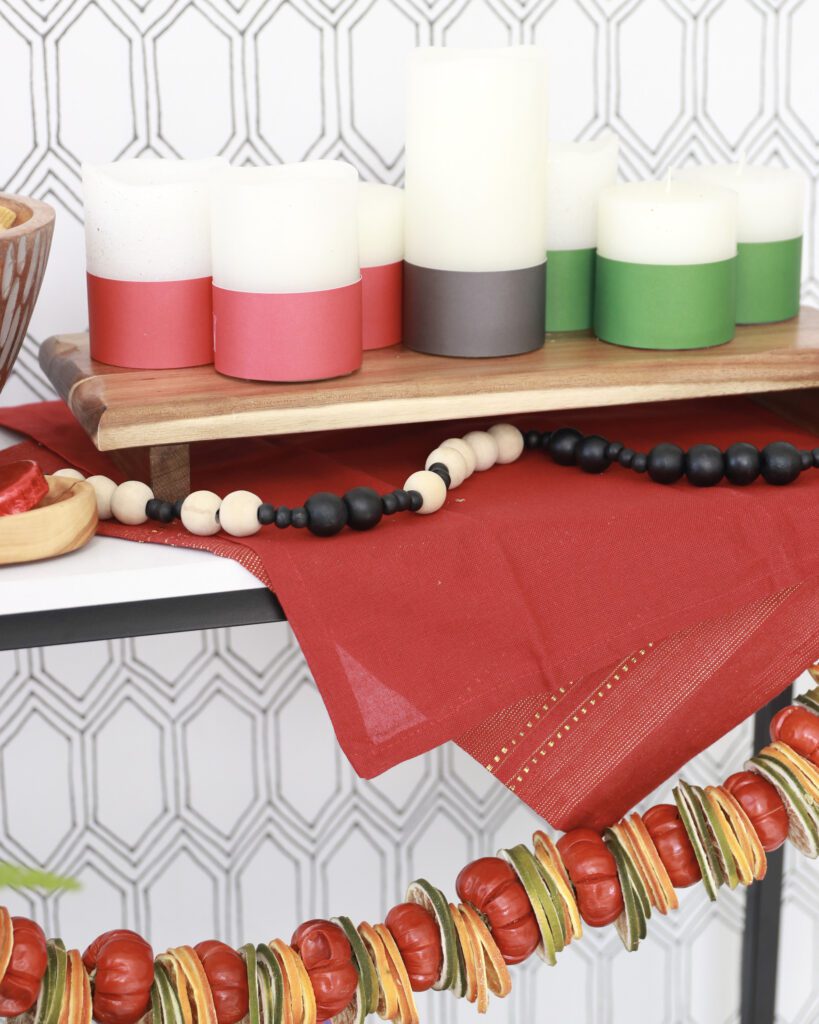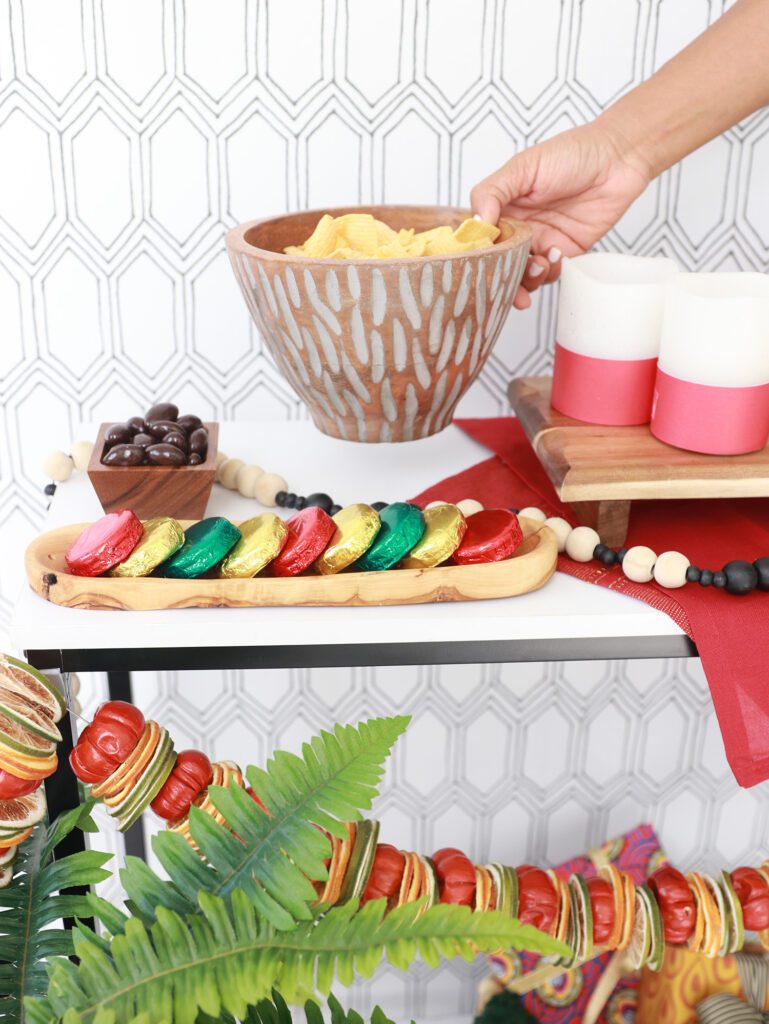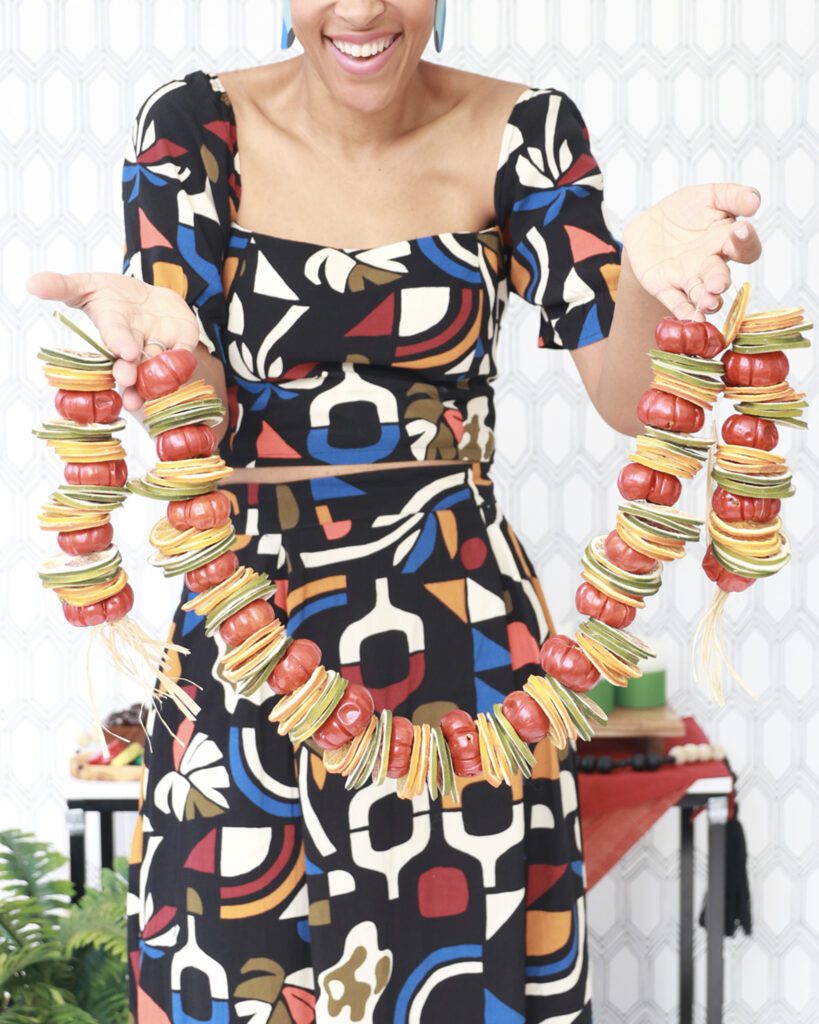 Since the translation of Kwanzaa means "first fruits," a lot of Kwanzaa décor features fruits and other elements
of a harvest. My décor style leans modern, fresh and vibrant so I decided to interpret the traditional décor of
Kwanzaa in my own way using finds from HomeGoods.
As I shopped the aisles of amazing Christmas, winter and Hanukkah decorations, I was excited to find lots of
items that worked perfectly for my Kwanzaa-inspired table. Here are a few ways I updated my Kwanzaa décor in
a personalized way.I wanted to preserve the meaning, but get creative with it!

The traditional Kwanzaa décor features items like the candle holder (kinara), dried crops and fruits, a unity cup
and a straw mat called the mkeka, which serves as a symbol of the foundation of tradition and heritage that
supports African American culture.

As a kid, each of these traditional elements were included in our décor. As an adult, I decided to preserve the
meaning of each of these elements but allowed myself some creative license with how they are represented in
my home.

While shopping at HomeGoods, I was able to find beautiful, hand carved wooden bowls to serve as my
interpretation of the traditional wooden unity cup. I also purchased flameless candles which I wrapped in red,
green and black paper. This will be our kinara, which we will light each night of Kwanzaa, and when the
celebration is over, we can use the flameless candle around the house as everyday decor.

I was also SUPER excited to find a beautiful handmade dried fruit garland as a symbol of the dried fruits and
crops used in traditional décor.

I love how my décor came together and I really love that I can use each of these items in our home after the
Kwanzaa celebration has ended. I was so pleased that even in the thick of the Christmas season, HomeGoods
came through with items that can be used in my home to celebrate an important occasion like Kwanzaa.

Check out HomeGoods in-store and online for your own holiday décor and show me your discoveries on
Instagram using
#HomeGoodsFinds! GoFinding #Sponsored