This crafty content was made in partnership with HomeGoods. All opinions are my own.

Staying on-theme this Halloween season can be easy and inexpensive with these quick, easy and affordable ways to plus up everyday items from one of my favorite stores, HomeGoods! I'll show you how to create three out-of-the-box Halloween DIY hacks using everyday items from HomeGoods that are perfect for entertaining and more!
Boozy Beverage Dispenser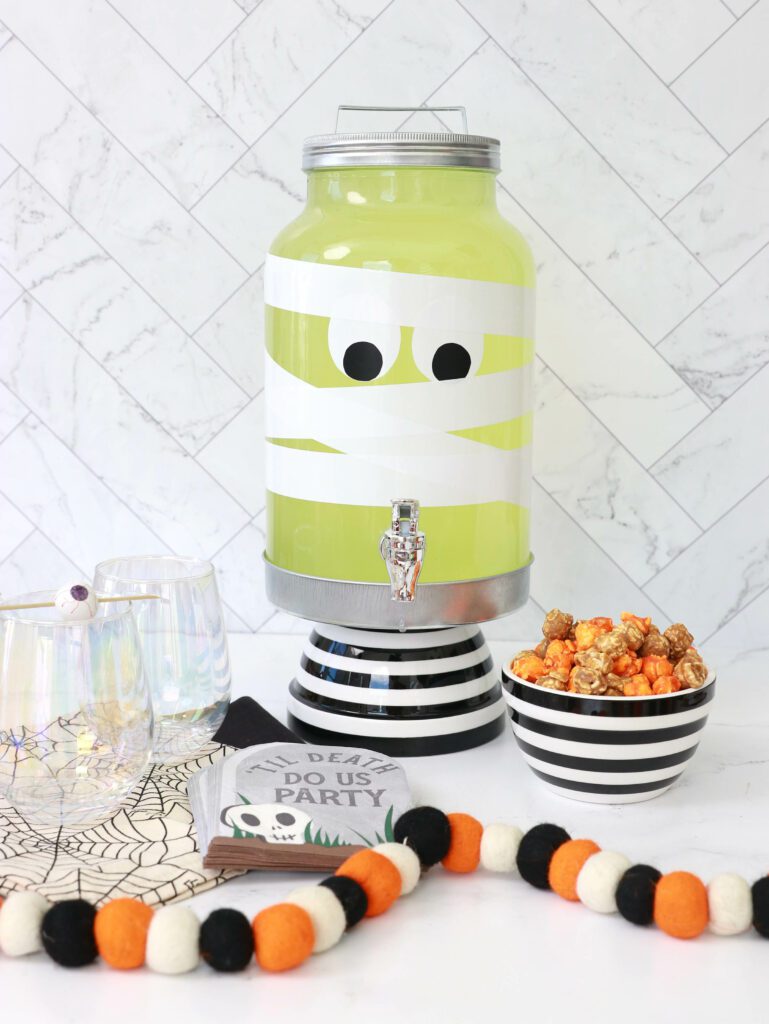 Ditch the old school punch bowl and serve drinks in a creative boo-zy dispenser!

Step One:
Head to HomeGoods to find a large assortment of beverage dispensers, grab either glass or melamine to use as your canvas to create creepy characters such as mummies, Frankenstein and more.

Pro tip: look for one with smooth sides to make it easier to decorate with adhesive vinyl. I chose this classic glass dispenser for under $25 so that when the party is over, I can simply remove the adhesive vinyl and my beverage dispenser is ready to use for the next soiree!

Step Two:
For greater visual appeal, add height by using an upside-down bowl. I found these on-theme black and white striped ceramic bowls from HomeGoods that offer great design elements and can be used year-round!

Step Three:
Round out your boo-zy beverage display with additional Halloween-y finds from HomeGoods, like cloth spiderweb tea towels or "'til death do us party" paper cocktail napkins with colorful holographic stemless wine glasses.
Lastly, transform gourmet goodies into DIY treats for guests. I took colorful gumballs and placed them on wooden cocktail skewers then decorated them with edible, food-safe markers to make a creepy eyeball cocktail garnish.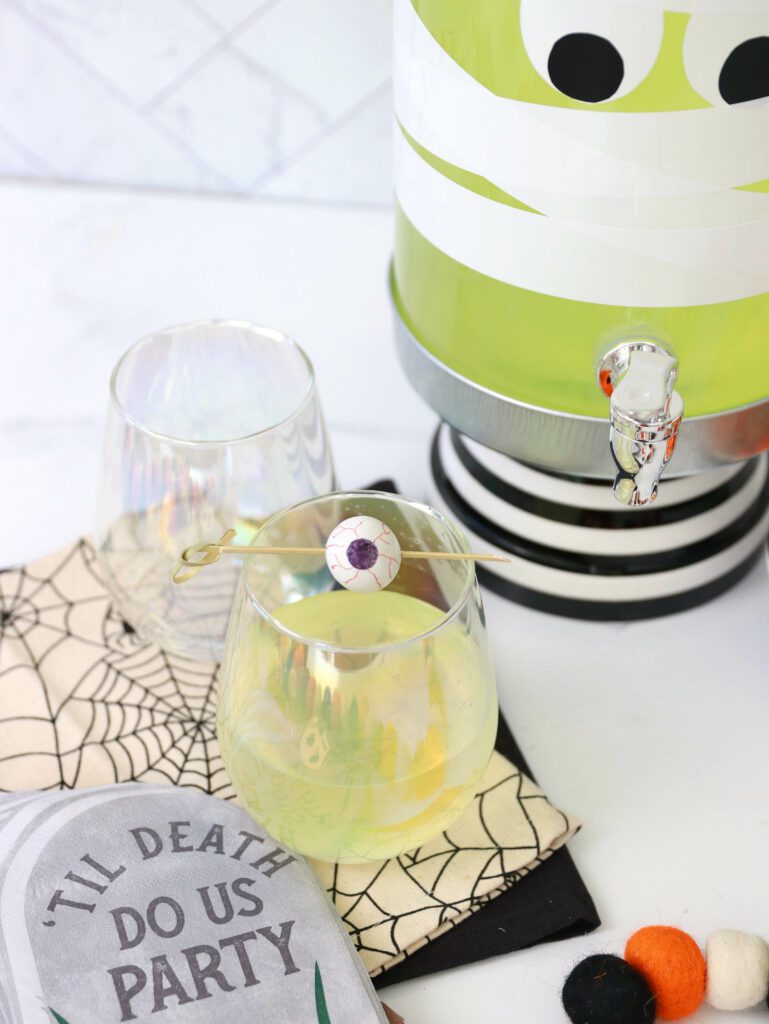 Spooky & Sweet Charcuterie Board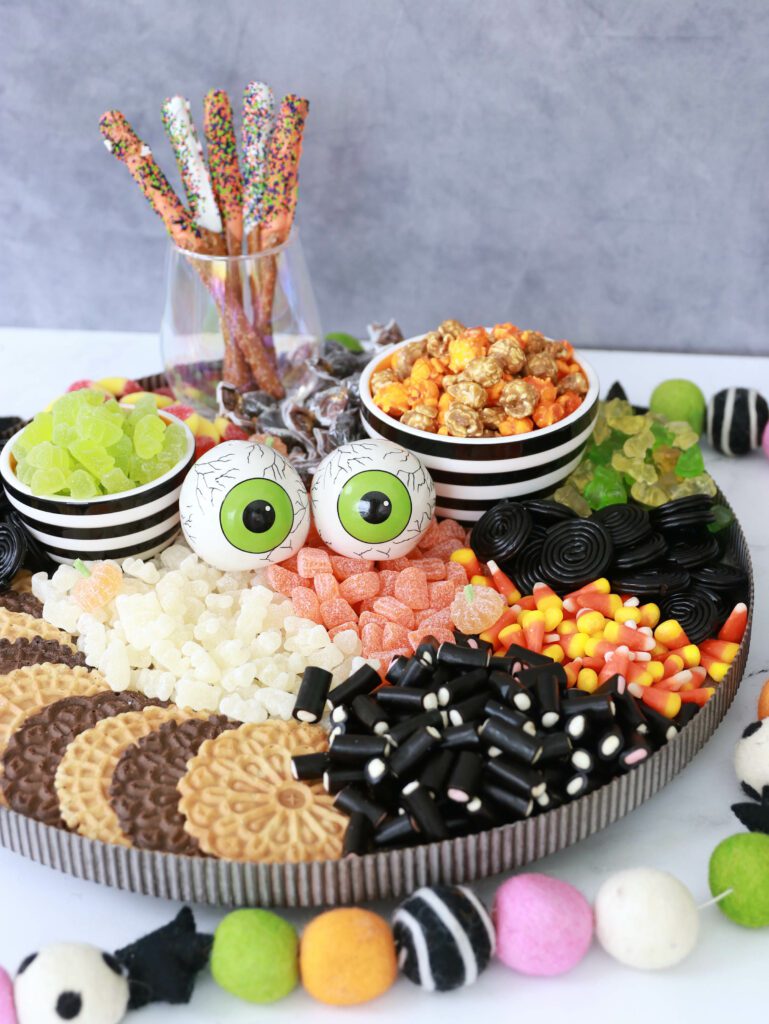 Impress your Halloween party guests with a spooky and sweet charcuterie treat!

Step One:

Start by finding the perfect platter to work from bottom to top to layer your board. HomeGoods always has a variety of large ceramic, melamine or wooden serving platters that are interesting and on-theme for any season or holiday. I was thrilled to find this metal platter with raised sides that gives the perfect Frankenstein-like vibe.

Step Two:
Head straight to the gourmet food aisle at HomeGoods to find a vast selection of sweet and salty gourmet treats like black licorice, cookies, pretzels, and yummy gummy candies in bright colors or pastels.
Pro tip: stick to 3-4 colors to make sure your board looks cohesive.

Step Three:

Add a wow-worthy piece to display in the center of the board. I love heading to HomeGoods early in the season to hunt for unexpected and out-of-the-box items, like this fun ceramic eyeball salt and pepper shaker set for under $10 that can be used to season the savory snacks on the board.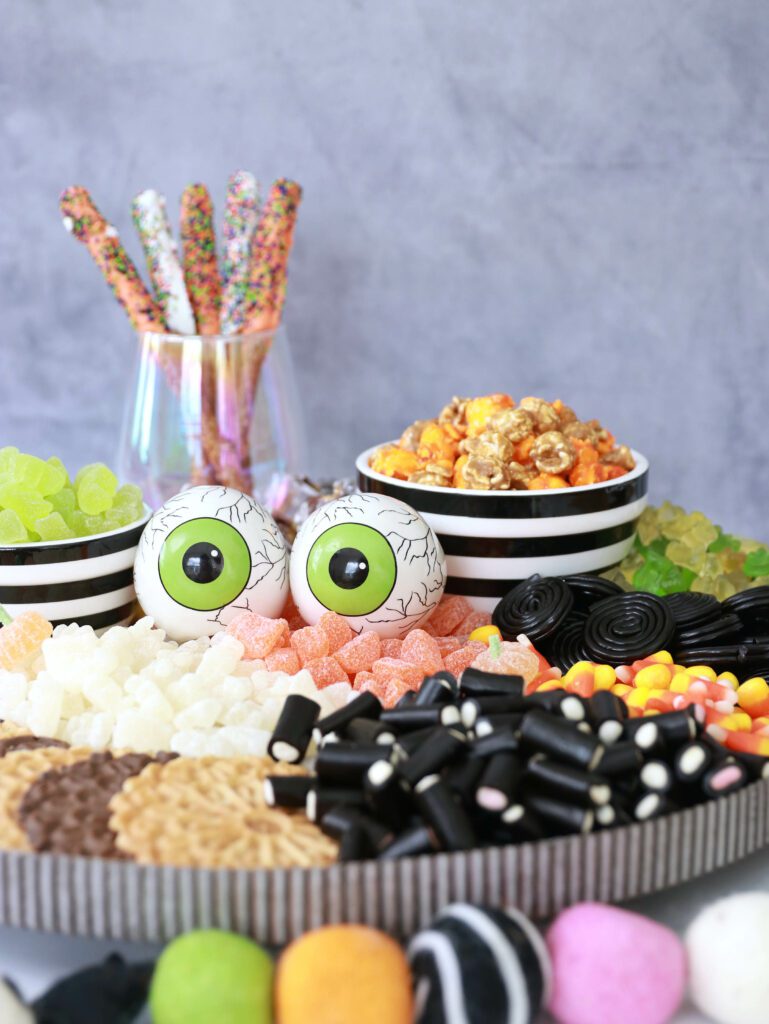 Squad Ghouls Candy Bowl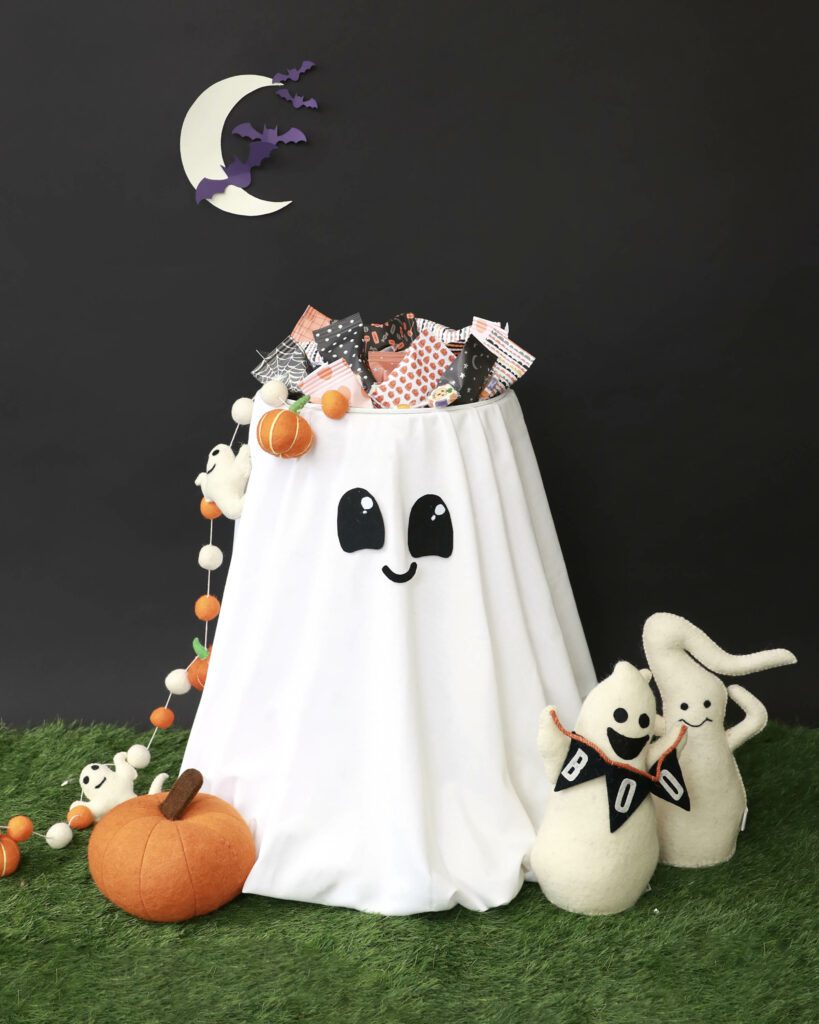 It's easy to make my "Squad Ghouls Candy Bowl" with HomeGoods finds for the perfect trick-or-treat porch display!

Step One:
Start with a wicker or bamboo footed planter, then find a ceramic bowl that will nest perfectly on top.

Pro tip: opt for pieces you can repurpose! I chose a bamboo footed planter from HomeGoods as I love this aesthetic for summer plants, and the ceramic serving bowl is something I'll use time-and-time again.

Step Two:
Drape a tablecloth over your planter and gather the extra tablecloth together underneath for the perfect fit. Cut eyes and a mouth from black felt to adhere to the tablecloth with double sided tape for your ghost's face, this way you can remove the felt and have the tablecloth ready for everyday use.

Step Three:
Add some seasonal décor around the candy bowl, like this festive Halloween garland, ceramic pumpkins, and felt decorative ghosts form HomeGoods. The extra details will make your porch the perfect trick-or-treating photo opp for family and friends!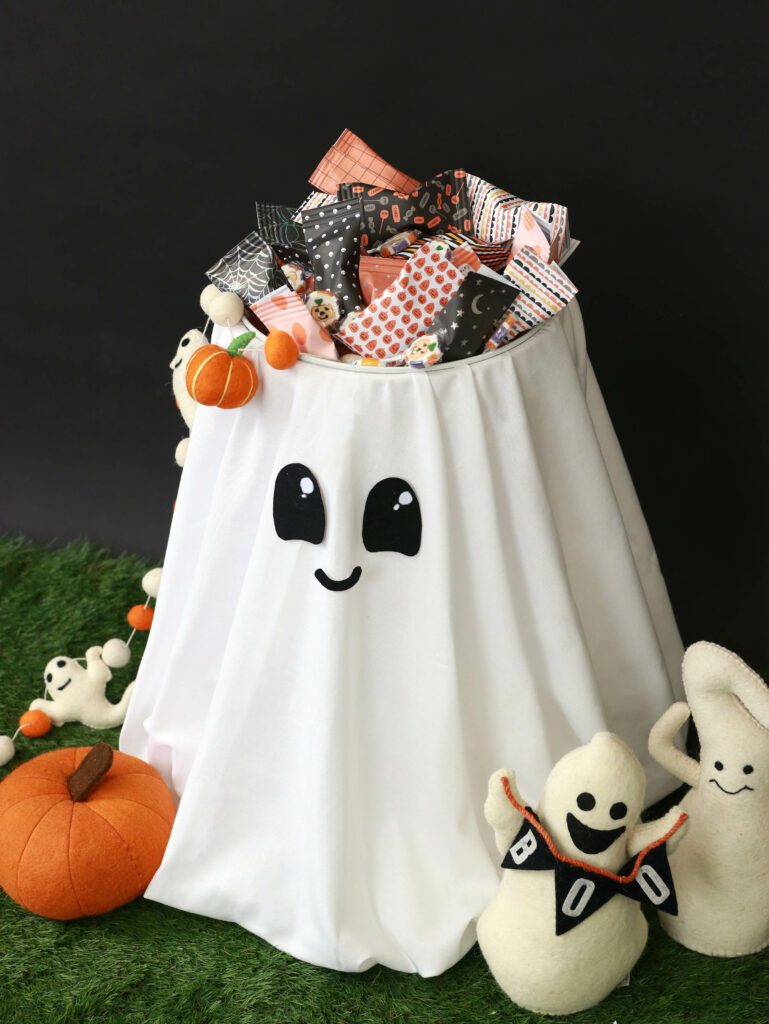 There you have it: three easy and affordable Halloween hacks – to think it all started from an inspiring trip to HomeGoods!
I'd love to see you recreate these festive and spooky crafts with HomeGoods! Post your pics using #HomeGoodsFinds on Instagram and tag @damasklove.