This is one of the biggest announcements I've ever had! Damask Love is available at Walmart.com! Over the years, I've curated a library of fun, colorful crafts here on the blog and now many of my favorite projects and ideas are available at Walmart for you to craft with at home!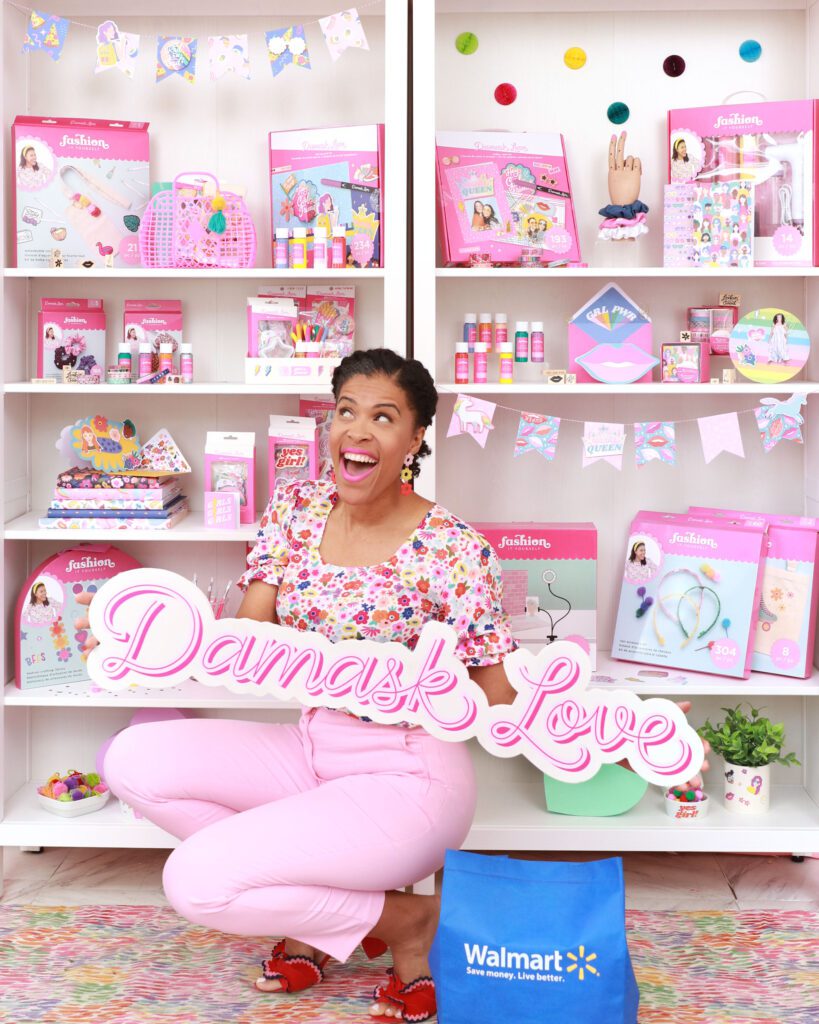 My new Damask Love product at Walmart is launching today, April 14 with a line-up of over TWENTY-ONE craft kits and bundles. Each kit and each bundle comes with everything you need to get creative the second your goodies arrive. Among the product assortment, you'll find paper crafting items as well as items for creating DIY fashion accessories like headbands, tote bags, scrunchies and more! Here's a rundown of some of my absolute favorite MUST HAVES included in the Damask Love x Walmart crafting collab.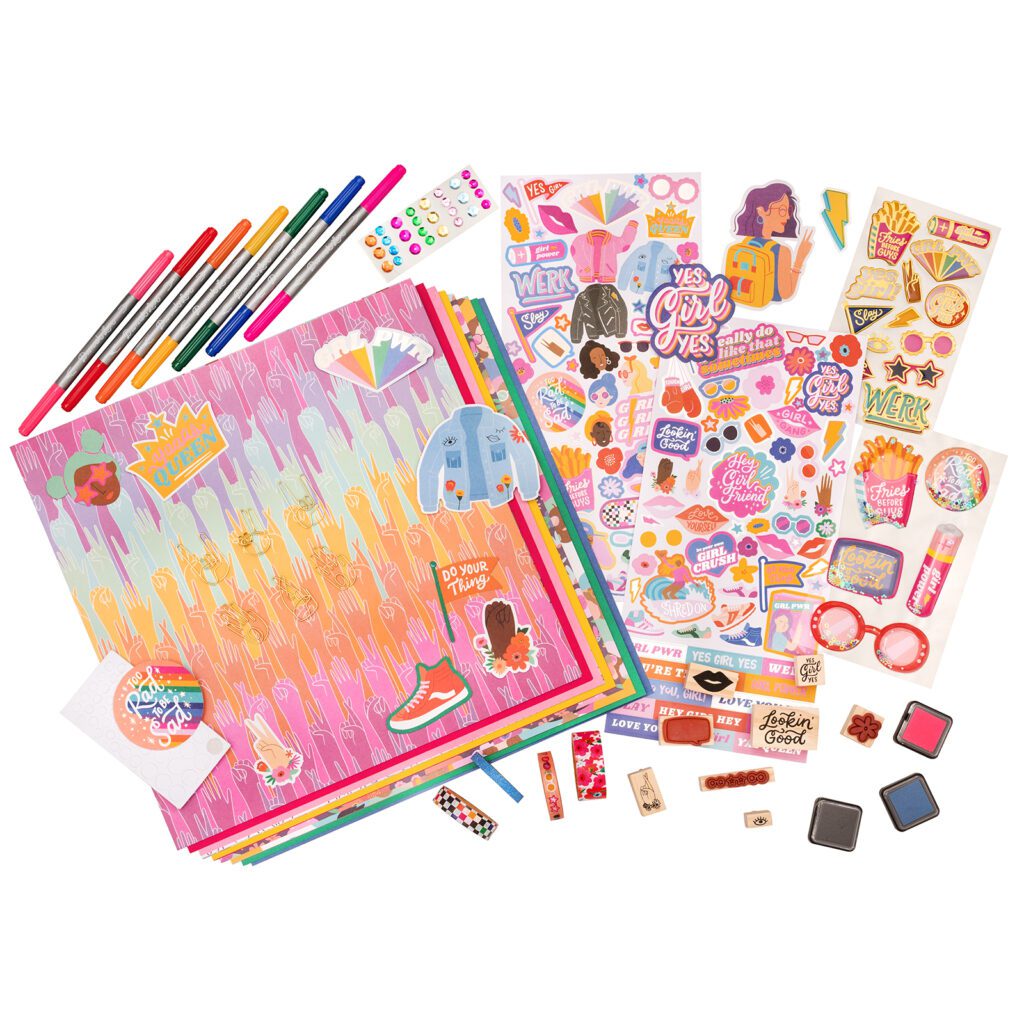 Damask Love All-in-One Crafting Library: If you love paper crafting or if you have a kid or teen who loves being creative, this is my NUMBER ONE pick for you. This crafting library comes with SO MUCH goodness that will keep you making for hours upon hours. You'll find stickers, stamps, ink pads, patterned paper, sequins, washi tape and lots more.
Damask Love Scrapbooking Paper Pad and Sticker Craft Kit: Alright, if you added the crafting library to your cart…go ahead and snag this one too! This paper pad is a thing of DREAMS. It's not just filled with beautiful patterned papers from my GRL PWR paper crafting line, the paper pad also include shaped cards, stickers and even a template for an envelope liner. Oh – and did I mention that this bundle also include a huge sticker book? All that for $14.97. Unreal.
Damask Love Wild Card Scrapbooking and Sticker Craft Kit: If you've been around a while, you remember my very, very first paper crafting collection called Wild Card. Well, it's BACK and it better than ever. In this craft kit, we've bundled a 48 page paper pad with a MEGA pack of ephemera that includes images from ALL my past collections (Wild Card, GRL PWR, Sunshine Blvd, Life's A Party). So much goodness packed into one bundle . I love it!
Damask Love Water Bottle Sling Craft Kit: Hydrate…but make it cute! My water bottle sling craft kit is unlike anything I've seen. We designed a special canvas tote sized for most any water bottle. Then…of course, I added in lots of embellishments that you can use to dress it up. This include adhesive patches that you can color in with the fabric markers in the kit. There's also a bunch of pom pom tassles that you can hang from the strap. Get creative and make it your own! Oh! I almost forgot, there's also enamel charms to add to your water bottle sling! So cute.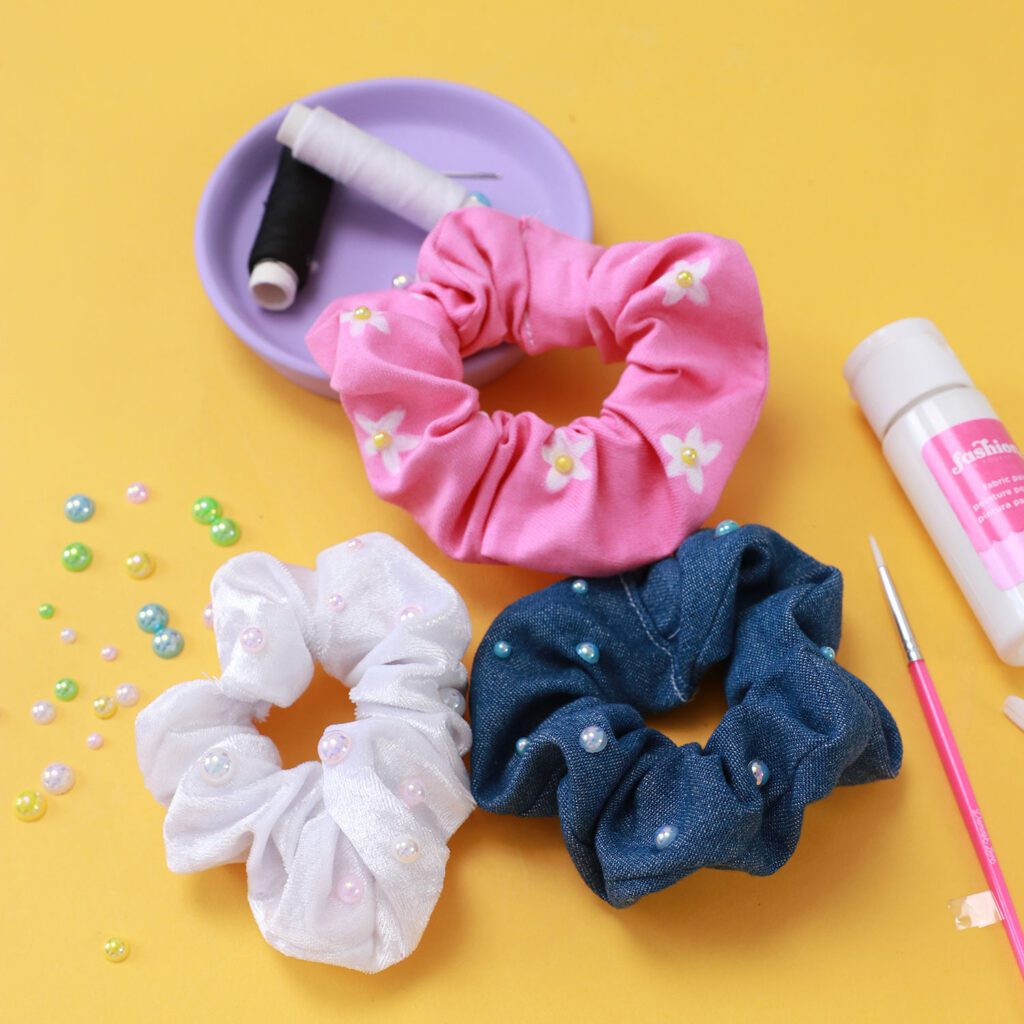 Damask Love DIY Scrunchie Fashion Craft Kit: If my predictions are correct, this craft is going to go fast. Inside you'll find everything you need to make your own pearl scrunchies. It's SUCH a great kit and even includes pre-cut fabric, elastic and a tool for precise application of the pearl accents. You can follow the instructions inside the box to create a collection of scrunchies. A great way to spend the afternoon. Pro Tip: Grab my Fabric Paint Craft Kit to add your own handpainted accents to the scrunchie fabric. See below how I painted little daisies on one of the scrunchies? So cute!
Damask Love Pop Up Card Kit: I've shared lots of pop-up card tutorials here on Damask Love but now I'm making it easier than ever for you to make your own at home! This craft kit is UNREAL and includes absolutely every single item you could need to make lots and lots of pop up cards. We even include pre-cut envelope liners and envelopes for you to finish off your cards! The specialty cards are pre-cut with a pop-up panel that you can decorate in any way you wish. I see lots and lots of pop up card in your future!!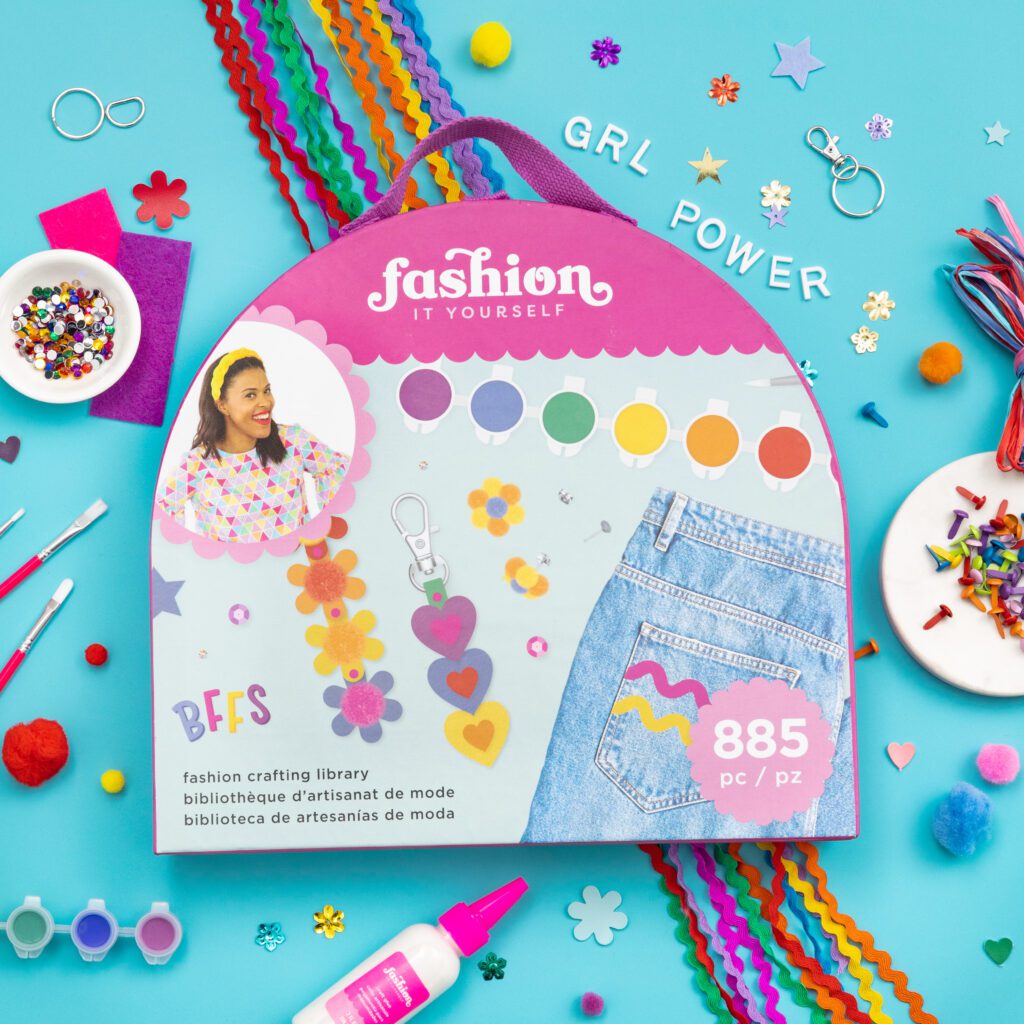 Damask Love Fashion Crafting Library: If DIY fashion is your jam, I've got you covered with the cutest box filled with items that can jazz up any basic tee, jacket, tote bag and more. Inside my fashion crafting library at Walmart, you'll find ric rac, pom poms, brands, paint, fabric glue sequins, keychains and so many more items for getting creative. The ric rac is a fun addition to a pair of jeans and we've even includes all the supplies you need to create a cute pair of earrings! Add some color to your next outfit with the amazing craft kit.
Damask Love Headband and Hair Accessory Craft Kit: You know I love a good headband…and I love it even more when it's DIY-able! This craft kit includes enough supplies to make dozens of hair accessories like headbands, barrettes and hair clips.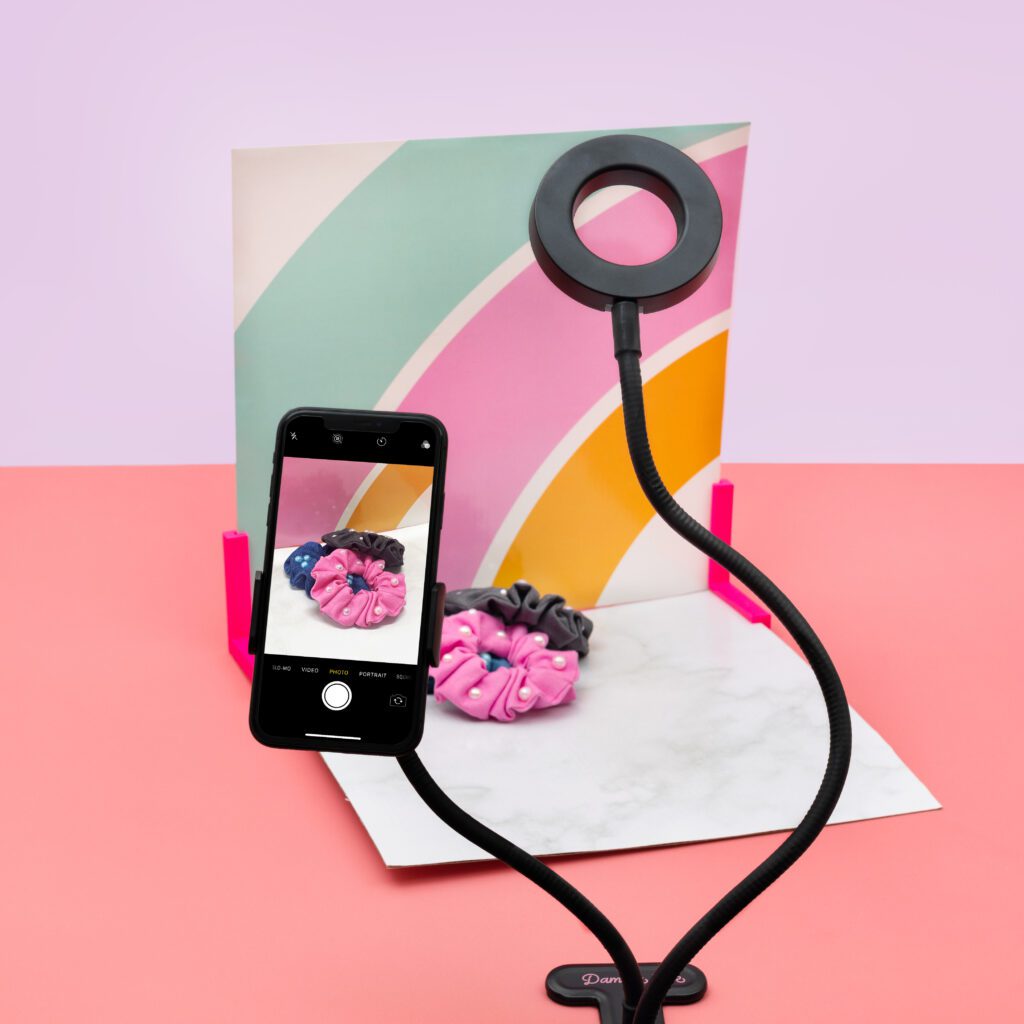 Damask Love Influencer Kit with Ring Light: THIS!!!! THIS!!!! Perhaps my ultimate favorite item of all…simply because it is so freaking useful! This kit include my ring light and phone holder which is clutch for taking selfies, product photos…or just getting good lighting during your next Zoom meeting! Clip it onto your desk or even your laptop for easy hands free filming. I haven't even mentioned the backdrop that's included for shooting photos of small items like jewelry, handmade cards and more. If you ask me, this is the MUST HAVE item from the entire line up!