Ever since I moved into the new Damask Love Studio, I've been itching to host a crafting party. Problem is, not many people can attend a weekday party so today, I'm inviting each of you to craft the day away. It's a Valentine's Day crafting party and my Cricut Explore is making an appearance. Matter of fact, every single project at today's crafting party was created with my latest projects from Cricut Design Space. 
I hope you'll keep me company at this little shindig. Throughout today's post we'll craft and chat, just like a real life party. I'll share some random stories, just like I would if we were sitting together around the table, perched on our pink and red stools. We'll tell jokes, sip cocktails and make some really cute crafts along the way. So let's go, girls. It's a craft party – and you're invited!
VALENTINE'S DAY CRAFT PARTY INVITATION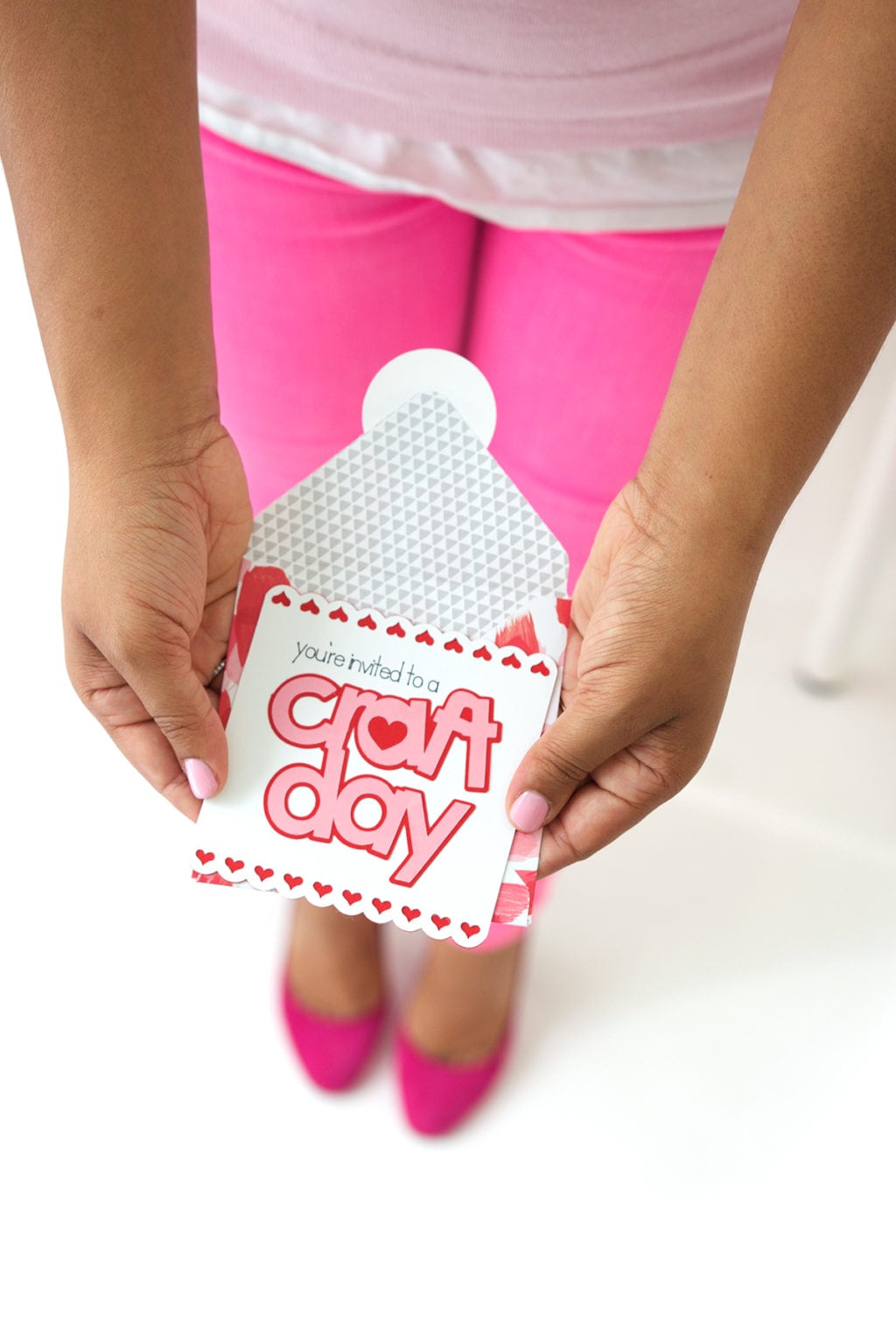 INSTRUCTIONS // Cut and write the layer of the card. Adhere the sides of the card together with a tape runner then place card in an envelope and seal with the lips shape.
Did you get your invitation in the mail? You did?! Awesome!
Come on in and grab a stool – I dressed them up with some vinyl and I sort of love how they turned out. And they only cost about $5.00 to make so I'm considering sending them home with you as a party favor!
VALETINE'S DAY HEART STOOLS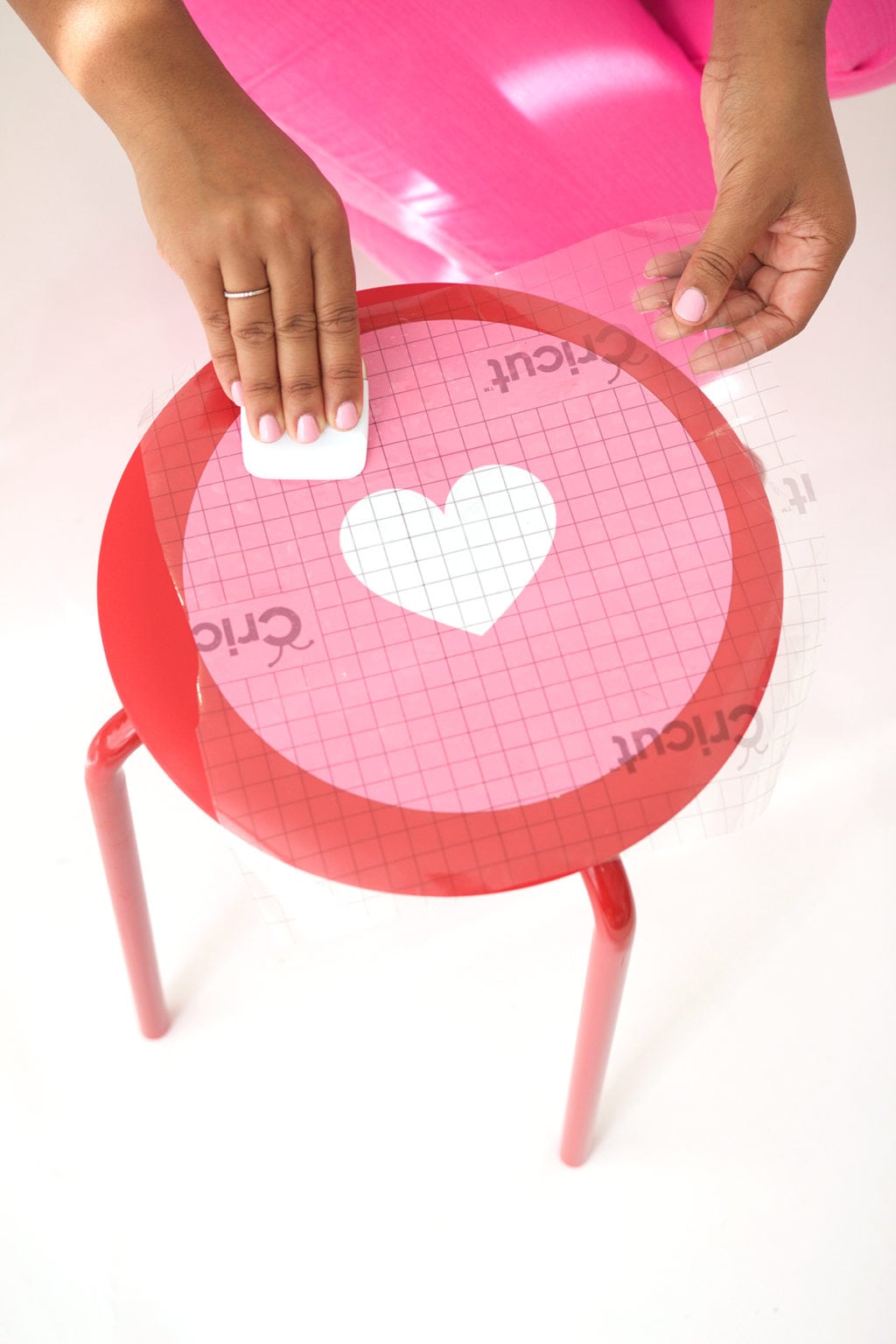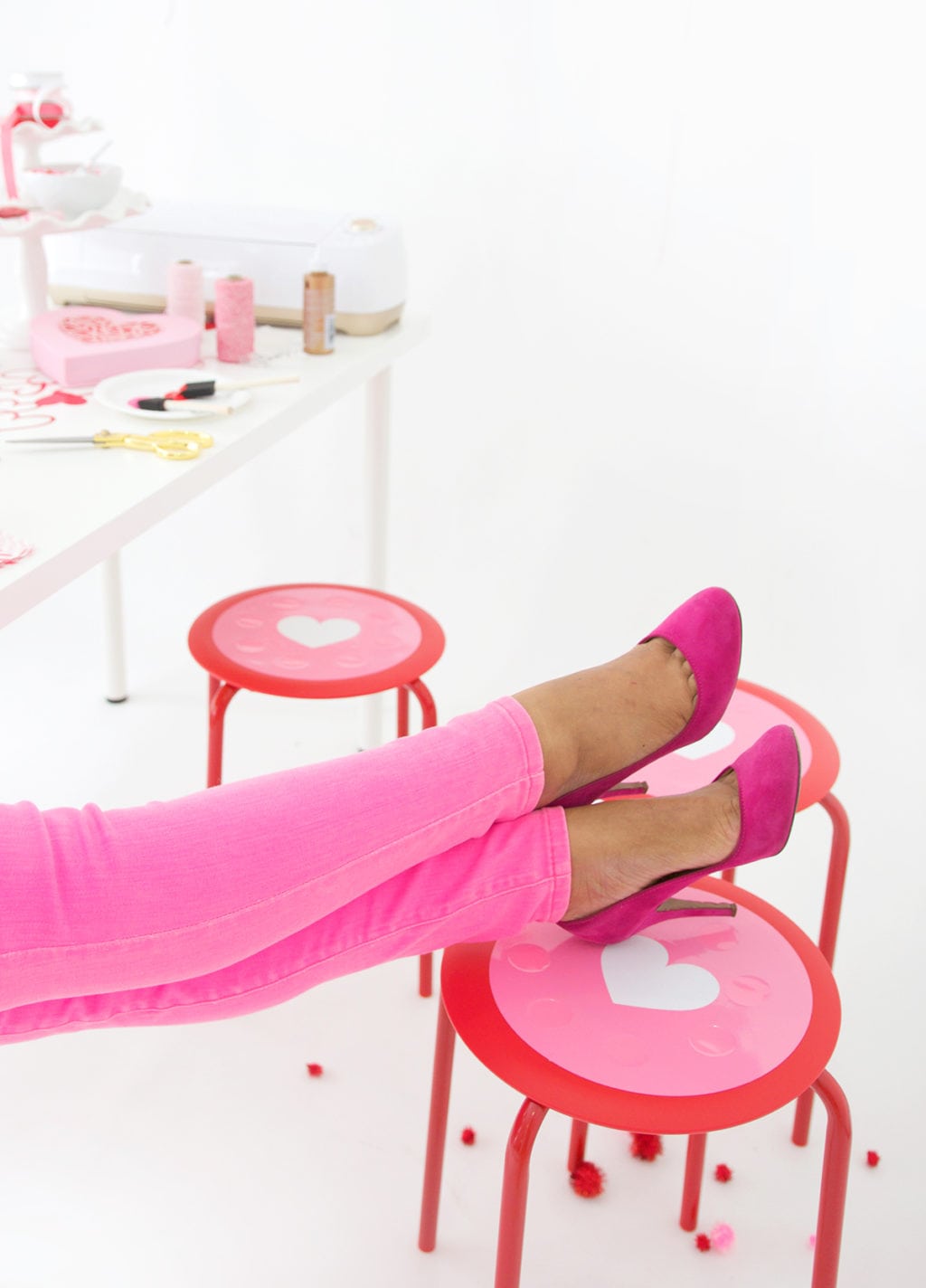 INSTRUCTIONS // Cut the shapes from pink and white vinyl. To assemble first transfer the pink shape onto clear transfer adhesive then place the white vinyl circle into the heart opening and peel off the backing. Place the vinyl onto the stool then rub it to adhere to the stool. Peel back transfer adhesive.
I also crafted up a banner to create a little backdrop for all the fun we're about to have. When I started cutting it out, I quickly realized that not only does this project make an adorable heart-filled banner, it also creates handfuls confetti – and we need confetti as this party – obvi.
To keep the theme of the party I also made a vinyl table runner that is so simple to adhere – but it'll also peel right off when we're all done partying!
HEART FILLED BANNER & CONFETTI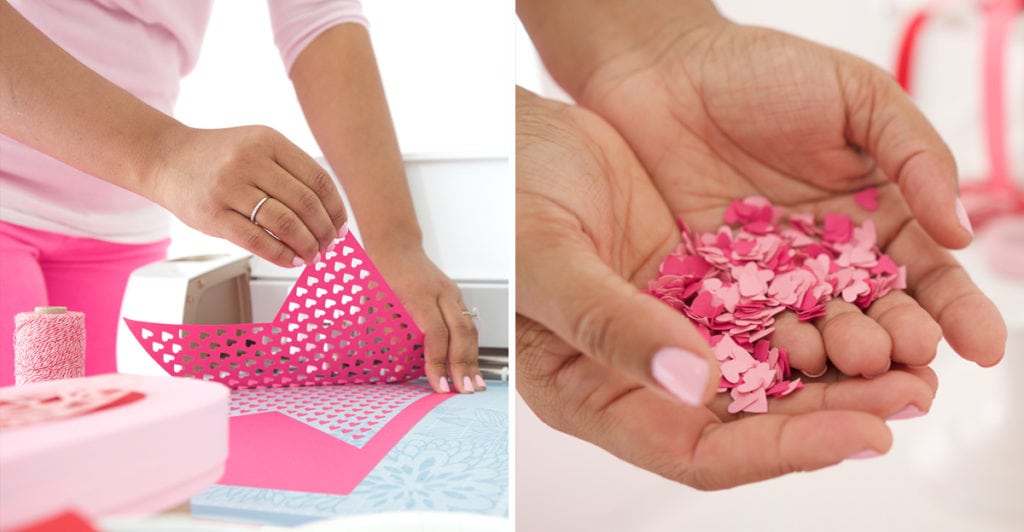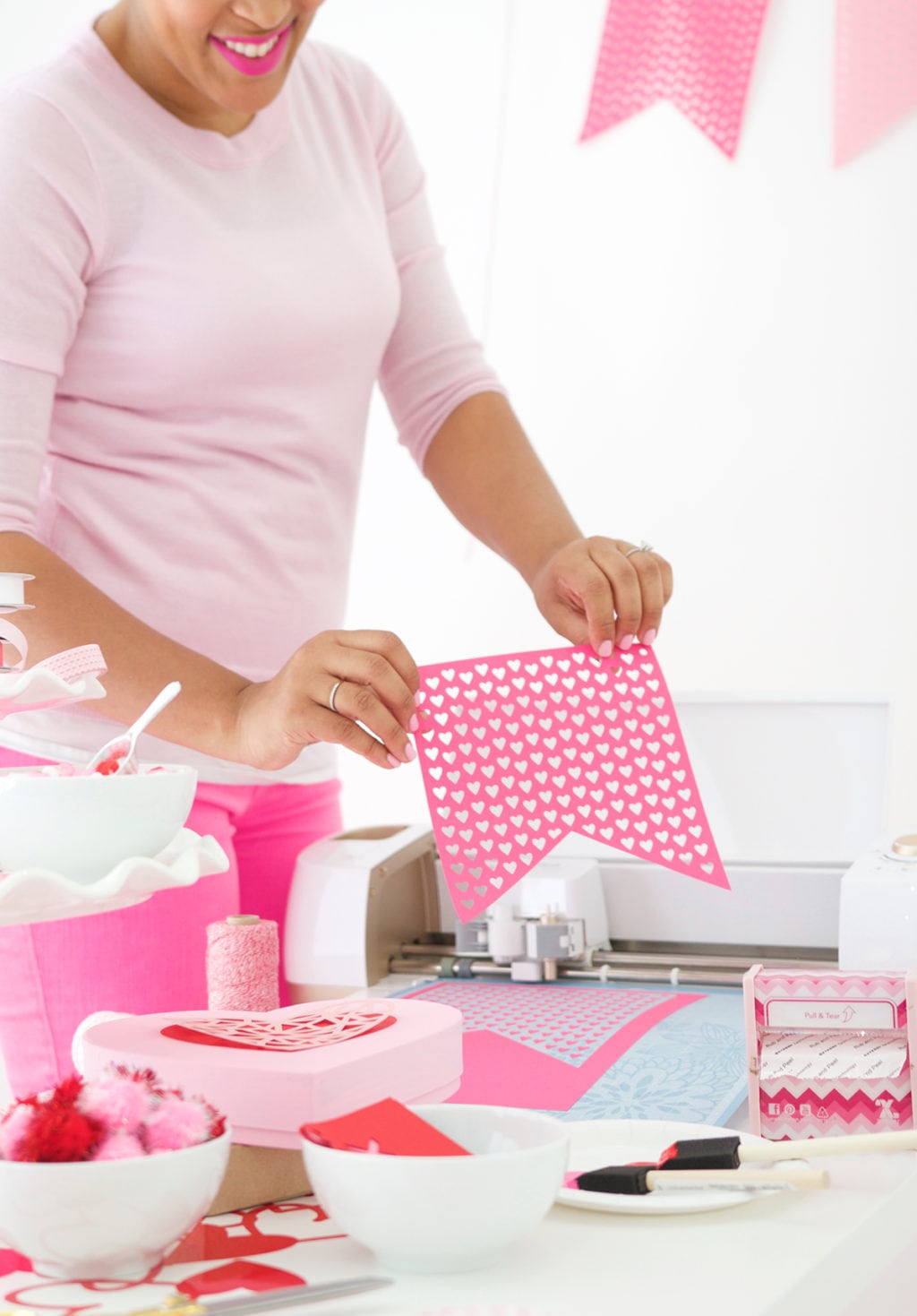 INSTRUCTIONS // Cut the banner paper from pink and dark pink cardstock then peel off of the cutting mat. String the banner panels onto baker's twine then use the left over heart shapes for confetti!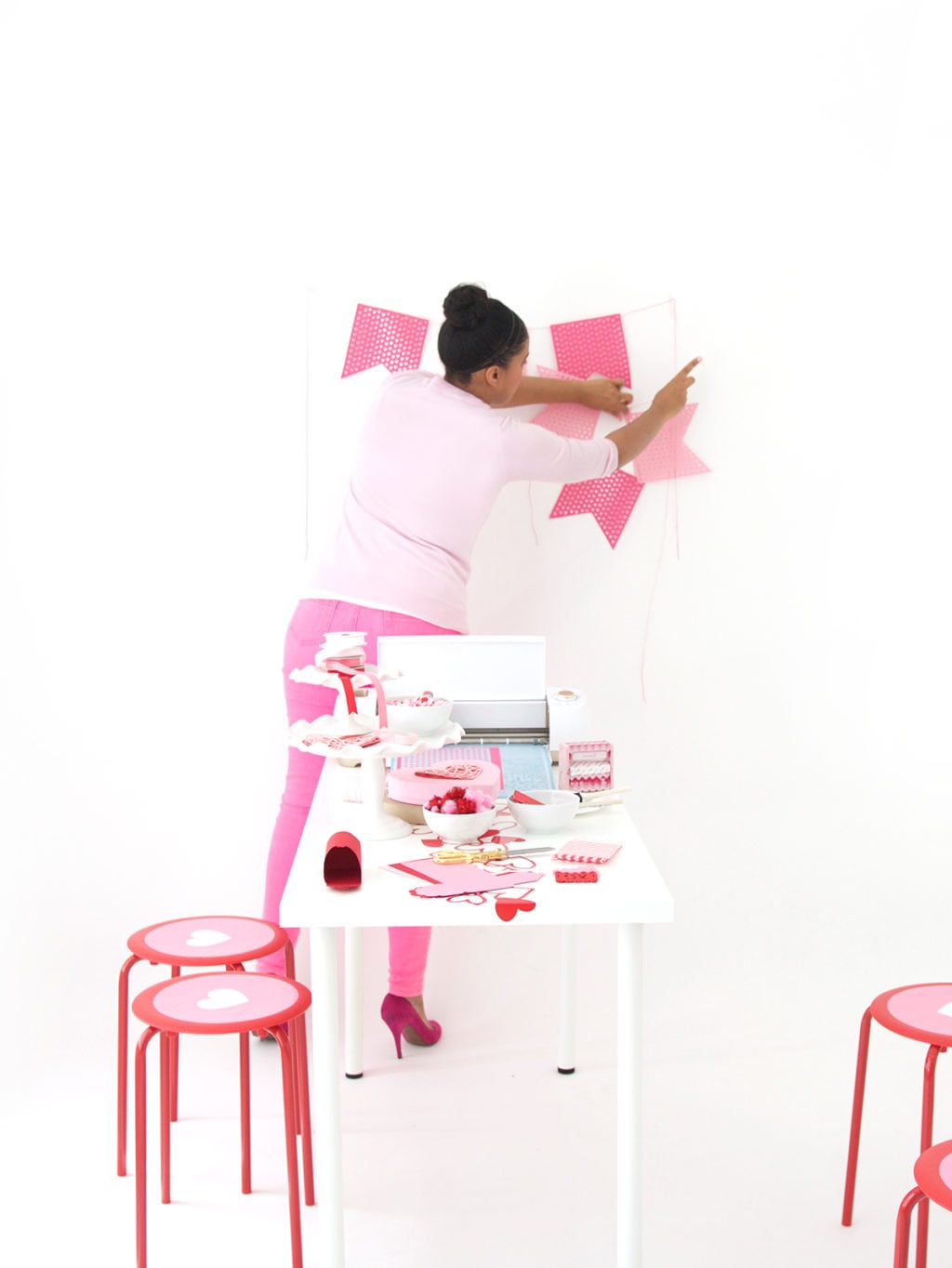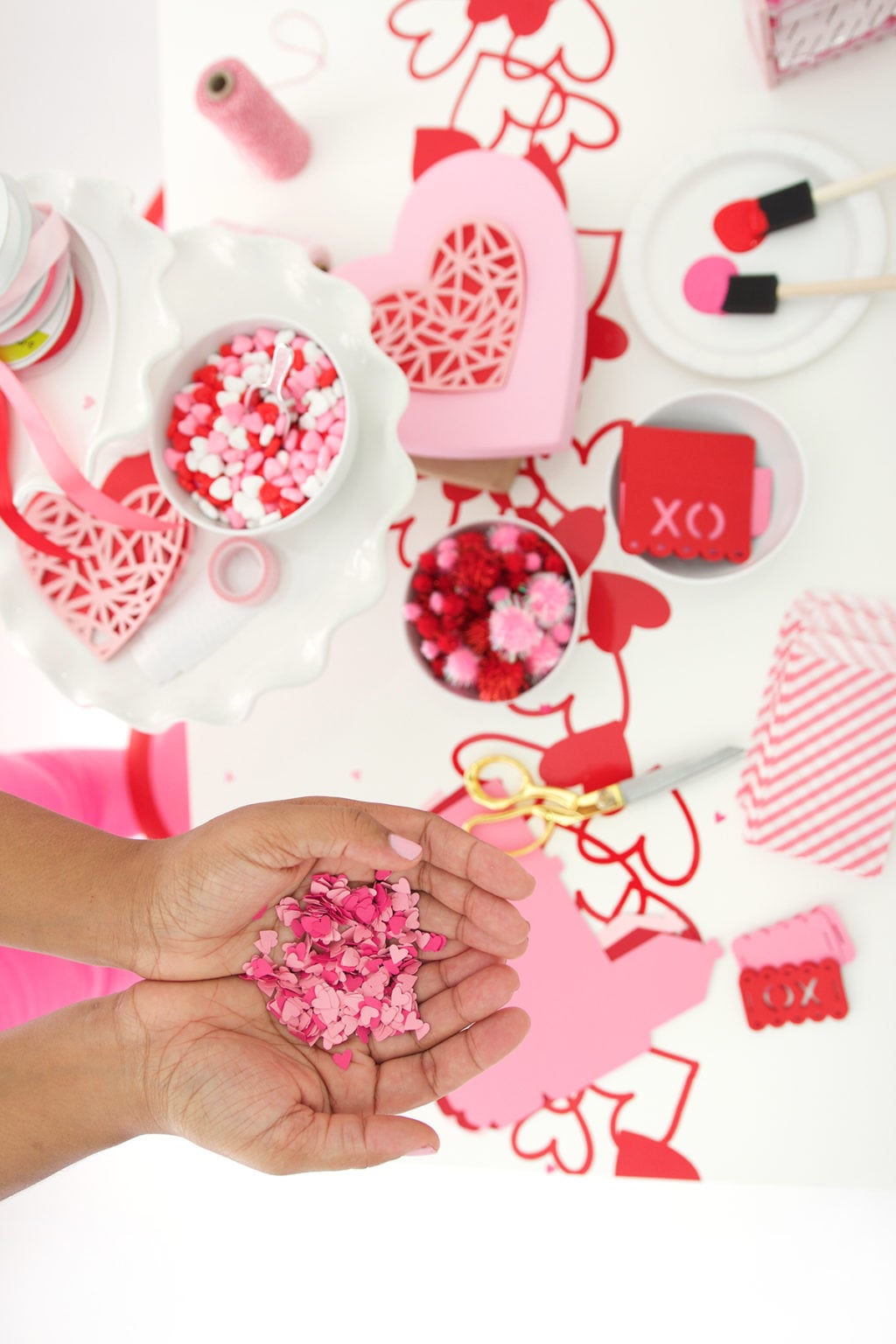 SCATTERED HEARTS VINYL TABLE RUNNER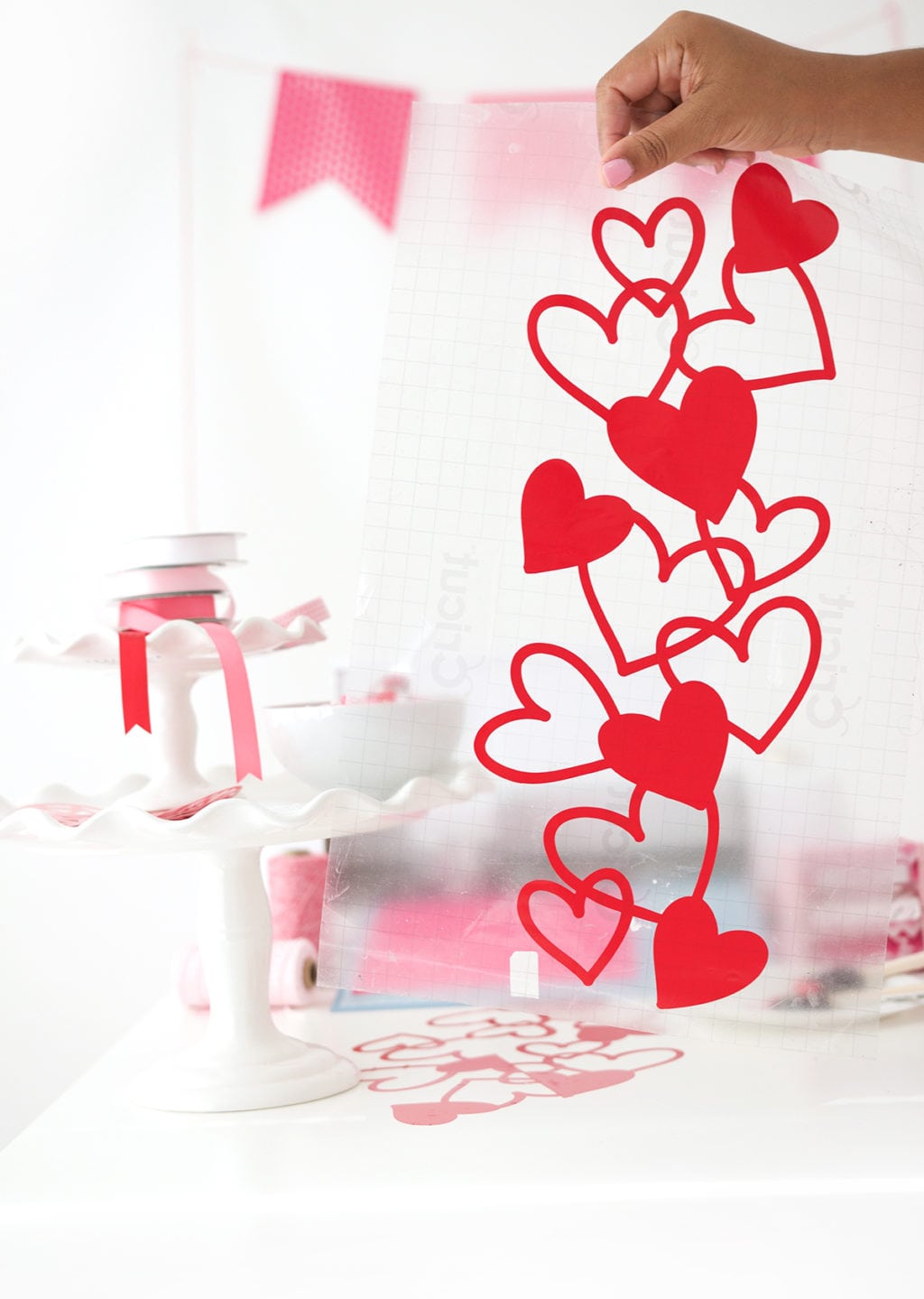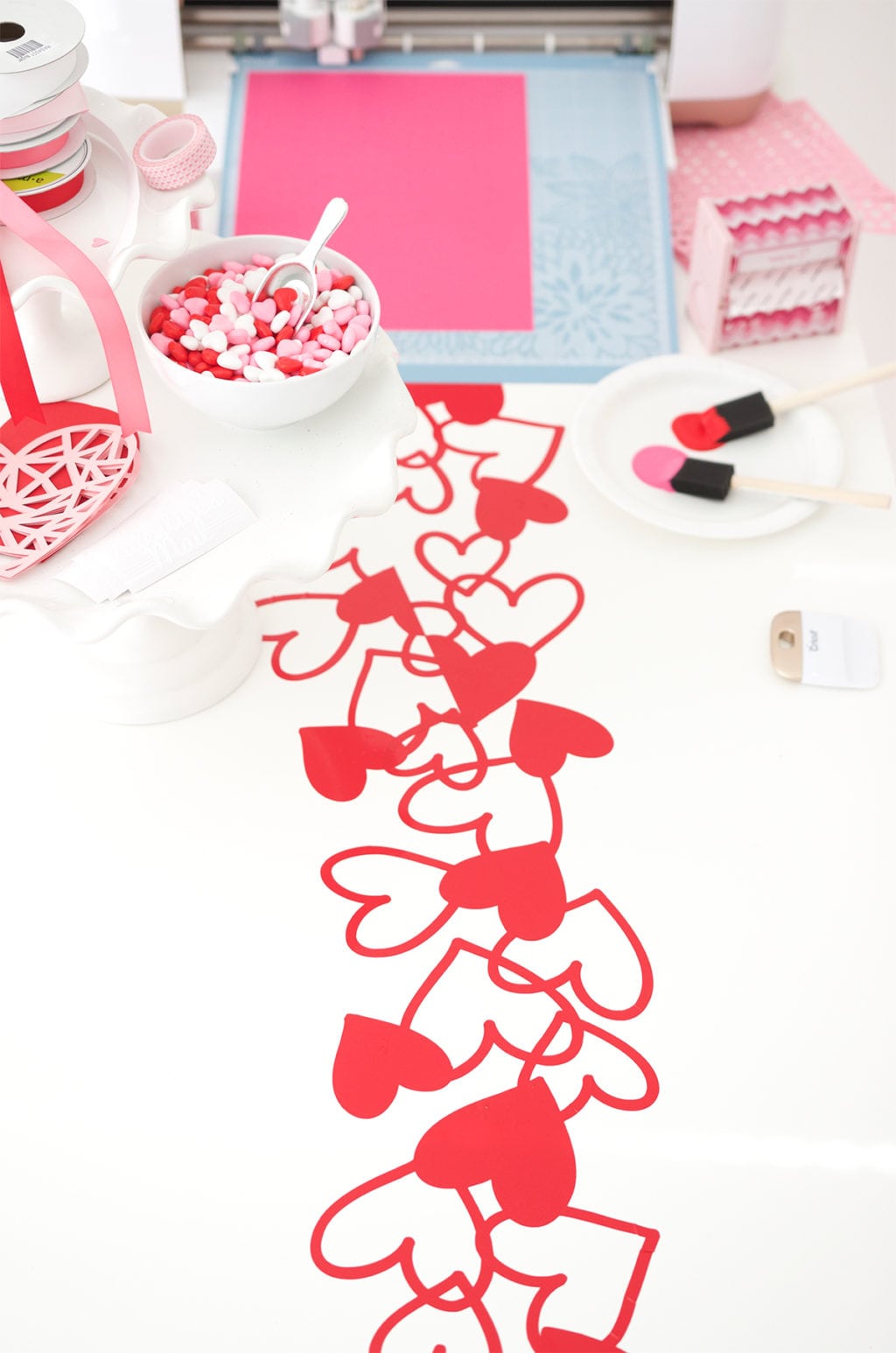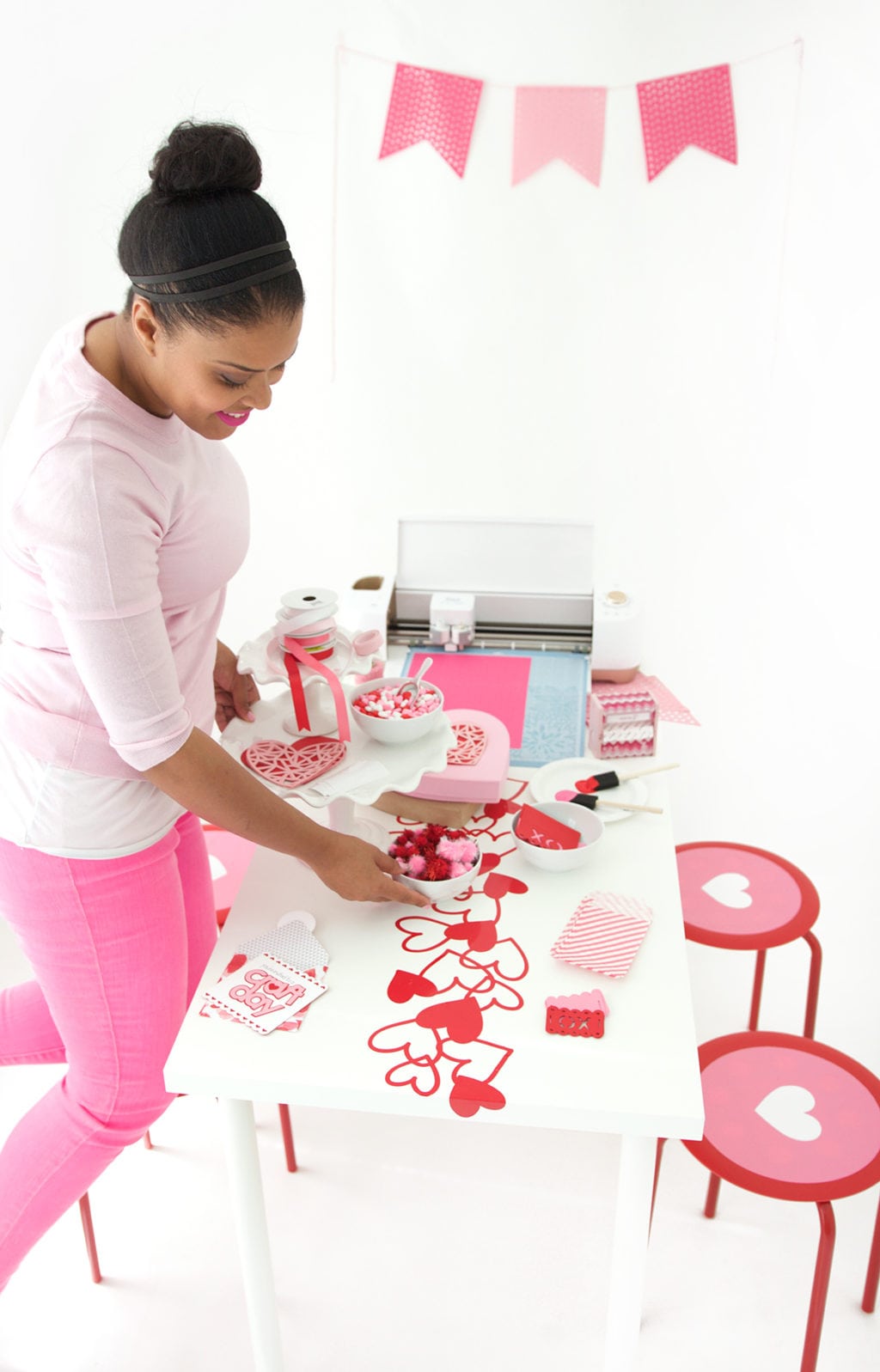 INSTRUCTIONS // Cut the image from red vinyl then use a weeding tool to remove excess pieces. Place entire length of the image onto transfer adhesive then rub it into place on the table. Peel back the transfer tape.
Now that the decorations are up and you have your seat. I guess we should start crafting but first I've GOT to tell you about what happened last week. I found poop on my living room carpet…and I'm not even kidding. Now that I've got the punchline out the way, let's back up. After dinner, Markus has a little wet spot on his pants but I dismissed it as part of his typical dinner messiness. I even smelled the wet spot to make sure it wasn't something gross. Sidenote: You know you're a mom when you smell everything. So, I took the pants off him and let him play in his diaper till bathtime. We read a book and headed to bed. After bed, I came back out to the living room to find a piece of Grade A, Made in America, One of a Kind Poop on my living room carpet. I have not a single clue about the timing of the poop offense. I didn't see it. I don't know how it occured. Best I can tell, that rogue piece of poop escaped the diaper and shimmied down Markus' pants leaving a wet spot on his pants during the exit route. It was one of the lower moments of my day – but it makes for a pretty hilarious story to start off our party.
With that out of my system (pun totally intended)…we should make something!
ABSTRACT BOX OF CHOCOLATES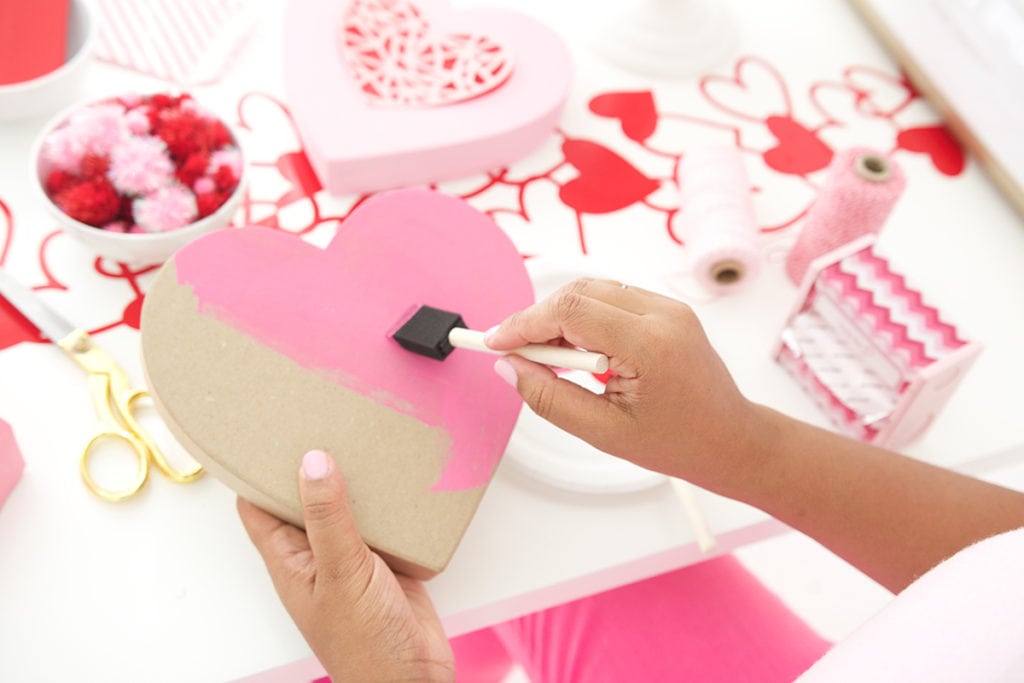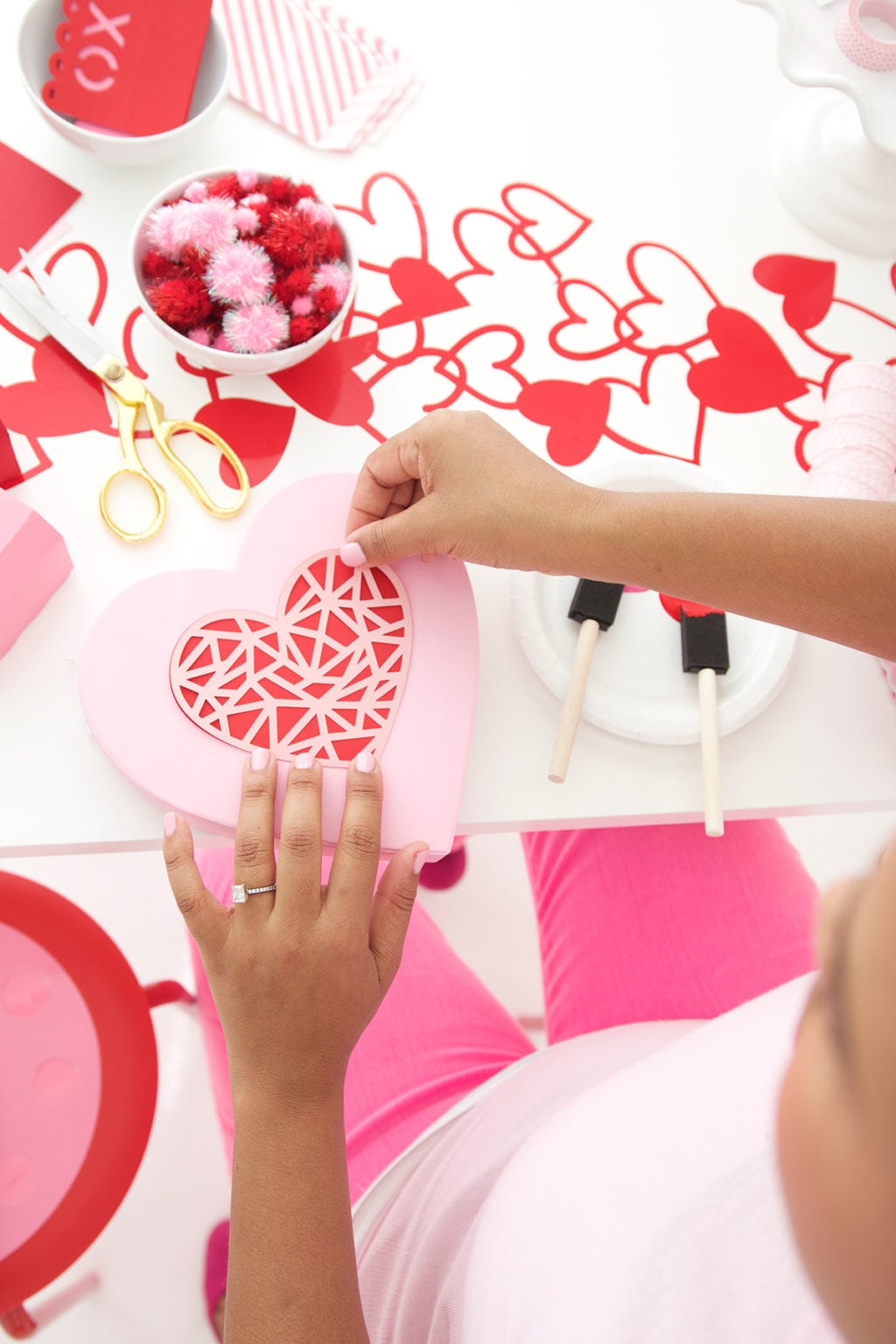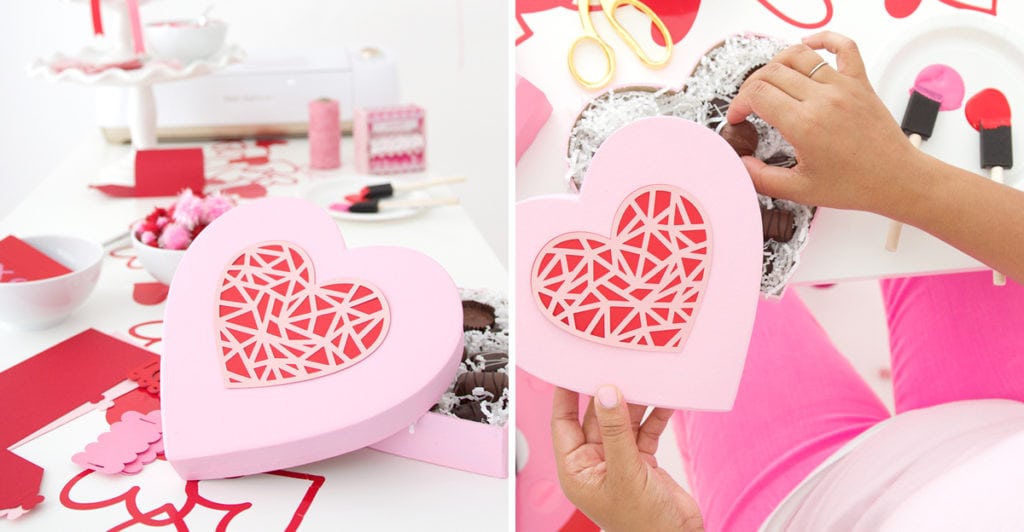 Instructions // Paint your box then adhere the abstract heart image to the front of the box with glue or a tape runner. Fill it up with chocolates…and feel free to sneak a few chocolates for yourself!
Gone are the days of store bought chocolates because this project is so easy to do and is way more impressive than those generic boxes at Walgreens…nothin' against Walgreens…just sayin. I was just at Walgreens last week because they are the only place I can find Haribo Gummi Cherries, which I can eat by the bucket load! And now that I mention it, I should have snagged some of those gummi cherries for today's party! Instead I have some heart shaped candies and a really cute way to package them up!
XOXO TREAT BAG WRAP & TOPPER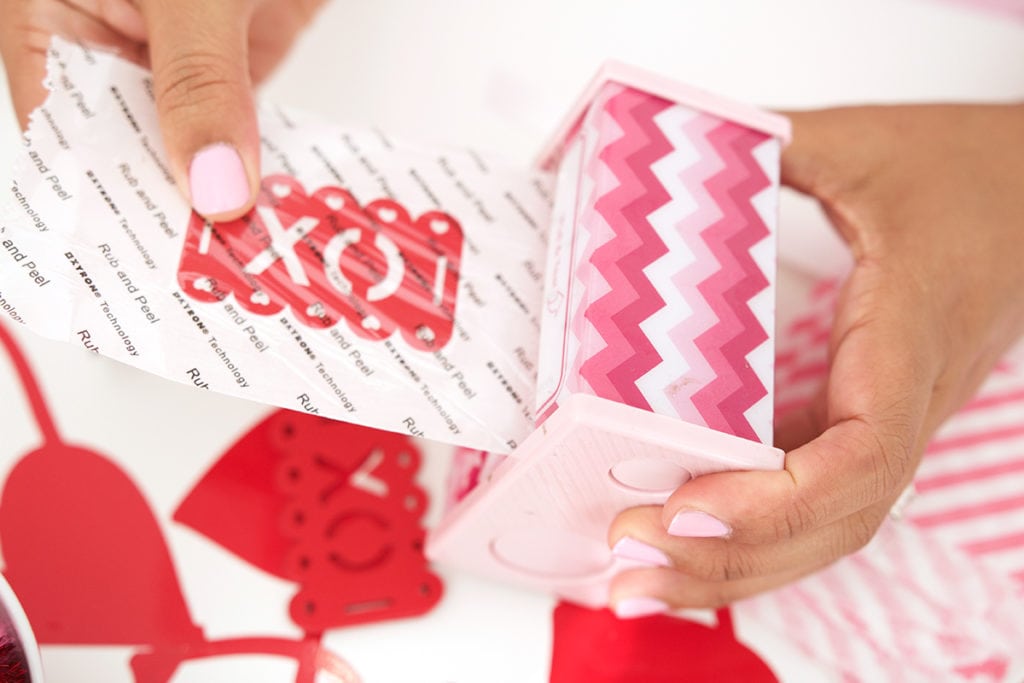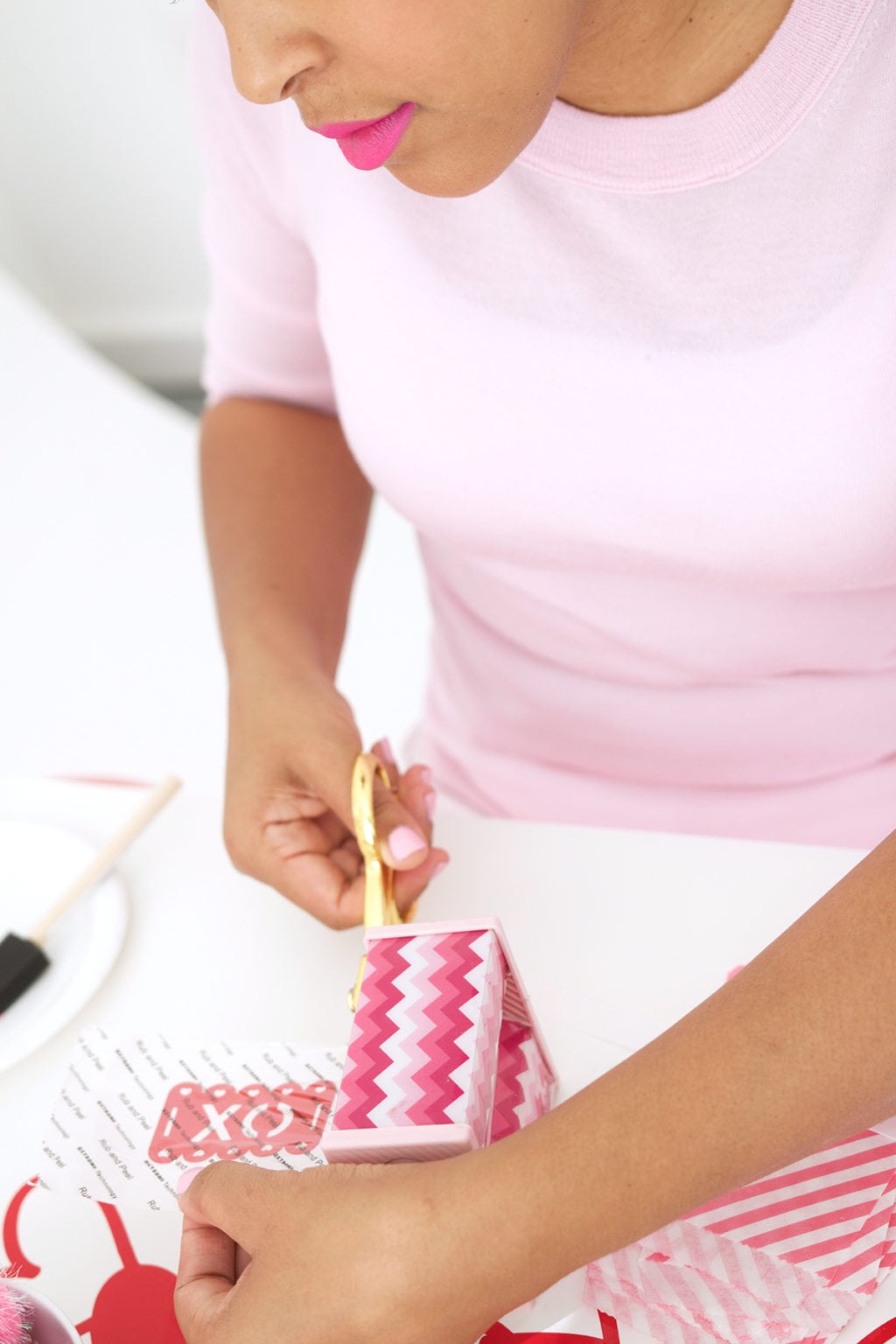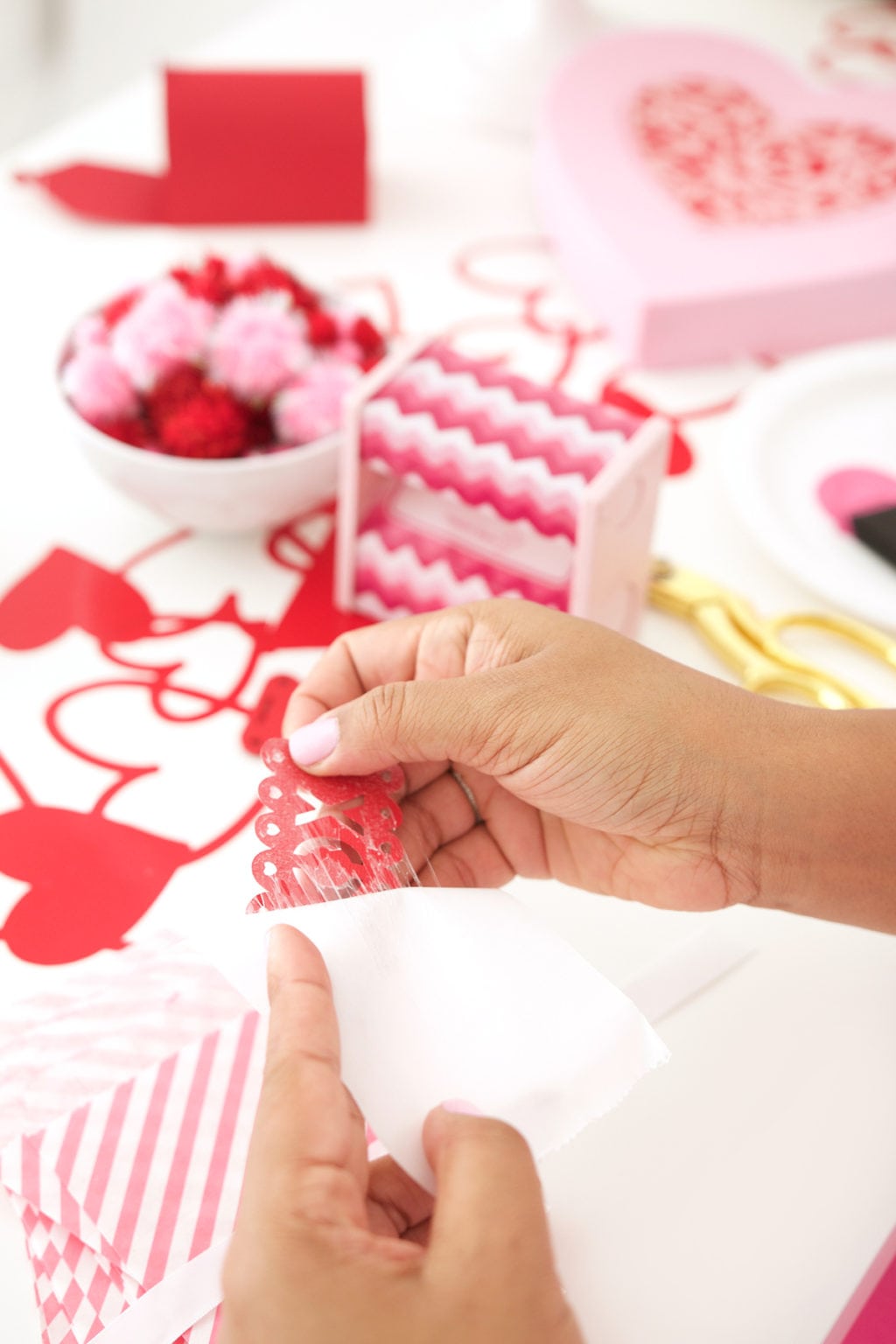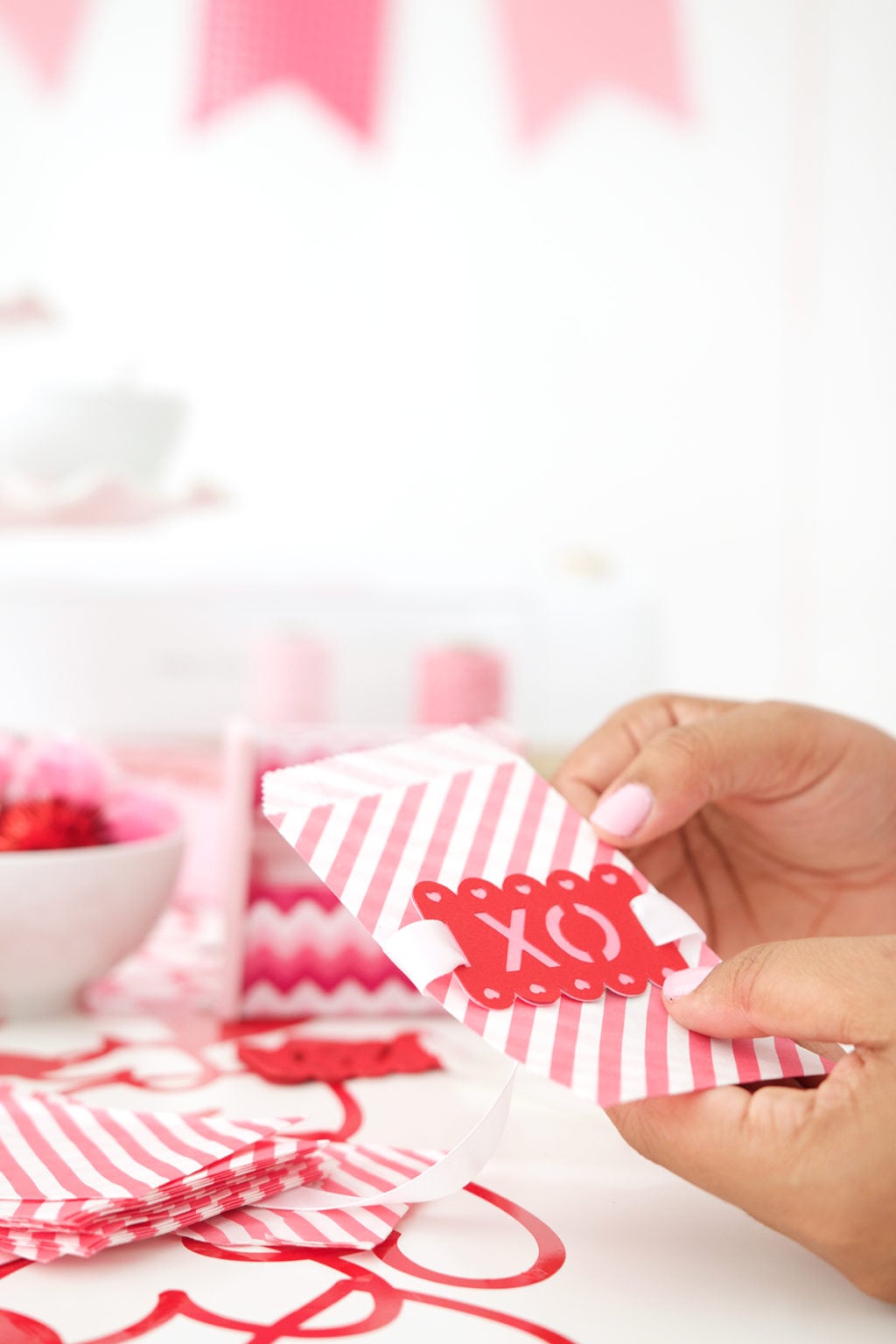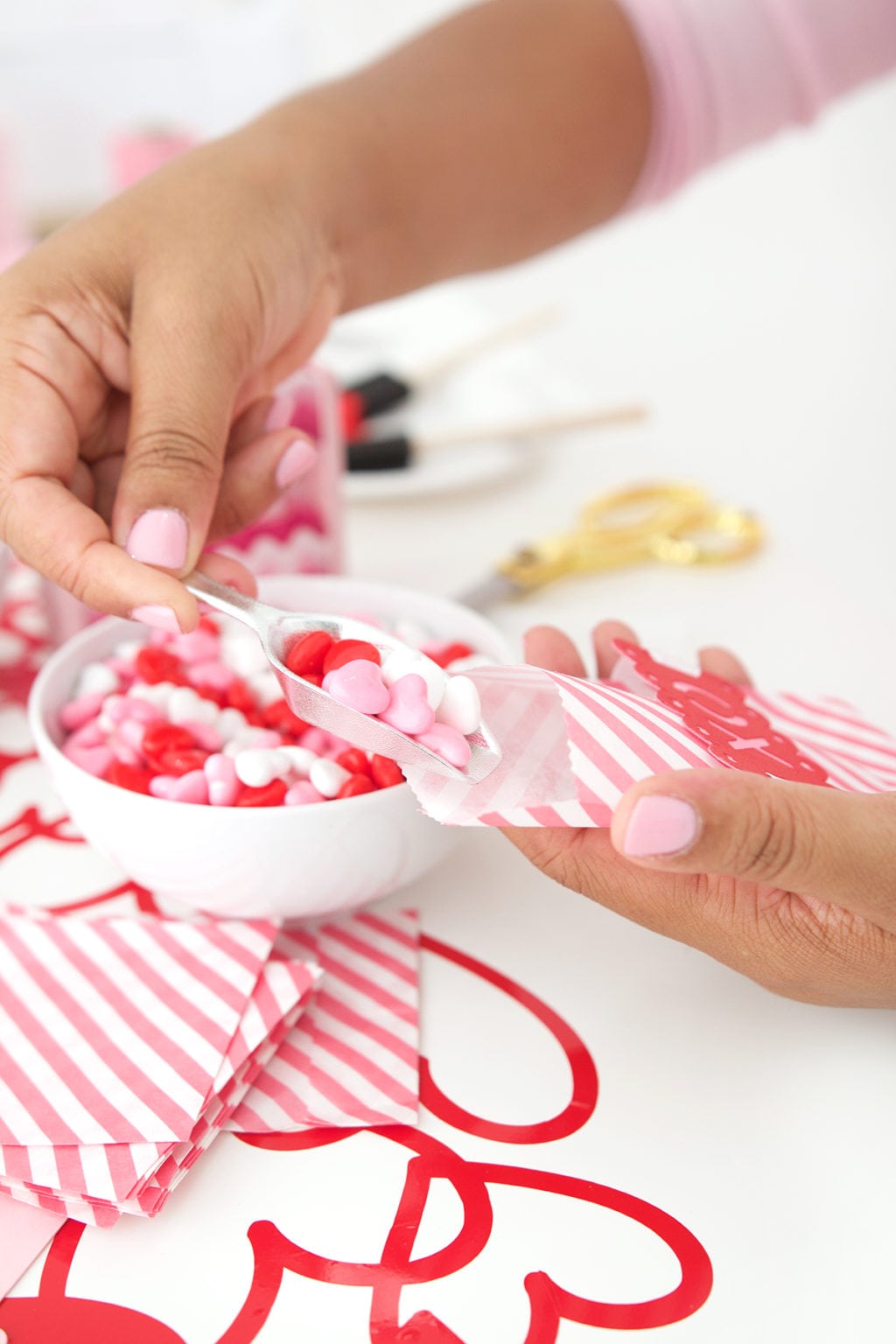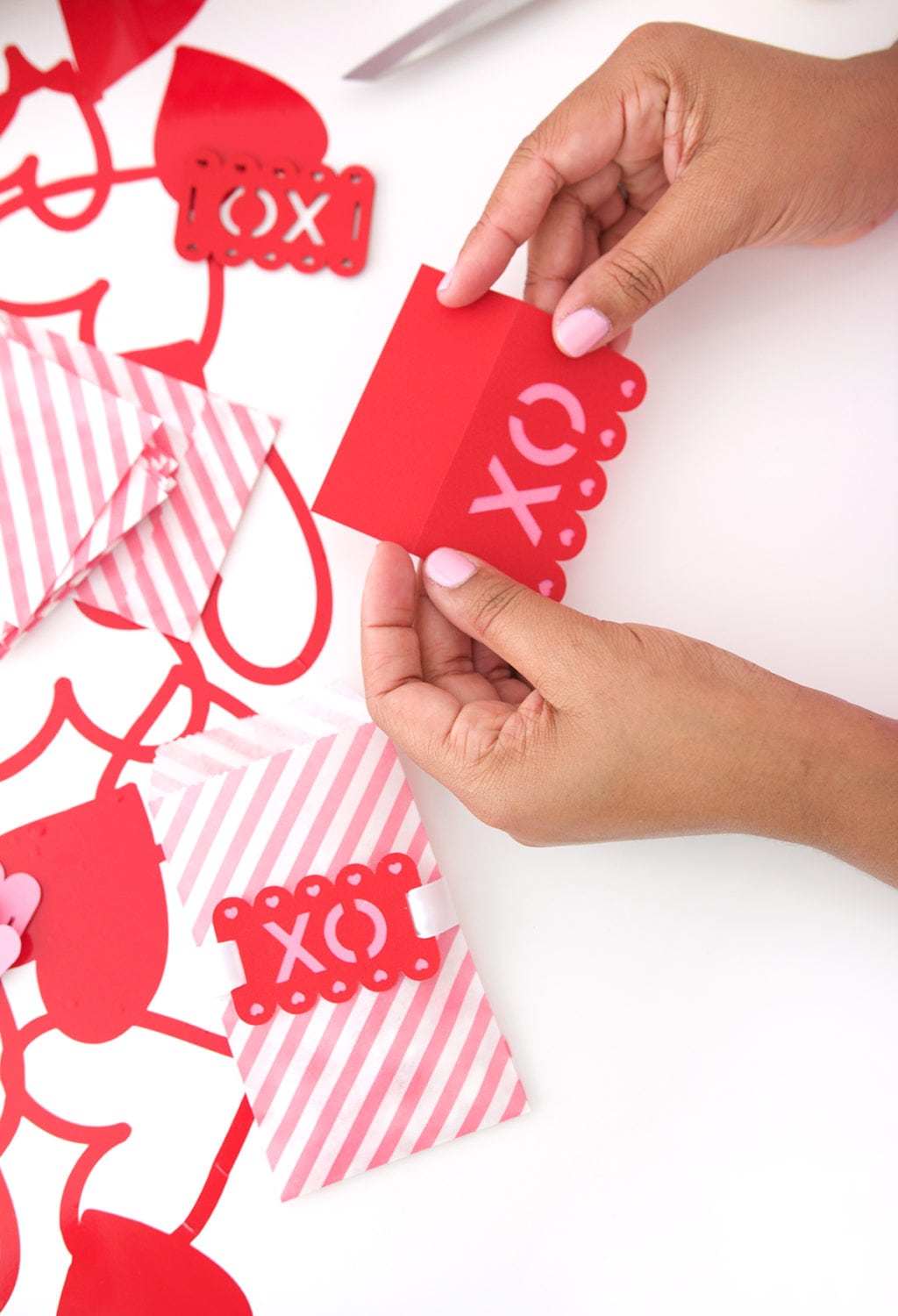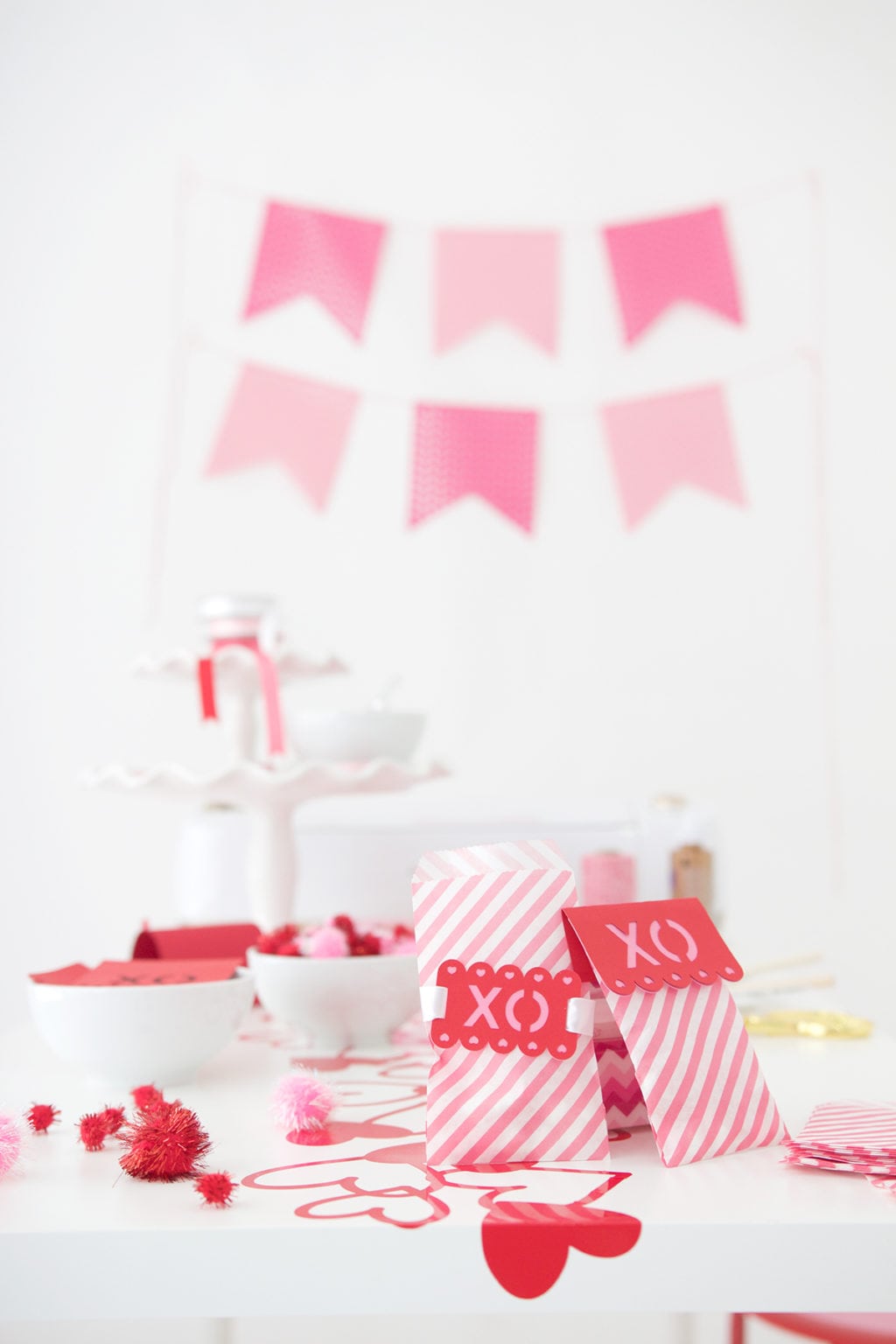 INSTRUCTIONS // Cut and score the images from red and pink cardstock. Place the red layer into the sticker maker then adhere it to the pink layer. For the bag wrapper, thread ribbon through and adhere it to the treat bag. For the topper, fold it at the score line and use the sticker maker to adhere it to the bag.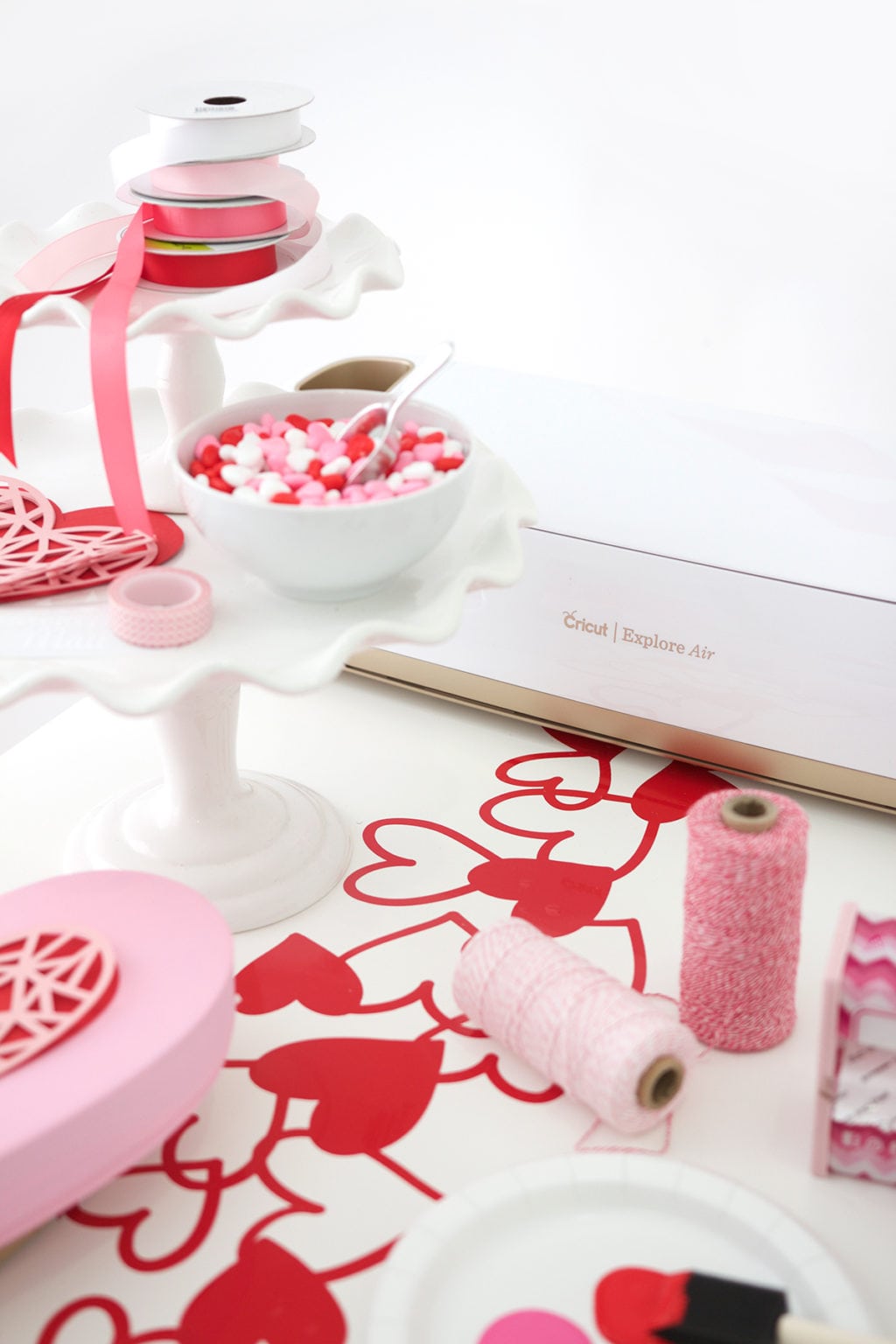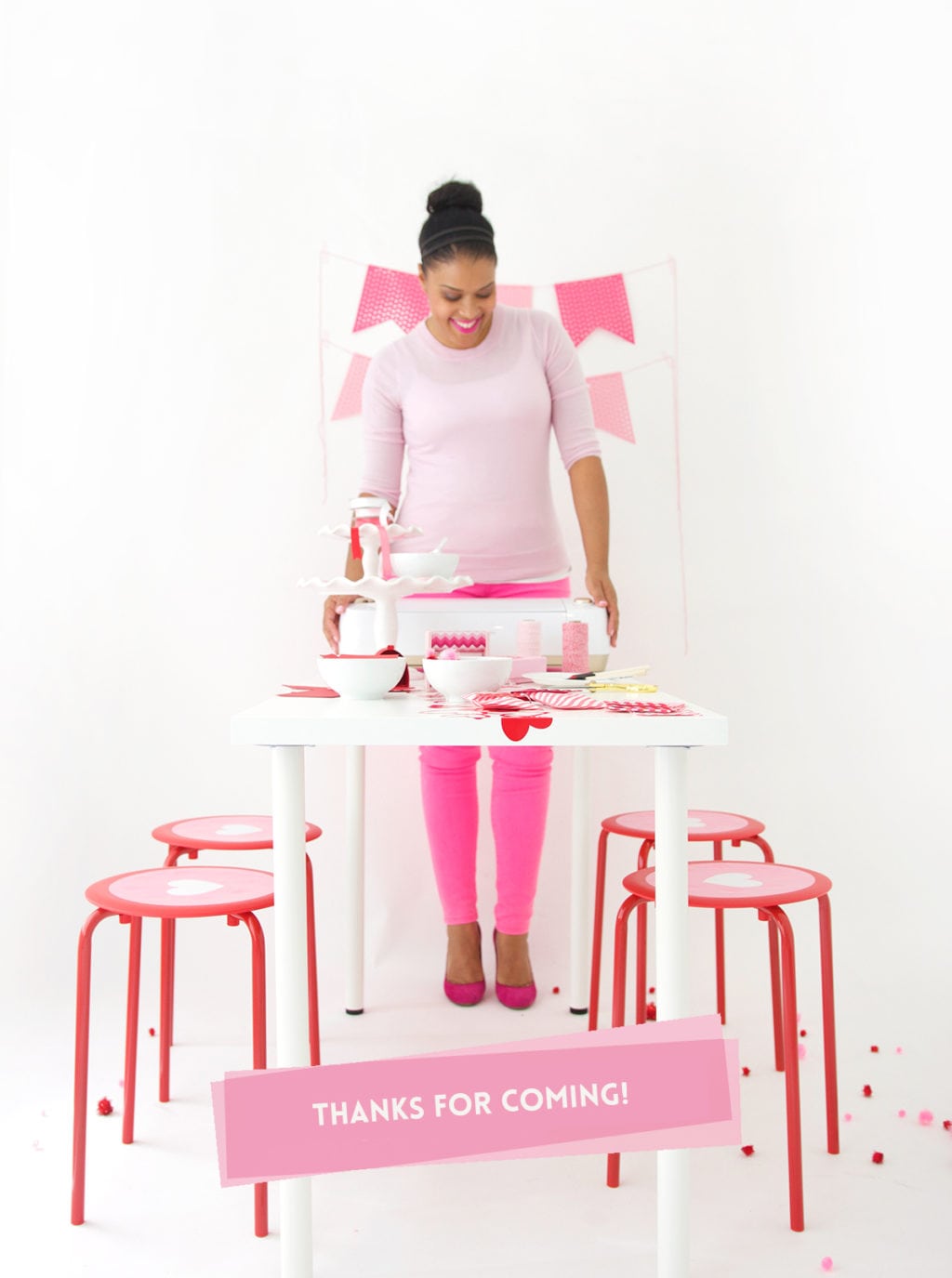 Thanks for keeping me company at this little crafting par-tay! I hope you're in a pink & red state of mind and ready to do some crafting with your Cricut Explore!
This post was done in partnership with Cricut/Provocraft. All projects,  opinions and wacky stories are mine, mine, mine! Thanks for supporting the awesome partnerships that keep the lights on in this joint!
Photography: Michelle Brener
Styling: Amber Kemp-Gerstel