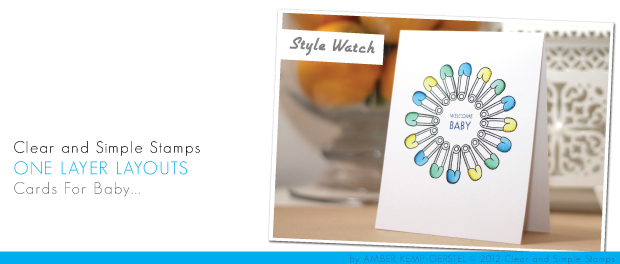 A few months ago, Clear and SImple Stamps released an arsenal of baby themed products as part of Collection 2. Today, I thought it would be fun to revisit those stamps, with a couple of clean & simple one-layer baby cards.
With just a few creative elements, one layer cards can be just as memorable as those cards filled with embellishments.
For my cards today, I focused on the layout – using my stamps to create visually interesting focal images. Take a look at what I came up with for a little jump start of inspiration. Then give it a try and create a few one-layer cards of your own!
Until Later Loverlies,
Amber KG
I'm loving this one layer card featuring a "wreath" of baby pins colored with copics. You could change up the color scheme to make this more appropriate for a girl.
Thanks for stopping by today!! Have a great weekend.