Ombre is everywhere and it's high time that I gave it some attention with my paper crafting supplies.
Clear and Simple Stamps offers a huge array of Hybrid Inks with shades of every color in the rainbow, making it easy to stamp a gradient of any color.
For today's project, I chose to combine embossing with ombre shades to create an elegant trio of cards. To package the cards, I tried out a new (to me) technique using my Copic markers to create ombre satin ribbon. And since CSS sells their Copics in trio sets you automatically get a gradient of color with every set.
I absolutely LOVED how it turned out and I hope you do too…
Until Later Loverlies,
Amber KG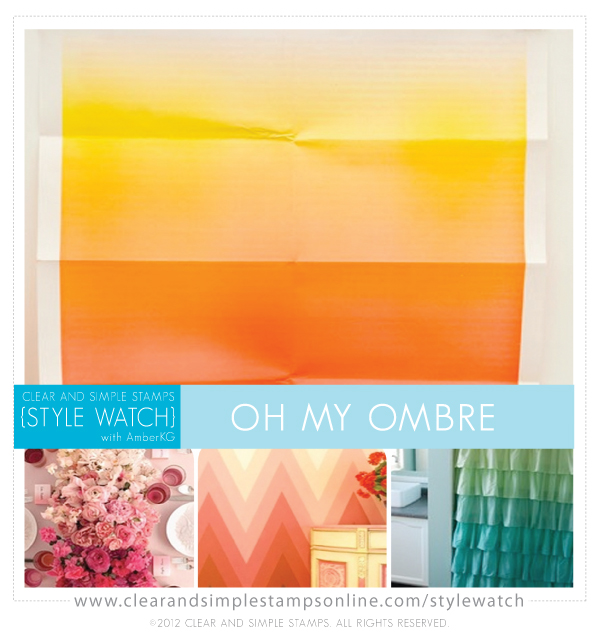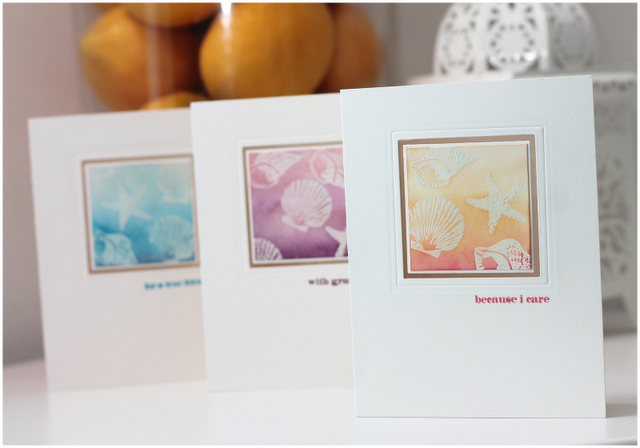 This trio of cards is really quite simple to create and the result is really eye-catching!
For each card, I stamped images from Seashells using embossing ink, then heat embossed them with clear embossing powder.
Once the embossing was set, I used a sponge to blend in three shades of ink over the images. I was left with the beautiful embossed images showing through the color.
 In these close up photos you can see that I mounted each stamped square onto a window which I created with clear acetate cardstock.
Since I mounted the image on clear acetate, I adhered a square of cardstock  behind the image as well as around the edge of the window. This way, the card had a finished look and I hid any ugly adhesive.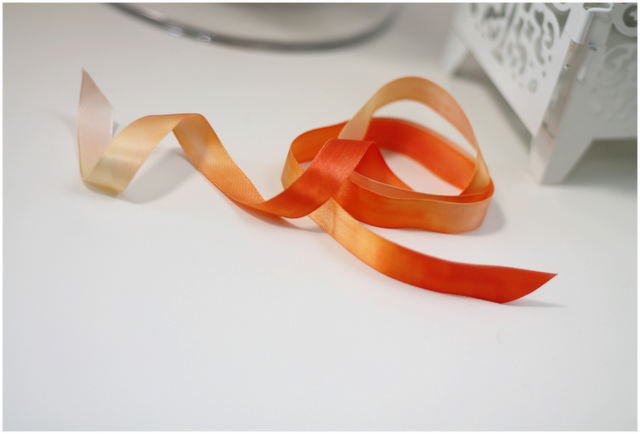 To package up these cards, I tried out a really fun technique with satin ribbon. With my Copics, I turned a strip of white satin ribbon into an ombre beauty.
Simply choose three Copics that are in the same color family, and use the broad end to add color to the ribbon.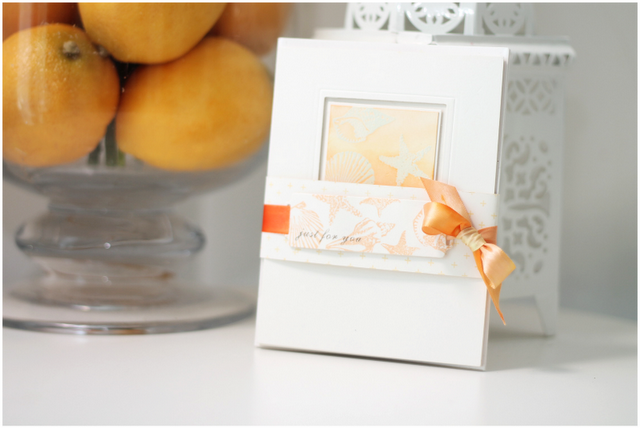 The ribbon coordinated perfectly with the belly band that I created using the new Wrappers die collection!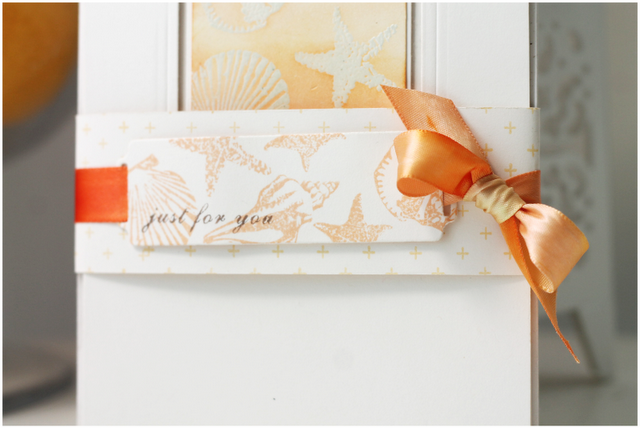 I stamped seashells on the wrapper using Creamsicle Cardigan ink and threaded the ribbon through the finish it off. The larger band was created with a strip of paper that I stamped with Background Basics 2 using You're a Natural Darling ink.
I hope you've enjoyed this set of cards! Thanks for stopping by!
Supplies:
Stamps: Clear and Simple Stamps (Seashells, Flowers {for sentiments}, Background Basics 2)
Ink: Clear and Simple Stamps Hybrid Ink (Coral Necklace, Orange You Fabulous, Creamsicle Cardigan, Your Style Blue Me Away, Party Teal Dawn, Trendsetter Blue, Purplicious, VIP Violet, I'm a Princess Pink)
Cardstock: Clear and Simple Stamps (On the Catwalk Cream)
Other: Clear and Simple Stamps (Copics, A Blanc Check satin ribbon, Wrappers die collection)