I am a die-hard foodie and I love to try new foods and beverages. Whenever I'm on vacation, I eat my way through each city I visit. The only downside is the cardio that I have to do to work off all those calories! YUCK!
Perhaps this is why I am such a fan of food & beverage themed stamp sets. They totally appeal to my foodie side, while saving me the trouble of hopping on the treadmill. It's the best of both worlds! The newly released By the Glass and By the Glass Too stamp sets offer a unique assortment of adorable beverages. When paired with the By the Glass Sentiments set, these images are full of fun and whimsy.
For today's project, I've got a great accessory for all your colorful, summertime cocktails. For only a few dollars, you can create coasters that rival anything you'd find at a gift shop. You can package them up as a hostess gift or keep them for yourself – just be prepared to make a few more for friends! Once they seem these coasters, they'll definitely want a set. Good thing they are super easy to make, right?
I hope you enjoy this project as much as I did. Let's get started…
Until Later Loverlies,
Amber KG
Here's a look at the foursome of cocktail coasters that I created using tile squares from Home Depot (they only cost $0.19 each!!!) along with some crafting supplies I already owned.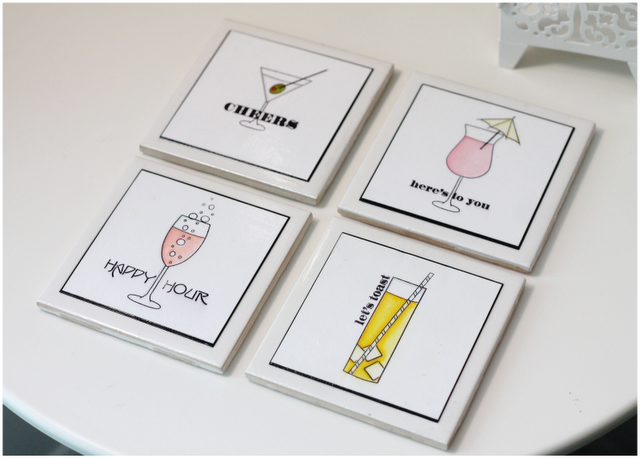 Here's a guick walkthrough of how I created these coasters:
First you'll need the following supplies:
White Square Tiles (I purchased mine from Home Depot)
Mod Podge Decoupage Glue
A Paint Brush, you can also use a sponge brush
Squares of felt to use on the bottom of each tile coaster
Spray acrylic sealant (Available at Michael's)
Assembling the coasters is very simple! First, slather on a generous layer of Mod Podge onto the tile itself. Then place the black cardstock, which simply serves as a mat layer for the stamped cardstock layer. Then add another generous coating of Mod Podge over the black cardstock. Place the stamped white layer coat again with Mod Podge. Basically, you want to have Mod Podge sealing each layer of the coaster.
Allow the Mod Podge to dry overnight, then spray on the sealant. You'll want to spray on about three layers of sealant, allowing drying time in between each layer.
The last step is the adhere the felt squares to the bottom of each tile coaster.
That's all there is to it!
Here's a close-up of each coaster…
Here's to a fun and simple project! Hope you're inspired to get crafty in a new and different way!