I told you there was going to be a party here today!!!!
I'm so glad you came over for the celebration! This is going to be one doozy of a blog post, so settle in for the ride!
First up is a special project, just for this occasion! If we're gonna have a party, we've got to have something sweet and a few party favors, right?!
I must admit, I stole this idea straight from the pages of
Witticisms
(I'm sure Jessica won't mind!). A few weeks ago, during all of the Papertrey Ink Release excitement, Jess Witty posted the most
fabulous strawberry cookies!
For this party, we're going with a watermelon theme, since I just LOVE LOVE LOVE the new PTI Fruit Fusion: Melon set!
Much like Jess, I love to bake!
(don't ask how many cookie cutters I have in my stash…I'll lie to save myself the embarrassment)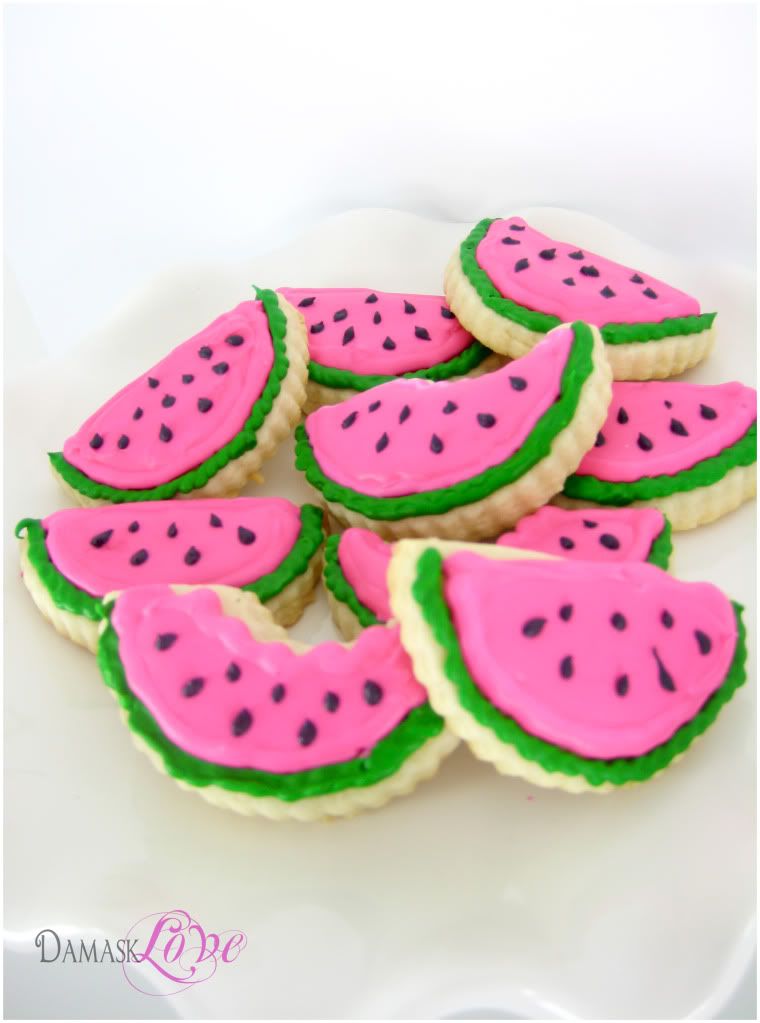 To make these sweeties, I used two scalloped circle cookie cutters…that's all you'll need.
I cut a full circle then used a knife to divide it in half. Then with the small circle, I cut a little "chomp" out of the watermelon – YUM!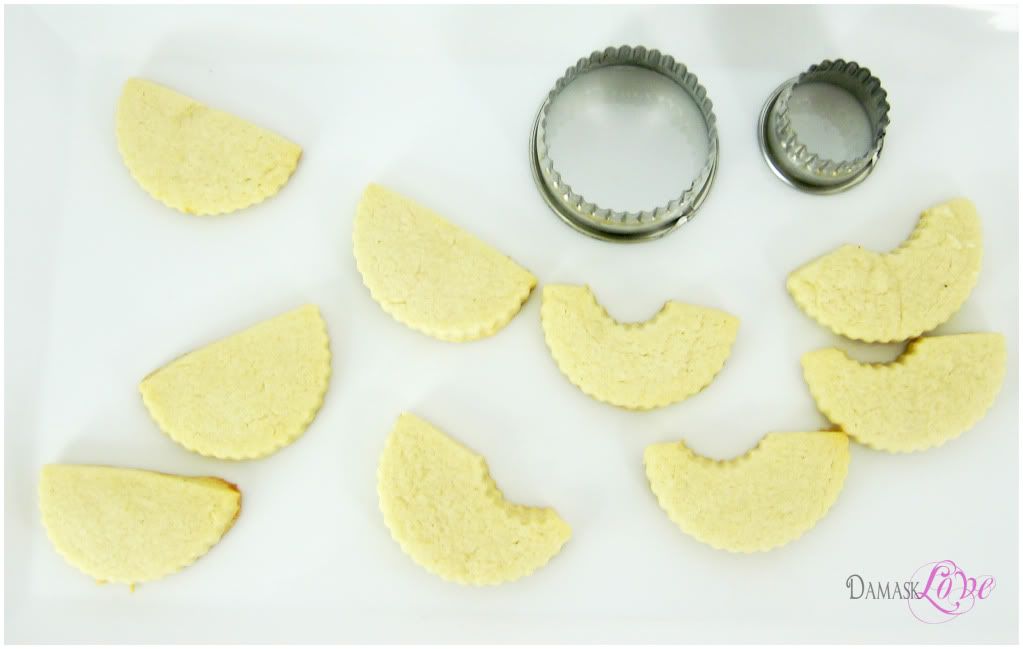 Some cute, simple packaging is all these need! To make the label, I stamped the striped pattern with PTI's Faux Ribbon set and used a pair of decorative edged scissors to finish it off.
Now for the party favor…how about a cute little handmade watermelon notepad!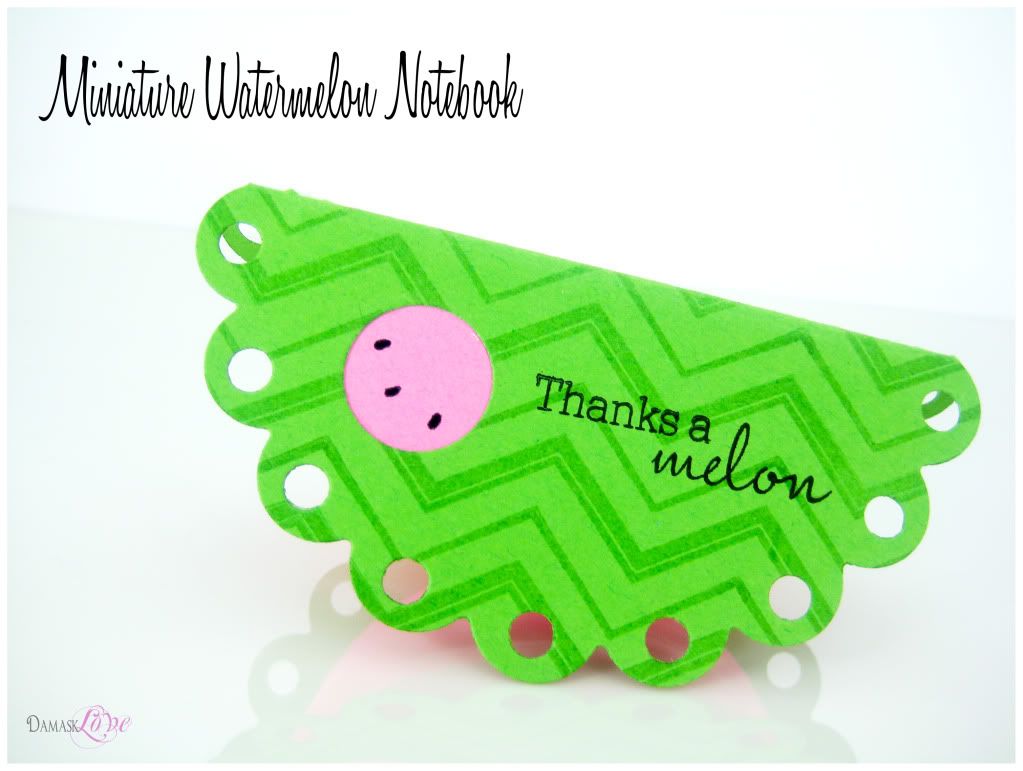 First I used my Nestabilities to cut a green scalloped circle for the cover as well as a few hot pink sheets of paper for the notebook pages.
Next, I stamped the green circle with PTI's Background Basics: Chevron Stripes to mimic the look of watermelon rind.
To combine the pieces of the notebook, I scored everything in half and sewed the seam.
For one final touch, I added a little loop to hold a miniature pencil!
Ok…now that we've covered the party favors … and the snacks, what's a celebration without a prize?!??! No celebration at all, if you ask me. So here it is… a special prize package that I've been hoarding just  for this little shin-dig!
(of course I had to include a Damask print Tote!!!)
You may be scratching your head, thinking…"That's great, Amber, but how am I going to WIN this awesomely, fantastically, wonderfully wonderful prize?!"
Well, I'm glad you asked!
We could have a random drawing from the comments made on this post… Nah!
We could have a crafting challenge… Nope.
We're gonna do this up in real DL style with a….wait for it….SCAVENGER HUNT!
Yup! That sounds like lots of fun!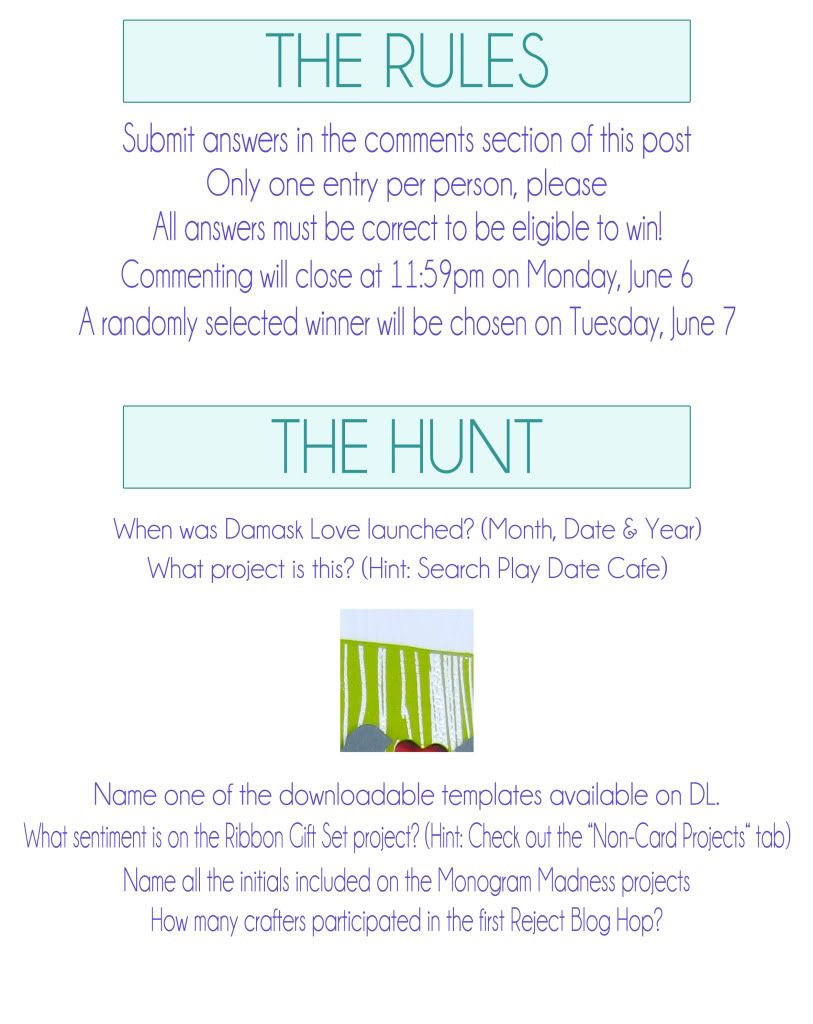 ***feel free to leave comments that are not entries. 
As always, you're welcome to leave a comment to just say "hi!"**
**EDITED TO ADD (on Friday 8:12 am EST): 
For the last clue, I just want to know how many ENTRIES were made into the first RBH….sorry for any confusion! Any answers made before this edit will not be penalized!***
Before I go, I want to say thanks!
Thanks for reading my blog.
Thanks for putting up with my rambling posts.
Thanks for all the wonderful comments.
Thanks for the inspiration.
Thanks…
Thanks a melon:-)
Happy Hunting!
Supplies:
Watermelon Cookie Packages
Stamps: PTI (Faux Ribbon, Fruit Fusion: Melon)
Paper: PTI (Stamper's Select)
Ink: Stampin' Up (Pretty In Pink, Wild Wasabi), TPC Studio Clearly Better (Peppermint)
Other: Papertrey Ink Small Glassine Bags, Scalloped Edge scissors
Miniature Watermelon Notebook:
Stamps: PTI (Background Basics: Chevron Stripes, Fruit Fusion: Melon)
Paper: PTI (New Leaf), Astrobrights Hot Pink paper
Ink: Ranger Archival Ink (Jet Black)
Other: Nestabilities (Standard Circles, Eyelet Circles)