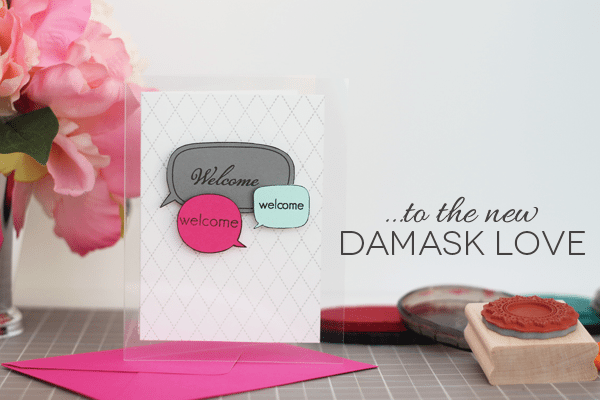 The day has finally come and I am all sorts of excited to officially launch the new Damask Love. To my old friends and new friends, today's post is all about this fabulous new site and giving you a grand tour of the place.

Let's talk banners! The old Damask Love banner…bless it's heart…was the brain child of yours truly. I had just learned how to use Photoshop and was pretty darned pleased with my design. After almost two years of looking at it, I was significantly less impressed. As you may know, my style is bold and contemporary, and I wanted that to be reflected in the banner which is the first thing you see when you visit the blog! The first time I spoke with Ryan at Roundhouse Designs about the new blog, I told him I wanted the new site to feel like a "modern, graphic sketchbook." To me, this description just sounded like a random combination of words, but he knew exactly where to go with the design. When he sent over that "sketch-booky" damask flourish, I was sold!
The "Craft is in Session" tagline is something I came up with while falling asleep one night. I knew I wanted something clever and different that gave readers a quick impression of what to expect at Damask Love: tutorials, instruction and lots of inspiration for creativity and crafting.

The Library is one of my favorite additions to Damask Love. When I started crafting, I searched high and low for information about die cutting, stamping, supplies and places to shop for resources. The goal of The Library is to provide "one-stop-shopping" for information on crafting. As this new site grows, so will The Library. I'll be adding links to video tutorials, downloads, tutorials, helpful websites you may enjoy. The newest edition to The Library is the Complete Card & Envelope Size Guide which includes dimensions for common envelope sizes as well as the cards that fit in them.
Please feel free to contact me if you have ideas for resources that you'd like to see added to the library!

One of my goals for Damask Love is to encourage a sense of community. This is something I didn't do well on my previous blog, but I think it's a really important part of blogging. Substitute Teachers are guest bloggers who take over Damask Love for a day! I think this is a great way to share all the awesome creativity out there in blogland.

And with community in mind, I also am excited to start taking this "class" on field trips! Remember how much fun it was to take field trips as a kid? Well the idea here is exactly the same. I'll share links to the week's most inspiring and creative projects! And if you've created something that you think we should come see, let me know! I'd especially love to see your take on Damask Love projects, so send 'em on over!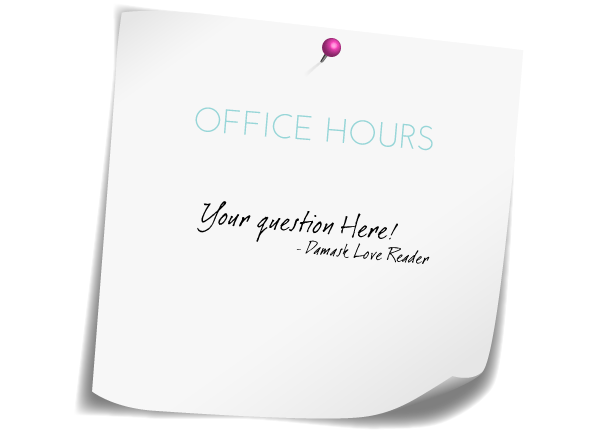 Office Hours is your chance to ask away! Send in your questions and each Thursday, I'll post the answer! In your email to me, please let me know if you'd be ok with having your name and a link to your blog (if you have one) included in the post. No question is too silly and I'll do my best to get to each one!

I thought long and hard about incorporating sponsorship opportunities into the new Damask Love. They certainly have their pros and cons. In the end, the truth is that I often burn the candle at both ends to keep Damask Love up and running. Those of you who host blogs of your own know just how much hard work and money go into this. By offering vendors and other bloggers the chance to sponsor Damask Love, I can ensure that this party will keep going, and going, and going! If you are interested in sponsoring Damask Love, please contact me and I will send over a media kit with more information.

Ahhh…my beloved Enveloped! This is something I've been working on for months and I'm happy to launch it! Enveloped is a handmade card subscription program that will help you build your stationery stash with handmade cards for all occasions. Click over to the Enveloped page for everything you'll need to know about this program!

I think I can safely bet that Etsy isn't new to any of you…but the Damask Love Etsy shop is! I am slowly building an inventory of handmade product, packaging supplies and crafting kits. Over the next few months, I'll be adding items to the shop and you guys will be the first to know about each product being added! If you have items that you'd like to see in the shop, I'm just an email away…and I'd love to hear from you!

Last up is a little something I'm calling CraftingSocial. If you are in the South Florida area and would like to host a little crafty gathering for your friends, just click over to the CraftingSocial page to learn more about this service! And…hey…if you're not in the South Florida area but would like to fly me to wherever you are…I'm totally up for that too!!!
Before I go, I must send a shout out to Ryan and Nick, the brains behind Roundhouse Designs and the two people responsible for my new home. These guys did a fabulous job and were especially patient with me as I sent them millions of emails about all sorts of foolishness. Thanks guys for taking my "modern, graphic sketchbook" and making it a reality!
And…as if that wasn't enough, I have one more announcement: