Things got pretty heated on the Damask Love Facebook and Instagram pages yesterday…well, maybe not heated, but we did have some interesting banter about a highly controversial topic…candy corn.
Do you love it? Do you hate it? Do you care?
Personally, I am NOT a fan of candy corn…and that's putting it gently. I hate the stuff. To me it tastes sugary, grainy, stale gum – and let's be honest, if someone came up to you and said "Hey, want some of this sugary, grainy, stale gum – you would say "Um..no I most certainly do not."
Much to my surprise, there were plenty of staunch candy corn supporters. I respect that. I like people with strong opinions.
So… today, I thought it'd be fun to immortalize The Damask Love Candy Corn Debate of 2012 with a couple of graphics that summarize the two sides in this matter.
First, for the anti-candy-corners…a little quote from yours truly. Something I said to a coworker when she asked me if I liked it: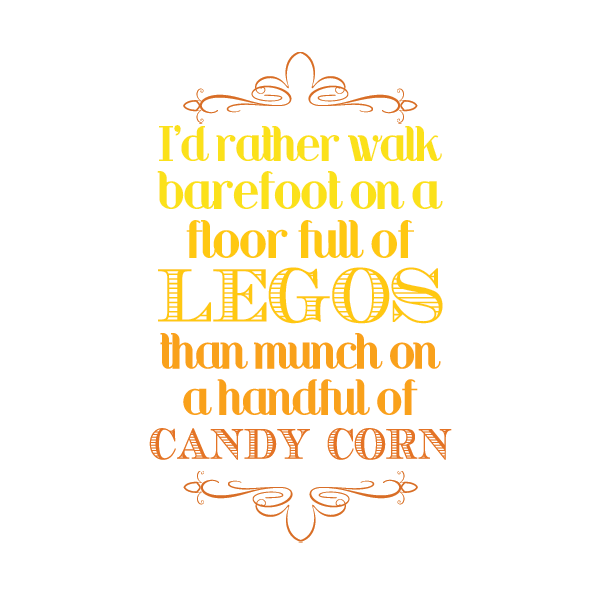 Yep – that 'bout sums up my opinion of candy corn!
But to be fair, I should give a voice to the pr0-candy-corn contingency, so here's a quote straight from a reader that literally made me laugh out loud when I read it: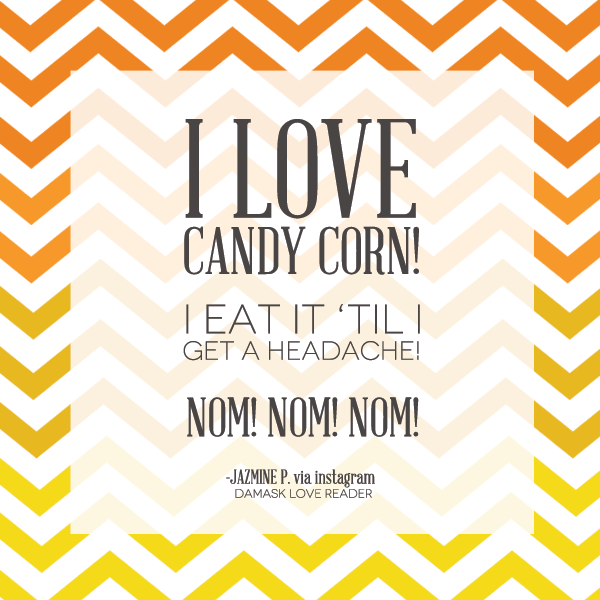 What's your position on candy corn? Share it here – or come on over to Facebook to discuss. And…I'll be back later with a candy corn inspired project as well as an announcement! PHEW! It's a busy Friday here at Damask Love! See you later gators!