So much time, so little to do. Wait a minute. Strike that. Reverse it. One million cool points if you know that reference.
First on the agenda – one minute and seventeen seconds of pontification about one of the most pressing issues in our community. Color combinations. Watch, listen and then head over HERE to answer today's contest question for your chance you win your very own Cricut Explore Air. Enjoy. Or don't enjoy – but lie to me and say you did.
Now another hot topic: What's the deal with all these Cricut Explores,anyway? It's a question I've gotten from a fair number of you crafty ladies. So lend me your ear (or eyeballs, actually) and let me break it down like Britney Spears.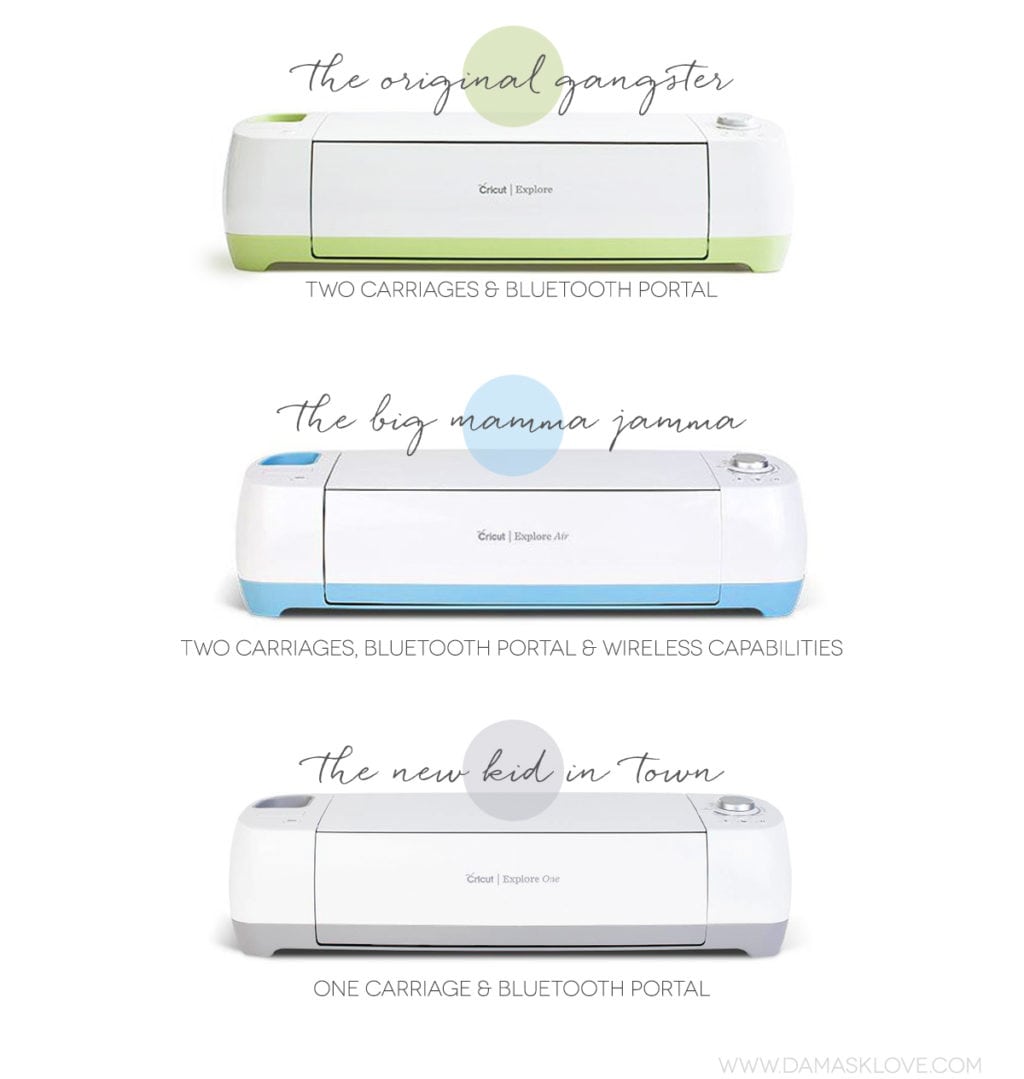 There's this weird thing that goes down in the crafting community. I like to call it "Gimme-All-The-Things-itis." We like to have all the things. Whenever there is a new thing – we want the new thing. If it's a new color – we want it. If it comes in a slightly different package. Yeah. Gimme one of those, too. Even if we don't need it. What can I say – we want the things. All of them. I think that's what is a little confusing about the growing family of Cricut Explore machines. We want 'em all and we can't figure out why they are offering so many. Why or why are there so many? Here's how I look at it…

It's basically like toasters. There's that single slice toaster that I had in my college dorm room. Yeah. Probably shouldn't have had that in there. So grateful that the place didn't go up in a fiery inferno of term papers and cheap tube tops from Wet Seal. Then there is the two slice toaster. The one that most of us have. And last up is the toaster that takes six slices of bread at a time. Perfect if you have a big family. Or if you are running a commercial diner out of your kitchen. Or if you, like me,  are in a Facebook official relationship with carbs. Thing is – they all toast bread. You don't need each model. They all do the same thing. Some faster than others and some with a few extra bells and whistles. But in the end, you've got toast. And hopefully some Irish butter and homemade peach preserves.
That's what is going down in Cricutland. Each of the Explore machines gives you access to the same image library and allows you to create top notch projects. It's just a matter of what works best for you. The original Cricut Explore is the one that I use. It has two carriages in it that allow me to cut and score or cut and write all in one step. It has a Bluetooth portal which can be used with the Bluetooth adapter – which let's me send projects through space (yeah, that's the technical description) to my machine.
The Cricut Explore Air is a newer member of the fam and offers all the same features as the original with the addition of wireless capabilities. This means you can hook this bad boy up to your wireless signal. Since wireless signals are typically more far reaching than Bluetooth, you can send projects to the Explore Air from a greater distance. For example, I usually have to be within 10-15 feet of my Bluetooth adapter in order for it to pick up a signal from my laptop or iPad. With the wireless signal, I can send a project to the Explore Air from my bedroom across the house. Don't worry, I'm working on my first book entitled The Lazy Girl's Guide to Crafting: How to Create Beautiful Things Without Ever Peeling Your Butt Out of Bed. On shelves this summer. 
Last up is the newbie: the Explore One. This machine has a lower price point than the others and offers one carriage, where the others offer two. It will be available to purchase in May 2015.  With the Explore One, you'll need an adapter if you want to cut and score or cut and write in one pass, but this model is great for crafter who don't need all the extras. Perfect for all those creative folks who want to get dip their toes into this whole Cricut Explore thing that is going on – with the option to make a slight upgrade later with the adapter. They want to create simple projects that are impressive. They want to be able to use all the images available in the Design Space library. And they want all of this with a little extra money left over buy two (or twenty) bottles of Two Buck Chuck. I ain't mad at you. Crafting supplies and wine bottles are positively splendid ways to spend your shekels.
So there it is. The Unofficial Damask Love breakdown of the Cricut Explore Family. The price points differ by about $50 from one machine to the next, so take a look and decide which is best for you just. Just know this: they all make toast. Really good toast.