Pom poms are the bomb bomb and if you disagree…well…you're lying to yourself and the first step is admitting you have a problem. A pom pom problem. Because you know you love them. Just say it and we'll move on. We'll move on to today's pom pom project that combines my two loves. The always lovely yarn pom pom and food. Fruit to be exact. This is a healthy pom pom project. High in vitamin C and creativity…and it's pretty easy to make.
Today's pile of cuteness is brought to you by Commonthread, the people you can blame for your every growing collection of yarn and embroidery floss. Hit em up on the all mighty Insta and you may get a sneak peek of more Damask Love crafts to come.
For this project, here's what you'll need:
canvas tote bag
red, yellow and peach colored yarn
a pom pom maker
scissors
a washable pen
green and brown embroidery floss
an embroidery needle
green felt
craft glue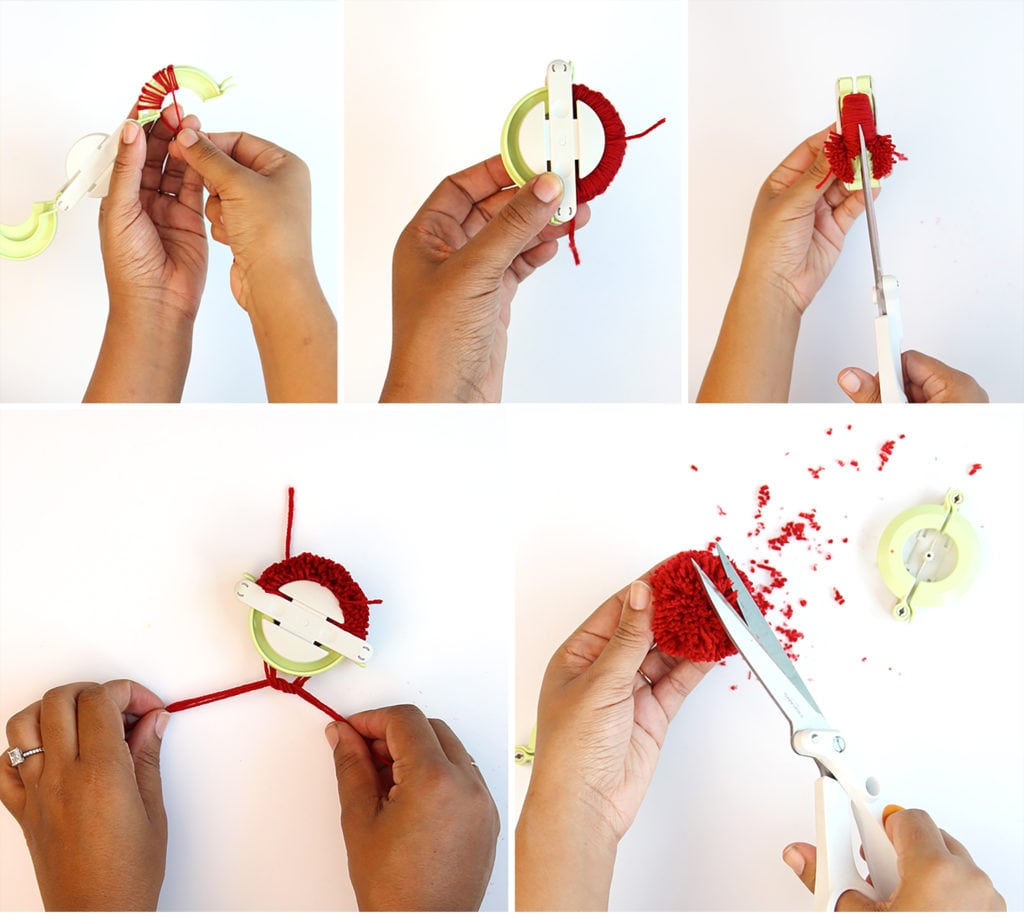 Make half pom poms by wrapping yarn around one half of the pom pom maker. Cut it as shown, tie it off them remove it from the pom pom maker and trim, trim, trim until you have a perfect little pom pom!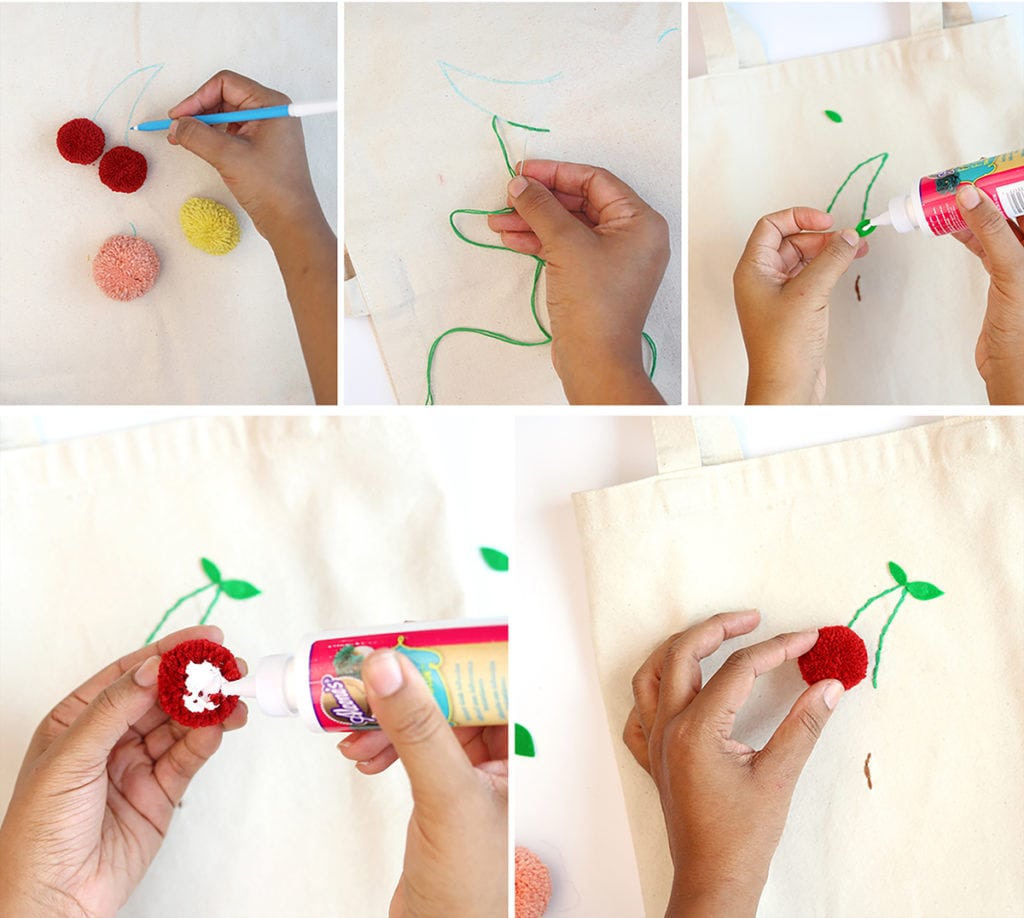 Once you've made all your pom poms, place them on the tote bag and use the washable pen to dray in the stems. Use a backstitch to stitch along the lines. Then you'l need to throw the tote in the washer to remove all your pen line. While the tote bag gets washed, you can catch up on Bachelor and Paradise. It's a good way to lower your IQ while being thoroughly entertained. Too much IQ is bad for you, anyway. Once your tote is washed and dried, step away from the television and glue the pom poms and felt leaves into place.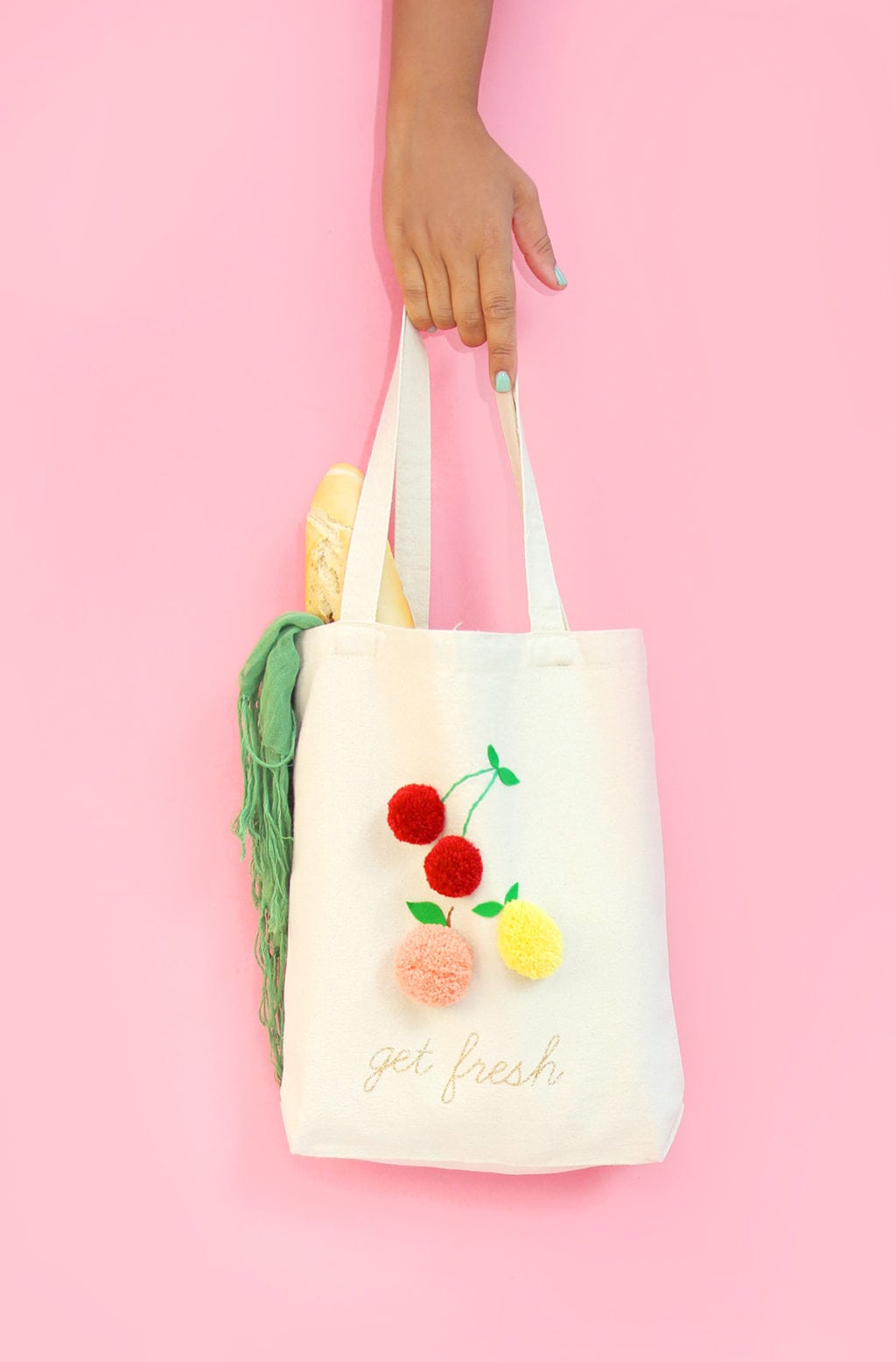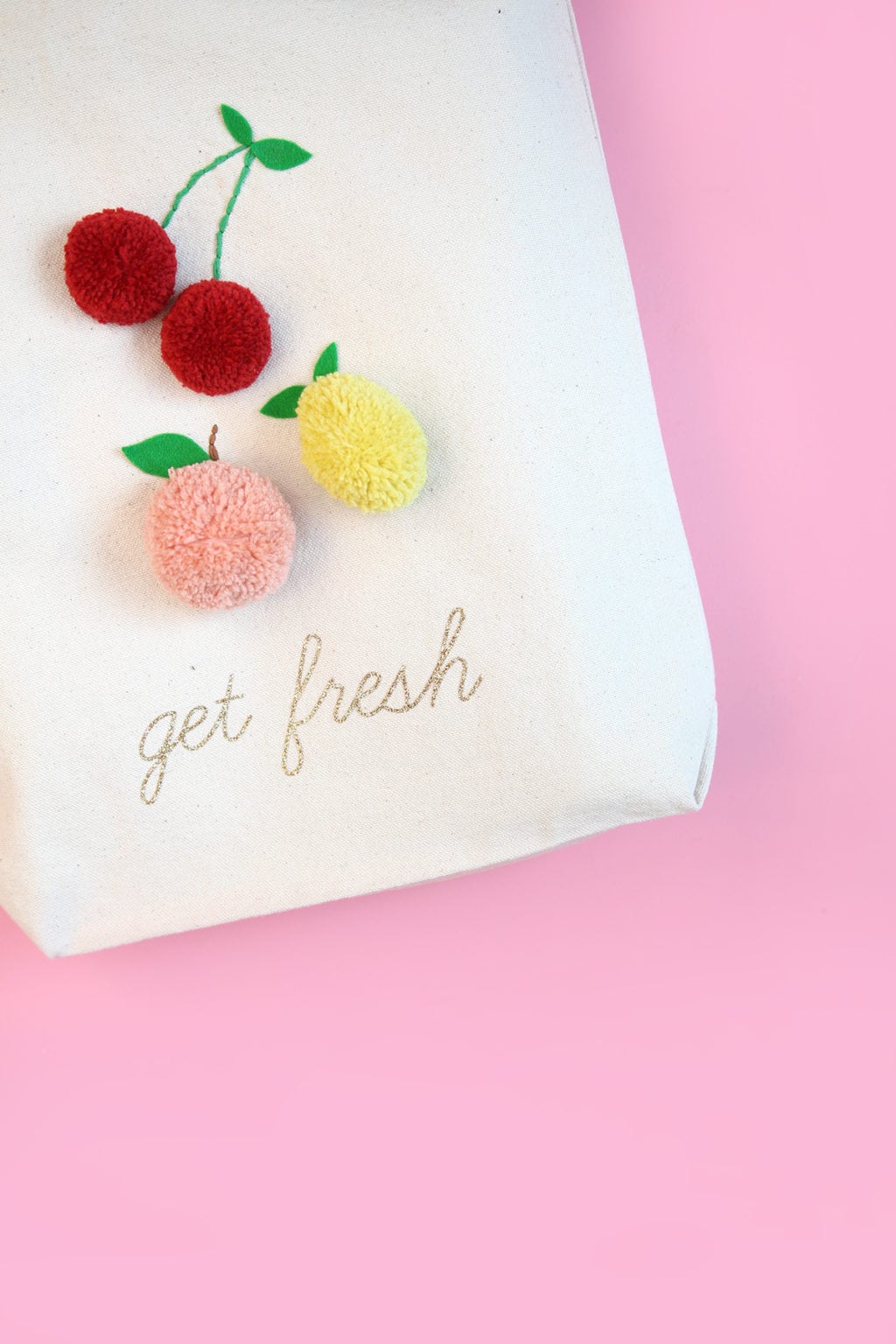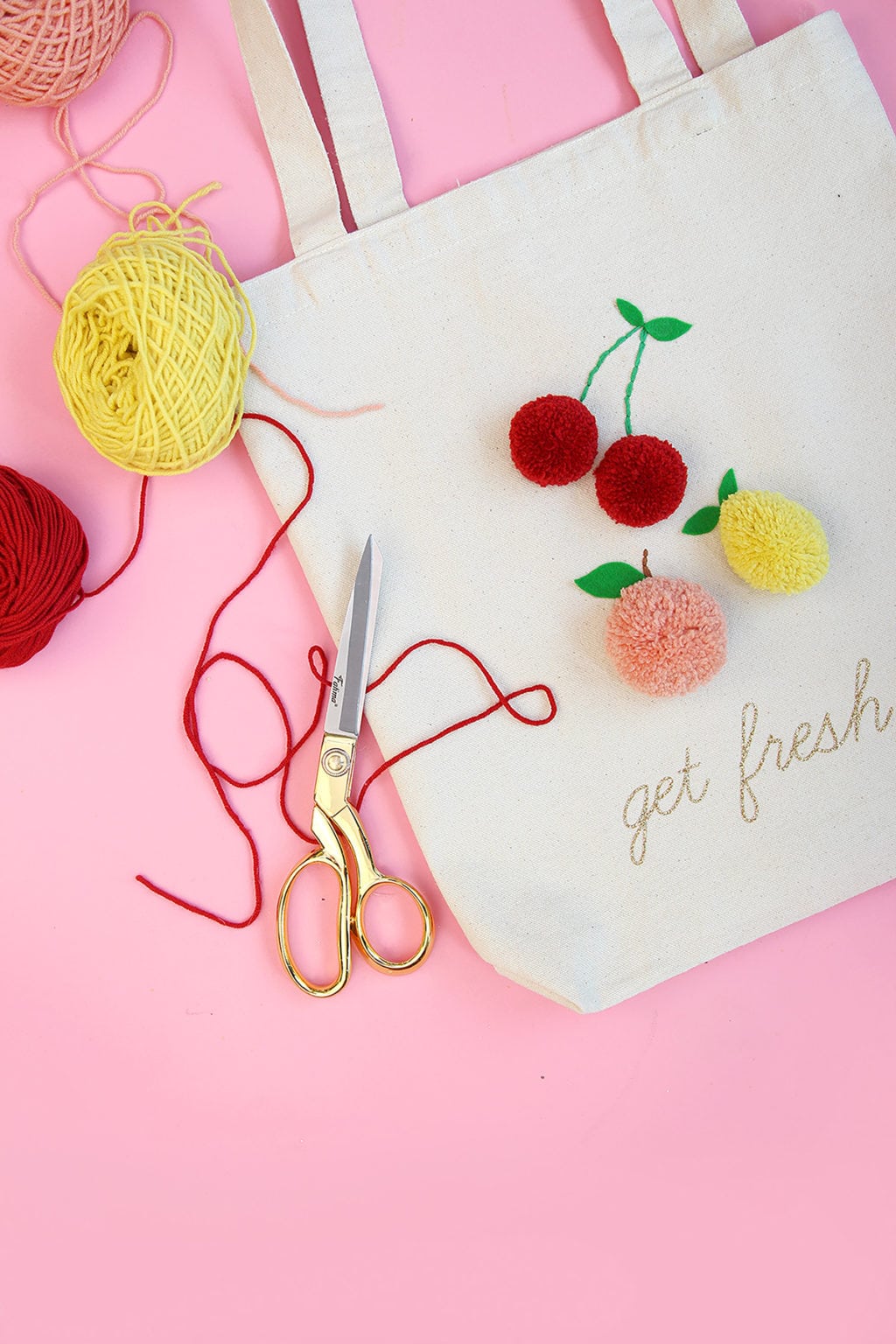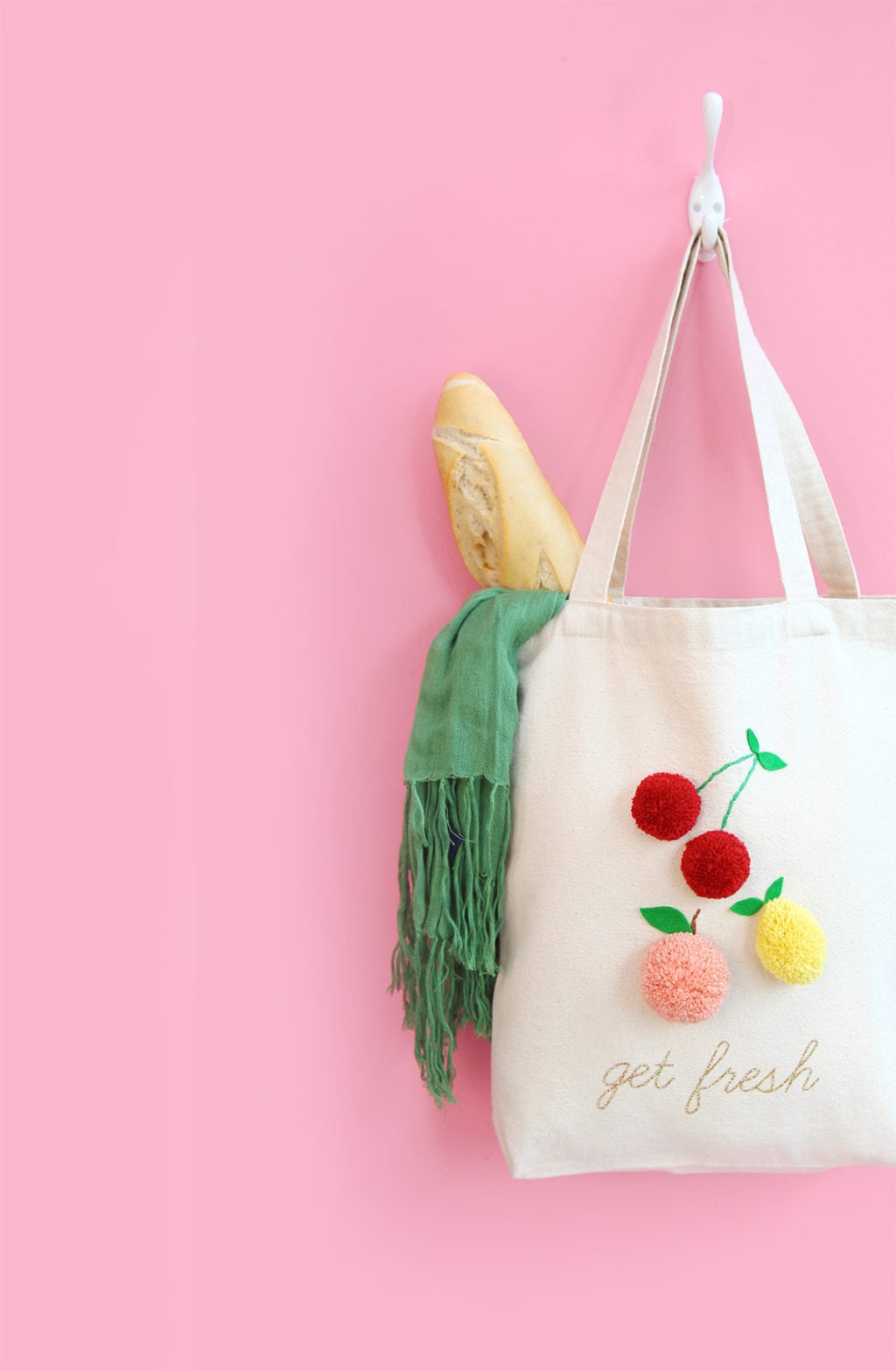 To finish off my tote, I added a couple of iron-on words that I cut out with my Cricut Explore. Isn't this tote the cutest! Sidenote, I mistakenly left this tote sitting on the bookshelf next to Markus's crib and he pulled it down during the middle of the night and started chewing on the pom poms. I learned two things: Pom poms make awesome teething toys. I'm an A+ parent.
Can't wait to hear what you think about today's project. Can you think of any other pom-pom-able fruits that could go on this tote?
Disclosure: This post was published in partnership with Commonthread USA. I received product, payment or both for creating this original content. All project ideas, photographs and wacky stories are all my very own. Thanks for supporting the sponsors who help keep the lights on in this joint.