There are plenty of ways to get pre-printed holiday cards and Lord knows I love them – but sometimes it feels good to make your very own holiday cards with  good 'ol paper and glue, right?
I've assembled a DIY Holiday Card Kit that you can build yourself, and you'll have absolutely everything you need to craft up about 50 holiday cards. Assemble this kit and sit down in front of a terribly enjoyable Hallmark movie and craft up a batch of cards. I promise you'll have so much fun. There are no rules and there is no right way to do it. Just start combining paper, stickers, glitter and twine. It's so fun to see how many different designs you can create. Invite a friend, grab some wine and that'll make things even more interesting!  Let me show you what you'll need to assemble this kit.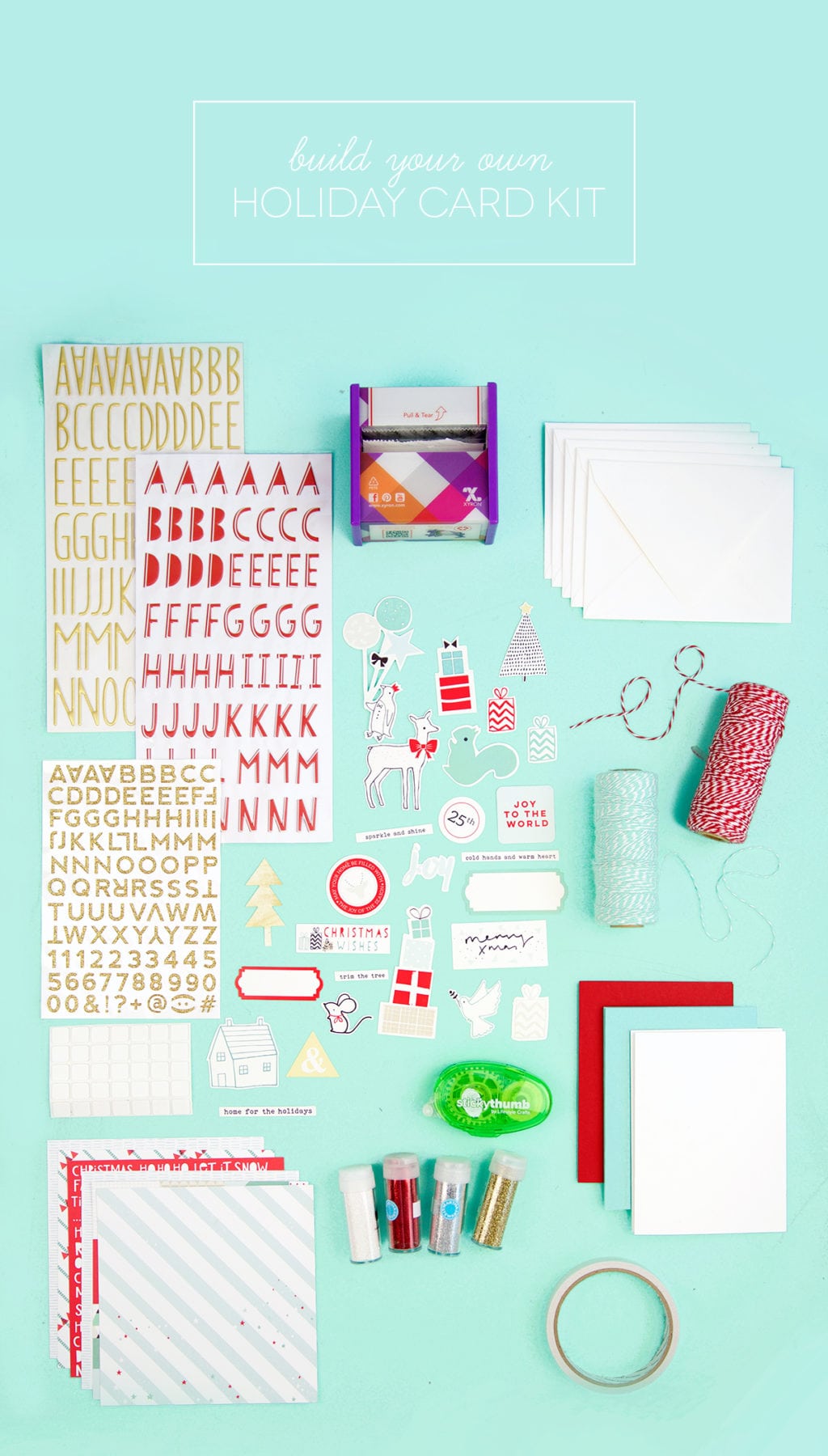 Plain folded cards: 
If you're going to make holiday cards, you will probably need cards. I start with pre-folded cards in white but you can add a few colors if you want. You can grab a pack of cards from most craft stores you can order these. You can also make your own. Just check out the tutorial in Craft 101 that will walk you through how to make your own folded cards. (Cost: $6.00)
Plain envelopes: 
Throw those cards into an envie. You probably have some lying around the house, or you can use these. (Cost: $3.25)
Patterned Paper: 
Patterned paper is your key to turning your simple, plain cards into something special.  Apply adhesive to the front of your card then place the patterned paper on top. Then use scissors to cut away any excess patterned paepr hanging over the edge. You can also use the patterned paper to cut out designs. Get creative. For my card kit I used the Christmas Wishes paper pad from Pink Fresh. I love the red and aqua color scheme for the holidays and it fits perfectly. (Cost: $5.99 for 6×6 pad and $11.99 for 12×12 pad)
Cardstock Embellishments ($4.49)
These are key! These cute little embellishments are ready and waiting for you to play with. No stamping, no coloring, jut get to it. Again, I went with the embellishments from Christmas Wishes since they coordinated easily. (Cost: $4.49)
Foam Square Adhesives ($2.49)
Make those embellishments pop off the paper with a little help from dimensional foam adhesives. (Cost: $2.49)
Double Sided Adhesive and/or Tape Runner ($6.49)
You'll need to stick everything in place so make sure you've got a good amount of sticky stuff on hand. You can either use a tape runner or double sided tape. Either will work great!
Alphabet stickers ($4.99)
Spell out your very own holiday messages with alphabet stickers. I like to have a couple of options when it comes to alphabet stickers just tp be sure I have enough letters and a couple of color choices. The chipboard alphabet stickers from Pink Fresh are modern and fun. I also grabbed two gold sets of alphas, but it 's totally up to you!
Glitter ($7.84)
It holiday season. Glitter is a must. Nuf said.
Baker's Twine ($6.00)
If you've been crafting for longer than ten seconds, you already have a decent baker's twine stash. Add it to your holiday card kit and use it for simple embellishments like creating borders or tie it into a teeny tiny bow for the front of a card.
Sticker Maker ($10.38)
This isn't really a must have – but it will make quick work of all those embellishments. Run a bunch of the embellishments through your sticker maker and you'll have them ready to go when you hit high gear with the card crafting.
GRAND TOTAL: Once you've got all your supplies, you can get to crafting and you can make about 40-50 cards with all the supplies you've collected. You can switch between super simple d esigns to cards with more fun embellishments. You'll spend about $1.40 for each card which is a great price for handmade holiday goodness. The recipients will love you for your crafty ways and you'll have fun whipping up all these pretties.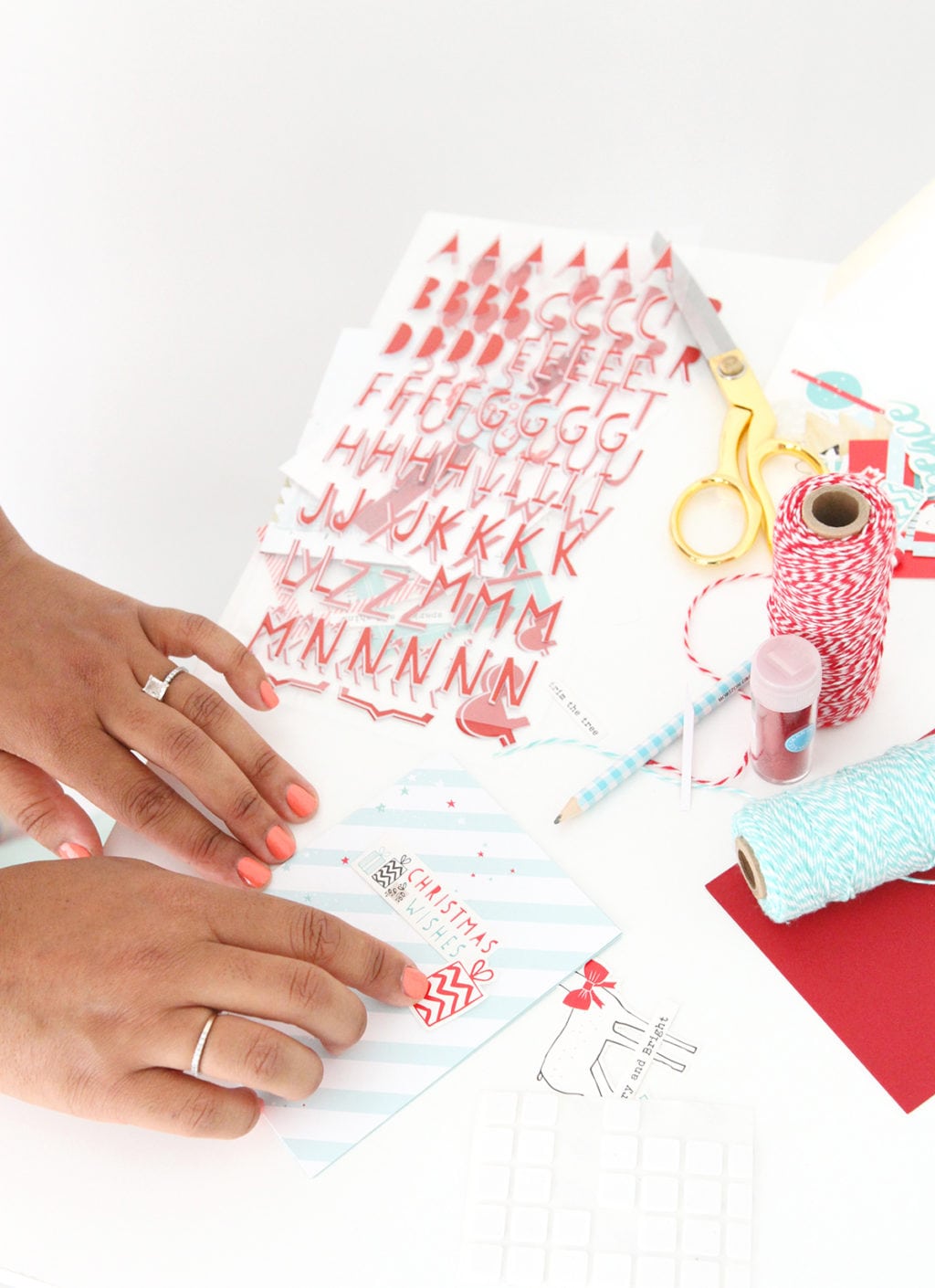 Now it's time to get crafting! I created a few samples to get you inspired but there is so much more that can be done with these simple tools. One of my favorite simple techniques is using double sided tape or the tape runner as an adhesive for the glitter. Drag the tape down your card then sprinkle the glitter into place. It's great for creating quick borders or patterns.
And don't forget to use some patterened paper as envelope liners!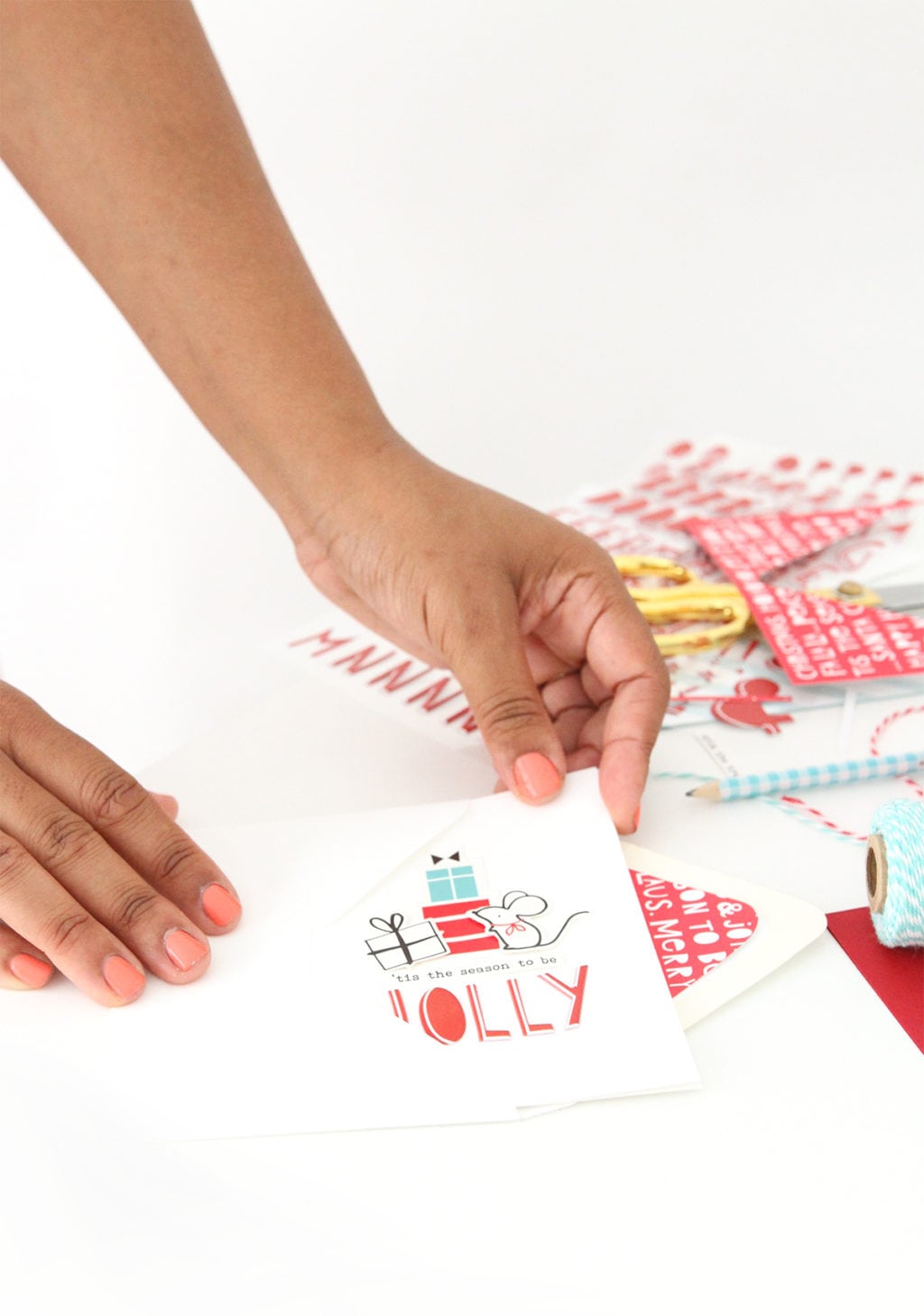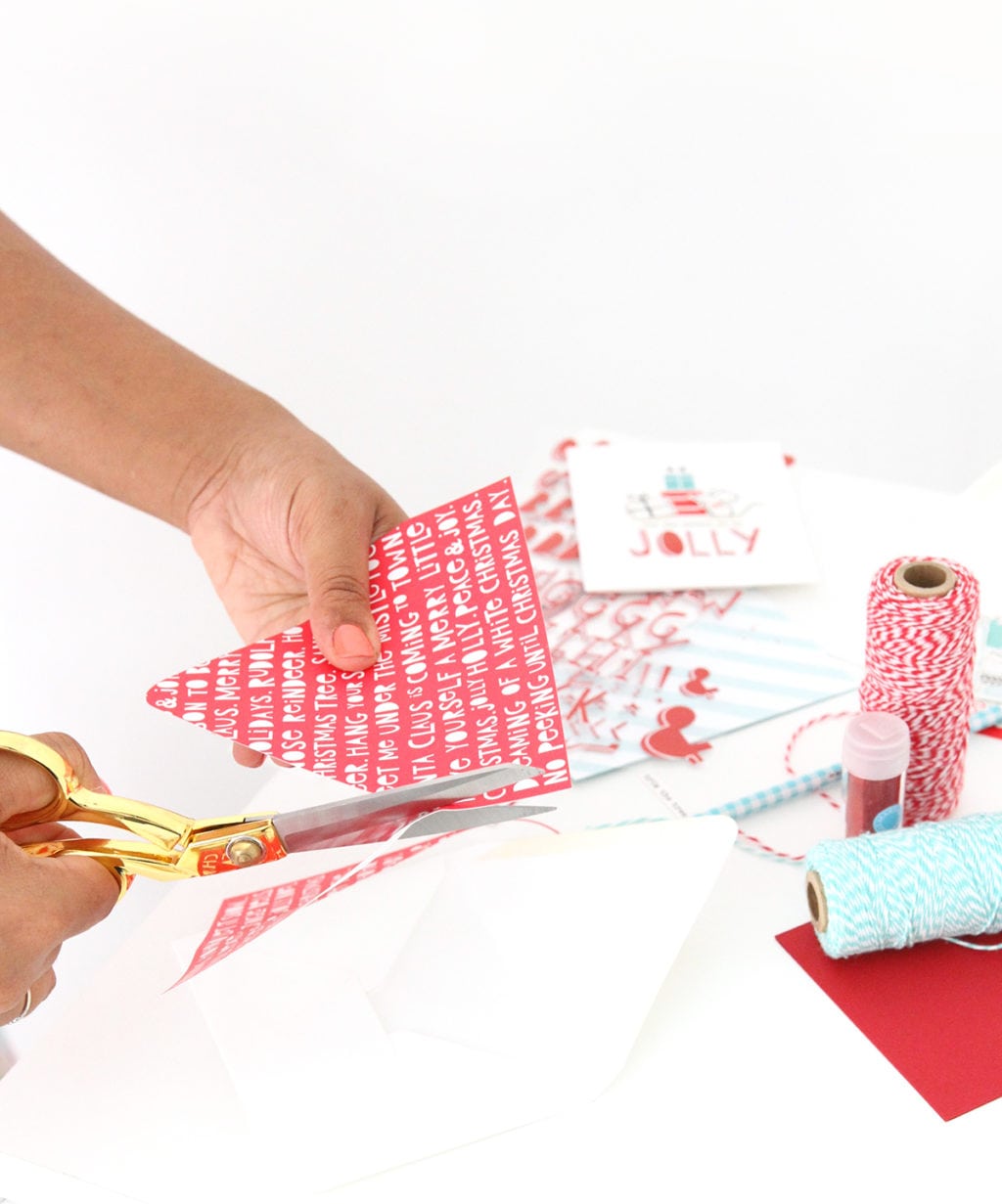 Keep all your holiday crafting supplies in one place so you can stay organized and clean up your mess quickly.
I opted for a little paper suitcase that is perfectly sized for all these goods. With the addition of a few alphabet stickers, the suitcase become my official holiday card making headquarters.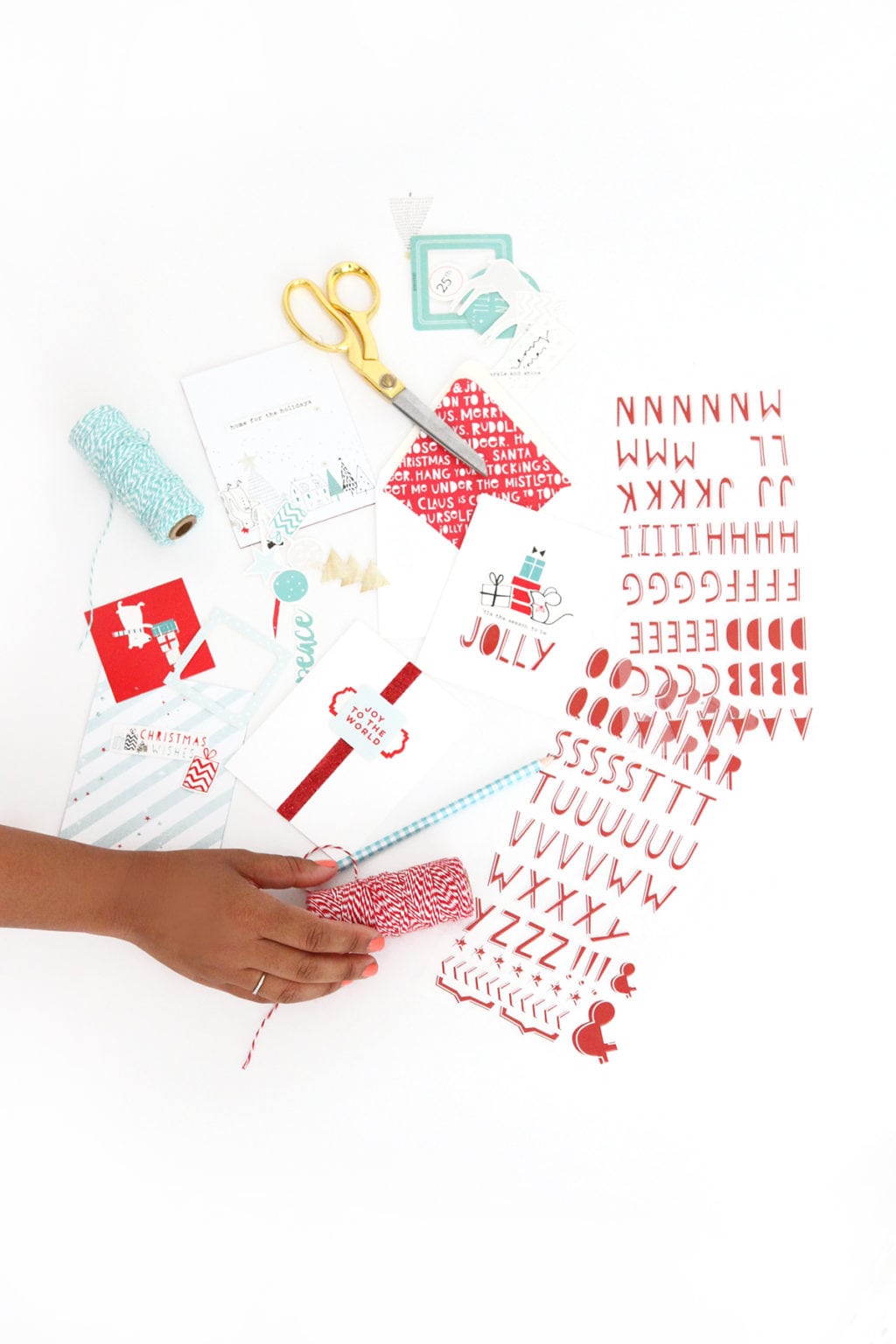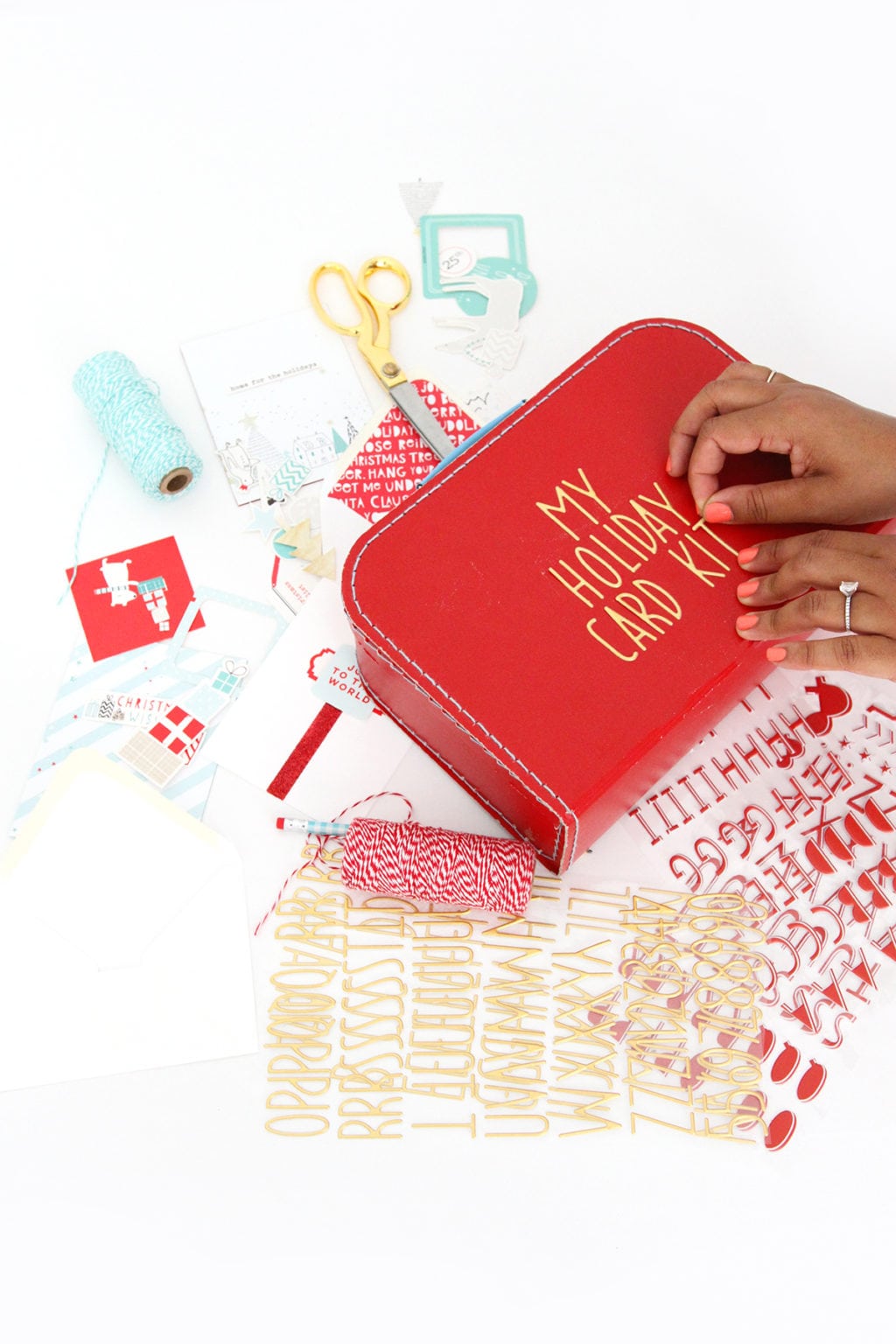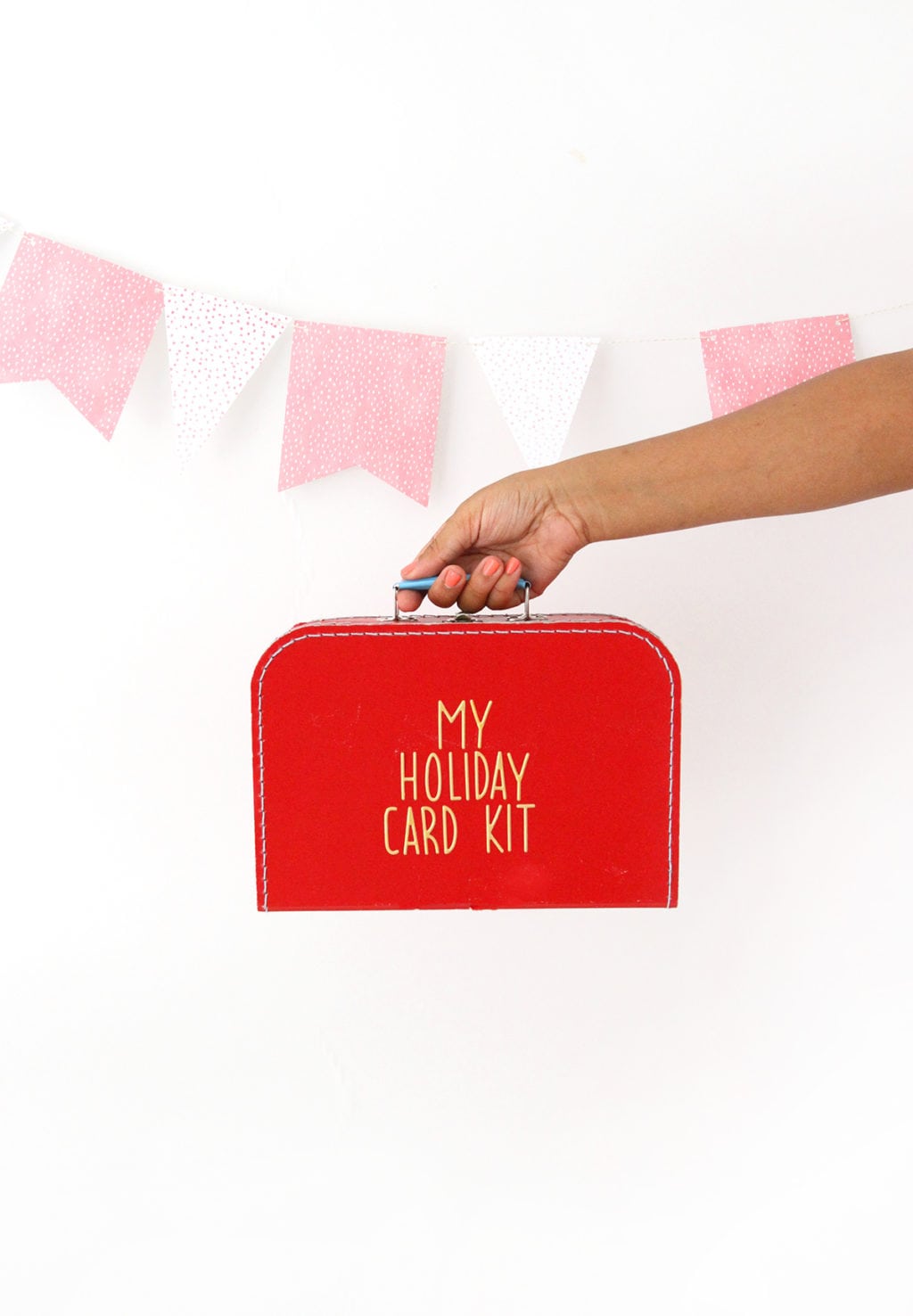 Now it's your turn to build a card kit. It's a ton of fun and really won't break the bank. Keep scrolling for a complete, clickable list of everything you need to make a holiday card kit just like mine!
Styling & Crafting: Amber Kemp-Gerstel
Photography: Natalie Melissa Photography