(said in my best Dwight Schrute voice):
When was the last time you made an emergency trip to Michael's for Fun Foam?
A. What's fun foam?
B. Why would I ever go to Michael's?
D. Yesterday. After you got off work…in hopes of finding the colors you needed for the project that you already sketched out.
Well, if you are me – the answer is D!
(If you're Andrew, the answer is B !)
I know it sounds crazy but it's true!
And here's the sketch to prove it. 
(I sketched my  ideas while I sat on the train on my way to Michaels!)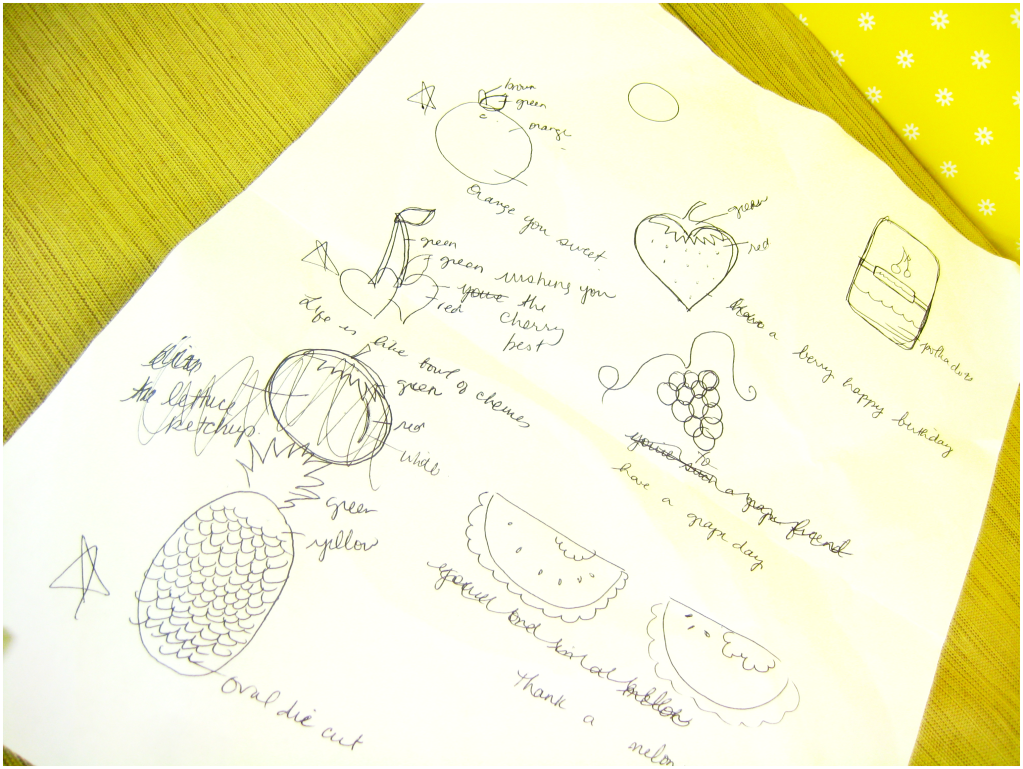 Papertrey Ink is to blame for my new love of Fun Foam.  
This week's Make-It-Monday challenge is all about fun foam and die cutting the foam to create fun embellishments for any paper crafting project.
The idea for my project was inspired by PTI's Fruitful stamp set. I've owned this set for a while, but haven't used it yet.
I thought it would be cool to use fun foam to create simple fruit shapes.
Before I unveil the finished products, I am compelled to share one thing:
Since WHEN was fun foam such a popular product!?!?! 
Before yesterday, I was oblivious to this stuff. Then, I walked into Michael's and there is an ENTIRE aisle that is solely dedicated to Fun Foam!!! It comes in every possible shape, color and size you could possibly want. I was amazed!
Now that I've shared my amazement – let's take a look at my simple fun foam cards!
**Beware – LOTS of photos and commentary**
I started with these sweet cherries. I used the PTI Heart Prints die and created my own punny sentiment.
Before die cutting the fun foam, I covered it with strips of Scor-tape and added glitter. This was a super simple way to dress up the fun foam.
If you've been following my blog, you know that I have an affinity for card sets.  I just love making a complete set of cards – they are especially great for gift giving!
I kept the fruit theme going with a few more cards, each with it's own fruity sentiment.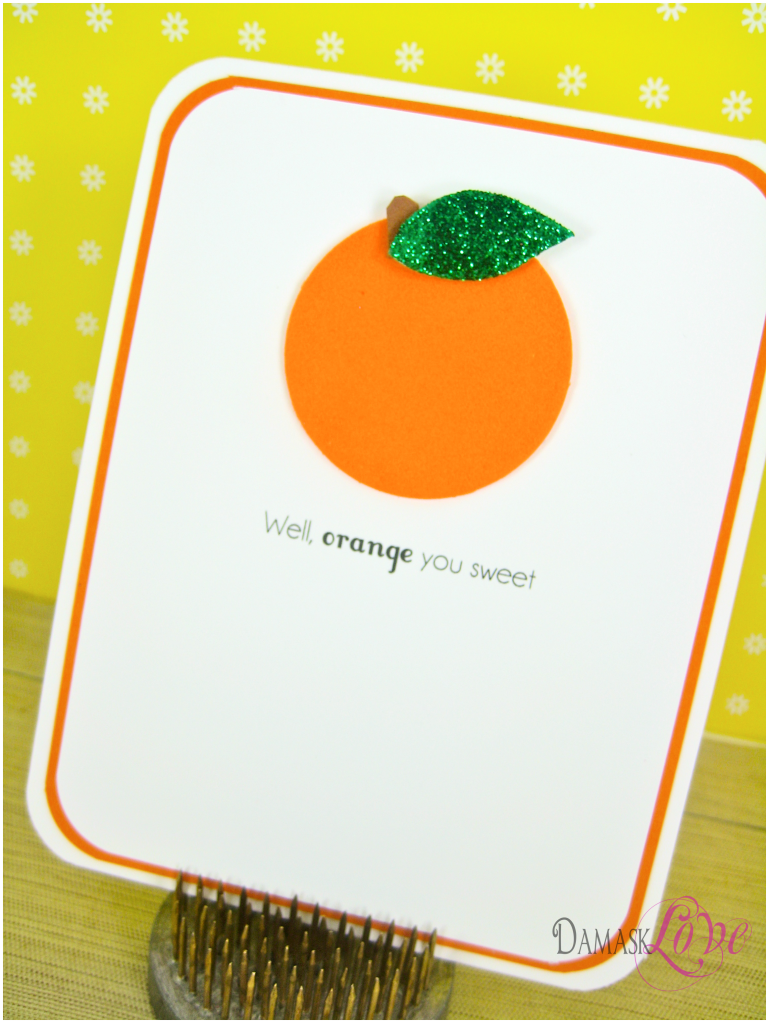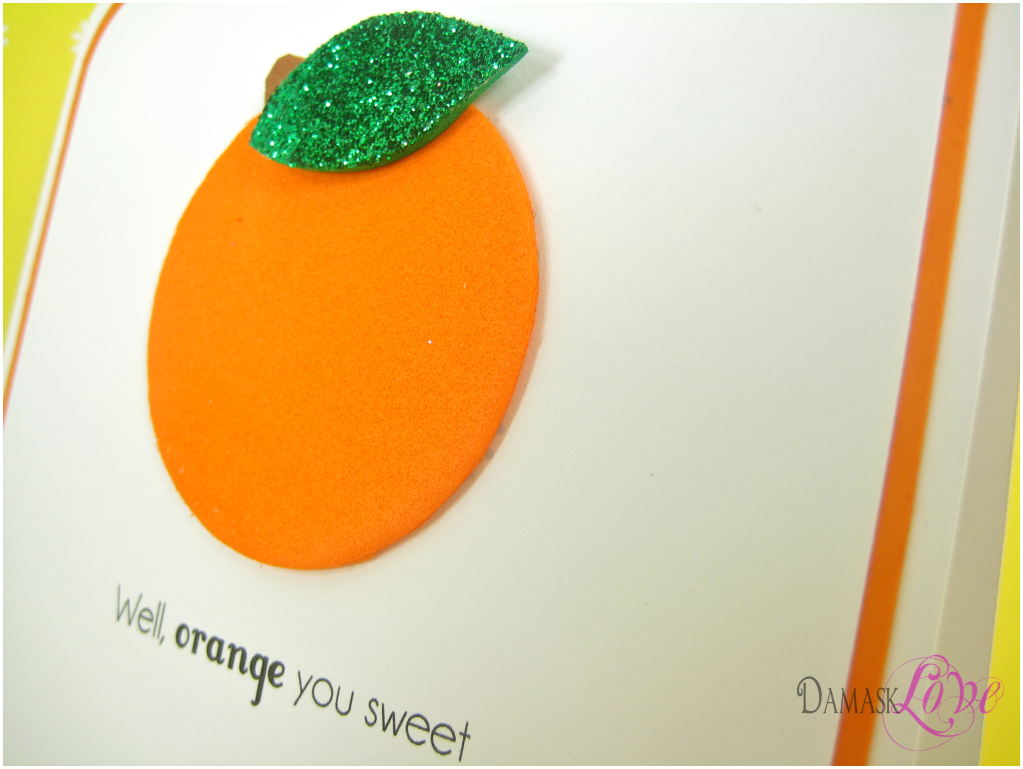 And what's a set of cards without a set of coordinating, lined envelopes!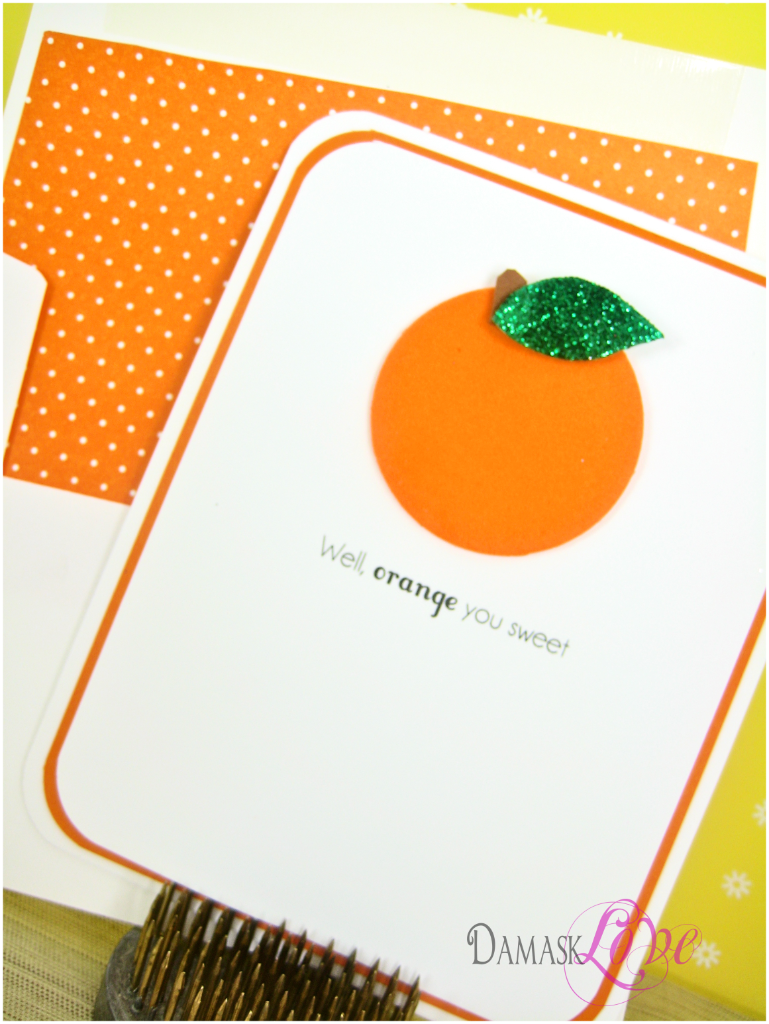 Next up – a sweet little watermelon that I created by using the  PTI 1.75″ Limitless Layers dies.  I also used a Cuttlebug die to cut out a little "chomp" in the watermelon – SO DARN CUTE!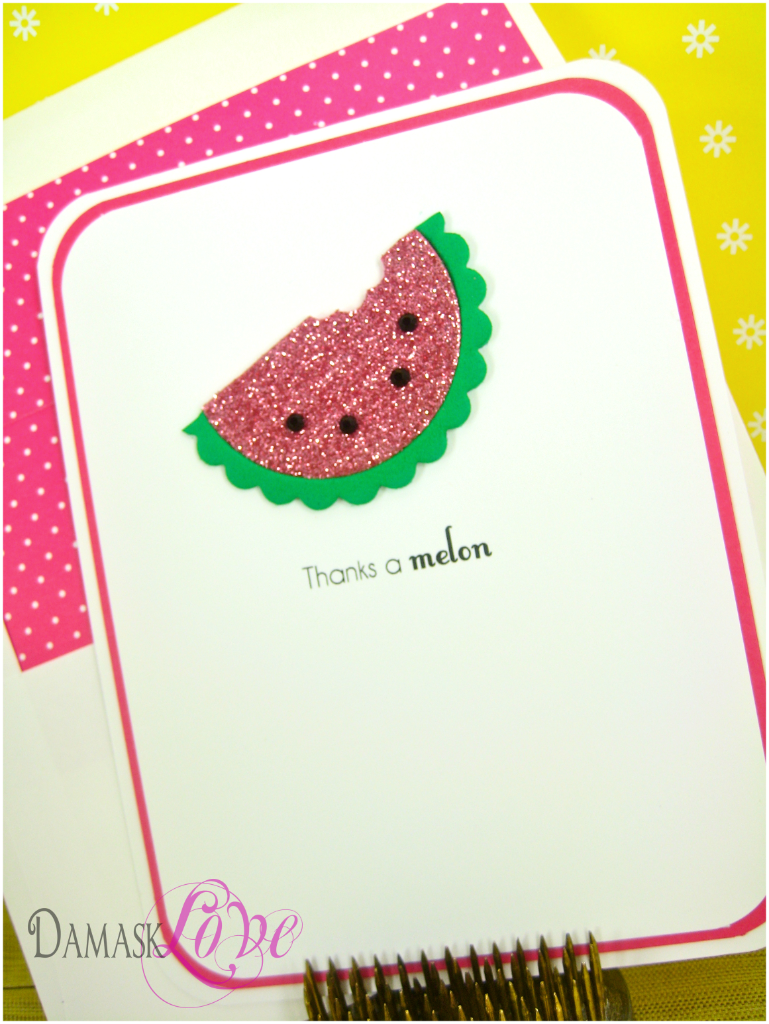 My last fun foam fruit card features a cute little bunch of grapes.
I don't own a die that is small enough to cut out the individual grapes, so I used these precut foam flowers that I found at Michael's.
I popped out the center of the purple flowers and since they were already adhesive on one side, it was easy to add glitter to the tiny little circles.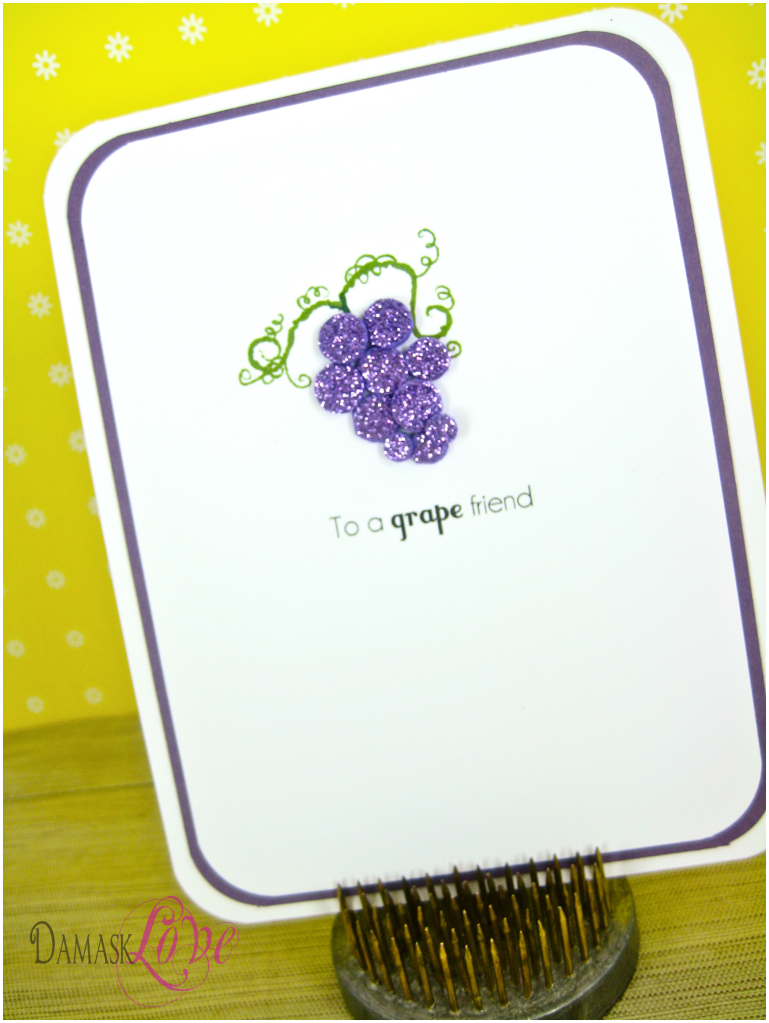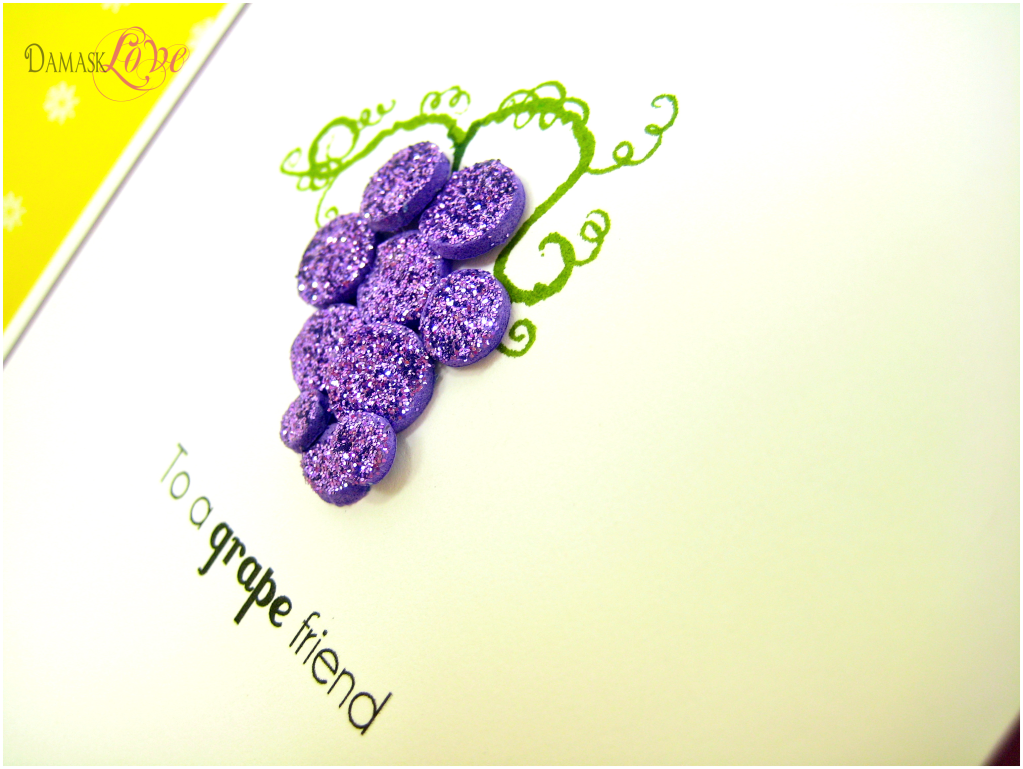 I just love how these turned out – and I'm especially proud of the sentiments. My corny side was very useful in coming up with those!
Thanks for stopping by for some Damask Love and have a wonderful day!
Supplies (All Papertrey Ink unless otherwise noted):
Wishing you the cherry best:
Stamps: none

Paper: Stamper's Select white, Pure Poppy, 2008 Bitty Dot Basics patterned paper

Ink: none
Other: MS Word (for sentiment), Martha Stewart glitter, Fun Foam, Tombow Watercolor marker (for cherry stem), corner rounder
Well, orange you sweet:
Stamps: none

Paper: Stamper's Select white, Orange Zest, 2008 Bitty Dot Basics patterned paper

Ink: none
Other: MS Word (for sentiment), Martha Stewart glitter, Fun Foam, corner rounder
Thanks a Melon:
Stamps: none

Paper: Stamper's Select white, Raspberry Fizz, 2008 Bitty Dot Basics patterned paper

Ink: none
Other: MS Word (for sentiment), Martha Stewart glitter, Fun Foam, black adhesive rhinestones, corner rounder
To a grape friend:
Stamps: Fruitful (grape leaves)
Paper: Stamper's Select white, Plum Pudding, 2008 Bitty Dot Basics patterned paper
Ink: Vivid dye ink (olive green)
Other: MS Word (for sentiment), Martha Stewart glitter, Fun Foam Flowers from Michael's, Fun Foam, corner rounder