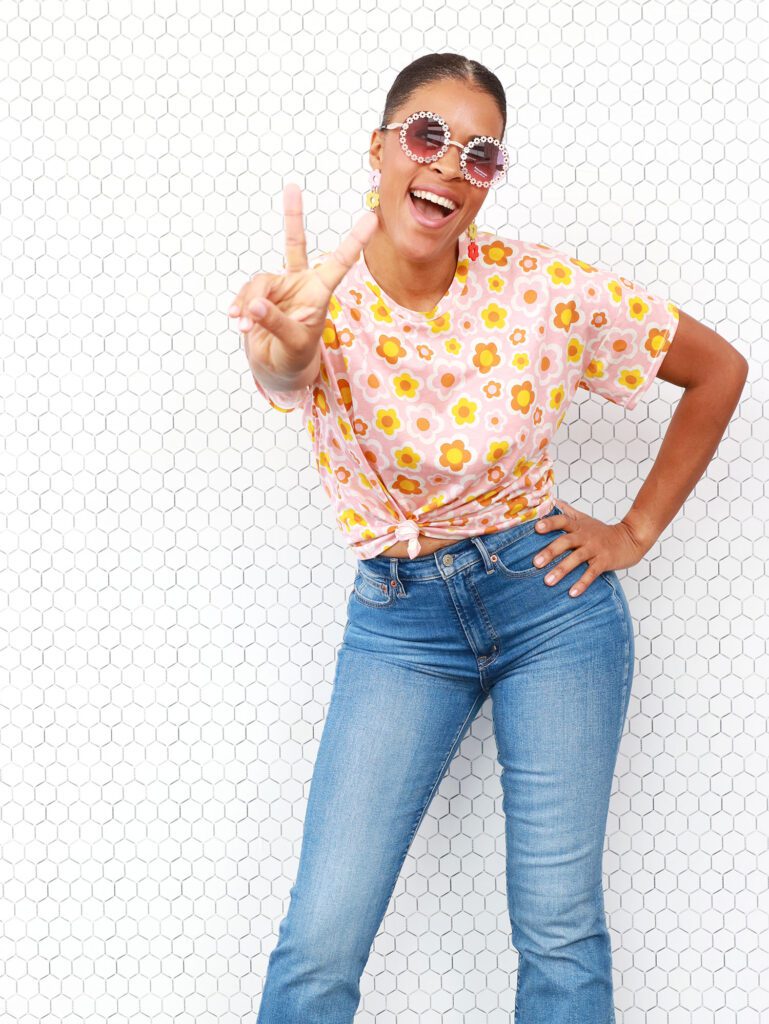 See that tee I'm wearing. Yep. I made it. And it's way easier to sew a tee shirt than you think! I'm rounding up all the tips you need to learn how to sew a tee shirt. Keep scrolling and let's get started!
STEP 1: Buy the fabric
The best fabric for sewing a tee shirt is Cotton Jersey with 2% Spandex or less. For my tees, I chose fabric from the POP! Collection at JOANN Fabrics. There are a ton of adorable prints to choose from including seasonal prints. The photo above is just a teeny glimpse at all the cotton jersey prints that are available. For your tee, you'll mostly likely need 1.5-2 yards of fabric. Make sure to pre-wash the fabric before sewing your tee shirt. This will account for any shrinking.
STEP 2: PURCHASE YOUR SUPPLIES
In addition to the fabric, you'll need a few key supplies to create a super profesh tee. Here's the rundown:
Cotton Jersey Needle: You'll want to have a specialized needle that works with stretch knit fabrics. Look for a ball point needles that specifies "Jersey" on the packaging. Like this one.
A Twin Needle: this is a game changer! With a twin needle you can create professional hems on the neckline, sleeves and bottom of your tee shirt. I highly recommend it.
Sharp Scissors or a Rotary Trimmer: anytime you cut fabric you'll need something to cut with! With jersey, you want to make sure your tools are sharp to avoid any pulling or stretching as you cut through the fabric. These are my absolute favorite. The offset design makes table top cutting very easy.
STEP 3: PICK A PATTERN
You'll need to cut the fabric using a pattern. The pattern I SWEAR by is THIS one. It's simple and has a great drape to it.
STEP 4: HOW TO SEW A TEE SHIRT
Once the fabric is cut and your supplies are ready, all that's left to do is sew a tee shirt! I HIGHLY recommend THIS video tutorial which walks you through the steps.
TIP: when sewing a cotton jersey tee shirt, make sure to use the stretch stitch setting on your sewing machine. This way you'll maintain the stretch in the fabric.
Last thing to do is rock your tee! Just be warned, once you know how to sew a tee shirt, you'll want to sew ALL the tee shirts! There are just too many cute prints to pick from! You'll want them all!