Yes. I'm alive. Yes. I'm still blogging. Yes. I'm exhausted.
All of the above are very true and you'll be happy to know that my exhaustion is not only the result of mothering a 3 month old baby – but also because there is a brand new Damask Love coming your way in a matter of weeks, which means a whole lotta behind the scenes planning, designing and creating is happening over here.
But that's not what I'm here to talk about today. Today I'm here to talk to you about a little obsession of mine: desks. You know how most people go snooping around in your medicine cabinet? Well – I'll go snooping around in your office – because I want to see your desk. I want to see what it looks likes and mostly, I want to see what kind of cool doo-dads and knick-knacks are sitting atop your desk. I won't steal them from you or anything. I just wanna see them. I suppose this obsession is the result of too many hours in blogland, stalking the beautifully styled desktops of creative bloggers. It probably has something to do with the fact that my desk looks like I threw everything up in the air and let it stay wherever it landed. I look up to people with pretty desks the way most people admire couponers…or the lady who always has a nice manicure. People with pretty desks just seem to have their act together…and maybe one of these days I'll get my act together too. For now, I'm taking it one step at a time. Well, one DIY at a time really. Something easy to make for my desk.  It's pretty. It's trendy. It's totally doable.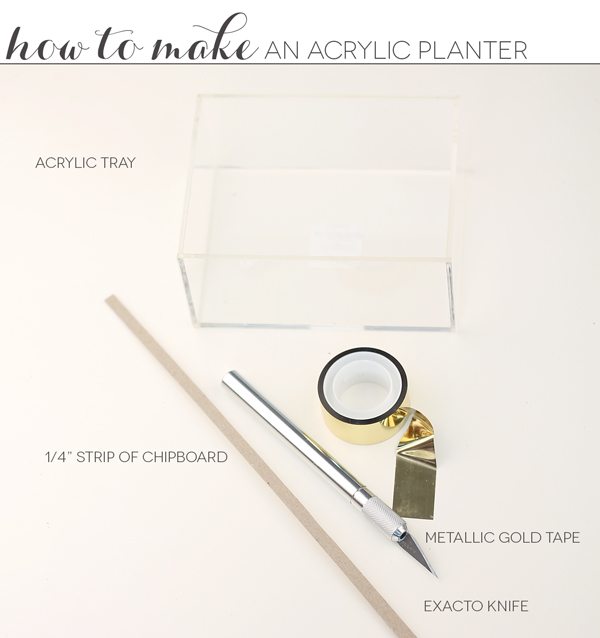 The supplies for this project are simple enough – but you'll want to get the right things:
for the vessel, I used this acrylic tray from The Container Store. The sharp, crisp edges of the tray make for a very sleek and modern look. It's also a great size for your desk. Not too big. Not too small. If you want something a bit bigger, just scour the aisles of The Container Store and you'll definitely find something. If you stop by before March 22, 2015 – you can take advantage of their Office Sale which includes tons of acrylic items like the one in this project.
for the metallic tape, I strongly suggest this one (similar here). It's the stuff of dreams. It's mirror gold. Like gold, gold. Like Willy-Wonka-I've-Got-The-Golden-Ticket gold. Get some in your life. Immediately.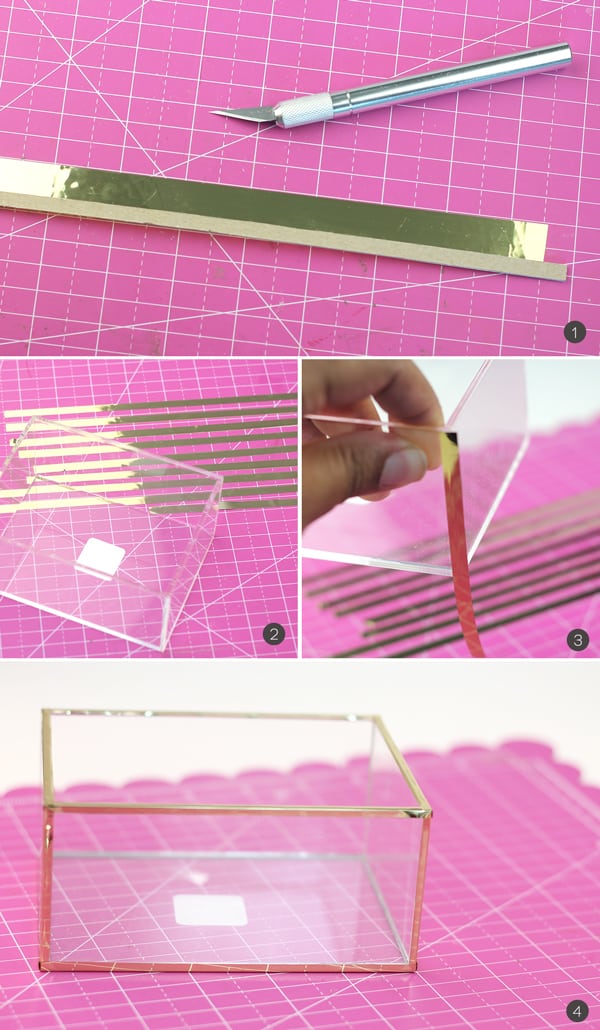 Use the chipboard strip as a guide to cut strips from the metallic gold tape
For this acrylic tray, you will need about eight 11″ strips
Begin covering each corner edge of the tray with tape
Cover all the corners of the tray and you're done!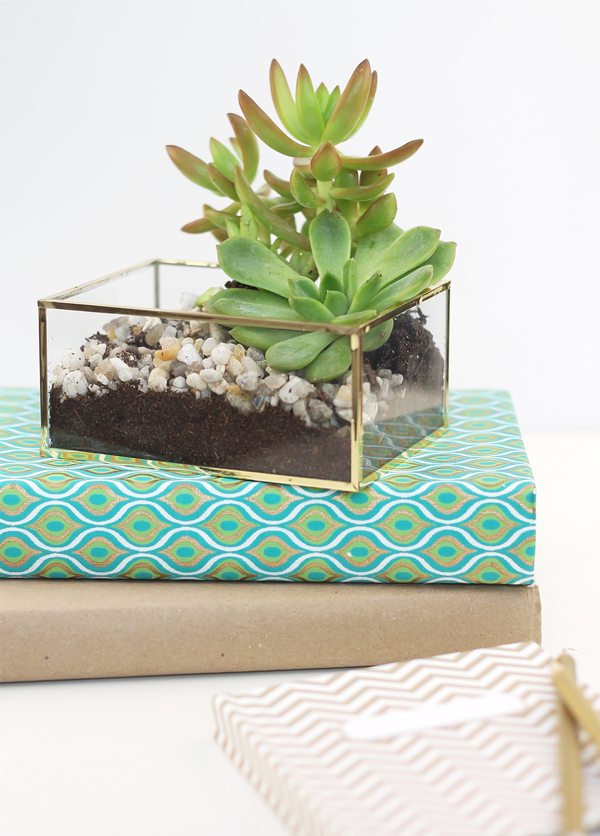 I filled my tray with a little dirt, some pebbles and a couple of succulents – since they are the only plant that I can't kill. You desk will thank you for this pretty little thing.
Now it's time for me to tackle the rest of the mess!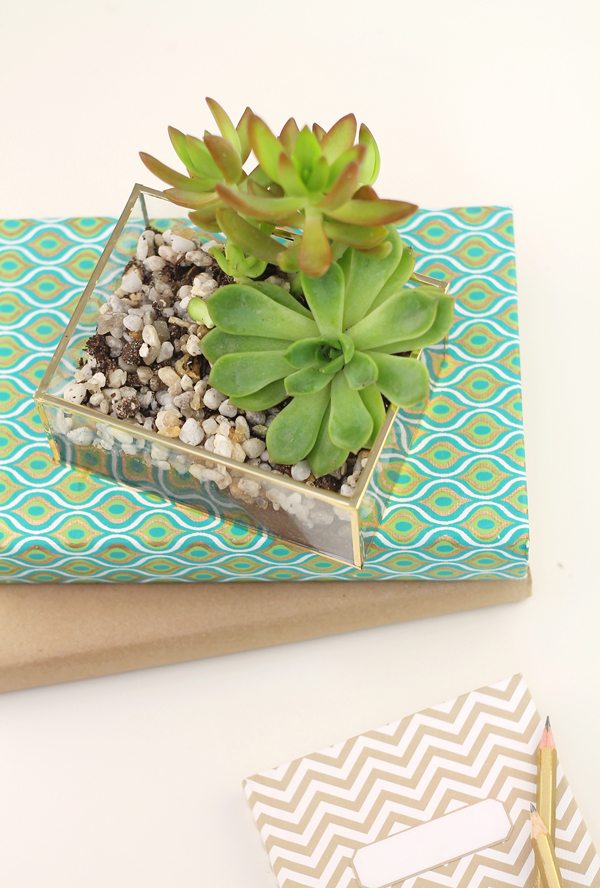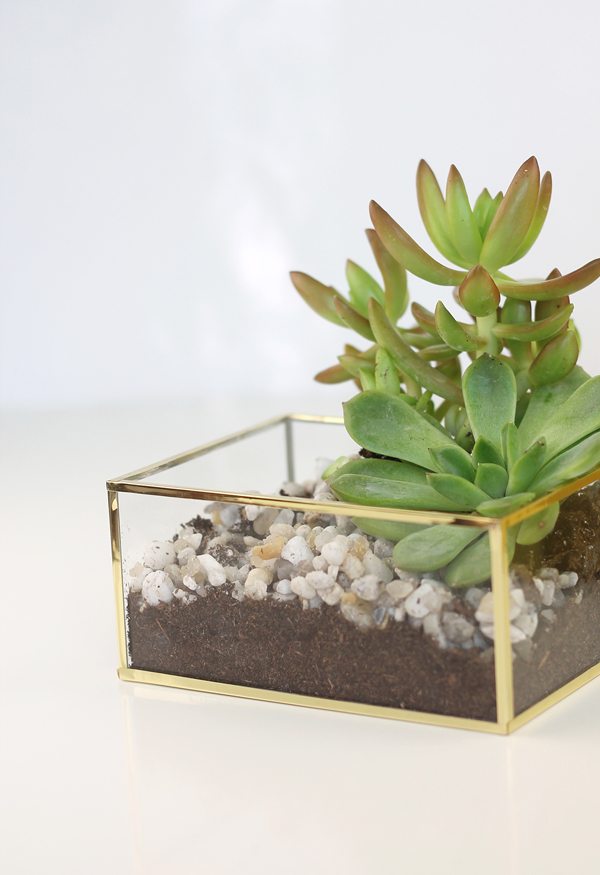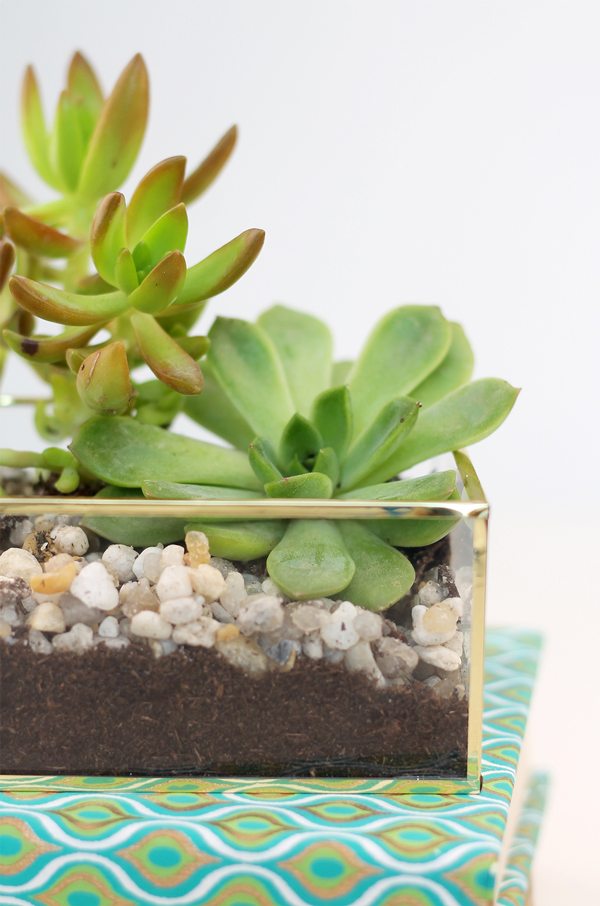 This post is part of the Dress My Desk series with The Container Store. For lots more Dress My Desk inspiration, be sure to visit the other participating bloggers to see their creative spin on Container Store products. You can visit each blogger by clicking on the links below: