Hey there!
Are you ready for day two of Clear and Simple Stamp's release?  Today, we're sharing projects using the Seaside Summer series – how's that for alliteration!!
Now – in order for you to understand my love for these stamps, you've got to understand a few things about my life …or shall I say, my imaginary life.
In my imaginary life, we own a summer home in the Hamptons, or maybe Martha's Vineyard…yeah, let's go with Martha's Vineyard.
In my imaginary life, I am one of those people who uses "Summer" as a verb.  You know – "Where do you and your family summer?" "Oh us, we summer at Martha's Vineyard!"
In my imaginary life, I host a yearly lobster boil and invite all of my friends who show up dressed & dapper in their seersucker shorts…you're invited too!  I'll be hosting the lobster boil in a caftan – because let's be honest, life is good when you are floating around in a caftan.  (Sidenote: none of my friends are named Biff, Muffy or Chad…that's just too much…and please don't wear any shorts with embroidered alligators…I never really liked those.)
In my imaginary life, I create all sorts of nautical paper crafts to share with my Martha's Vineyard peeps…and this is precisely why I love the CSS Seaside Summer series so very much! These stamps speak to my imaginary life and allow me to indulge in all those silly little seaside details!
So how about you hang out with me and imaginary life for a few more minutes while I share some summery & nautical paper crafts with you!
Still there? Hanging in there with me?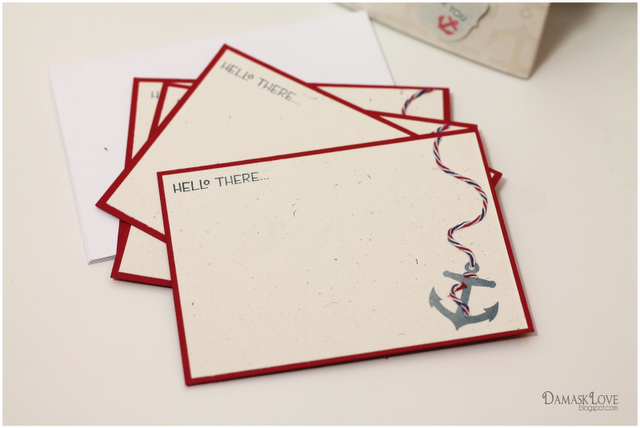 Last up, I have a simple notecard set that I am so thrilled with! I love the image of an anchor wrapped in rope. I replicated that design with the anchor stamp from the Sea Side set which I paired with CSS Red/White/Blue baker's twine.
To achieve the look of rope twisting around the anchor, I first pierced my cardstock then used a needle to stitch through each hole. A few dabs of crafting glue helped keep the twine in place just where I wanted it.
No set of cards is complete without some sort of cute packaging, which I created with a strip of cardstock along with a nautical knot that I created using packing twine, which I braided to make it a bit thicker. Then, with a little Google research, I figured out how to tie the twine into a very realistic boating knot. I'm pretty sure I just earned a Boy Scout badge for this card.
I finished it all off with a little tag, which you'll be seeing much more of later on during this release week!
Okee dokee – now we can all go back to real-life, sans lobster boils and seersucker shorts.  But that doesn't mean we have to leave all the seaside inspiration behind. Take a look at what the rest of the design team has come up with!
Supplies:


Summer is Here Popsicle Card:
Stamps: Summer Fun
Ink: Dare to be a Diva Red, Paint the Town Pink, Creamsicle Cardigan, Say Yellow To All Your Fans, Green With Envy, Simply Bluetiful, VIP Purple
Cardstock: A Blanc Check
Other: Favor Flags dies
Nautical Monogram:
Stamps: Nautical Knots Background Stamps, Engraved Alpha
Ink: Ranger Archival Ink Big Embossing Pad
Cardstock: True Blue Fan, A Blanc Check, Dare to be a Diva Red
Other: Favor Flag dies, white embossing powder
Coral Thank You:
Stamps: Sea Life, All Occasions 1
Ink: Orange You Fabulous
Cardstock: Simply Blue-tiful, Orange You Fabulous, A Blanc Check


Anchor's Aweigh Notecards:
Stamps: Sea Side, Sea Side Sentiments 1
Ink: True Blue Fan
Cardstock: Kraft Like a Rock Star, Dare to be a Diva Red
Other: Tags 2, Red/White/Blue baker's twine