Before I share today's project, I just have to share a funny little tidbit…
So – as you know, I'm a blogger. I use Blogger to host my blog.
Blogger has lots of fun features to let you know what others think about your blog.
It will tell you which posts get the most views, which countries your readers live in and even what search terms people use to find your blog….which is exactly where this little story begins.
Out of curiosity, I looked through these search terms and there were a few obvious contenders:
Damask Love Blog – makes sense…that is, after all the name of my blog
Stamping Royalty 2011 Winners – still reeling that I am in this group!!!
Splatter Paint Stationery – which I'm guessing will lead you to this project.
Now here is where things take a turn!
The following two are search terms that, apparently, will lead you to my blog:
"Funky Damask Blogger"
I'm not sure how to interpret this one.
I suppose I'm funky – as long as "funky" means that I have a spunky personality rather than yucky & smelly.
Now brace yourself for the pièce de résistance…
"Birthdays are for fun, enjoy a sticky bun"
Huh? What? Que?
No clue here but I find it pretty hilarious.
I do agree that birthdays are for fun.
I also agree that one's birthday may be a great time to enjoy a sticky bun.
I have absolutely no idea, though, how one would find my blog by Googling this phrase. Furthermore, I'm not exactly sure why one would ever use this phrase in life (although, I'm thinking I'll now use it on a regular basis, just for kicks).
At any rate, as long as this phrase is going to lead to my blog – I'd might as well create something that is remotely related to birthdays and sticky buns…so here we go!
I don't have a sticky bun stamp – but I did pick up the
Hero Arts Have a Donut
stamp set, during my recent trip the HA factory.
Donuts are kinda like sticky buns – so I think it's a fair substitution!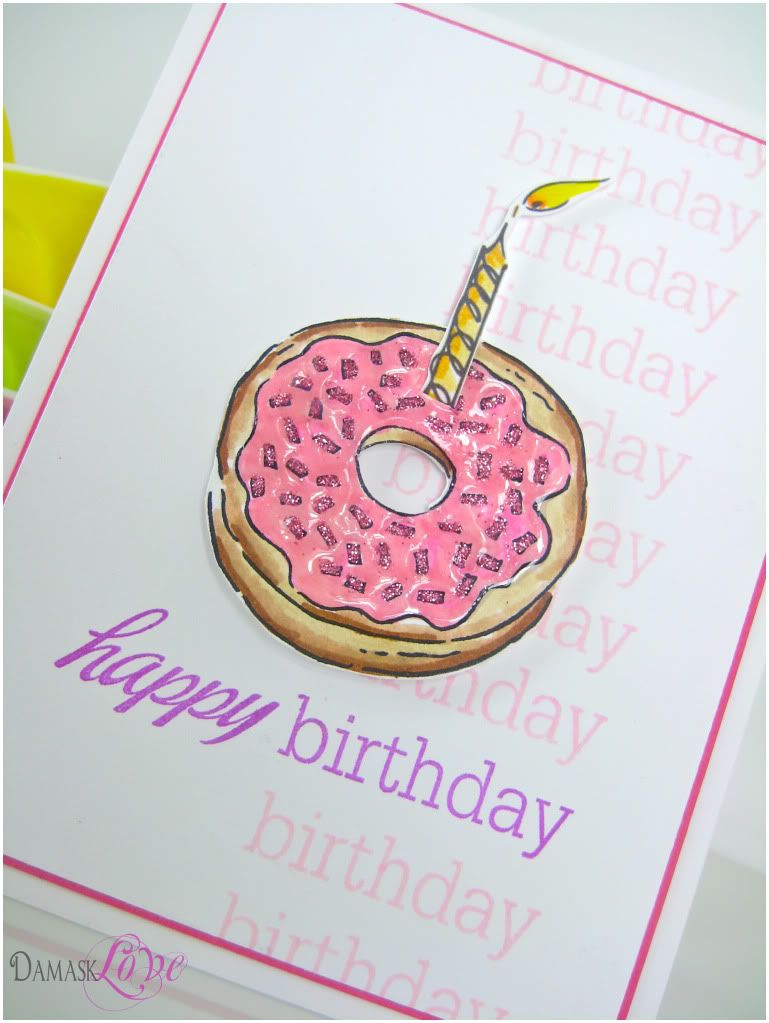 To turn this donut into a birthday donut, I downloaded the
Hero Arts Birthday Wishes
printable and cut out one of the candle images.
Thanks for stopping by for some Damask Love…and if today is your birthday…have fun and enjoy a sticky bun!
Supplies:
Stamps: PTI (Birthday Bash Sentiments, Inside and Out: Birthday) Hero Arts (Have a Donut)
Paper: PTI (Raspberry Fizz, white)
Ink: Stampin Up Pink Pirouette, Vivid Dye Ink Fuchsia
Other: Hero Arts Birthday Wishes printable, Ranger Glossy Accents, Tombow Watercolor Markers