I remember when I was like…22. Even though that was only a couple of years ago (yeah, right!) I had such a different perspective. I imagined that one day I'd be married with kids and I would be that mom who baked homemade cookies for no reason and sewed Halloween costumes by hand. Now, don't get me wrong, there is still some likelihood that I'll do those things, but I don't expect it will be common practice around here. Tollhouse makes a damn good cookie and when it comes to Halloween costume, it's probably better that my kids are spared the sounds of Mom spewing four-letter words at the Singer.
Such is my yearly battle with holiday cards. I'm fully capable of making them by hand – but do I really want to? When you're a die-hard DIYer, it can be really tough to relinquish control but sometimes it must be done.This year, I am glad to relinquish control because Shutterfly has got my back. Their holiday stationery is totes adorbs and there are a million different styles to choose from…and to satisfy my need to DIY, I've come up with a few super simple ways to add some handcrafted goodness to their designs. It's a win win for everyone!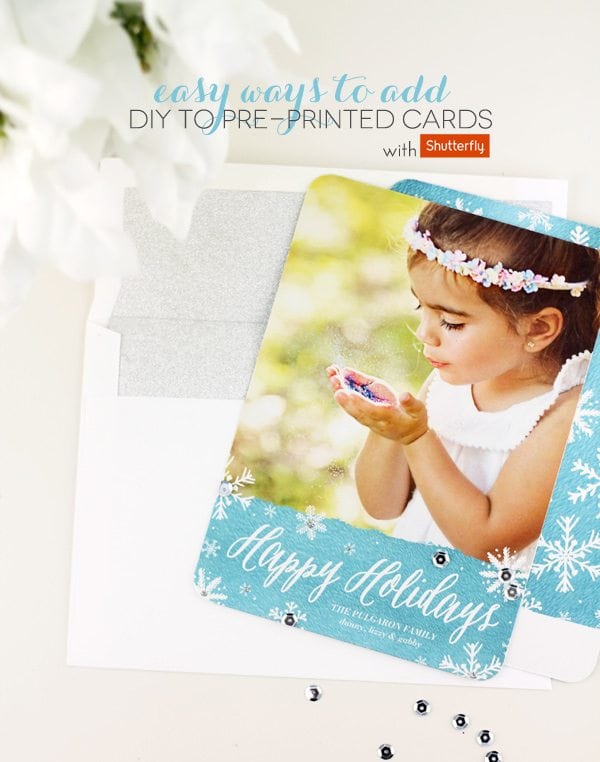 Apparently, sequins are all the rage in craftworld right now – so why not add them to your pre-printed holiday cards. You can order any of their cards with a Shimmer Pearl finish and several of their designs are available with foil stamping. With all that glitz, it only makes sense that a few sequins join the party. Just a dab of craft glue is all you need to strategically place a few sequins. Don't go overboard – four or so will do. Just enough to add some texture and sparkle!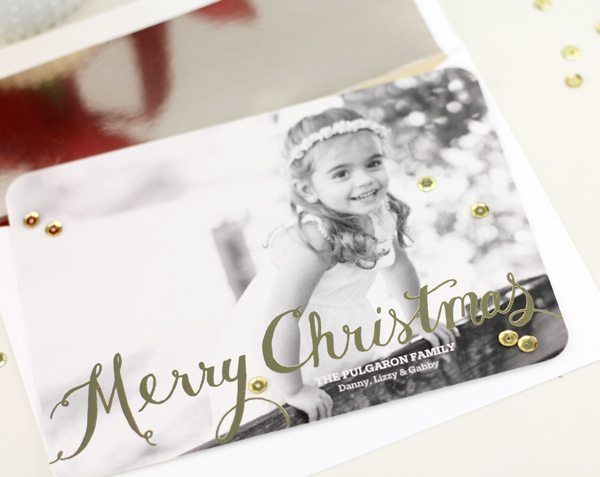 This "Gorgeous Bracket Christmas Card" design features a foil stamped sentiment across the front, which really pops against the black and white photo. I adhered a few gold sequins, which you can pick up from any craft store. When your friends open up the card, they'll get double the sparkle and a bit of dimension as well.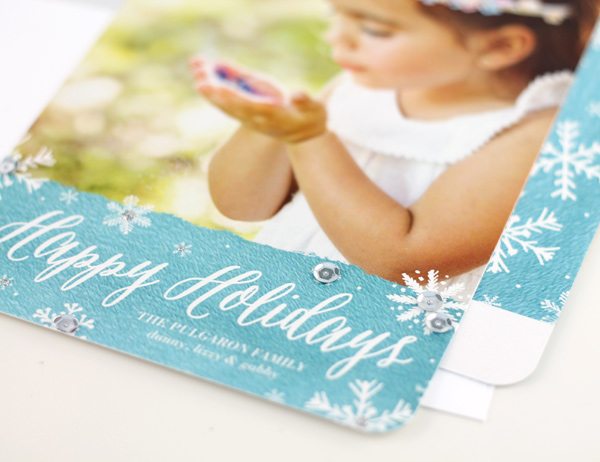 When I saw this Holiday Flurries card, I knew that it was perfect for a little  sequinizing. Yep. Just made that up. I adhered silver sequins to the center for a few of the falling snowflakes and that was it. Oh – and in case you are wondering – yes – that photo is of an actual child…not an imaginary fairy from the planet "Beautiful." She's a friend's daughter and is pretty much the cutest,smartest and funniest little girl you ever did meet.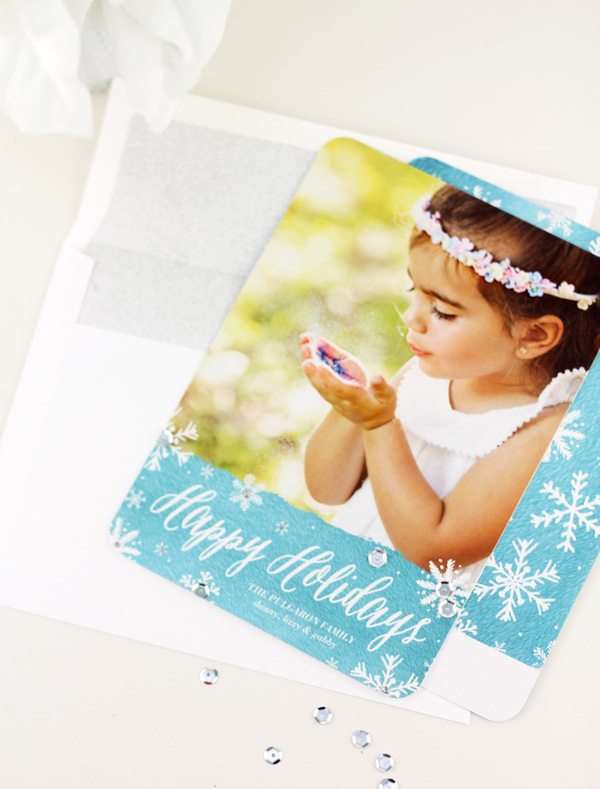 Now for some twine time. I designed a few of my own cards that fit in with my love of crafting. The Beautiful Bow flat notecard was perfect. The kraft background and handwritten letters make for a very "crafty" feel…and of course there is that twine bow which is perfect. To add some dimension to the bow, I decided to cover it with a bit of real baker's twine. It's a simple addition but gives some texture to the card and it fits right in.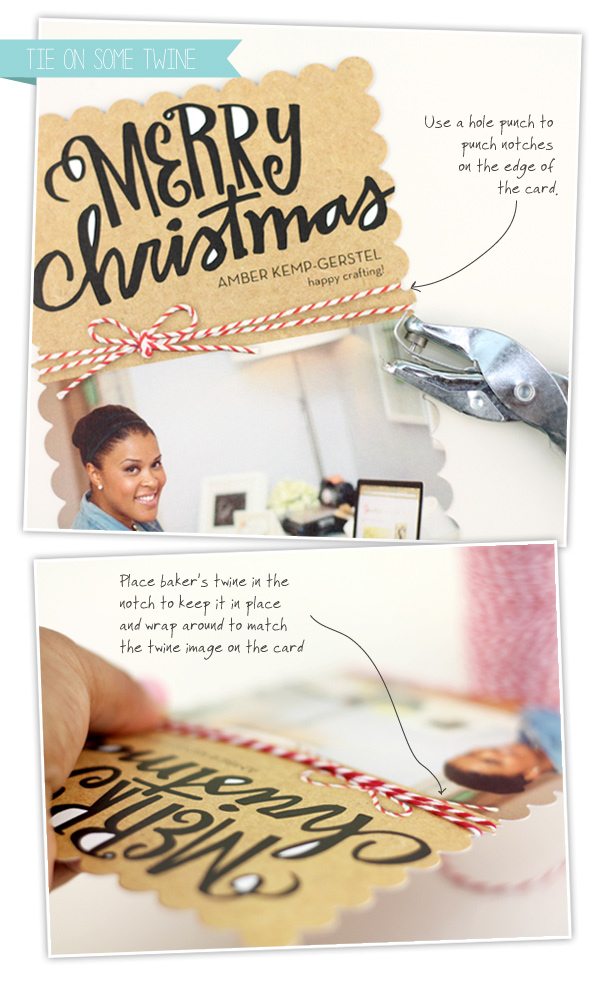 To keep the twine in place, just use craft glue. That's it! When you're done, the twine will look like it belonged there all the time. I love how I was able to extend the tails of the bow to cascade down into the photo a bit. It's the little things.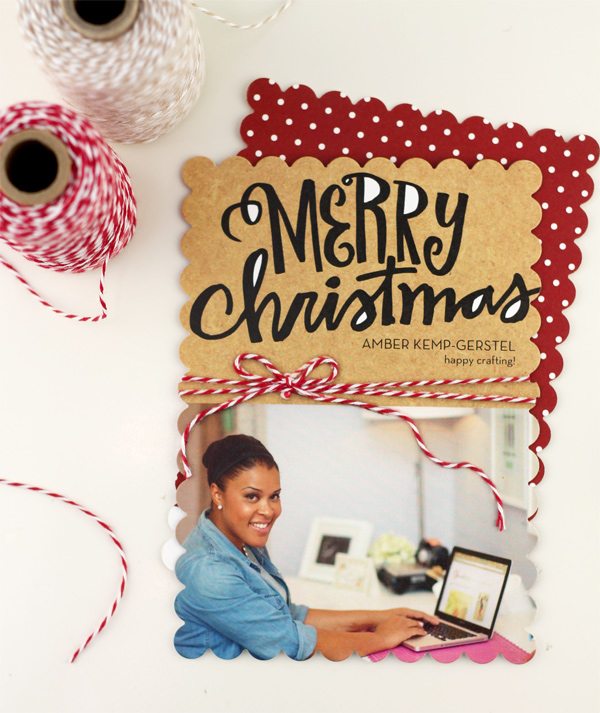 This next little project is all about notebooks – and you know how much I love a notebook! Shutterfly offers a ton of notebooks and journals that you can personalize with monograms and photos. With the holiday season upon us, I was drawn to the Woodgrain Monogram Journal. The simple design is perfect for year round, but the design is also perfect for a little holiday DIY-ing.
With all the making of lists and checking them twice – I thought it'd be great to add a pencil loop to the notebook. You'll love how easy this is. You'll need a piece of elastic that is 1/4″ – 1/2″ in width. You can find this at any fabric store.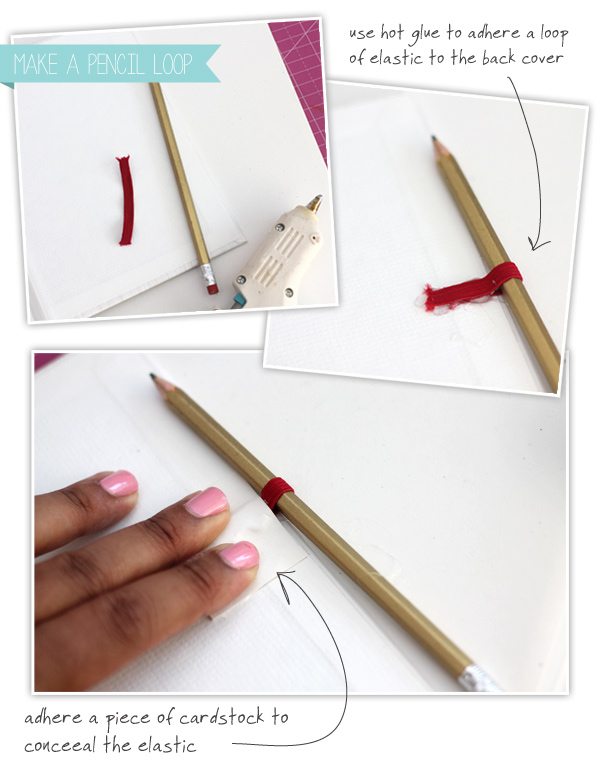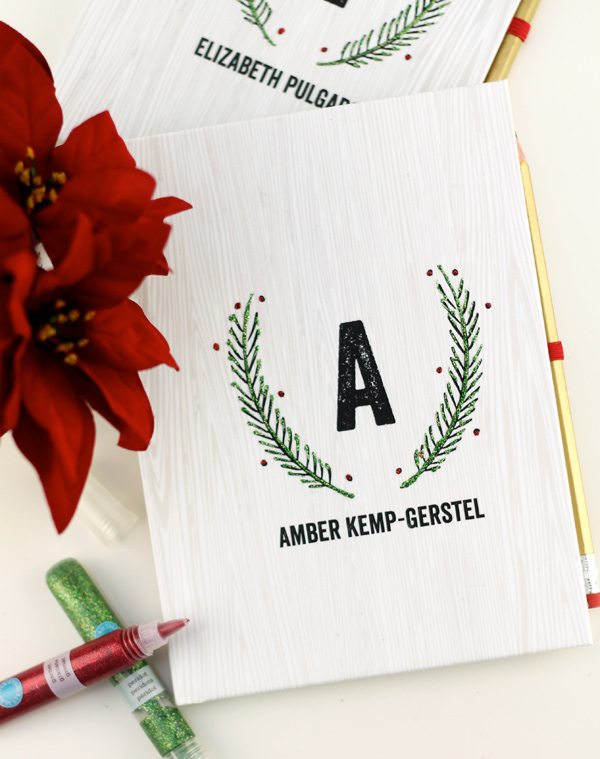 With the pencil loop adhered, I decided to add some sparkle to the front cover using my trusty Martha Stewart glitter glues – I never leave home without em! I just traced the wreath image with green and red glitter to give this journal a festive holiday look. So quick So easy. So satisfying to my DIY soul.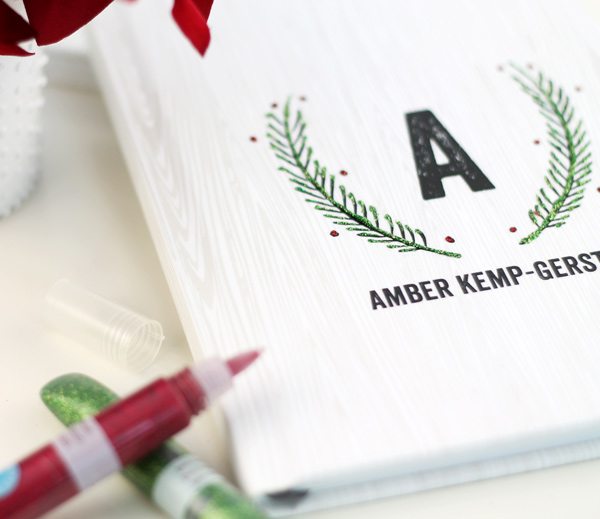 And there you have it! The solution to getting your holiday cards done – but also satisfying that need to do something handmade! Now we can all sleep at night.
This post was sponsored by Shutterfly. I received product, payment or both in exchange for sharing my creations and my honest opinions with all you crafty peeps! I hope you've been inspired.