BOGO is so last year. Today's project is a three-for-one. Three projects for the price of one…well… I guess it's really three projects for the price of none since we gladly offer up crafty tutorials for free!
We are only a week from Christmas but there is still plenty of time to craft up some pretty gifts – especially since you can snag a ton of Christmas supplies on super sale. PSSST – JOANN has 60% off all their holiday decor! I picked up a pile of canvas stocking during my last trip to JOANN and decided it would be fun to scour my craft room for easy ways to decorate them. I'm excited to show you three ways to decorating a stocking, especially since these are great for packaging gifts! You can quickly make a bunch for every coworker in your office. Feel free to fill one with coal for that nasty guy in accounting.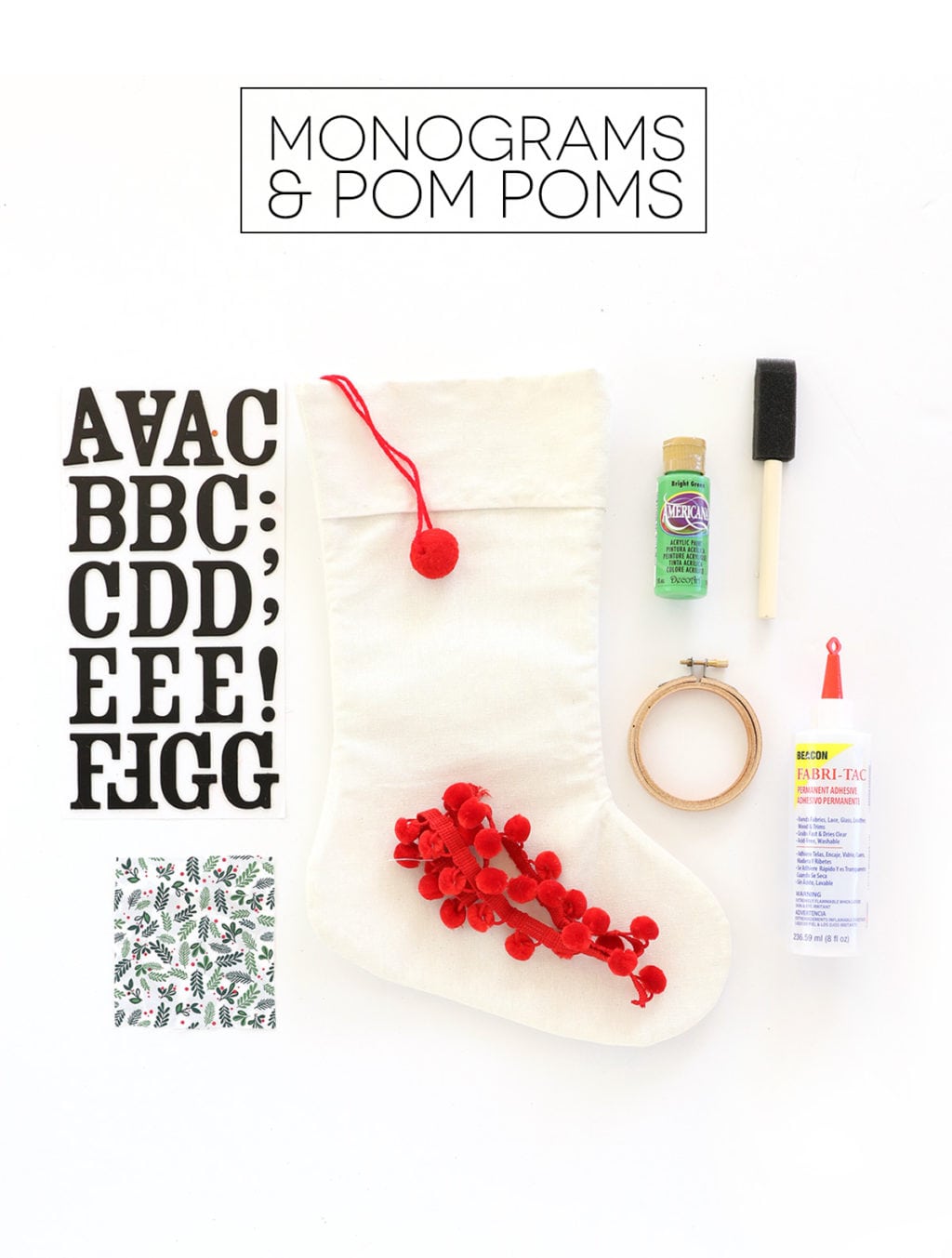 For our first stocking, we're adding pom-poms and a monogram! You'll need:
a canvas stocking
a small square of felt
a mini embroidery hoop
alphabet stickers
fabric glue
craft paint and a foam brush
pompom trim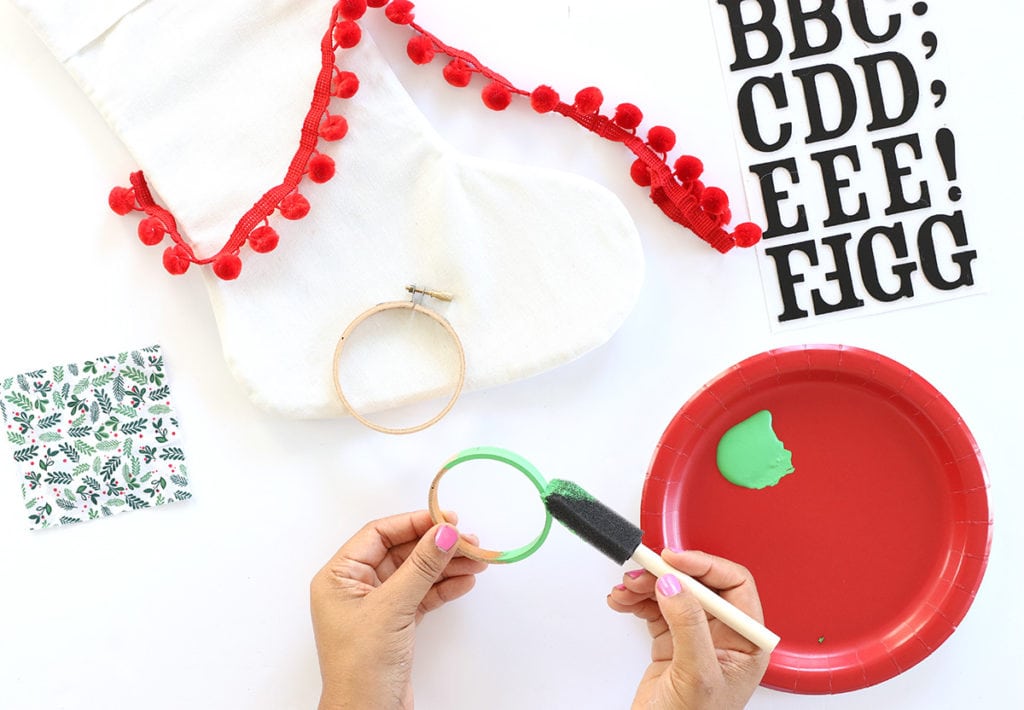 STEP ONE
Add paint to the embroidery hoop – I like using green paint to give it the look of a wreath.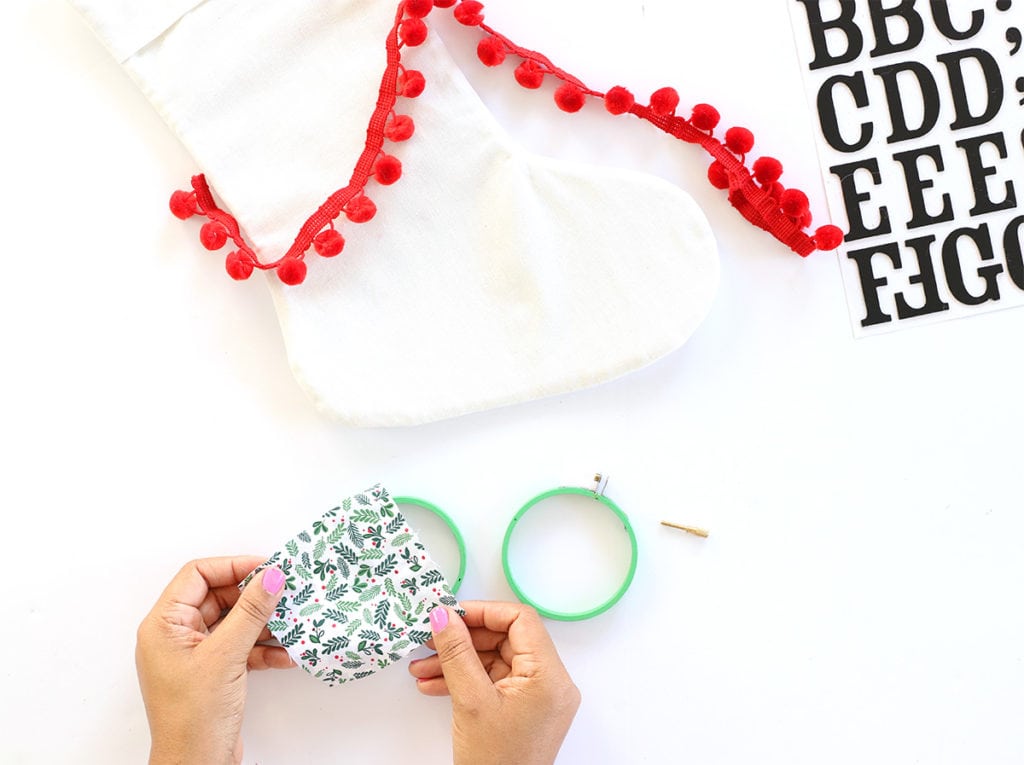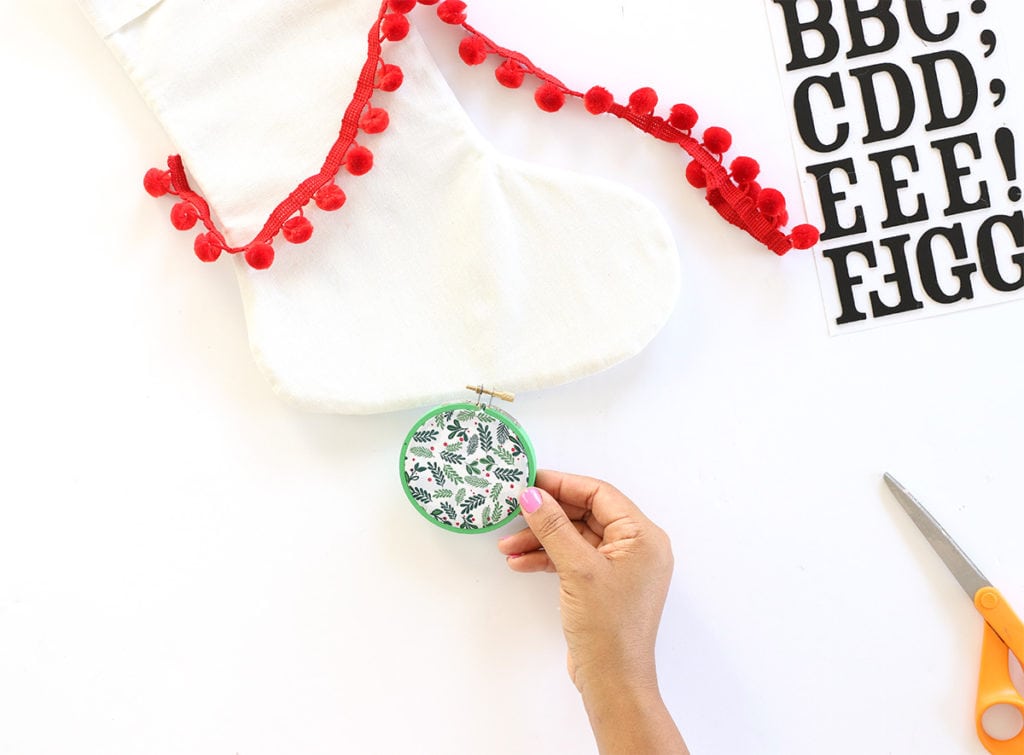 STEP TWO
Place fabric square into the mini wreath.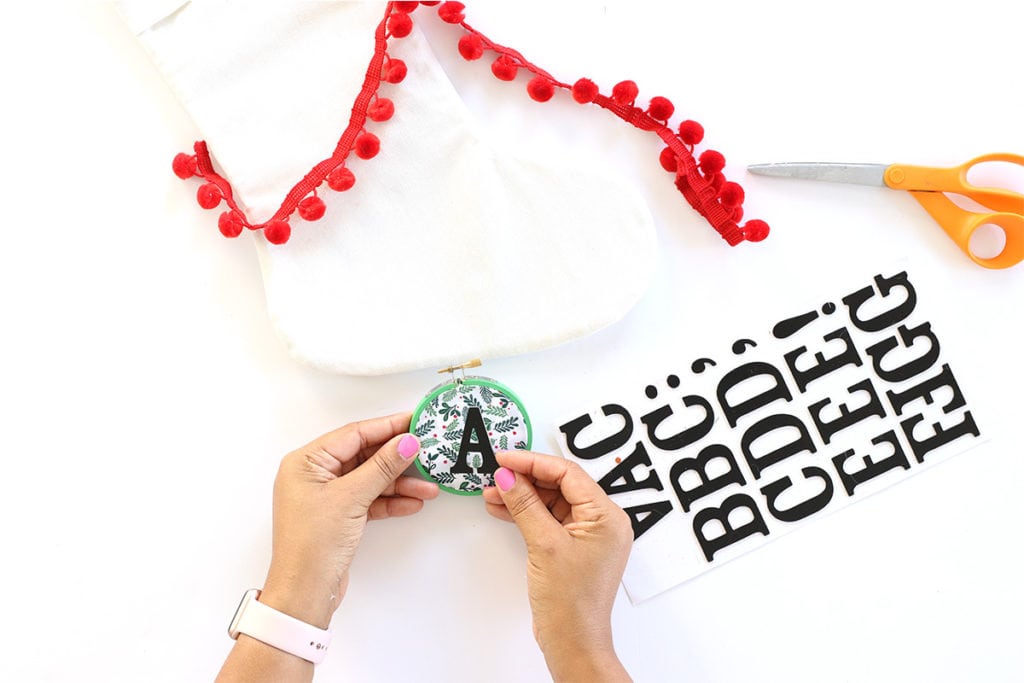 STEP THREE
Use an alphabet sticker to add a monogram to the fabric. Tip: You can use a bit of hot glue to adhere the sticker, to be sure it doesn't fall off.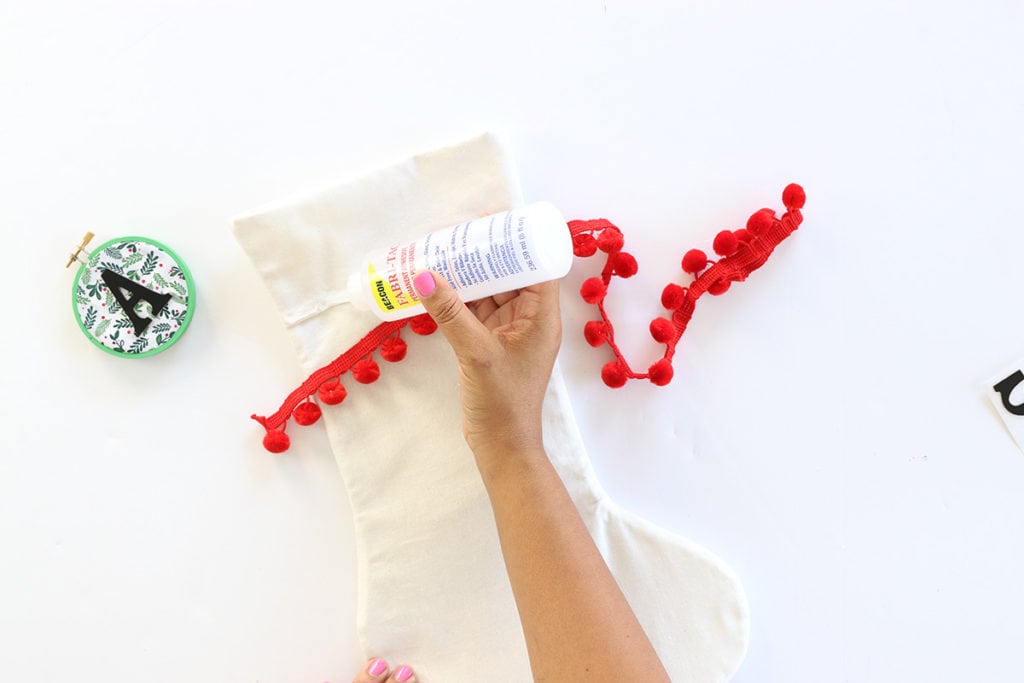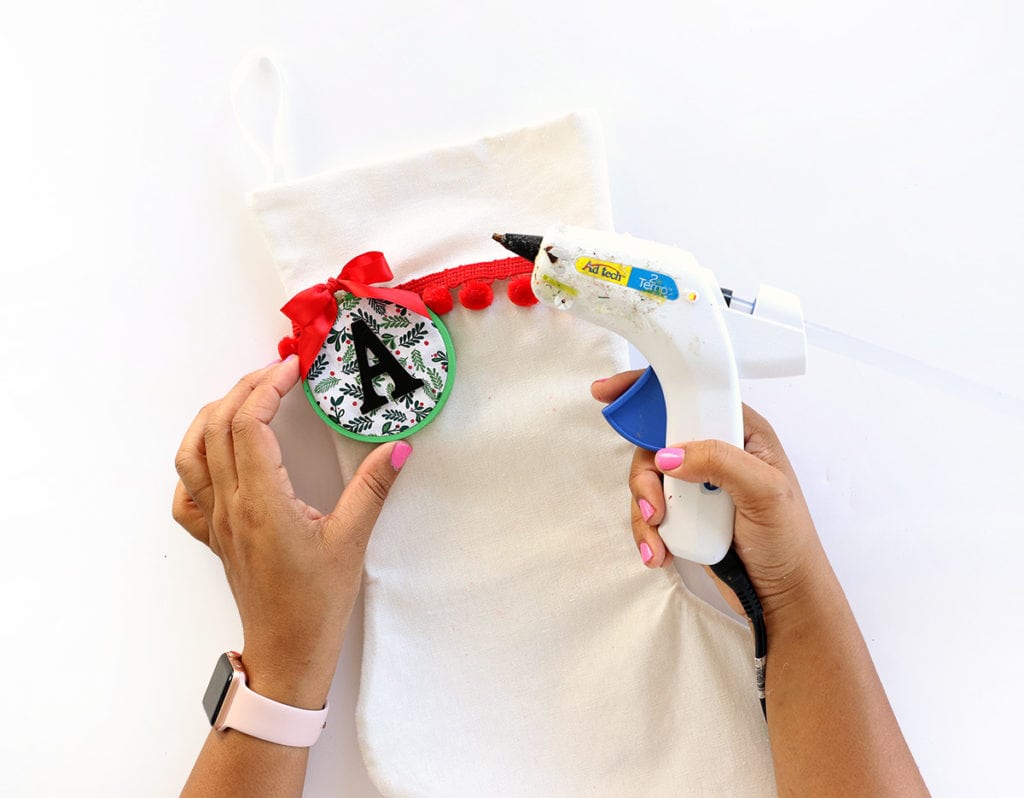 STEP THREE
Use fabric glue to adhere the pom pom trim to the cuff. Then use hot glue to attach the monogrammed embroidery hoop.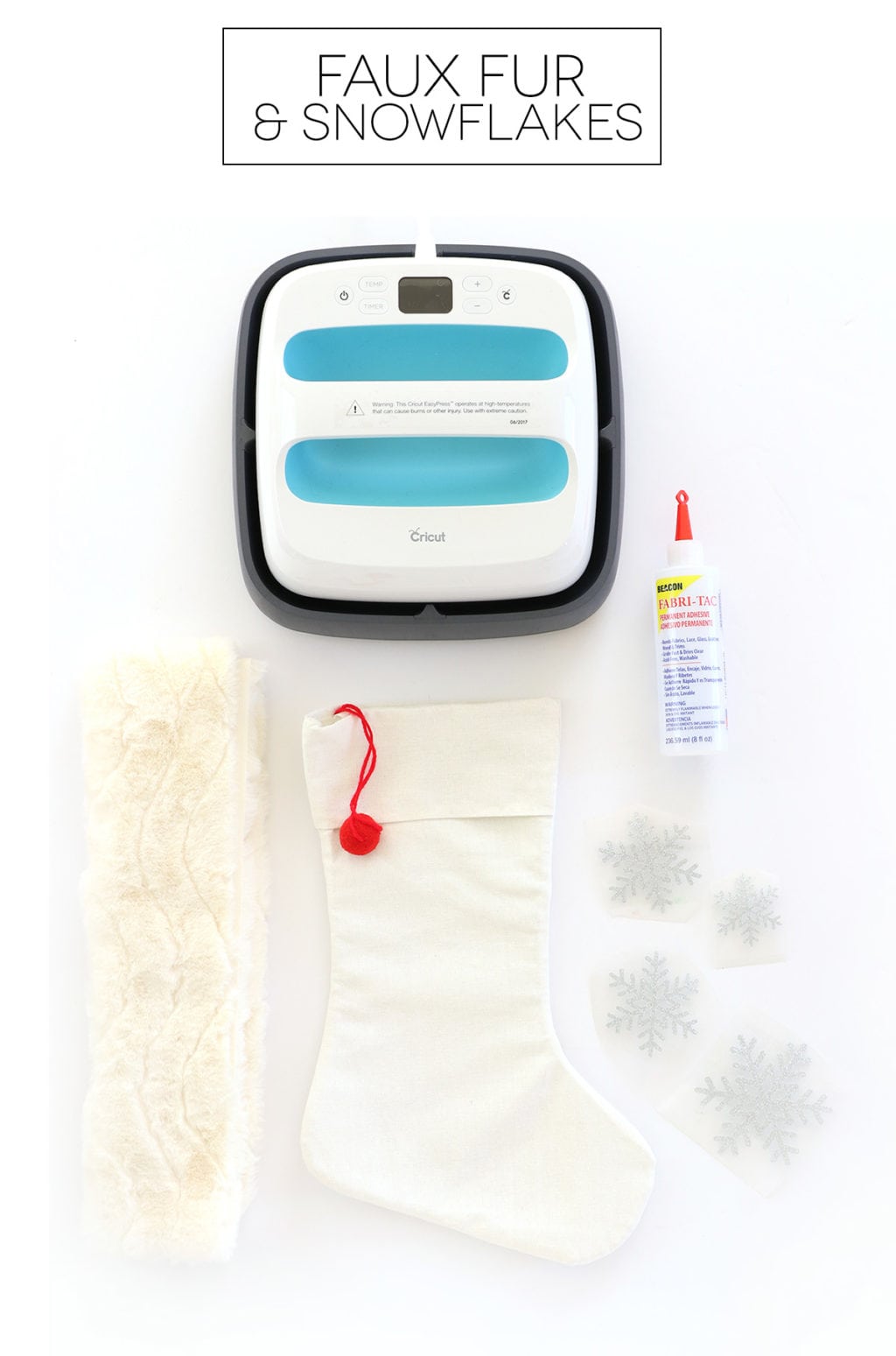 This frosty stocking may be my favorite. I love the simple, modern color palette and the texture of the fur. You'll need:
Faux Fur trim (you can pick this up at JOANN)
a white canvas stocking
snowflake shapes cut from silver glitter vinyl. (I used my Cricut Maker to create these)
Fabric Glue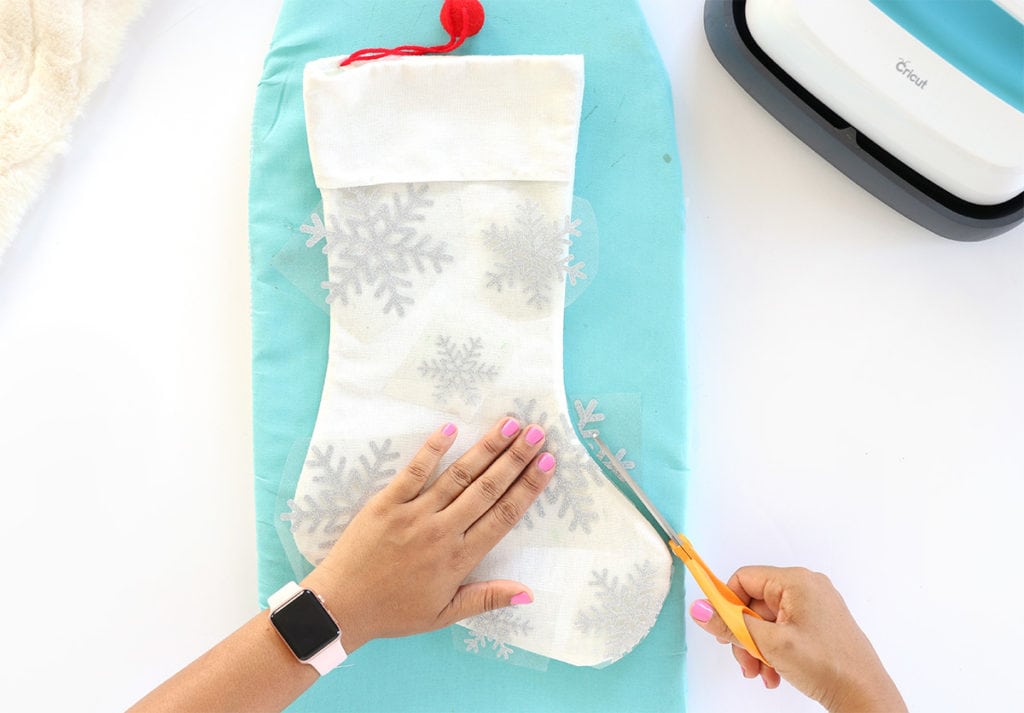 STEP ONE
Arrange the vinyl snowflakes onto the stocking, then use scissors to trim away any bits that hang over the edge.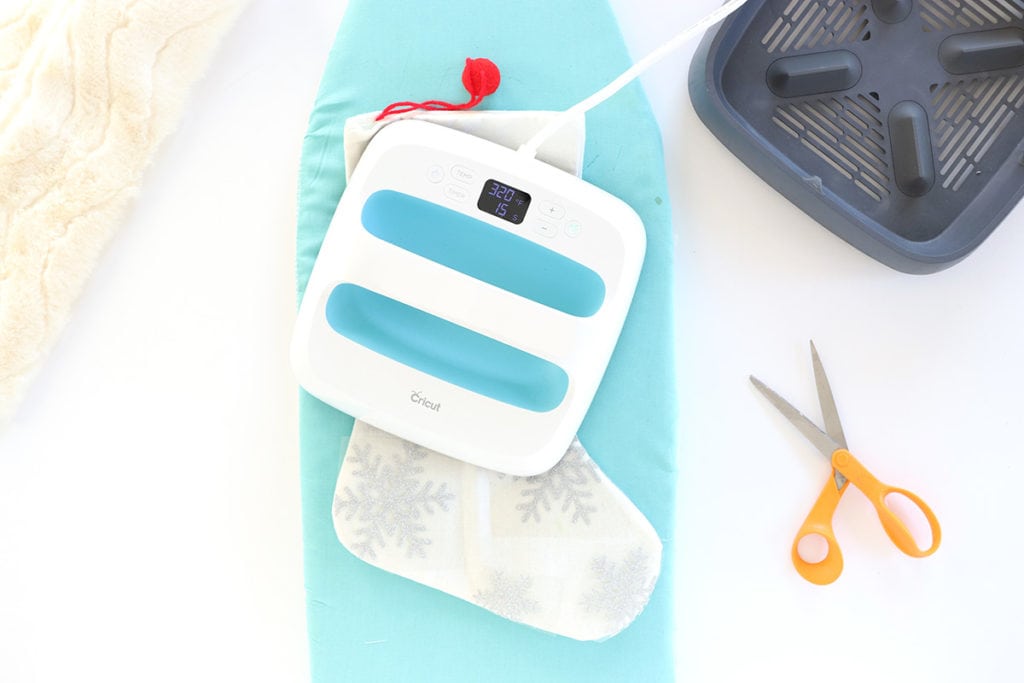 STEP TWO
Use the Cricut EasyPress to adhere the snowflakes into place. If you do not own a Cricut EasyPress, no worries! Use an iron!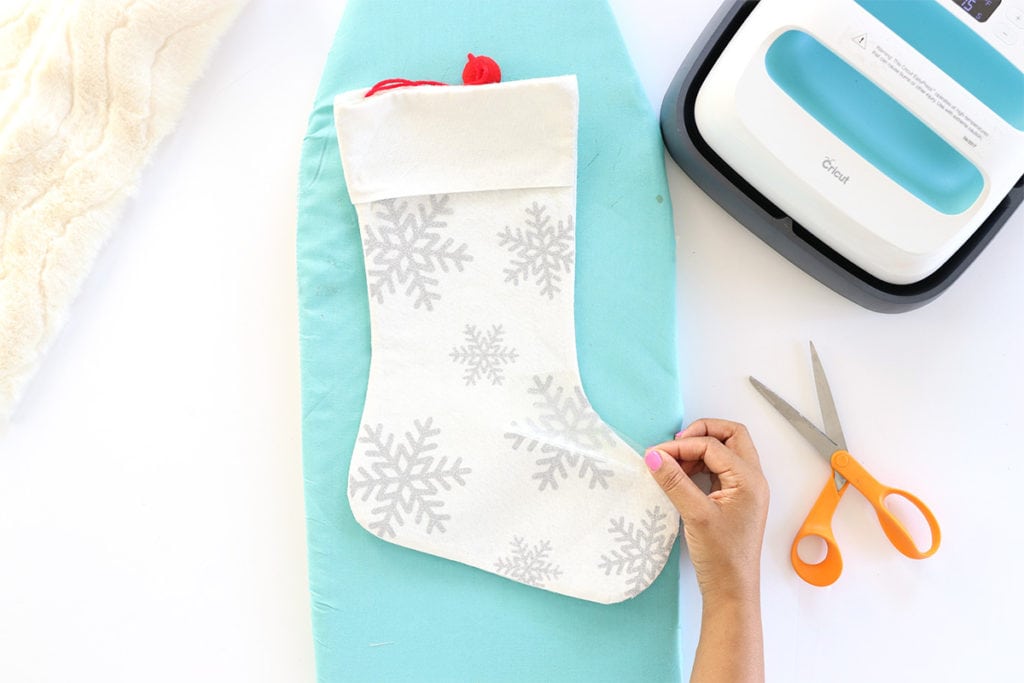 STEP THREE
Peel the backing off the snowflakes to reveal their glittery goodness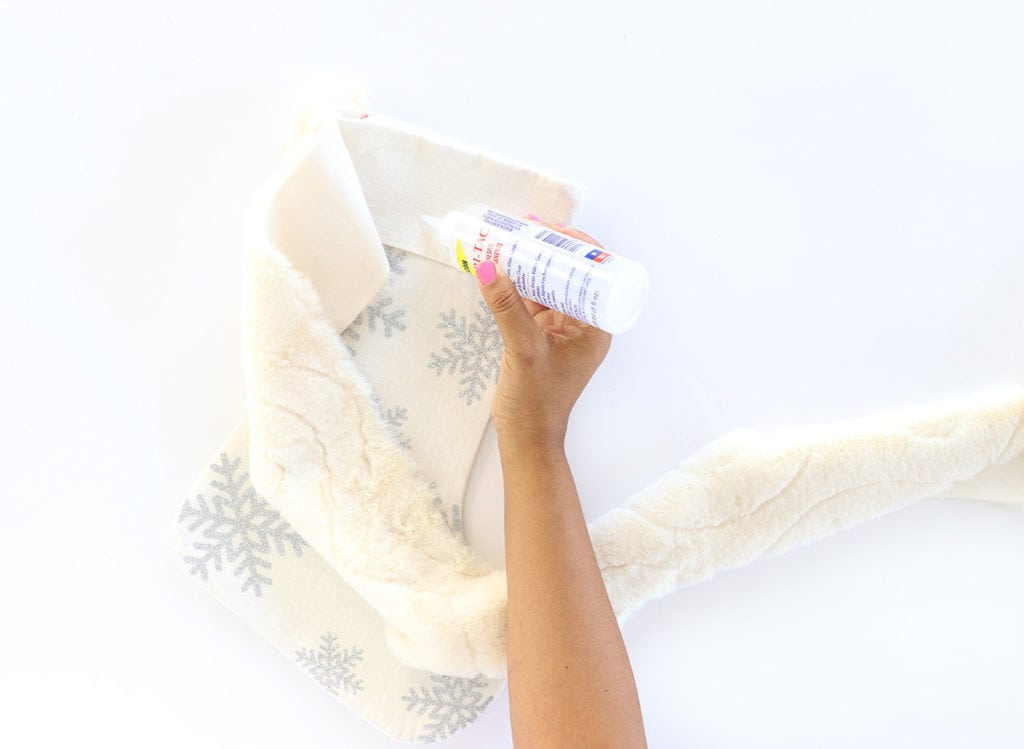 STEP FOUR
Use fabric glue to adhere the faux fur around the cuff of the stocking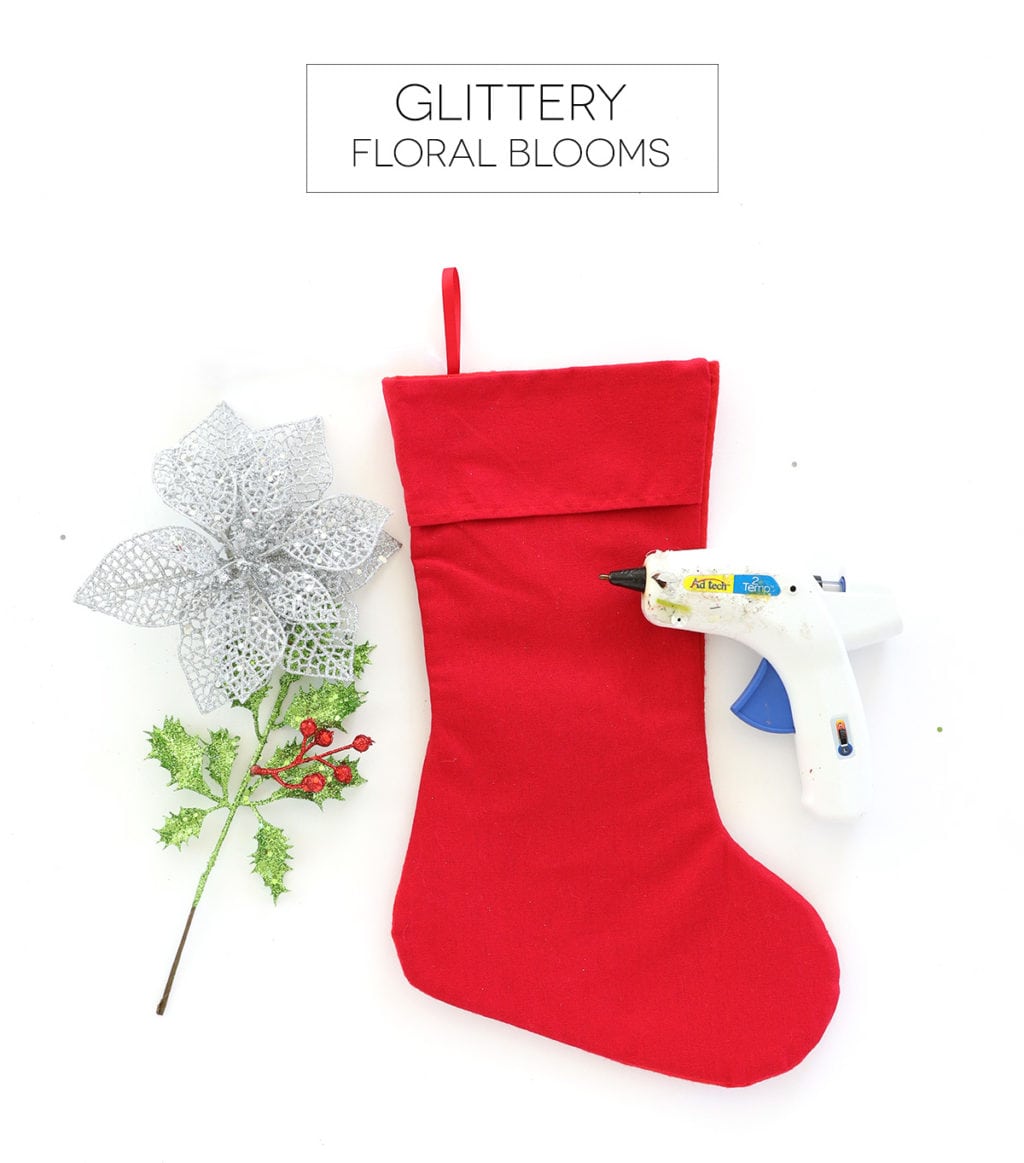 If you're looking for quick and easy, this DIY stocking is the one for you! Glittery embellishments, hot glue and a pair of scissors are all you'll need to make this come to life.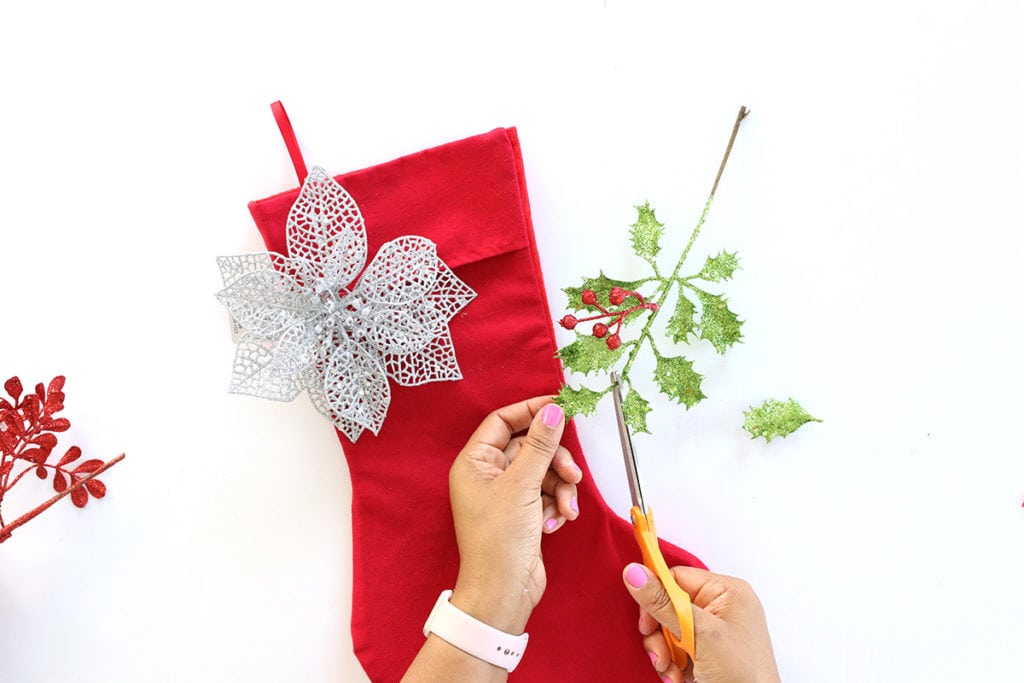 STEP ONE
Use scissors to snip off leaves and holly berries – this will make it easier to glue them onto the stocking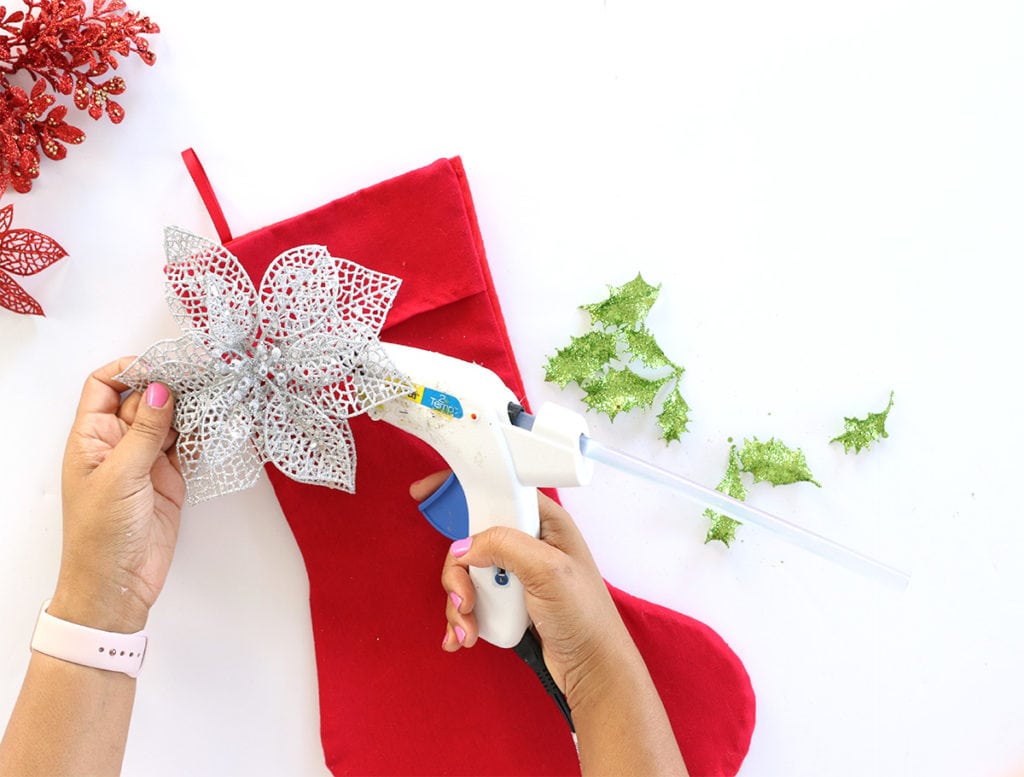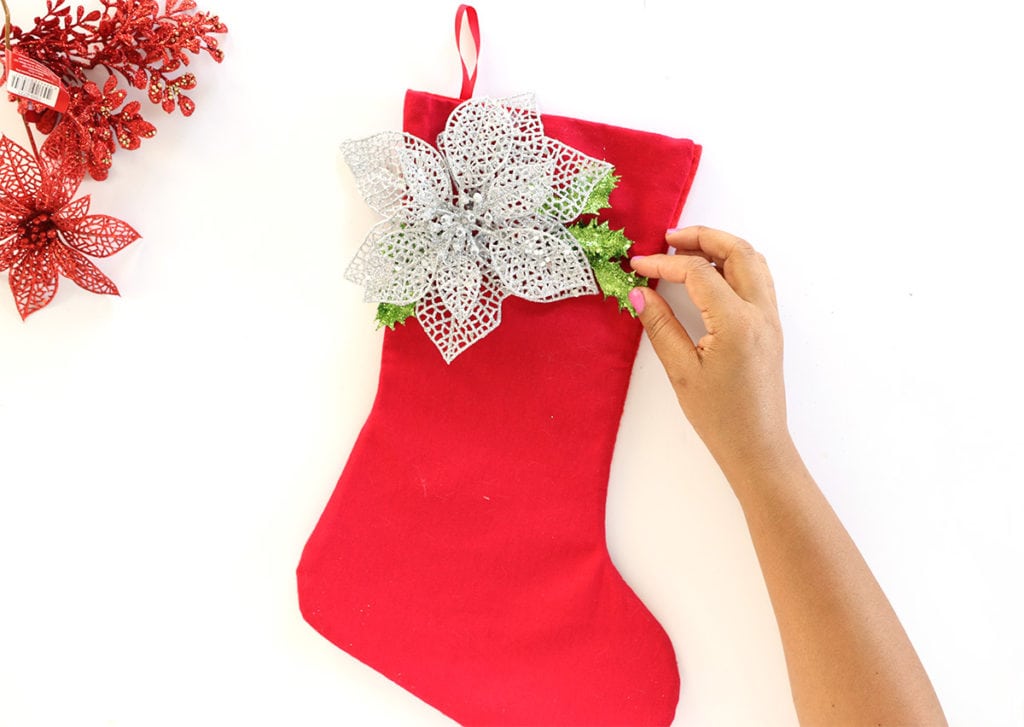 STEP TWO
Arrange the glitter embellishments onto the stocking and adhere with hot glue. That's it! Super easy and beautiful finished project.