In case you missed it, the Damask Love HQ moved unexpectedly! After six years in my Downtown Miami studio, we got word from the Fire Marshal that our building would be closed due to fire escape hazards and no tenants would be allowed to stay during the renovations. Thankfully, I was able to quickly find a new space that's bigger and better than the last. The only problem…it needed a LOT of colorful TLC. If you know me, you know that plain white walls are NOT my jam. My first order of business was to research some fun renter friendly wallpaper ideas that would inject some personality into the new studio space, which I'm calling the Content Casita. Here are a few before photos to prove that we had lots of work to do!
Believe me now?! Before adding removable wallpaper, each area of the Content Casita was drab to say the least!
What is removable wallpaper?
Now, you may be wondering what is so special about removable wallpaper that is renter friendly. Unlike traditional wallpaper that require a wet glue application, removable wallpaper is simply peel and stick! With traditional wallpaper, the adhesive is permanent and will likely damage the paint beneath when removed. Removable wallpaper is easy to install and can be quickly repositioned during the application process which makes for a more precise finished look. Also, its SUPER fast to install. On the 9×12′ wall in the lounge area of the Content Casita it took me 30 minutes to install our Otto Studio Ink Swirl Paper!
The best renter friendly wallpaper
Having installed several removable wallpapers, I definitely think I'm qualified to give you the details on my favorite renter friendly wallpapers!
Spoonflower: This popular site allows you to choose from countless designs and apply them to a variety of surfaces including fabric, home decor and yes…wallpaper! They have four different wallpaper options including traditional non-pasted wall paper, pre-pasted removable wall paper, grasscloth wallpaper and peel and stick. I opted for the peel and stick option for the kitchen island and the kitchen cabinets. I chose their Optimistic Breakfast print and the Terrazzo Texture Pink print.
The application of this wallpaper was very easy though the adhesive wasn't exactly what I was hoping for. After a few days, I noticed some bubbling and lifting. This is likely due to the slight textured surface of the kitchen fixtures. In the past, I've used this wallpaper on smooth surfaces and had no issues. That said, I might consider a different brand if you're planning to add wallpaper to a textured surface.
Watch me install my Spoonflower wallpaper!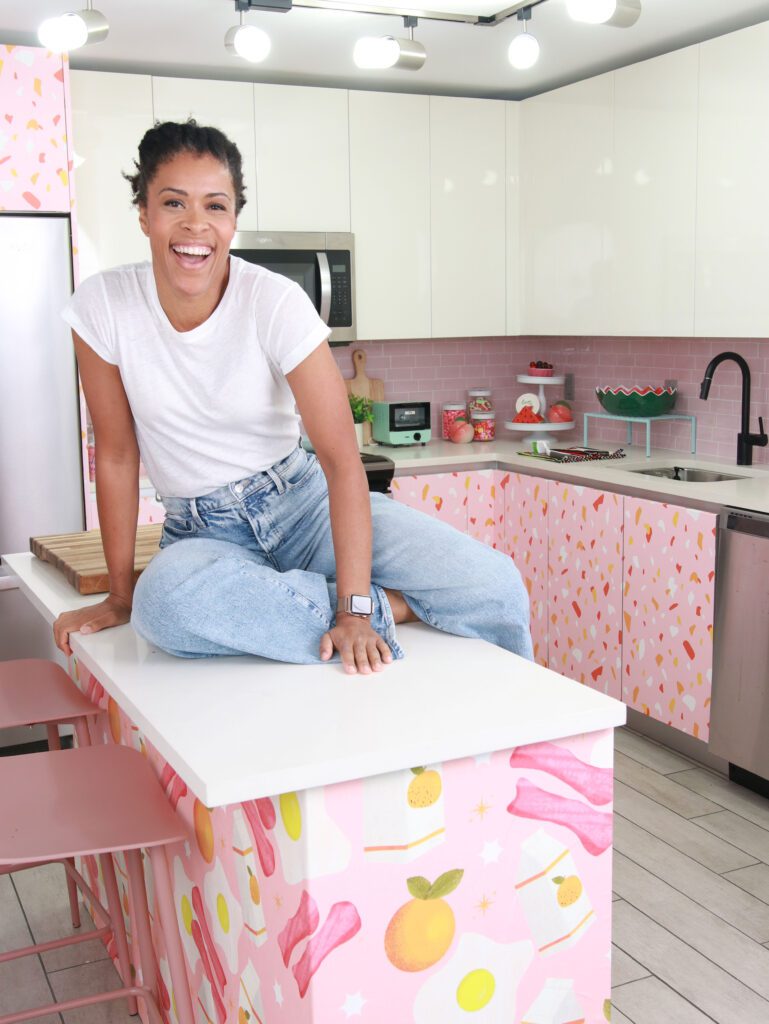 Wallblush: This brand was new to me but I immediately fell in love with their Face It design. The line art was so fun and modern and perfect for the wardrobe nook. I also love their Echo print. This wallpaper felt a lot like printed vinyl…similar to what you might use for crafting or with your Cricut. It's very smooth and very easy to install.
The wallpaper arrives in one continuous roll with a dotted line where you cut it apart with scissors At first I liked this feature but then realized that my cutting wasn't always perfectly straight which then resulted in slightly uneven cuts at the top edge of my wallpaper once installed.
Since the Face It design is mostly white, this is not very noticeable against my white walls. If you're installing a more colorful, dense print – this might be an issue. Overall I liked this wallpaper and I haven't noticed any lifting or bubbling. I also love that they seem to always have a sale going!
Watch me install my Wallblush wallpaper!
Otto Studio: Like Wallblush, Otto Studio was totally new to me. I discovered it during a late night TikTok scrollfest! This women-owned brand is based in Canada and has some of the most fun and quirky designs I've ever seen in the world of wallpaper! Compared to the other brands, Otto Studio has a smaller offering of prints but they make up for it by offering each print in a bunch of colorways and scales.
For the Content Casita, I opted for two prints: Ink Swirl Large in Olive Oil and Pixel Party Large in Noise. Both of these prints are also available in smaller scale. The Otto Studio wallpaper arrived in one box but the sheets were precut which made it easy to line up the top edge and install. I also loved that there is a precut strip on the back of each sheet of paper. First, you remove the backing strip to get the paper aligned on the wall. Then you can remove the rest of the backing to adhere the entire sheet. This feature makes it really easy to get the right placement.
As far as texture goes, Otto Studio was my favorite. It has a texture similar to real, traditional wall paper, so it look and feels more luxe on your walls. Overall, this brand was my favorite of all the ones I tried!
Watch me install my Otto Studio wallpaper.
Lucky for me, the wallpaper game has changed a lot since the last time I was in the market. I was pleasantly surprised by the colorful options for renter friendly wallpaper.