I have a love-hate relationship with glitter.
My boyfriend, Andrew, has a hate-hate relationship with glitter. Let me explain:
I love using glitter for obvious reasons. A little sparkle goes a long way for any craft project. Glitter does create a mess and is hard to clean up – making it less than favorable for some projects.
Andrew, on the other hand, gets really annoyed by the mess. I mean REALLY annoyed. He hates how glitter manages to stick around looooong after you've finished with it. It also seems to travel across the room far away from the surface it was used on.
On more than one occasion, Andrew has arrived to work with flecks of glitter on his face.
A year ago, I sat in the backseat of Andrew's car and packaged Christmas gifts with glittered wrapping paper. Today, there are still remnants of glitter in his car.
If I didn't know better, I might suspect that Andrew was having an affair with Tinkerbell.
Now, why all this talk about glitter?
Well, glitter is a big part of today's post.
This week, Papertrey Ink issued their weekly Make It Monday Challenge, which requires participants to use glitter along with Scor-Tape to give unique sparkle to a papercrafting project.
Here are my Make It Monday contributions!
My first card was inspired by my love of stripes.
For the stripes I used black glitter that doesn't have too much sparkle – this allowed me to add more color without the distraction of a busy background.
This is my first project using Papertrey's new Delightful Doily stamp set and Doily Details dies. Layering these elements gave me the perfect modern, bright feel that I wanted.
I cut a window through the doily layers to show off the simple sentiment on the inside of the card.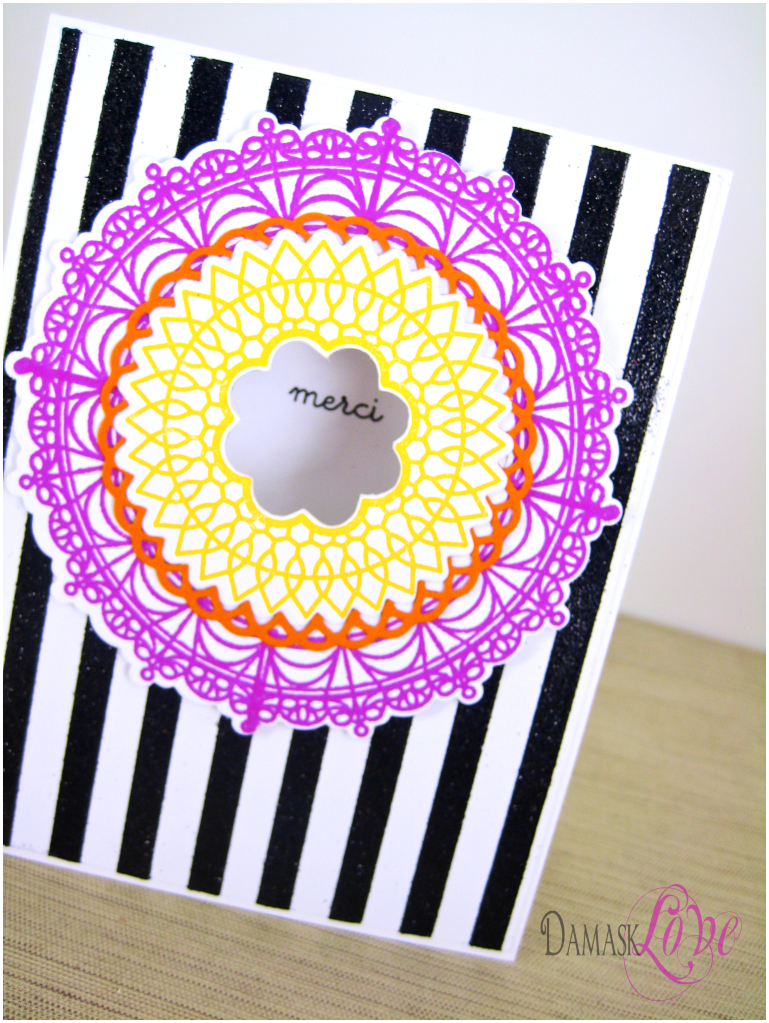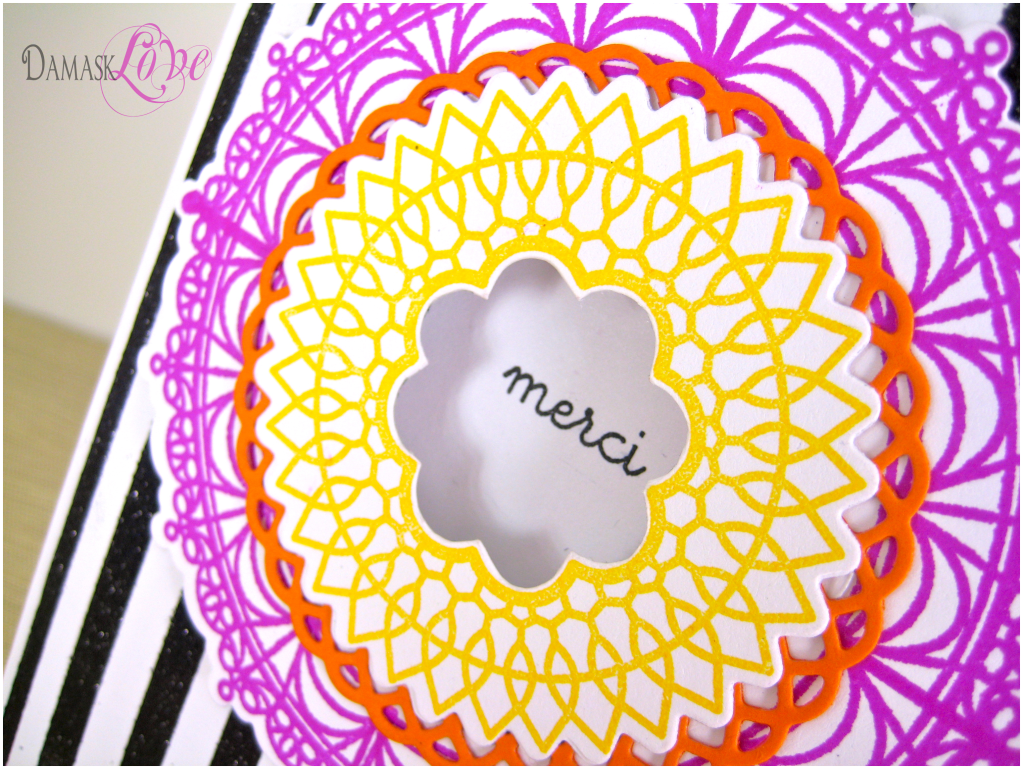 A clean and simple sentiment on the inside of the card.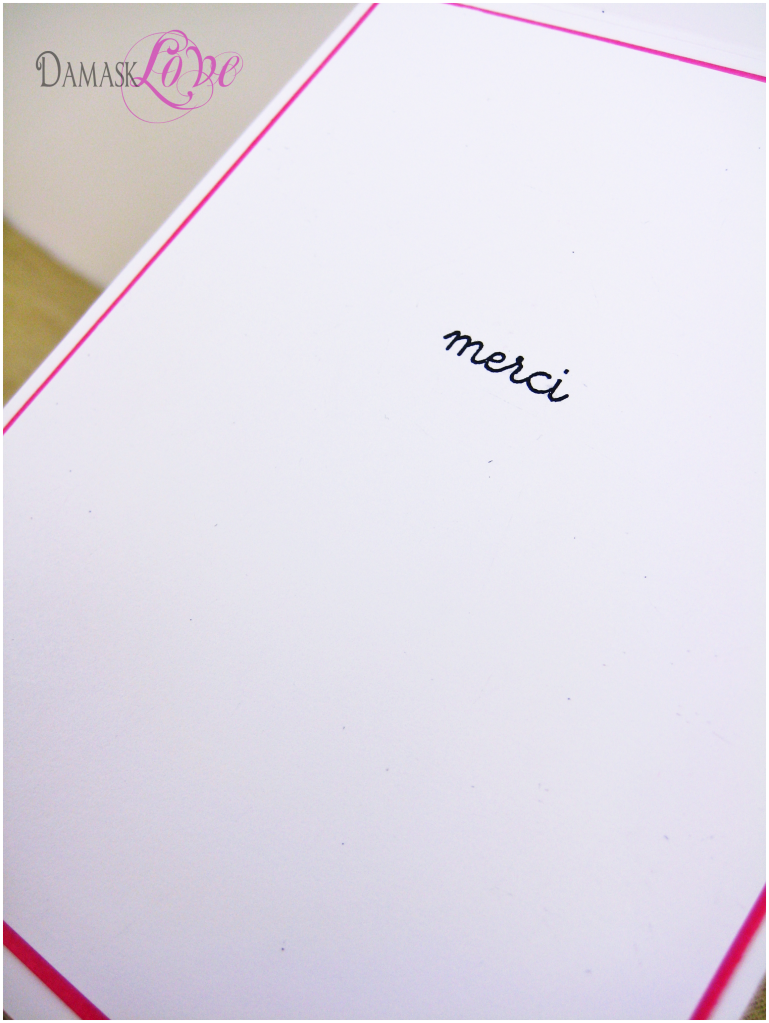 My next card is a simple one. Just a few strips of scor-tape covered with a rainbow of glitters.
I got creative with making the "cloud" and "sun" by using PTI's Limitless Layers dies and Fillable Frames #5.
The "Hello Sunshine" sentiment was the perfect finishing touch for this simple card.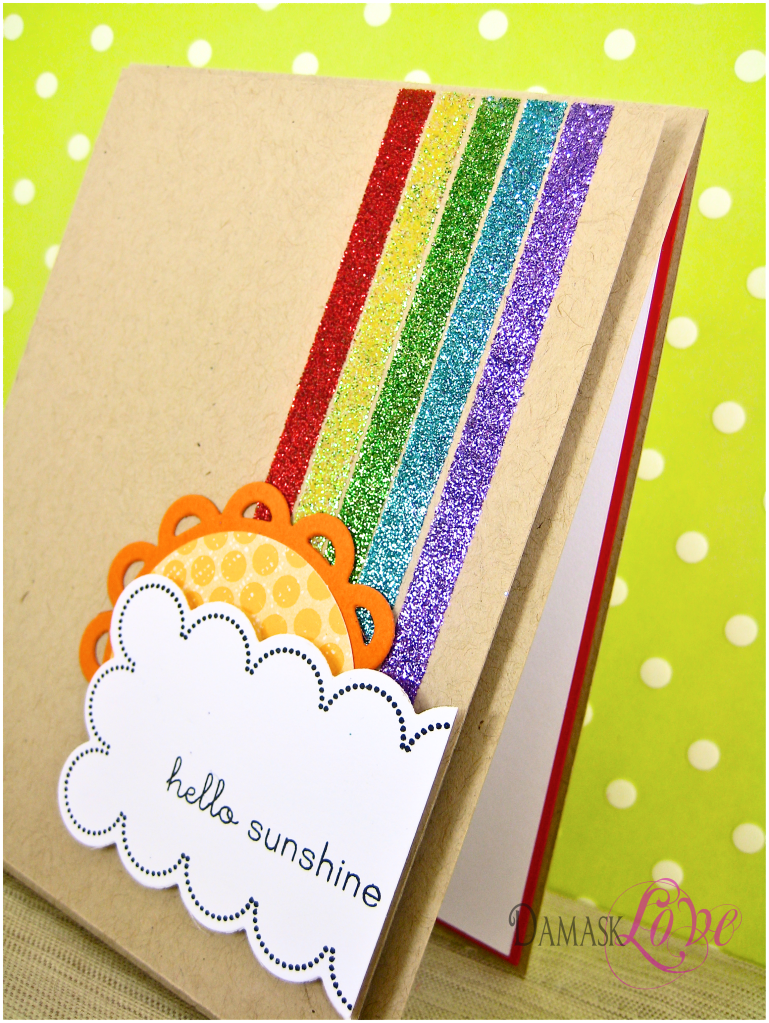 Thanks for stopping by for some Damask Love!
Supplies: (All Papertrey Ink unless otherwise noted)
Merci:
Stamps: Mega Mixed Messages, Delightful Doily
Paper: Stamper's Select white
Ink: Vivid Fuchsia, Stampin' Up Summer Sun
Other: Doily Details dies, Black glitter embossing powder
Hello Sunshine:
Stamps: Fillable Frames #5
Paper: Orange Zest, Kraft, Stamper's Select white, Distressed Dots patterned paper
Other: Limitless Layers dies, scor-tape, Martha Stewart glitter