First order of business! If you are here in search of the Drawn Together project for Newtown, CT – keep on scrolling! You'll find everything you need just below this post or by clicking HERE.
Next order of business, Glitter Twine! With all the sadness of the Newtown, CT tragedy, there is a little bit of solace that comes with returning to routine. Today, I'm happy to return to the routine of sharing my love of making stuff!
When I came across the Glimmer Twine available at the TomKat Studio Shop – I sort of did that internal scream you do when you're really excited about something but can't scream out loud because the people around you will freak. Yep. That's what I did.
Then I found out that I would be sharing this project as a guest on the TomKat Studio Blog. Then I just did the scream for real. At that point, who cares if anyone thinks you're crazy, right?
I knew I needed this twine in my life – because only amazing things happen when glitter and twine come together. Today's project is proof of that theory. Don't believe me? Keep scrolling…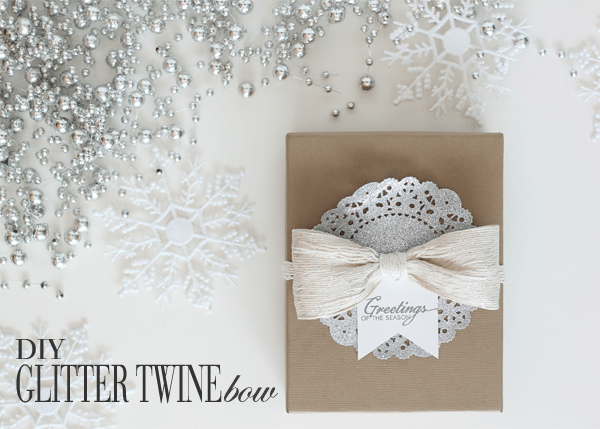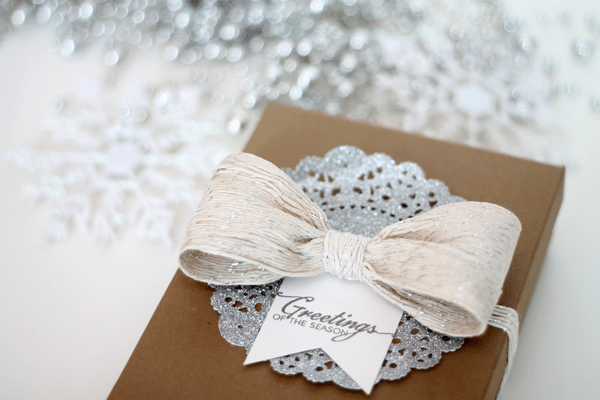 With just three supplies:  a mason jar, twine and glue, I was able to create this beautiful twine bow that is a really fun & unique way to dress up your gifts.  The bow served as the focal point for this gift box full of fun gift wrapping goodies.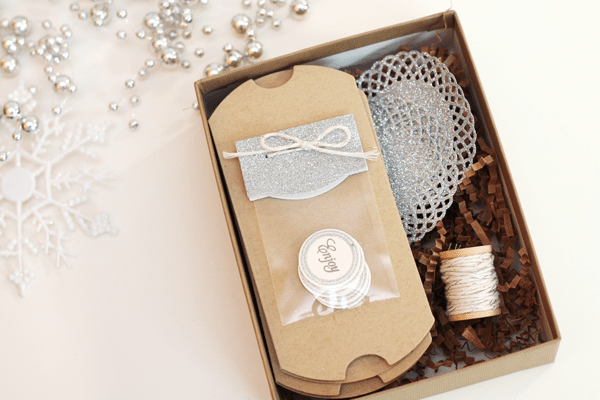 Inside I assembled a grouping of items that are perfect for making a few treat containers for gift giving.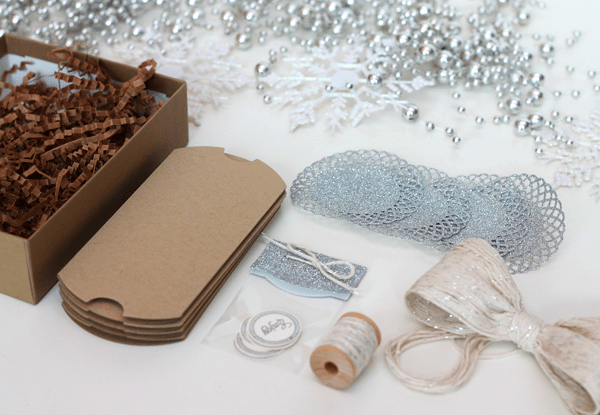 SUPPLIES
TomKat Silver Glimmer Twine | Paper Source Glitter Wrapping Paper in Silver | A2 Kraft Invitation Box | Kraft Cardstock | Lifestyle Crafts Pillow Box Die | Papertrey Ink Doily Details Die Collection | Papertrey Ink Parisian Die | We Love Citrus Twine Mini Spool | Clear & Simple Stamps Topper Die 
…and in case you are wondering how to create this bow on your own, I've got a short video tutorial for you!
[ylwm_vimeo height="400″ width="600″ class="MyCustomClass"]55751772[/ylwm_vimeo]

The outpouring of support for Drawn Together has been unbelievable! If you could see my email inbox!!! If you have sent me an email, but have not received a response. Sit tight. I promise to respond!
This afternoon, I will update the Drawn Together post with a PO Box where you can send cards and supplies!
Thank you to each and every person who has shared this via Twitter, Pinterest, Instagram and Facebook. This project has reached every corner of our country and has even traveled up to Canada and hopped the pond to a few international friends! Thank you to those who have donated time, money and supplies to making this meaningful. I was incredibly nervous about Drawn Together – unsure of what people would think. My nerves are gone and have been replaced by gratitude and excitement about providing some tools for healing to the children and family of Newtown, CT. I think we can all agree that if these supplies help one child heal from this event – the project is more than worth our time and effort.
If Twitter is your thing, feel free to use #drawntogetherforCT as you spread the word.