I have this terribly unrealistic expectation that whenever I send off a card, the recipient holds on to it. Stashes it away in a vault of precious paper crafts. Puts in the hope chest next to an heirloom quilt. Yeah. I told you it was a terribly unrealistic expectation. Truth is, if I'm lucky, the card makes a cameo on the mantle then moves to a pile recyclables, then disappears into the garbage can mash-up of last night's dinner and this morning's coffee grinds.
Today's project is a tricky way to give your projects new life. By stamping on plantable paper, each card is  transformed into a garden beauty…which is majorly more awesome than the garbage can. I've seen lots of professional stationery featuring fruits, veggies and other farmer's market faves. With the help of Papertrey Ink's Vegetable Garden stamp set, I set out to create my own handmade version.
There is nothing terribly difficult about this stationery set, but when packaged together with coordinating labels and a seed packet envelope, the ensemble makes for a beautiful gift.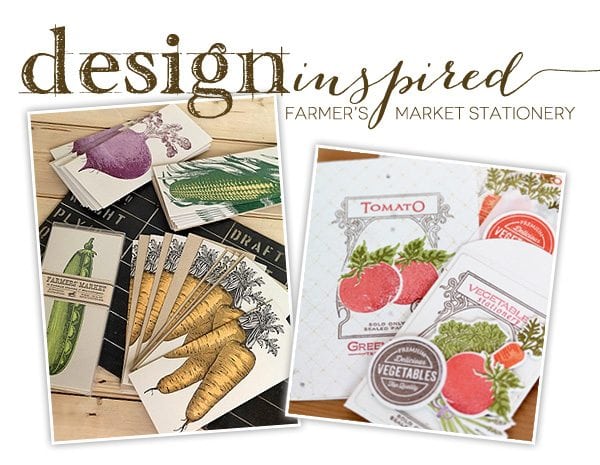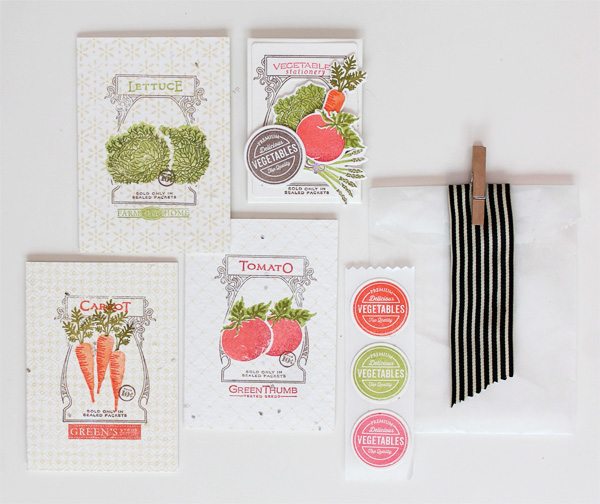 On each card, I stamped a subtle yellow background pattern, then added veggie and seed packet images.  Since these are one-layer cards, I first stamped the vegetable images, masked them with post-it's, then stamped the surrounding frame. By making them a flat note card, sans additional embellishments, this card can go straight into the ground and with a little water and attention, they'll transform into something delicious.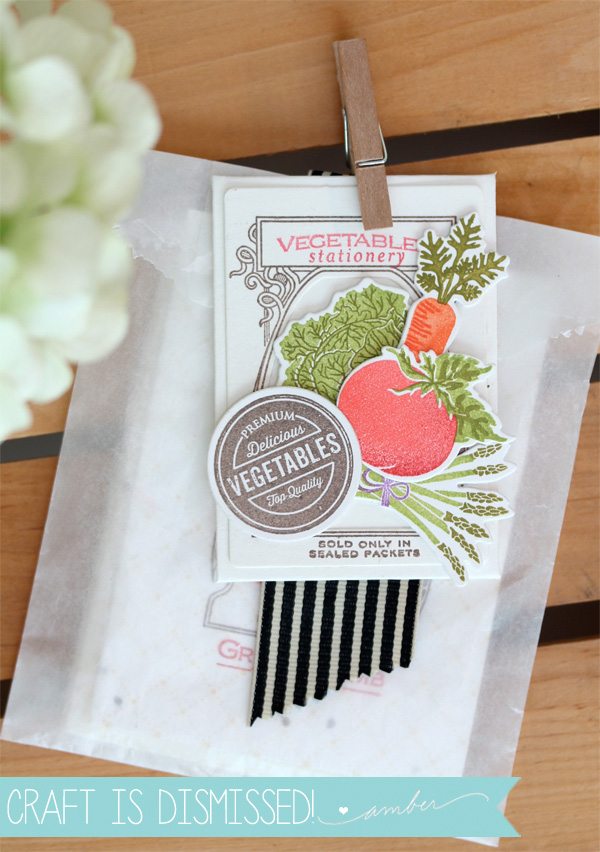 Are you feeling inspired yet?! I'd love to hear about any garden themed projects you've done!
SUPPLIES:
Papertrey Ink Vegetable Garden Stamp Set | Papertrey Ink Vegetable Garden Die Collection | Papertrey Ink Seed Packet Envelope | Papertrey Ink Garden Variety Stamp Set