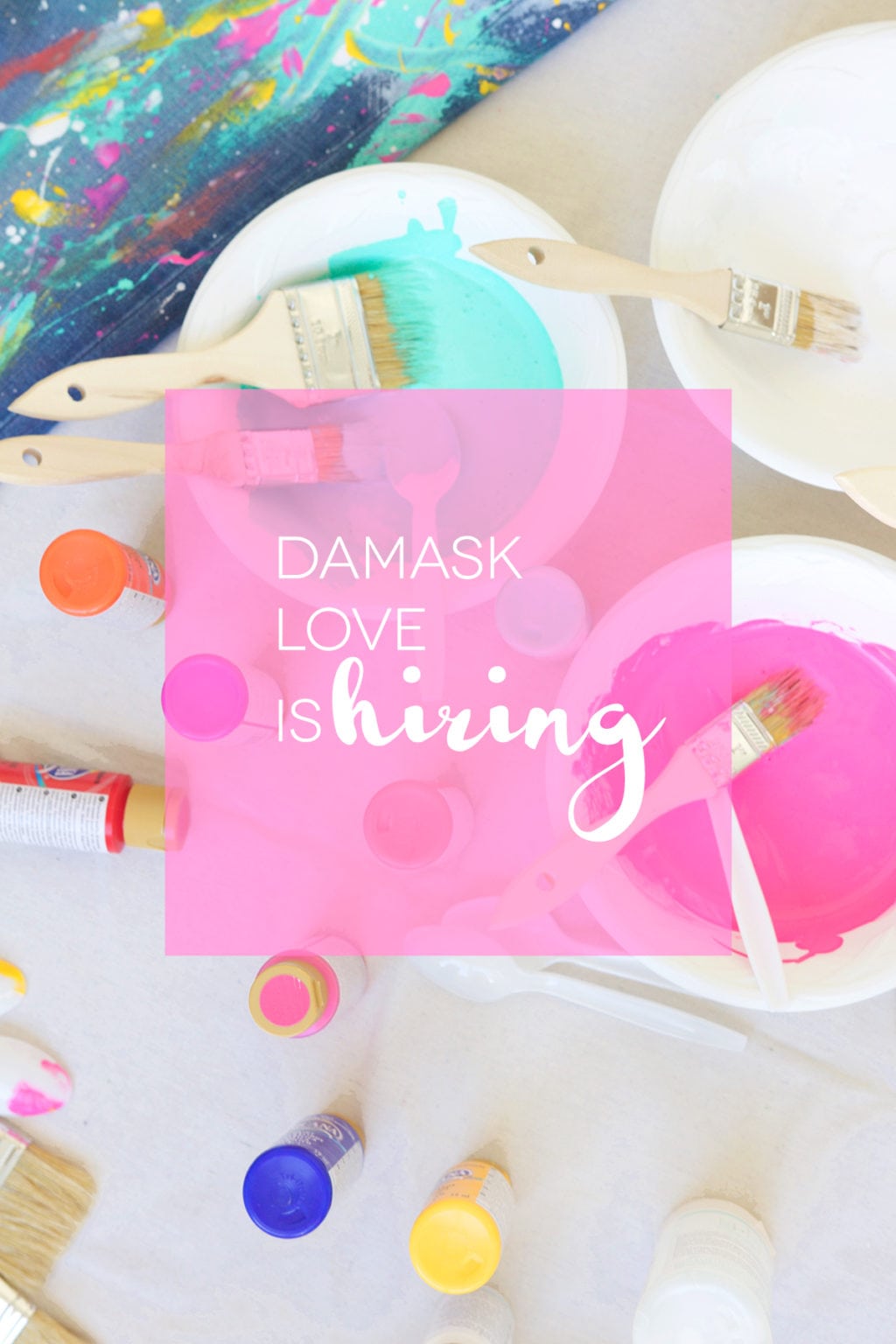 I never thought I'd be writing a "hiring" post. Damask Love has been a party of one for a long time and I guess I assumed it would stay that way. I was wrong. The time has come to grow this solo operation into a bigger somethin' somethin'. Time to bring in the reinforcements!
If you are a local South Florida creative with a love for pretty colors and crafty adventures, you'd better get to scrolling! I'm looking to fill one position and would love to see your application in my inbox.
Social Media & Outreach Coordinator: Do you catch yourself trying to "double tap" magazine images because you like them so much? Do you use #hashtags in everyday conversation? Fascinated with figuring out Facebook? I'm looking for a social media guru to manage the Damask Love platforms and be an integral part of the Damask Love fam. 
DUTIES:
Manage content and engagement on Facebook, Twitter, Instagram, Pinterest and other platforms
Brainstorm, develop and propose social media campaigns and strategies
Research and develop strategies that will increase visibility and traffic
Manage the Damask Love Newsletter
Occasional involvement in local Damask Love workshops – for social media purposes (local candidates)
Track social media growth
Occasional involvement with crafting projects, but social media outreach will be your primary responsibility
IDEAL QUALITIES:
Self-motivated and extremely organized (bordering on neurotic is just fine with me!)
Professional with a good dose of silly and a sense of humor
Keen understanding of the Damask Love brand and aesthetic (if you're new to Damask Love – study up!)
Familiar with Facebook, Twitter, Pinterest, and Instagram
Knowledge of HootSuite is a plus but not necessary
Working knowledge of photography and graphic design are both great but not a necessity.
Excellent work ethic. Punctual, responsible and dependable.
DETAILS:
Approximately 10 hours per week
This is a paid, hourly rate position with compensation based on experience
Local and remote candidates will be considered. Local candidates must be willing to commute to the Damask Love Studio located in the Brickell Area of Miami, Florida (very accessible via the Brickell Metro Station).
Must have your own computer to use for business purposes
6-month commitment
PERKS:
Opportunity for growth
Access to the Damask Love Craft Closet full of free, unused craft supplies looking for a home.
Daily rotation of the 80's and 90's stations on Spotify. All hail TLC and The Spice Girls.
APPLY: Send the following pieces of info to [email protected] with the subject SOCIAL MEDIA COORDINATOR
Your resume
A brief cover letter stating why you think you are a great fit for Damask Love
Links to three non-Damask Love images, blog posts, articles or lists (think Buzzfeed) that fit the Damask Love aesthetic. For each one, provide a caption that also fits the Damask Love brand and aesthetic. Imagine you're sharing these on Facebook.
Links to your own Instagram, Pinterest and other relevant social media accounts.
A list of five non-Damask Love links that you would suggest for a Pinterest board titled "Doable DIYs"
If you have any questions, feel free to email me at [email protected]